Home Donate Search Gallery Reviews How-To Books Links Workshops About Contact

April 2015's News RSS Hot Deals
© 2015 KenRockwell.com. All rights reserved. Ryan Katie

Nikon: D810 D750 D610 D7200 Lenses Canon: 5DS 5D Mk III 6D 7D II Lenses
Reviews: Fuji LEICA Contax Zeiss Sony Minolta Olympus Pentax
Recommended Cameras Gifts How to Take Better Pictures random
Facebook Twitter Video Tutorials
29 April 2015, Thursday
Most Difficult Photo Subject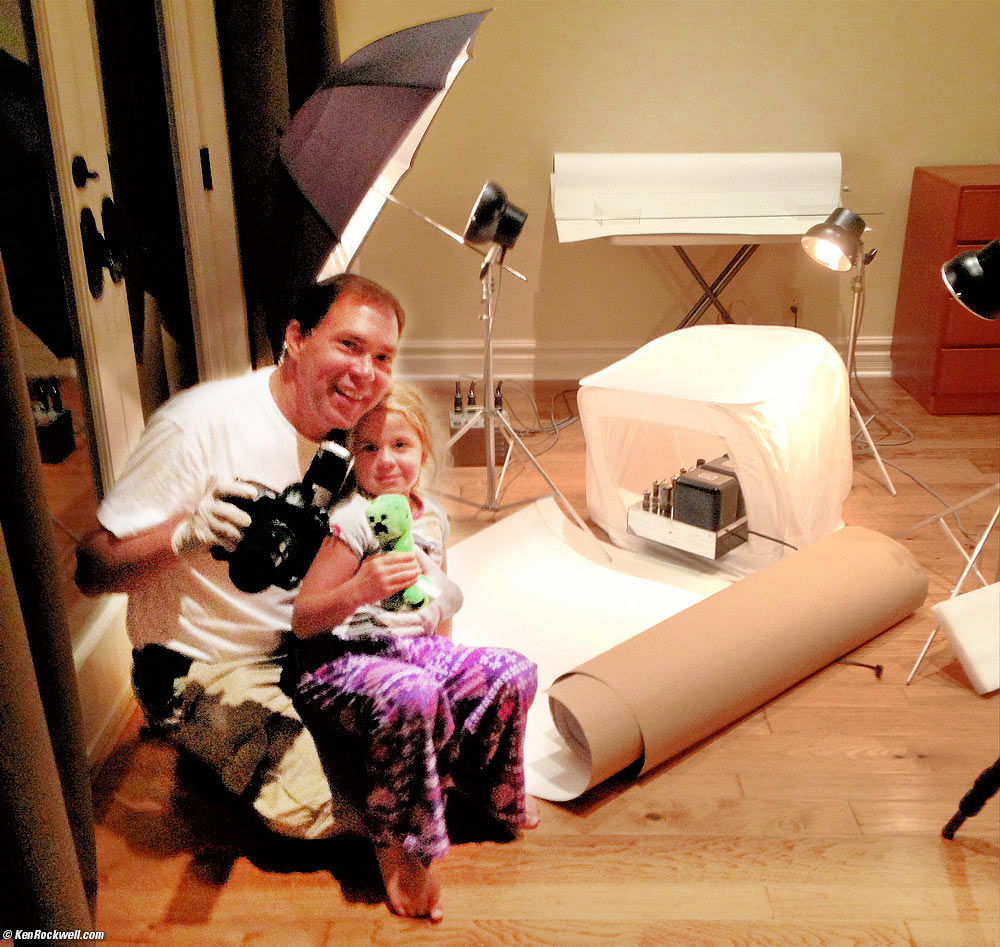 Katie visits Dad's Studio. bigger. (iPhone 5 snap.)
I had to shoot the most difficult thing I've ever shot last light, an old McIntosh MC240 stereo amplifier. Here's a first draft of the image from last night: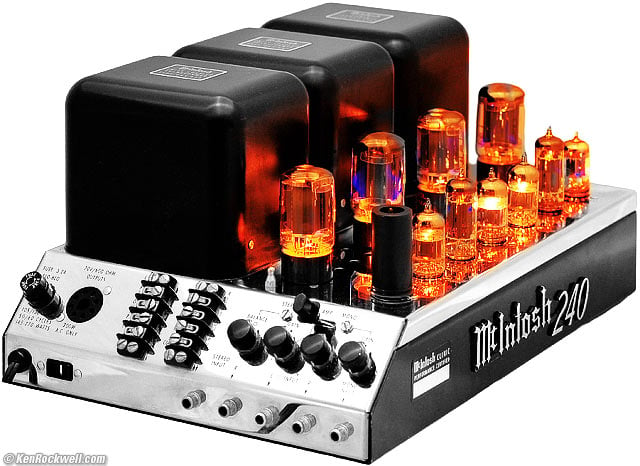 McIntosh MC240 (rated 40 watts per channel, 56 pounds/25.5 kg, measured 140 watts idle power draw, about $2,400 used). enlarge.
This image looks easy, but as I was wrestling with it, I realized that this is the most difficult thing I've ever photographed — and I've been photographing since before this particular sample of product was made in 1969.
Difficult is completely different from elusive, like the snow leopard in The Secret Life of Walter Mitty or the Loch Ness Monster, which simply require persistence so you can find them; the actual photography isn't that complicated.
By difficult, I mean a reasonably sized consumer product that was a complete pain in every way to photograph in my studio.
I needed to photograph an old McIntosh MC240 stereo amplifier. It doesn't seem difficult until I realized that there are at least 13 reasons this was the biggest pain ever:
1.) This little thing weighs 56 pounds. Those black cubes are solid steel and copper!
2.) It has thin, glass-walled tubes, so it's delicate. It's a pain to move around, and you have to be very careful at the same time.
3.) It's so heavy that I can't use my usual product table, and I especially can't use my usual glass support sheet. I'll have to work on the floor!
4.) Its case is mirror-finish chrome. How would you photograph a mirror and not show yourself? That's easy compared to this, because there are mirrored surfaces pointing in four directions as seen above!
I had to break out my Smith-Victor 20" tent to keep the product inside something white. Of course this tent is delicate fabric, and the amp was trying to destroy it. Because the surfaces are mirrors and I'm at a small aperture for depth of field, the surfaces of the tent have to be smooth and not show any threads, so you have to light the tent very carefully as well.
5.) Because the hole in the tent is small so the reflections don't see out the hole, I had to get closer and use a wider lens than usual.
I used my Micro-NIKKOR 105mm f/4 AI-s. While rich people love the 105 VR, for actual macro work, I prefer my $175 used 105/4 because its manual focus is so much nicer, it's a smaller lens, and has a built-in hood to keep my lights from shining into it.
6.) Because it's mirror chrome, not satin chrome like a camera, I have to use gloves even in normal handling otherwise fingerprints are obvious and eat away the finish over time. I can't use white cloth gloves because it would slip. I use nitrile gloves instead.
7.) It's a royal pain to have to be slumming around on the floor and try to move this beast around to get a good angle. I have to be careful not to break a tube or rip my tent.
8.) I have to find different supports for positioning it than my usual ones. This is so heavy it would crush my usual supports.
9.) I have to plug it in to make the tubes glow, and it makes a lot of heat. I can't take too long, or the tent would melt.
10.) The circuitry of this product does not like to have no load connected, so again I have to be swift to turn it off quickly.
11.) The glow from the vacuum tube filaments is very dim, way too dim to use my strobes and hand-hold the camera as I usually do. I had to dim the lights down low to balance with the feeble glow from the tubes, and use a tripod and a 30 second exposure. In actual use, the glow is almost invisible, even at night. (The photo of me and the setup above is a different shot I was doing with strobes.)
12.) Because it's so dim, 30 seconds isn't enough at f/8 at ISO 200. I had to shoot at ISO 800. I had no time to go find a remote cord and then wait around all night for longer time exposures, and f/8 was as wide as I could go and still have anything in focus, so ISO 800 it was.
13.) After having shot this, it of course looked horrible: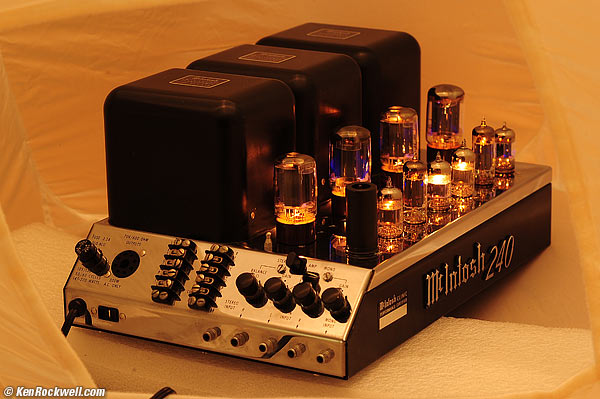 Same image, as shot.

The white balance was at its coolest, 2,500K, and since my lights were dimmed so much, of course their Kelvin temperature falls and everything looks gold, not chrome.

I had to work it in Photoshop and Perfectly Clear to pull it out of the muck.

Not only was that more of a pain than usual, the tubes are transparent and very difficult to select so I could pull the amp away from the background. I had to select them also to make separate adjustment layers for the tubes and for the rest of the amplifier to work on each separately.

Two good extras did come out of all this:

1.) I had to use so much exposure to make the tubes appear to glow that I actually got a sunstar on one of the filaments! I've never seen that before on a vacuum tube.

If I had used the 105 VR with it's lame circular diaphragm, I wouldn't have gotten the sunstar. I got it because I used my classic 105mm f/4 manual focus lens with its real 7-blade diaphragm.

2.) The high ISO made the dark gray areas a little grainy, looking as if I shot this classic shot of a classic product on film!

While not the greatest shot, I'm impressed that I got anything at all after all this work. I'm not looking forward to having to pick it up off the floor without damaging it and putting my studio back in order; which is why I took the time out to procrastinate and write this instead!

San Disk Sale

SanDisk Memory Cards Sale. all ship free.

All memory cards ship free. The sale runs through 05/02.



Mic & Headphone deal

Audio-Technica AT2020USB & beyerdynamic DT 990 Pro 250Ω:
$199.95 after $40 mail in rebate (one per customer). Would be $378 if bought separately.



28 April 2015, Wednesday

Getty Images and Stock Photography

Getty Images, the world's biggest image house, approached me, wanting to licence my images for me.

You will find their many pages about themselves and how stock photography works very good reading. Be sure to let yourself follow all their links for many pages describing why you forfeit moral rights and the hows and whys of model and property releases, commercial versus editorial use, definitions of similars and ultimiately who gets to use what images for what after you've submitted them.

You could spend all day there, and they have all the forms to sign up (I think you'll have to apply if you weren't already invited as I was) as well as releases to use (you need releases for everything you hope to licence).

These pages answer many of the questions I get asked all the time, and they are written by the biggest player in the business, making them more valid than the many casual books out there.

I like their polite yet firm attitude on many things, and explanations of why you have to keep your hands off and let Getty manage it all. They're right, and this applies in any artist/sales relationship. You have to let the salesmen do the selling, and not try to tell them how to do their jobs. The whole point of working with any gallery, artists representative or stock house is to let them do the selling and do what they ask you to do, not for you to try to tell them how to price or market your images.

Know the best part about those pages? The font is a variant of Rockwell.

NEW: Camera Deals at eBay.

NEW: Action and Waterproof Camera Deals at eBay..

New: DJI RONIN-M: $1,399.00 with Free Expedited Shipping.

At just 5 pounds (2.3kg), it fits into your backpack and can support cameras weighing up to 8 pounds (3.6kg).



Nikon Df Deals!

These all inlcuse a free Nikon GP-1A GPS Adapter and Nikon WU-1a Wireless Mobile Adapter, refurbished:

Nikon Df, Silver: $2,746.95 with Free Expedited Shipping.

Nikon Df, Black: $2,746.95 with Free Expedited Shipping.

Nikon Df with 50mm f/1.8G Special Edition, Silver: $2,996.95 with Free Expedited Shipping.

Nikon Df with 50mm f/1.8G Special Edition, Black: $2,996.95 with Free Expedited Shipping.


Remote Release Deals

Use your cell phone to control your camera. Timelapse, Bulb, Timer, Sound trigger and a ShakeToTake movement trigger. No, I haven't tried these, and they are 75% off:

ioShutter Shutter Release Cable for Nikon DSLR - Compatible with Apple iOS and Android: $12.95.

ioShutter Shutter Release Cable with Canon E3 Connector - Compatible with Apple iOS and Android: $12.95.

ioShutter Shutter Release Cable with Canon N3 Connector - Compatible with Apple iOS and Android: $12.95.

28 April 2015, Tuesday

DEAL of the DAY: Quadcopter with camera and transmitter with monitor: $129.99.

NASA Tracking Lens for Sale

There's a 2,540 mm (100-inch) f/8 catadioptric lens for sale on eBay.

Obviously the seller has no idea what it's worth; make an offer and see what happens. Warning: he's not including a focussing unit, so you'll need custom machine work to attach a camera, and you'll probably also need a machine shop to make you a plate so you can mount it on your support of choice — but you already know that if you're interested in this lens.

Speakers & Headphones Deal

JBL LSR305 powered monitors & Audio-Techical ATH-M70x headphones: $329.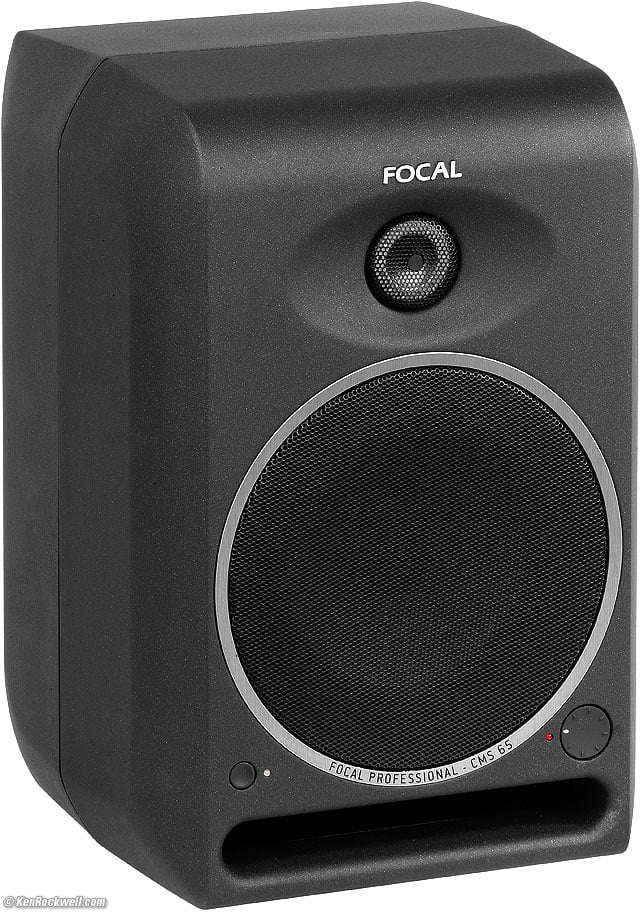 Focal CMS 65.
NEW: Focal CMS 65 Review.
Professional desktop monitors that sound good enough for enjoying music as well as creating audio-for-video.
27 April 2015, Monday
Software?
People ask what software I use. Simple:
I use Phase One Media Pro to see what I have. Nothing else does a better job of letting me see what I shot, and sort, select and pick the images I plan to publish.
Once I have my best shots picked in Phase One Media Pro, I drag them into Photoshop CS6 to process and format them as needed, and I'm done. I use Perfectly Clear on most photos; one click and it looks much better.
I also use Apple Aperture, but only for my LEICA M9, which is so bad that its JPGs are useless because of their hideous color rendition.
I don't use Lightroom, which is too casual for me. I don't know why I'd use it, since Aperture seems so much faster and easier for doing the same sorts of things.
I've heard of a new Apple program called Photos, but haven't played with it. I'm sure it's fantastic; Apple doesn't mess around. Even if Aperture is discontinued, it still works great.
I haven't tried the newer rental versions of Photoshop since I have no idea what they'd do any better than CS6, and I already have CS6.
What I wonder about is that back when we could buy Photoshop, Adobe was always adding new features to get us to want to buy the new version. You people were always asking me what I thought of the newest versions, and it generated a lot of buzz. 10 or 20 years ago these new features were significant, and in more recent years became more silly, like "Content Aware Scaling" as the reason we had to buy the newest version. Honestly though, every new version had a zillion little refinements; it was tough for Adobe to find one big thing to parade as the gotta-have feature.
The only thing that Photoshop CS6 can't do well is that the Quick Select tool often misses the obvious thing I'm trying to select and instead tries to select more complex (and incorrect) paths, and that as I save files it does a poor job of remembering into what folder I want to save it, and what file format I want.
What I find curious is that ever since Photoshop went rental, no one has asked me again what I thought about it. Photoshop for renters is always at the newest version, but I have never heard anything about any new features. I don't know if it's like countries that fall to Socialism, where everyone keeps getting paid and no one has any incentive to innovate and technology stops, or if that all you folks are renting and everyone gets the new items anyway, so no one needs to ask if they're worth buying or not. My real fear is that by removing the incentive for a supplier to innovate to get paid, that real innovation might stop.
In any case, I'm an artist, not an IT guy. I only use this stuff because I have to to express myself. For me, the software shouldn't even exist; I ought to be able to imagine my image and simply have it pop out in tangible form without any other distractions. We artists see in our minds' eyes exactly how we want our final image to look, and do whatever we have to to make it look that way. Therefore, the less fiddling in software the better, and the less time wasted learning new software that could have been used to create new images, the better. Software doen't create art, artists do.
Sony Deals
Sony A6000, Black: $448.00 with Free Expedited Shipping.
Sony A5000 with 16-50mm and 16GB Class 10 SDHC Card, Case, Cleaning Kit, 40.5mm UV MC Filter: $398.00 with Free Expedited Shipping.

Sony DSC-RX100 with 16GB Class 10 SDHC Card, Sony LCJ-RXF Jacket Case & Sony BC-TRX Battery Charger: $398.00 with Free Expedited Shipping.
Canon 1,200mm f/5.6
B&H has a huge Canon 1,200mm f/5.6 for sale again.
I've seen this lens before; yes, it's huge, and yes, it works on all Canon DSLRs and 35mm EOS cameras. If you're a birder, you never have a long enough lens.
25 April 2015, Saturday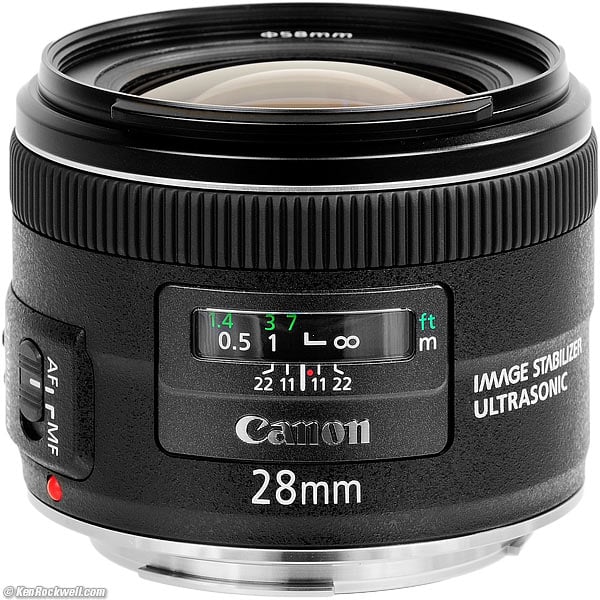 Canon EF 28mm f/2.8 IS USM.
NEW: Canon 28mm IS Review.
An ultra-sharp little gem.
Weekend Report
Enough work, time to relax.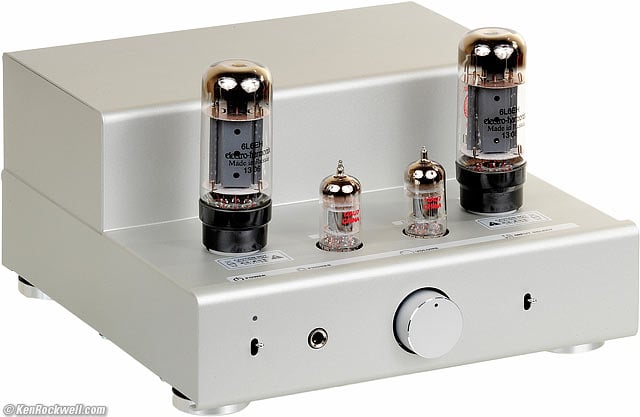 Elekit TU-8200 Class- A Amplifier.
NEW: Elekit TU-8200 Class-A Tube Amplifier Review.
Aural ecstasy, perfect for the weekend. I built mine from a kit last month starting Saturday afternoon, and had it complete before church on Sunday morning.

Crown D-75, in walnut case.
NEW: Crown D-75 Review.
Probably the world's most popular professional studio and remote amplifier ever. This little gem sells for nothing today since studios use powered monitors that render these obsolete.
It's completely different from the tube amp above. The tube amp sounds much better, while this little thing is more accurate for monitoring. This is a work amp, while tube amps are for enjoying music.
Deals
Canon 5D Mk III, Shure VP83F shotgun mike, Tascam DR-70D 4-track recorder, ATH-M50x headphones & more: $3,289 with free shipping.


Canon 5D Mk III, Tascam DR-70D 4-track recorder, ATH-M50x headphones: $2,679 with free 3-day shipping.
ATH-M50x headphones and PreSonus 4.5" powered monitors: $259.99 with free shipping.



Olympus E-PL6 with 14-42mm: $299 with free expedited shipping.



Manfrotto Lumie Series Play Led Light: $49.99 with free shipping

Manfrotto Lumie Series Muse Led Light: $119.99 with free expedited shipping.
See all new accessories and special filters in this series from Manfrotto.


Pirate Radio Boom Ahead
Here's another article on how pirate radio's greatest days are ahead.
When I worked in radio and TV I always looked to the FCC as one of the few useful government bodies along with law enforcement, fire, roads and national defense. The FCC is a body which actually governs and defines and manages the airwaves, which we need so that we don't have twelve stations all on the same channel trying to run a couple of megawatts more than the next guy at 175% modulation.
Seeing how the FCC is actually useful, looks like government is doing its best to allocate resources elsewhere. And so it goes.
24 April 2015, Friday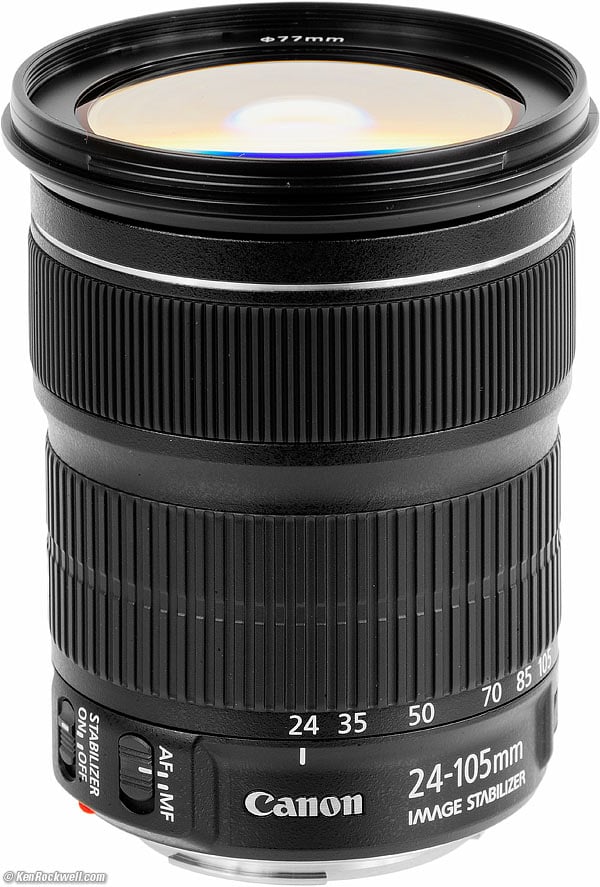 Canon EF 24-105mm f/3.5-5.6 STM.
NEW: Canon 24-105mm IS STM Review.
An inexpensive, super-sharp and lightweight full-frame lens.
One-Day Photoshop Sale
Adobe Photoshop Elements 13 for Mac and Windows: Only $39.99 after $20 Mail in rebate with free shipping. Only valid until 2:30pm EDT Friday.



Backpack Sale

Clik Elite Tropfen Backpack For Cameras, Gray: $29.95 (Regular $85!). Free Shipping.
Clik Elite makes very, very good things. See my other reviews of them.
Green Headphones!
Audio-Technica ATH-M50x in Green with Tascam DR-05 Recorder: $189 (If buying seperately it would cost $288), with
Free Shipping.


Audio-Technica ATH-M50x in Green with Tascam DR-22WL Recorder: $209 (If buying separately it would cost $338!). With
Free Shipping.
Sennheiser Earphones

Sennheiser CX 475 Premium In-Ear Noise Blocking Earphones: $19.95 (sells for over double that at Amazon), with Free Shipping.
23 April 2015, Thursday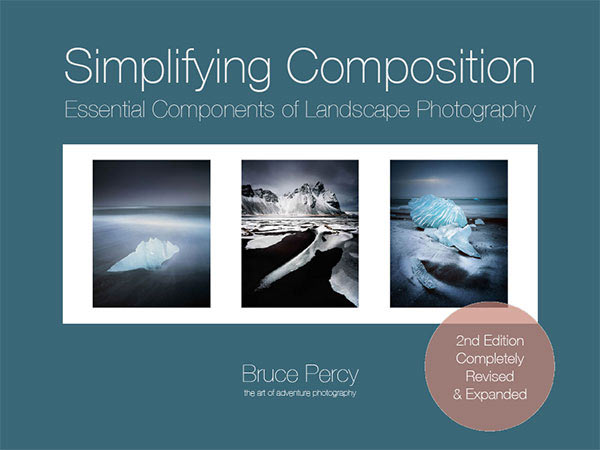 Simplifying Compsotion by Bruce Percy.
NEW E-BOOK: Bruce Percy's Simplifying Composition.
BRAND NEW: Sony 16-35/2.8 ZA SSM II just announced.
BRAND NEW: Sony 24-70/2.8 ZA SSM II just announced.
BRAND NEW: Pentax K-3 II DSLR just announced.
Adorama also has it. It has a magnesium-alloy casing, metal chassis, 24 MP, 27-point AF system, 8 FPS and a 4.5 stop IS system. Also has GPS, gyro sensor panning detection and automatic horizon correction.
In Stock: Rokinon 100/2.8 Macro for Nikon.
In Stock: Rokinon 100/2.8 Macro for Canon.
Personally, I prefer a used Nikon 105/4 or 105/2.8 Micro AIS for manual focus, or a Tokina 100/2.8 for auto focus, either of which is better than this Korean lens and costs less.
21 April 2015, Tuesday
NEW: Lightroom 6
Now available for download, or you can order the DVD if you have no access to the internet. Adorama's got it, too.
Meta name - Viewport
Does this and my home page fit your mobile screen better today, without needing a tap to zoom to fit?
I made this site in the 1990s as static HTML, and with one line from my pal Will at the top of each page I added some basic CSS, and otherwise this site is all the same static HTML.
I discovered a line of code (meta name=viewport content="width=device-width, initial-scale=1") that seems to make it fit mobile screens better on the first load - sometimes.
I also tried width=600 (the actual width of this page), with different results. RIght now it's at width=device-width, initial-width=1.
How does it fit your mobile device?
If you're a coder, any suggestions? It seems better on iOS, but don't have any access to the other mobile platforms. Google's tester shows it overflowing the page, but I don't see that.
Thanks!
NIKON D750 DEALS: D750 body for $1,997 and D750 with 24-120mm for $2,697— both with free US shipping.
Also get the D750 for $1,997 at Adorama as well as the D750 and 24-120mm for $2,797 at Adorama.
Lexar Deals
Lexar 32GB SD Card Class 10, 2-Pack: $29.95 total.
Lexar 32GB 1066x Compact Flash, 4-Pack: $199.95 total.
New: 1X.com photo tutorials.
Learn how to make these and more at 1X.
Here you can see great photos, as well as how they were made. Check it out.
New: Fuji XF 16mm (24mm eq.) f/1.4 lens.
Yes! Fuji doesn't mess around and has a new pro lens for its system. Also at B&H.
New Sony Cameras

Sony DSC-HX90V, 30x Optical Zoom: $428.00 with Free Expedited Shipping.

Sony DSC-WX500, 30x ZEISS Vario-Sonnar T*: $328.00 with Free Expedited Shipping.

Sony DSC-WX500, 30x ZEISS Vario-Sonnar T*: $328.00 with Free Expedited Shipping.
New at NAB
Nikon Coolpix Deals
Nikon L830, 34x Optical Zoom, Black: $179.00 with Free Shipping

Nikon L830, 34x Optical Zoom, red: $179.00 with Free Shipping
Nikon Coolpix L830 Digital Camera, Black: $139.95 with Free Shipping, refurbished by Nikon USA.
Catch that? A state-of the art ultrazoom for $139.95.

Nikon Coolpix S3500 Digital Camera, Silver: $44.95 with Free Shipping, refurbished by Nikon USA.

Nikon Coolpix P600 Digital Camera, Black: $199.95 with Free Shipping, refurbished by Nikon USA.
Tascam & Audio-Technica Deals
Tascam DR-60D MKII Portable Recorder for DSLRs only $150 after mail-in rebate!
$150, for a four-channel 24/96 recorder? Wow, it's not 1982 anymore.
Audio-Technica ATH-M70X Headphones & pair Tascam VL-S5 5" Monitors: $329 ($598 bought separately), includes Free US Shipping, expires 4/30.

Green Audio-Technica ATH-M50xDG Headphones &
Tascam DR-05 Audio Recorder: $209 ($288 if bought separately)
20 April 2015, Earth Day
I don't shop retail. It's not just the pollution we would generate ourselves, but the traffic we make worse for everyone, and all the pollution caused by those who had to come to work the old retail stores, as well as all the land destroyed to make those stores.
I buy online only. Adorama, Amazon, B&H and the others can easily supply the entire world's photo and general needs, and take up far less real estate and consume far, far less resources than the distributed thousands and thousands and thousands of retail chain stores that pollute our world. Adorama and B&H each have one store, and one remote warehouse, and that's it. Compare that to the land and trees destroyed by all the Worst Buys out there that we just don't need anymore. As you know, I haven't bought at retail since the 1970s; I've been phone ordering since the 70s, and online since the 90s.
16 April 2015, Thursday
DEAL: Fuji S9200 w/50x optical zoom: $159. Was $299.
Salad Days ahead for Pirate Radio
You should know I've always wanted my own pirate radio station, at least since the 1970s when I did legitimate radio for a living.
The cockles of my heart were warmed when I read that the FCC is running out of money and closing a lot of field offices.
Pirates usually operate without much interference from the FCC, especially so long as they don't become too annoying. In fact, most just go on until they start selling ad space and really annoying the other stations. I know of a guy who was on the air for decades, and no one ever reported him because his station was so professional — even with professionally produced station ID jingles — that no one ever bothered to see if he was licenced.
There is such a great future ahead for pirates that it even has the FCC wondering about it. Here's an article from Radio World about what the FCC has to say. They know good times are ahead.
Probably the only reason I don't have a pirate station today is because I have this website. I don't need pirate radio to get out 5-by-5 all over the world. Especially with eBay today, it's trivial (presuming you have radio engineering talent) to put anything on the air — but even easier to do it online.
I don't think on-air matters much. We watch all our "TV" online, as we get our radio online. Heck, if I'm in the car, I get better reception on my iPhone with a radio app than trying to get it off the air.
No kidding; a typical FM station uses a 128 kbps MP3 stream over IP to get the studio audio to the transmitter, and then that audio is squashed and mutilated beyond all recognition by all sorts of broadcast processors to make it sound awful, but loud. The online stream is usually that same stream, ahead of the broadcast processor, so the online feeds of many stations really are much cleaner than getting it off the air.
15 April 2015, Wednesday
Think Tank Anniversary Deals
Think Tank, the world's best pro bag maker, just celebrated its 10th anniversary this weekend.
Here's a special: get an Urban Disguise bag between now and May 15th, and you'll also get a Shoulder Harness v2.0 (backpack harness) by mail for free.

As always, you folks get to pick any of these free goodies with any order over $50, including the Urban Disguise deal (thus get one of the below free as well as the free shoulder harness):

Pixel Pocket Rocket

Pro DSLR Battery Holder

Limited Edition Pixel Pocket Rocket

Modular Pixel Pocket Rocket
14 April 2015, Tuesday
SCAM: No Grail for Sale.
Hee hee, as I suspected could have been the case, it was all a scam. You can't sell a Grail as they are unobtainable. The listing was bogus; they really do sell for about $24,000 each when they actually sell.
Most likely some wiseguy got someone else's eBay password and created the bogus listing with images copied from Hong Kong listings. Happens all the time in Romania, another tip off besides the seller's complete lack of any photo gear transactions, was that it was a three-day auction; get in and get out.
No worries, when you bid in these all it costs you is time, you don't have to worry about losing money if you follow the rules, and one day you will get yourself a Grail.
NEW: Olympus E-PL6 with 14-42mm: $299.
NEW: Olympus Waterproof TG-4 w/GPS & WiFi: $379.
NEW: Olympus Stylus 1s: $699.
NEW: Lensbaby Velvet 56mm Macro For Nikon, Canon, and Pentax.
DEALS: B&H's NAB specials
DEALS: SanDisk NAB specials
DEALS: Samsung NAB specials
DEAL: D7100 and 18-140mm + WU1 WiFi for $899. Free shipping, refurbished.
13 April 2015, Monday
DEAL: $100 eBay gift card for $95.
Grail Sold: Nikon 13mm f/5.6 sold on eBay.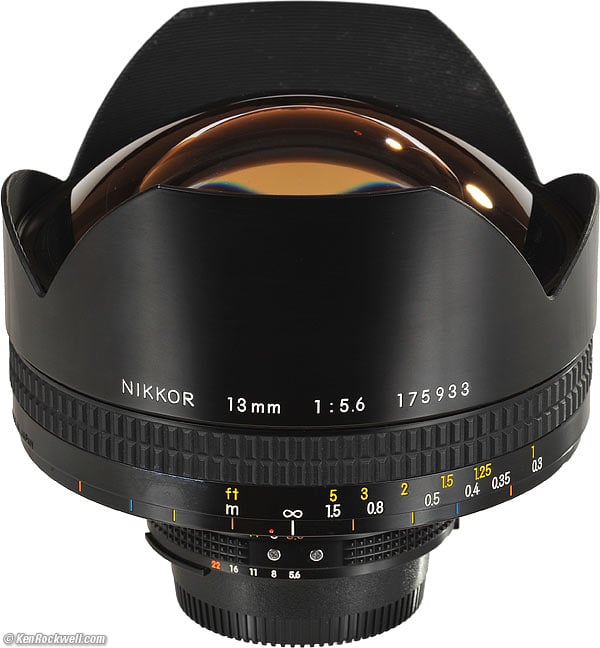 Nikon 13mm f/5.6 AI-s.
Someone got a steal; it went for only $11,100, probably because the seller seemed to have nothing to do with cameras.
As I've learned, you have to be willing to lose in order to win. Someone took a small risk, and they either just got a $24,000 lens for $11,100, or they got scammed and and will get their money back via eBay's Money-Back Guarantee.
If we look at the bid history, as I teach, the winning bidder was the last bidder, but he cost himself $3,000 because he bid too early.
Losing early bidder z***z was randomly throwing up bids ever since the auction opened. Other losing early bidders would outbid him, and he would then put in another bid, and then another loser would put in a higher bid.
All these early bidders lost.
The winning bidder y***i put in a high maximum bid of at least $11,100, but made the mistake of dropping it in early at 3AM this morning, 8 hours too early.
The loser saw this bid from y***i, and kept manually entering bids all morning, right up until closing time.
You can see how eBay's automatic bidding works if you look at the complete bid history. Loser z***z kept manually entering losing bids, while eBay kept placing automatic bids for y***i. I'm sure loser z***z was astounded at how efficiently winner y***i was appearing to bid against him, while in fact it was eBay's supercomputers placing automatic bids for the winner.
The reason the winner cost himself $3,000 by bidding early is because if the winner had waited to drop his only bid in at only a few seconds before 10:48:01 PDT, loser z***z wouldn't have seen it, and would not have counter bid above his $8,000 bid placed manually at 10:08:43. The winner would have placed his maximum bid (which was at least $11,100) at the last second and would have won at $8,100 long before loser z***z noticed in time to place all the higher bets he placed between 10:08 and 10:48.
The only thing that the loser bids placed by z***z did was raise the price for y***i, and if y***i has waited, he would have saved $3,000 because z***z would never have seen it and have been able to react.
Of course if you bid at the last second, we have no idea how high was the winner's maximum bid. It could have been $34,000 eBay's automatic bidding system never discloses this. The winner never pays more than a little above the highest bid of the second-place guy, regardless how high was his maximum bid.
See How to Win at eBay for all this and much more explained.
12 April 2015, Sunday
Grail for Sale: Nikon 13mm f/5.6 for sale on eBay.
There hasn't been one of these on eBay on open auction for a couple of years. This could be your last chance to own the unobtainable.
It is still the world's widest professional lens for use on Nikon.
I would have no problem bidding on this because eBay is no longer the garage sale it was a few years ago. Today eBay polices itself very well. So long as you pay by PayPal, eBay will give you a full cash refund if it's not as described, including your shipping — and the seller pays return shipping as well! If you don't get what you ordered, it costs you nothing to have it go back. Usually you can just print a label to stick on the box, and off it goes.
See eBay's Money-Back Guarantee for details. It really works.
There's nearly no risk so long as you read the descriptions carefully — less risk than buying at retail — so bid last if you want to win it; see How to Win at eBay. Seeing the low current bid, this one could go for a steal. I know of another that sold privately last month for $24,000. Even if it's a total scam, it's eBay's problem, not yours so long as you follow the rules.
DEAL: Canon Lens Price Drops.
It's about time. The US Dollar became worth about 20% more against the Japanese yen back in December, and Canon has finally caught on.
This is good times for everyone who buys Japanese goods. The Dollar had been worth only about 80 yen in 2011 and 2012. It went up to about 100 yen in 2013 and most of 2014, and as of December 2014, the Dollar has shot up to about 120 yen.
Also as of about January the Dollar is worth about 0.92 Euros, up from about 0.75 Euros since 2011. This means LEICA USA is making more money; LEICA prices only go up.
This is great news for cameras, also great news for Americans who travel. The world is on sale.
I hadn't noticed this and only realized it when my dad-in-law, who watches markets like a hawk, and my brother the traveler pointed it out.
As a side note, this is from where rebates come. Exchange rates always fluctuate; that's why we have exchange rates. Makers offer rebates instead of price drops so that they can simply not renew rebates if the exchange rates become unfavorable. This way they can keep what seems like a steady price as the markets fluctuate, and not look like bad guys if they had to raise prices simply because of exchange rates.
11 April 2015, Saturday
New Workshops
Here are the dates and details for the next few workshops at which I'm teaching.
People keep asking me to give them private lessons, but my schedule doesn't provide for that, even at the executive level — but come on these and I'm there for all the one-on-one help you'd like.
These are more tour than workshop, since we're shooting all day, every day (as well as at night and before dawn), but we can also give you all the personal one-on-one attention you can handle. These are far more fun — and you'll get far better photos — than a more formal "workshop" workshop in which you spend a weekend inside a motel looking at screens.
On these tours we're shooting all the time, and we also have all the time you'd like to answer everything you've been meaning to ask.
Next Month
May 14, 2015 to May 17, 2015: Springtime in Yosemite.
This Fall
October 18, 2015 to October 21, 2015: California's Eastern Sierra.
October 22, 2015 to October 25, 2015: Autumn Light in Yosemite.
HINT: These two tours run one right after the other in the same region, so by all means try to register for both (they usually fill up almost immediately). Especially if you have to travel to the area, register for both and you'll shoot twice as much for only a few extra days away.
10 April 2015, Friday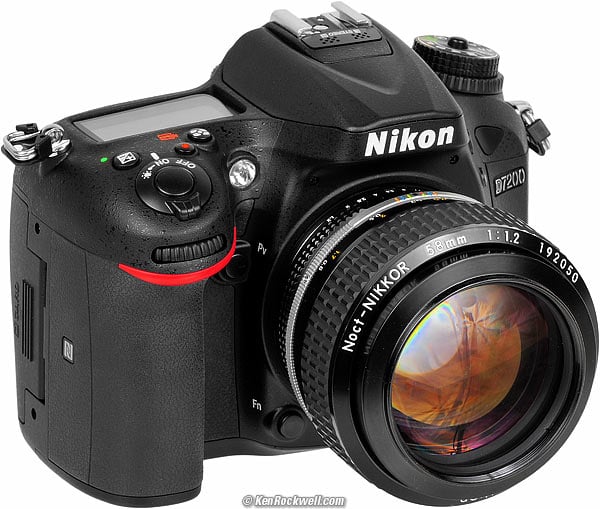 Nikon D7200 and 58mm f/1.2 Noct-NIKKOR.
NEW: Nikon D7200 Review
Nikon's best DX camera, but no different than the D7100 from two years ago.
Free Music: Amazon Prime Radio Stations
I'm sure you've all heard about free unlimited photo storage, so I don't need to get into that.
I just got an email from Amazon (as millions of you all probably also did), and now all we Amazon Prime members get what seems like the best free online radio ever.
Later for Pandora. No ads, and no signup or account nonsense needed, presuming you're already a Prime member. I clicked and music has been playing all morning without a hitch.
It's free with Amazon Prime, it has no advertising, no DJs, and we can pause, replay, and skip as much as we like. It's 100% free music at our command.
Give a song a thumb-up or thumb-down, and each station adapts automatically.
I'm using it on my browser; there's also an app. It works great in my browser; tap the left or right arrow or space bar and the player responds — instantly.
Playing music as I work, all I have to do is select the Amazon tab in my browser and tap the right arrow to skip a song. Cool, two clicks, and it the bad song is skipped.
Audio quality for streaming audio always varies with atmospheric conditions (OK, IP traffic to be precise), and sitting here on my desk played-out from my Mac Pro through my Benchmark DAC1 HDR into the new Focal CMS 65 monitors I just unpacked and broke-in (review coming) and stereo pair of B&W ASW 800 subwoofers, the audio quality seems swell. I'm not hearing any compression artifacts, and stereo separation, clarity and bandwidth all sound pretty Hi-Fi on my desk right now. I don't know how well it will hold up when everyone else finds out about it, but at the moment it sounds great as streaming goes. It certainly sounds better than FM.
NEW: Nikon D7200 Review
I'm amused: I've been eagerly watching Nikon's announcements every day with bated breath since at least 1975.
40 years ago there was no way I could afford a Nikon, and they were making history with lenses like the 13mm f/5.6 and new, innovative cameras that pushed the limits and shone the way for the rest of the world to follow. Every year something awesome came, like the FE, then FE2 and FM2, then the F3 and so forth. When I held my first F4 in 1988 I was astonished. It was like nothing I had ever imagined.
Today, now that I'm some sort of world authority, their best shot is the D7200, which is the same as two years ago?
Contrast this to Canon, whose 7D Mk II leapfrogs everything else and sets new standards with new features, like the ability to shoot in between light flickers for indoor sports, that no other brand can match.
The D7200 is a great camera, but so is the D7100, while Canon is way ahead.
The Nikon D810 has a slight technical advantage if you work in a lab all day, but for real-world shooting where I work, my Canons, especially my 5D Mk III, is what I grab when I need the job done. I shoot my Nikons mostly to use my ancient manual focus Nikkors.
It's all about the user interface. Canon has it figured out, while Nikon's user interface is sloppy. It becomes much more obvious when I shoot both brands at once.
For those of you responsible for user interfaces, be sure your boss appreciates how it's probably the most important thing your company does.
On my Canons, I have them programmed so one tap of the SET button sets PLAY and zooms into the AF point. On my Nikons, I'm lucky if I can program them so one tap of the OK button does the same thing after I hit PLAY, twice as many clicks as with Canon.
On Canon, I have a Quick Control screen from which I can adjust everything. On Canon, I have C1, C2 and usually C3 modes that just save and recall everything. Nikons sometimes have a U1 and U2 mode, but they don't recall as much, and only in Canon can I set them to Auto-Update to make it much easier to get them set when I first get a camera.
Clicks matter. Every extra click a poor camera user interface demands of me is another picture I could have made. I have zero tolerance for extra clicks.
For instance, I thought I was alone, but a gal on one of our photo tours mentioned that she tried to test drive an Audi, and when the screen on the dashboard made no sense and kept locking her out of what she needed to do and kept beeping for no reason, she left, never to return. I had the same experience! I tried an Audi, and its user-hostile interface made me leave — and I've never been to an Audi dealer again.
Ditto for Porsche, also owned by VW as is Audi. I was waiting for their marvelous turbo V8 to make it into a real car from their minivan, and when I finally tried a Panamera, the auto-engine cut-off was defective in design and cut off the engine as I tried to park. Why would I want a car that sometimes turns off the engine on me as I'm trying to drive? Something came up on the screen about having to restart with the key to get it restarted, but I simply walked away and never returned to a Porsche dealership again. Just as bad, the salesman assured me it was easy to tune the radio and pair it to bluetooth, but when I said "show me" because I couldn't figure it out, he couldn't.
Our Samsung TVs have now crossed the line on bad. While we're trying to enjoy a movie, they have the nerve to break-in with menus written over our movie asking us if we want to update software. You have to be kidding; that's awful and the last we buy 65" TVs from Samsung. Now I can't even enjoy a movie without my loser TV trying to distract me. Serve me; I don't serve my TV. I'd dumpster them, but the wife won't let me.
To a New Yorker, "Please Wait" are swear words. We have things to do, and we certainly don't wait for poorly designed and programmed electronics. Even my vacuum tube amplifier is all warmed up in 30 seconds, and my Mac Pro is all booted and loaded from power-off just as quickly. Any more than that to turn on, and you're slower than the 1950s.
Machines are here to serve man. I won't wait for machines to boot or otherwise serve them. If a product tries to make me feel stupid or expect me to wait, answer 20 questions to watch TV or otherwise serve it, why would I want it? Geesh.
User interface is everything. This is why Canon and Apple keep growing.

Two Rane SP 15.
NEW: Rane SP-15 Parametric Equalizer Review
A very handy, flexible and inexpensive parametric equalizer.
08 April 2015, Wednesday
New Copters Announced
Nikon vs. Canon Telephone Support
As I write this, I'm on hold waiting for someone at (800) NIKON-UX to answer a simple question: can I change settings from the D7200's INFO screen? I used to be able to do this on my D7100.
Contrast this to Canon, who when I call (800) OK-CANON, the first person who picks up always knows my answer off the top of their head. I last called Canon to ask if my 5D Mk III can track autofocus while rolling video. The rep on the phone simply let me know it can't do that, and in 10 seconds I had the answer I needed.
Right now, I'm still on hold while someone at Nikon who doesn't know any answers keeps putting me on hold while he tries to figure it out. My call timer is at over 10 minutes, and I've learned NOTHING.
As usual, Canon does a great job, but Nikon phone support has pretty much gone away.
After 14 minutes, I got my answer from Nikon: press the "i" button and you get a simplified menu that sort of has the items you saw on the INFO screen. They have to be kidding, Canon's Quick Control screen is years ahead of Nikon, and I had my Canon DSLRs set to show their Quick Control screens when I tap the rear SET button ever since the 2000s.
After 18 minutes, the Nikon rep excused himself to research my second question (how do I turn on Facial Recognition for autofocus, since my D7200 is simply focusing on what's closest, not the faces). The Nikon rep wants to go research it and phone me back.
After a call time of 18:20, I got one answer. I'll let you know if they return my call as promised to answer the second.
I just got my D7200 and am trying to get it all set up. It always takes me a few days to "move in" and get everything set as I like it.
In case you're on the fence, the Canon 7D Mk II sets new standards and advances the state-of-the-art in DSLRs, while the D7200 is the same thing as the D7100. It's like night and day between them.
In Nikon, stick with the D5500, which is a great little lightweight camera who's touchscreen works great, or step up to the D750.
Nikon did call back after I wrote this, and had the answer: the D7200 does not have face recognition while shooting; it only can do this if you're in Live View, not regular shooting. That's OK, my D750 has fantastic facial recognition for regular viewfinder shooting.
03 April 2015, Friday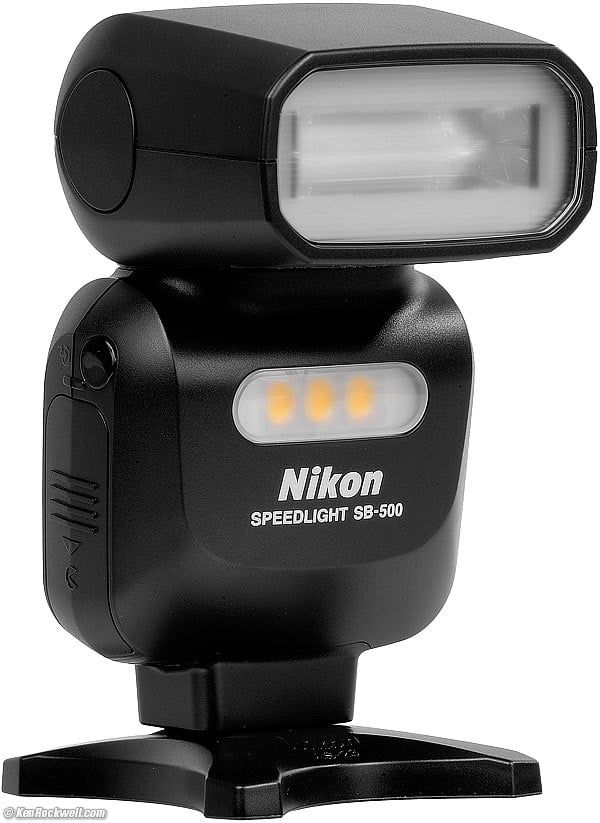 Nikon SB-500 on included AS-23 stand.
NEW: Nikon SB-500 Review
A great little flash with big performance.
DEAL: Nikon D610 for $1,199.95, refurbished, with free expedited US shipping.
New from Korea
New Rokinon 100mm F2.8 Macro & 100mm T3.1 Cine DS Macro Lenses: $549.00 ~ $599.00, all with Free Expedited Shipping.
If you need a cine mount, great, but personally, the Tokina 100/2.8 macro is fantastic, probably much better and much less expensive.
02 April 2015, Wednesday
New Nikon J5 mirrorless
Nikon just announced the Nikon 1 J5 which has 20 MP, ISO 160-12,800, RAW and JPEG image capture, up to 60fps burst rate, slow motion video and more.
Here are links to the various permutations. These ought to ship at the beginning of May.

Nikon 1 J5 Mirrorless Digital Camera with 10-30mm VR Lens, 20.8MP, EXPEED 5A, Built-in Wi-Fi with NFC, Active D-Lighting - Black: $496.95 with Free Overnight Shipping.

Nikon 1 J5 Mirrorless Digital Camera with 10-30mm VR Lens, 20.8MP, EXPEED 5A, Built-in Wi-Fi with NFC, Active D-Lighting - Silver: $496.95 with Free Overnight Shipping.

Nikon 1 J5 Mirrorless Digital Camera with 10-30mm VR Lens, 20.8MP, EXPEED 5A, Built-in Wi-Fi with NFC, Active D-Lighting - White: $496.95 with Free Overnight Shipping.

Nikon 1 J5 Mirrorless Digital Camera 2 Lens Kit with 10-30mm & 30-110mm Lenses, Silver and Black: $746.95 with Free Overnight Shipping.

Nikon 1 J5 Mirrorless Digital Camera 2 Lens Kit with 10-30mm & 30-110mm Lenses, Silver: $746.95 with Free Overnight Shipping.

Nikon 1 J5 Mirrorless Digital Camera with 10-100mm VR Lens - Silver: $1,046.95 with Free Overnight Shipping.

Nikon 1 J5 Mirrorless Digital Camera with 10-100mm VR Lens - White: $1,046.95 with Free Overnight Shipping.
Tascam DP-24SD in stock
When I bought my first 2-track digital audio recorder in 1982 for four times what my car cost, I knew prices would drop fast, but no way would I have ever have expected a 24-track recorder and mixer for $399.99. Back then, a Studer or other 24-track cost as much as a house, and took a staff of guys to maintain it — but my PCM-F1 still sounded worlds better for my live recordings.


01 April 2015, Wednesday
Today is cancelled.
There is no April 1st, in 2015. This is a leap year.
What Was New in:
Help me help you
I support my growing family through this website, as crazy as it might seem.
If you find this as helpful as a book you might have had to buy or a workshop you may have had to take, feel free to help me continue helping everyone.
If you've gotten your gear through one of my links or helped otherwise, you're family. It's great people like you who allow me to keep adding to this site full-time. Thanks!
If you haven't helped yet, please do, and consider helping me with a gift of $5.00.
The biggest help is when you use any of these links when you get anything, regardless of the country in which you live. It costs you nothing, and is this site's, and thus my family's, biggest source of support. eBay is always a gamble, but all the other places always have the best prices and service, which is why I've used them since before this website existed. I recommend them all personally.
Thanks for reading!
Ken
Home Donate New Search Gallery How-To Books Links Workshops About Contact