January 2016's News

Nikon: D5 D810 D500 D750 D610 D7200 Lenses Canon: 1DX2 5DS/R 5D Mk IV 6D 7D II Lenses
Reviews: Fuji  Sony  LEICA  Zeiss  Hasselblad  Contax Minolta Olympus Pentax
Recommended Cameras Best Cameras  Gifts How to Take Better Pictures random
Links: Adorama Amazon B&H Crutchfield eBay Tutorial Videos Infrared Facebook Twitter
Adorama's Daily Deals Amazon's Deals-of-the-Day B&H Deal of the Day   Crutchfield's Sales
31 January 2017, Tuesday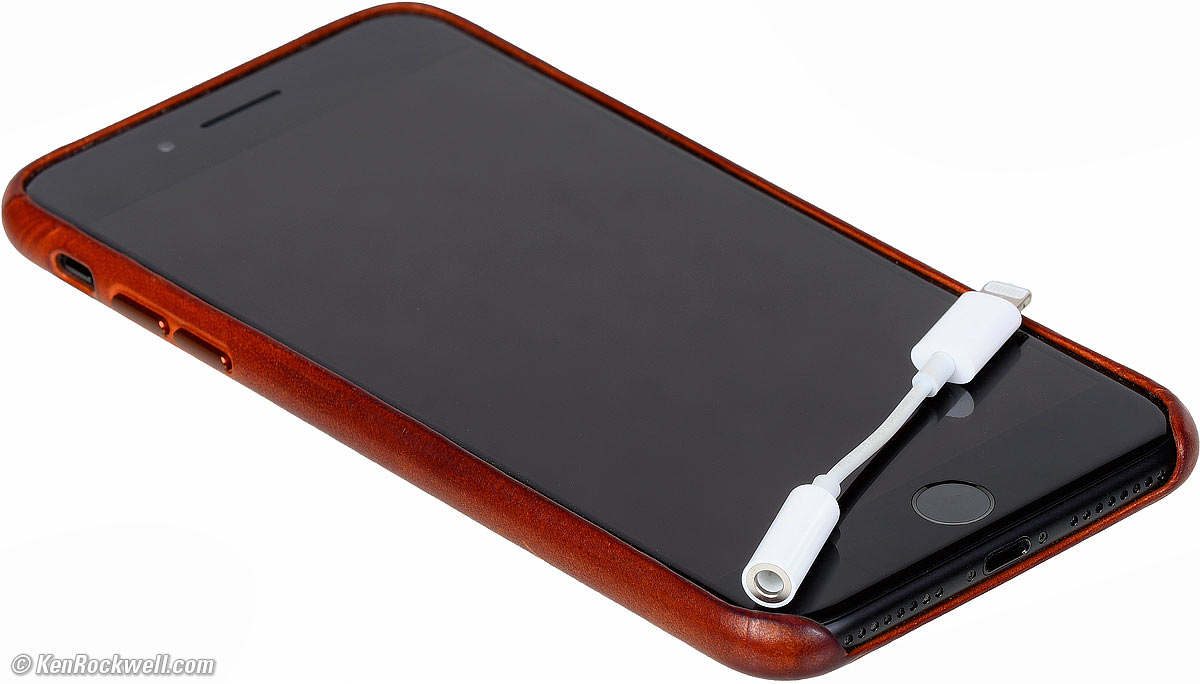 Apple A1749 Lightning Audio Adapter on an iPhone 7 Plus in its saddle brown case.
Surprise: it works at least as well as any older iOS device's internal jack. Duh!
Deals
$50 off the Sony RX-100, RX-100 II and III.
Olympus OM-D E-M5 Mk II & 12mm-50mm : $999, w/Free shipping and $39.96 in Adorama Rewards. Also in silver.
Toshiba 1,000x 32GB CF Card: $16.95 +w/Free shipping.
Get a Profoto light kit and get a free Air Remote when adding one of the kits to your cart.
30 January 2017, Monday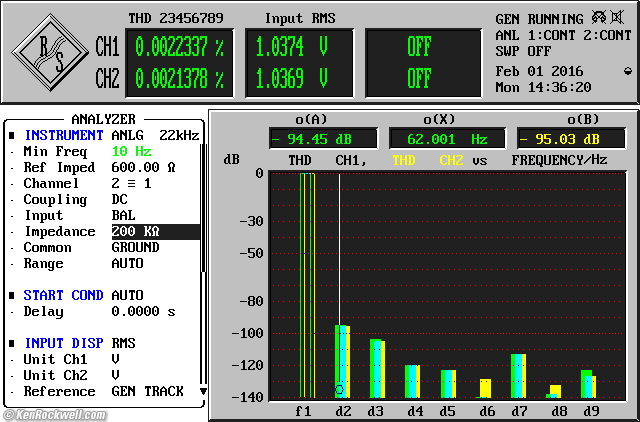 iPad Pro Harmonic Distortion.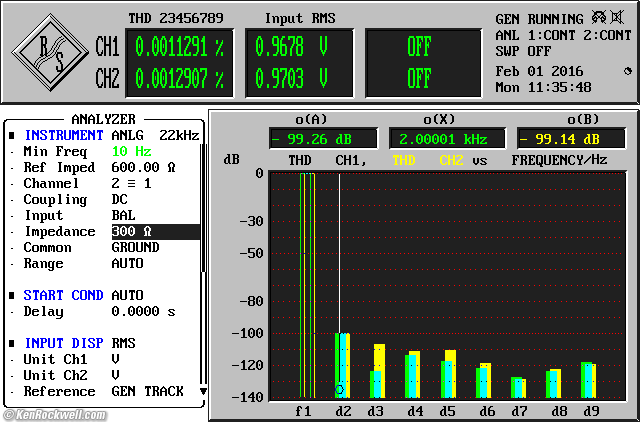 iPhone 6S Plus Harmonic Distortion.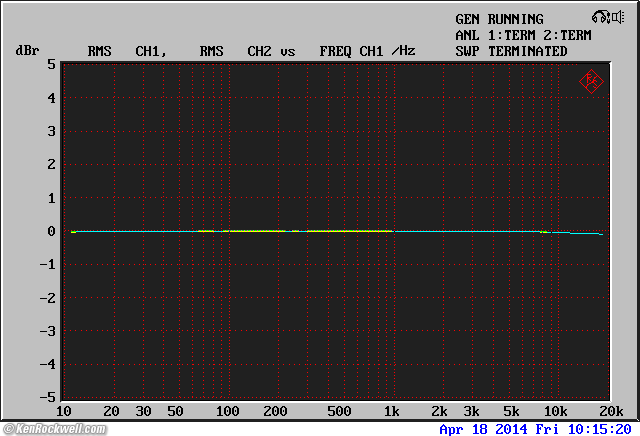 iPhone 5S Frequency Response.
I actually measured all this one or three years ago; been so busy shooting that I never got to posting these before.
As expected and as also confirmed with my iPhone 7 Plus and it's analog 3.5mm audio adapter, Apple's analog audio outputs are top-notch; buying outboard DACs and headphone amplifiers will usually result in worse sound than just plugging in your headphones to the iPhone!
28 January 2017, Saturday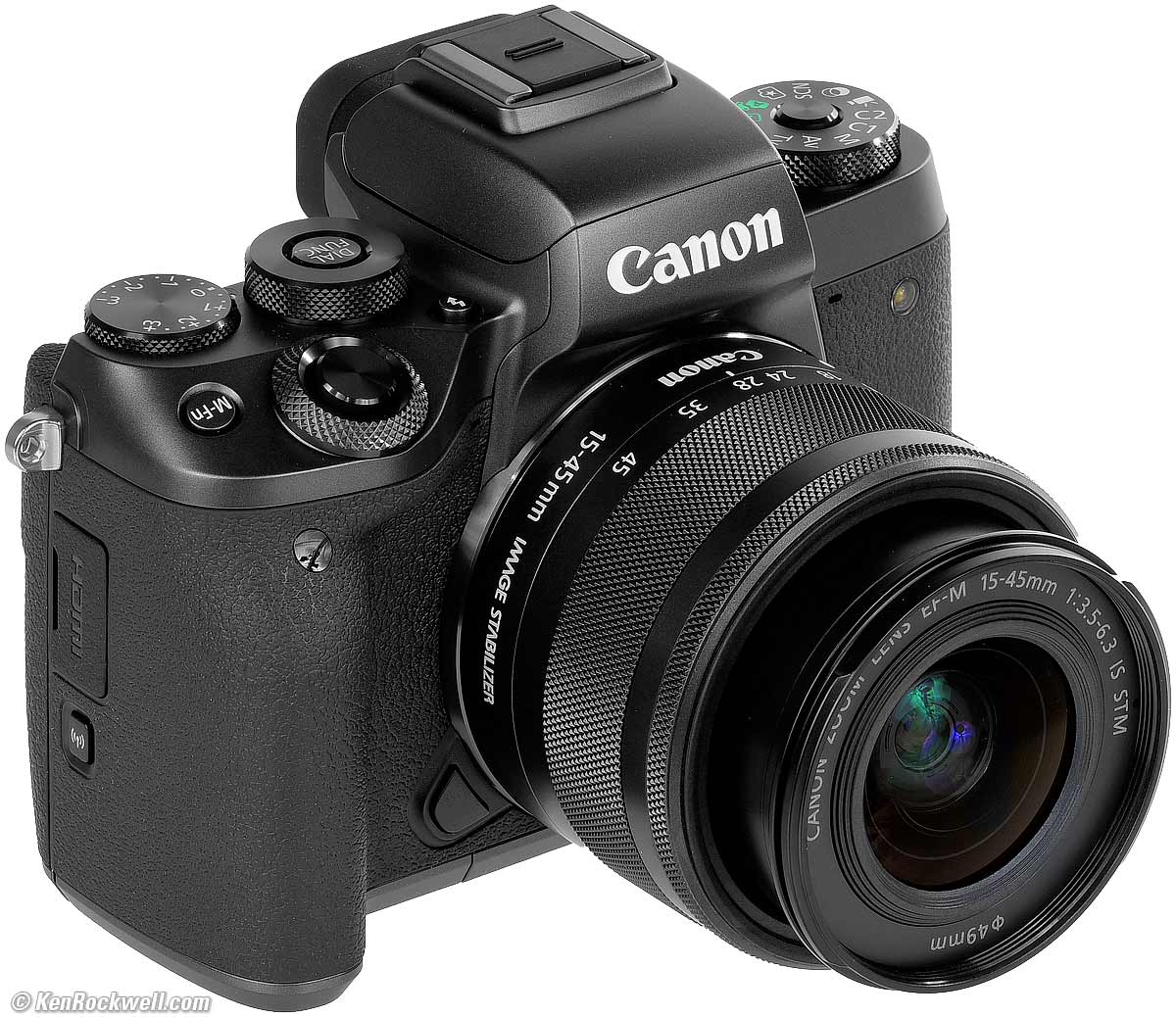 Canon EOS M5 and EF-M 15-45mm.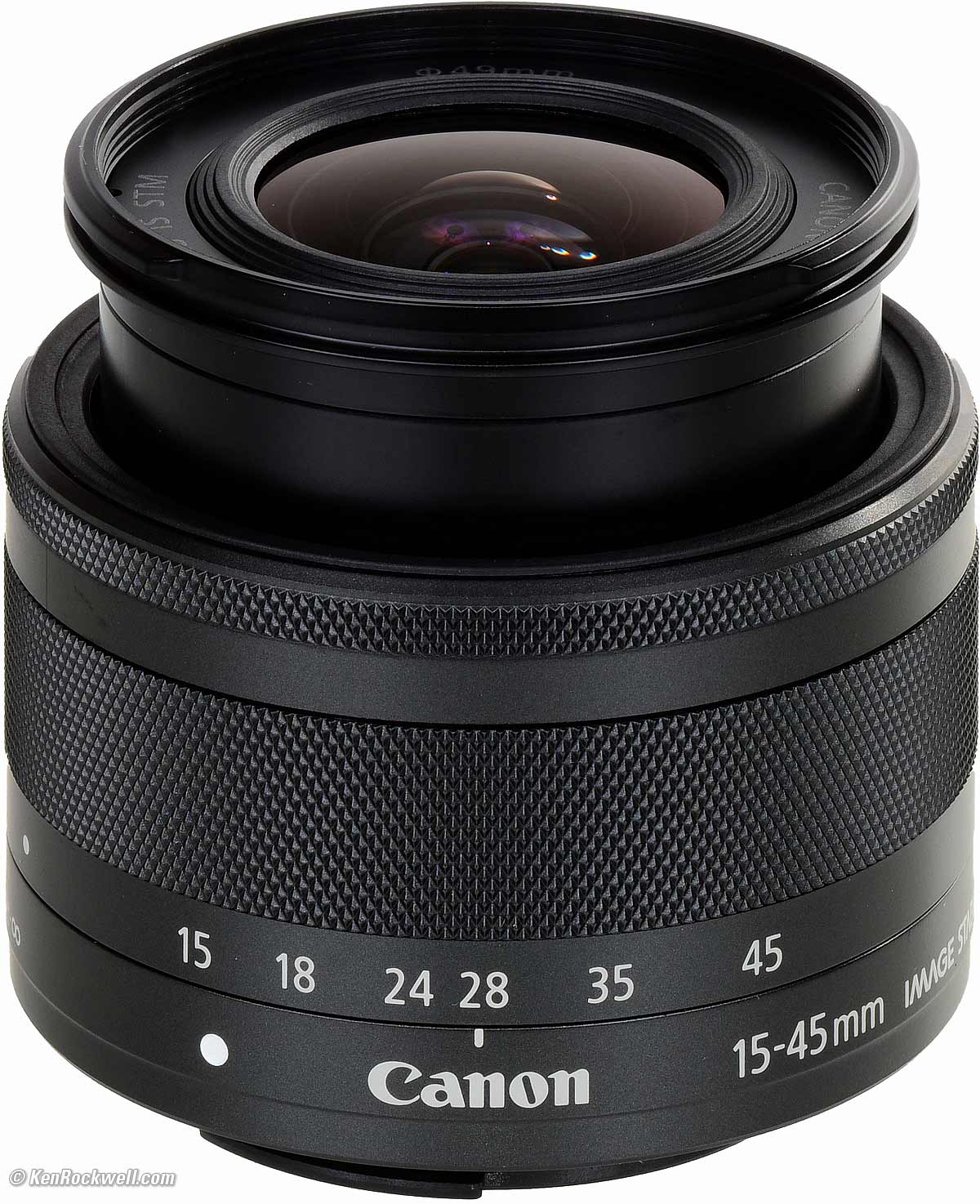 Canon EF-M 15-45mm STM IS.
A great little lens for the great little EOS M5.
Deals
Almost all with free shipping:
Photo
B + W 77mm Circular Polarizer: $64.95 (Reg $79.95).
Manfrotto 682B Self-Standing Pro Monopod, Black Anodized: $69.88 (Reg $129).
Brenthaven Collins Shoulder Bag for Laptops, also in indigo: $14.99 after rebate.
Headphones
AUDEZE SINE with Cipher 24-Bit High Resolution Lightning Cable & Built-In Mic: $339.99 (Reg $499).
Fostex TH-90 Mk II: $949.99 (Reg $1,499).
Pro Audio
Mackie ProFX8v2 8-Channel FX Mixer: $119.99 after rebate (Reg $199).
Mackie ProFX12v2 12-Channel Professional FX Mixer: $169.99 after rebate (reg $249).
Mackie ProFX16v2 16-Channel 4-Bus FX Mixer: $329.99 (Reg $449).
Mackie ProFX22v2 22-Channel 4-Bus FX Mixer: $479.99 (Reg $649).
Mackie ProDX4 4-Channel Wireless Digital Mixer: $139.99 (Reg $199).
Mackie ProDX8 8-Channel Wireless Digital Mixer: $199 (Reg $299).
Office
Ricoh SP C250DN Laser Printer: $69 (Reg $109).
26 January 2017, Thursday
24 MP APS-C DSLR. Comes in black and in silver.
Expected to start shipping 23 February 2017.
Get this: Adorama will be giving one lucky customer who pre-orders the KP their camera free! The customer will be selected randomly from all who pre-order the camera from Adorama.
25 January 2017, Wednesday
Resolution and noise
The important factor in noise is magnification, not pixel count or resolution.
The number of pixels on different sensors of the same size has little to do with noise from a theoretical point of view. Splitting the image into more pixels makes each pixel potentially noisier, but having more of them over the same unit area means that 1.) the noise as we see it averages itself out over more pixels across that same unit area exactly as if we had just one larger pixel there, and 2.) more pixels give the camera's processors more image data with which it can perform even more intelligent noise reduction for that unit area than if it were just one big pixel.
More important for noise is the magnification between the size of the sensor and the size of the display, be the display a screen or a physical print. Pixel count doesn't matter, but magnification does.
12MP or 24MP or 50 MP full-frame sensors of the same technology will have the same noise when displaying those images at the same size — but display the images larger or use a smaller-format sensor and the images will get noisier. If you compare images at 100% on a computer, the higher-resolution sensor will look noisier simply because 100% from a higher-resolution sensor is much more magnification; the pixels are smaller to begin with so you are magnifying them more to display them the same 100% size than from larger pixels from a lower-resolution sensor.
It's print and sensor size that matter; not pixel count.
The practical reason otherwise similar cameras with fewer pixels usually go to higher ISO settings is because it takes less computer power to perform noise reduction on fewer pixels. Higher resolution cameras like my Canon 5DSR don't go to higher ISOs because the 5DSR doesn't have enough computer power to perform all that noise reduction on 50 million pixels five times a second. As my reviews prove (see 5DSR high ISO samples and 1DX Mk II high ISO samples), the image quality from the 5DSR at the same high ISO like 12,800 is identical to the performance of the 1DX Mk II at ISO 12,800. The reason the 1DX Mk II goes to crazier ISOs is because it has fewer pixels, more computer power and more marketing push to do so. The 1DX Mk II looks awful at its top H+3 ISO 409,600 setting, while the 5DSR looks great at its highest setting of ISO 12,800.
Sony Trade-in Deals Get Better
Sony's offering credit for trade-ins when you get new Sony gear. (also at B&H.)
An advantage to doing this with Adorama is that in addition to the credit from Sony, Adorama will evaluate the wholesale value of your trade-in, and send you a check for the trade-in value in addition to you getting credit back from Sony!
You can send in any worthless old camera or lens to get Sony's trade-in value; it doesn't have to be a recent model camera; this is just an excuse to give you a discount, but send in something good and Adorama will also send you the same check as they would if you simply traded it in.
Deals
Canon MF244dw Laser Printer: $89.99 (Reg $199), with Free shipping.
Manfrotto XPRO Monopod: $64.88 (Reg $99), with Free shipping.
Polk LSiM 703 Bookshelf Speakers, also in cherry: $649.99 the pair (Reg $1,499), with Free shipping.
23 January 2017, Monday
Mezzo Format Revisited
An important point I should add to Friday's rant about questionable "medium format" cameras is that their crop factor is only 0.8.
An 0.8 crop factor is closer to full-frame (20% ~ 25% different size) than DX or APS-C is to full-frame (50% to 62% different size)!
In other words, there is more difference between APS-C sensors and full-frame than there is between the mezzo-format cameras I mentioned Friday (the Pentax 645Z, Hasselblad X1D and Fujifilm GFX 50S) and full-frame.
Worse, the mezzo-formats are from second and third-tier digital makers, compared to top-tier full-frame DSLRs.
We'll see when I run these off against each other, but right now I'll bet that it's an even chance that top-tier (Canon 50MP) full frame will have about the same technical quality as the mezzo-format cameras, which are a tier or two below in technology with only a 20% more favorable crop factor.
Add the fact that a mezzo-format camera system is still bigger and slower than full-frame DSLR (especially after you add lenses), and that it will still set you back a small mint to outfit it with lenses, and that you can't get the lenses you really want for any of them at any price, and you won't find me wasting any sleep worrying about them.
If I had to pick one mezzo-format camera, the easy choice is the Pentax 645Z simply because it's 1.) the least expensive, 2.) it's actually available to buy right now, and 3.) you can get a full set of lenses for it; you even can use old Pentax manual-focus and AF 645 lenses on it which you can get cheap on eBay.
Did You Know?
I finally broke down after more than a decade and bought an Apple Lightning iPhone/iPod dock so that my iPhone 7 Plus and other Lightning iPhones and iPods can stand up and face me neatly on my desk, instead of flop around flat as I charge and sync them — or just want them to display the weather, my iTunes Remote Control app or see my security cameras.
Little did I realize that this simple dock also has an audio jack on the back, which is not just a line-level output to plug into a fine Hi-Fi, but is also a headphone amplifier so we can plug our headphones into our headphone-jack-less new iPhones and listen all day and night.
This simple little dock lets you charge at the same time you listen. It has all the DACs and amps for playback, a mic preamp and ADC for the mic in your headphones, and also responds to the remote control on your headphones, just like everything else Apple.
This dock comes with no cord; you plug the cord you already have into the back of it.
As an aside, I did run the little Lighting-to-3.5mm adapter that comes free with the iPhone 7 through my audio laboratory, and it tests and sounds at least as good as the native DAC and amplifiers in the earlier iPhones. It has the same ruler-flat response and 1 V RMS output into 32Ω at 0 dBFS, and only 0.001% THD while the earlier iPhones ran around 0.002%.
Apple knows what they're doing. The tiny 3"/75mm long 0.085 oz./2.4g adapter houses a microscopic stereo DAC, headphone amplifiers, a mic preamp, mic ADC, DC power converters, responds to remote control commands and has circuitry to let it tell the phone what, or if, something is plugged in. For instance, it's so smart that it remembers different volume settings for my pro headphones that only have three terminals on their plugs versus my mobile headphones that have 4-terminal (TRRS) connectors with remotes.
This tiny Apple device has better performance and more and cleaner output than many fancier "audiophile" devices I've tested. Apple has more resources to make better stuff than the smaller companies. Most 3rd-party headphone amps and DACs, all be they bigger and far more expensive, put out less clean power into 32Ω loads, and do it with more distortion, poorer sound and lousier frequency response. If you're using regular headphones under 100Ω, you really can't do better than just plug it into your iPhone, iPad or iPod. Only if you're running 240Ω or higher headphones are you likely to need a pro amp like the Benchmark DAC1 HDR to get enough output.
HINT: You need iOS 10 for either the Lighting Dock or the adapter to have audio output. iOS 9 and earlier predate the headphone-jack-less iPhones, so it doesn't recognize the adapters — but iOS 10 that shipped with the iPhone 7s does.
Sony Sale
New Sony Rebates, also at Adorama:

Sony A7 II: $1,498.

Zeiss 135mm f/1.8 ZA (full-frame): $1,698.

Zeiss FE 16-35mm f/4 ZA OSS (full-frame): $1,248.

Sony PZ 18-105mm f/4 G OSS: $548.00.
More Deals
DJI Phantom 3 4K $300 off — today only!
20 January 2017, Friday
New: Orlit lighting.
Digital Medium Format — is it?
With the choices of Pentax 645Z, Hasselblad X1D and Fujifilm GFX 50S, what to do?
First of all, only the Pentax is real; neither of the other are shipping yet.
I prefer my Canon 5DSR. It has the same resolution, it's far easier to use and handle, it's much faster, and is part of a far more complete, flexible and mature system for those of us who have to shoot for a living today.
We'll see, but I suspect Canon's development budget lets it have better performance than the simple mechanical advantage of the garage-shop brands Pentax, Hasselblad and Fuji.
Businessmen understand this, but artists don't. Specs and camera price have little to do with how well something actually works. Far more important is how much time, people and money any given company has to put into the development of what actually goes inside a camera.
Canon is a huge corporation with huge budgets and almost limitless resources. They can afford to spend a lot of resources to develop technologies which they then share among all of their huge product line, and they sell so much that even a huge development cost gets distributed over many, many individual cameras. Thus for a low price Canon can sell superior products over LEICA; this is 2017, not 1957.
Once-impressive names like Hasselblad, LEICA, Pentax and Fuji have nowhere near the sales volume of Canon. They have fewer sales, and fewer resources. A camera that costs $10,000 from LEICA or Hasselblad is still primitive compared to what we get from Canon for $999.
Apple is the biggest company on the planet. Apple sells 50 billion dollars more each year than General Motors! That's why they can and do throw so many smart people and resources into the iPhone, and explains why iPhone photos so maddeningly often look better than what we take with other brands of camera.
Critical to the nerd questions about pixels, it's very difficult to elicit the very best performance from any sensor unless you really know what you are doing. Canon (along with Nikon and Apple) gets much better colors from their sensors than anyone else does; the smaller brands get different results from each camera as they learn.
The only advantage any of these medium format experiments is that they have larger sensors, but when I get one to test, I'm expecting 50/50 that Canon's technicnology advantage may trump the mechanical advantage of the larger sensors. The 5DSR may outperform the other medium format cameras. We'll see.
What we do know is that the Canon costs much less, and that most of us already own all on the lenses we need for it today.
There are no real digital medium format cameras. $50,000 will get you a "small" medium format sensor the size of the girly-man medium format, 645 (6x4.5 cm).
The gotcha with these circa $10,000 medium format cameras is that they aren't close to real medium format (6x6cm). These little medium format sensors are all only 33x44mm, nowhere near the 56x56mm actual size of real medium format.
While real medium format is 56x56mm (3,136 square mm), these little medium format cameras are only 33x44mm, or 1,452 square mm — less than half the area of real medium format!
Full frame is 24x36mm, so 33x44mm isn't that much bigger. I'll take all the lenses and flash and support I have for my Canons or Nikons any day over blowing tens of thousands of dollars on a small brand's near-medium format experiment — but we'll see as soon as I get one.
I call 33x44mm "mezzo" format, halfway between medium format and 35mm.
Know what I shoot for medium format? My Hasselblad 503CX or 500C/M with Fuji ACROSS 100 and Velvia.
Nikon? I love my D810, but it's still a sub-50 megapixel camera. Nikon's not at this party yet.
19 January 2017, Thursday
Two new ways to spend $6,500: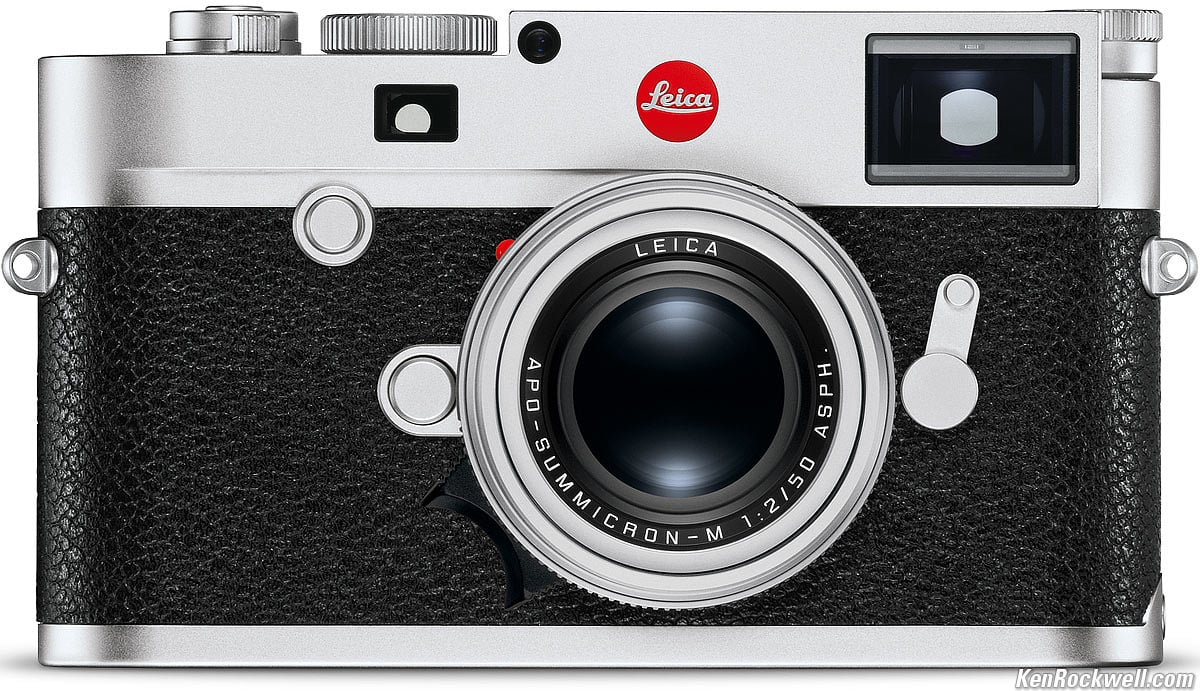 LEICA M10 und APO-SUMMICRON 50/2.
Thank God LEICA ditched the old overweight M240; the M10 brings us back to normal size, weight and model numbers befitting a LEICA M. The M240 now can be cast off with other rubbish like the bloated 1970's M5 to the trash can of history. Good riddance!
New GFX Medium Format System
51 MP, 43.8mm x 32.9mm CMOS sensor with the correct 4:3 aspect ratio, yes! (0.79x crop factor; 54.8mm diagonal).
Fujifilm GFX 50S Medium Format Mirrorless Camera Body - $6,499.00. Also at B&H.
Fujifilm GF 63mm F/2.8 R WR for GFX (50mm eq.) - $1,499.00. Also at B&H.
Fujifilm GF 32-64mm F/4 R LM WR for GFX (25~50mm eq.) - $2,299.00. Also at B&H.
Fujifilm GF 120mm F/4 R LM OIS WR Macro for GFX (95mm eq.) - $2,699.00. Also at B&H.
GFX Accessories
Fujifilm EVF-TL1 EVF Tilt Adapter - $569.00.
Fujifilm Adapter to use GX645AF lenses on the 50S - $659.00.
Fujifilm RLCP-002 Rear Lens Cap - $12.99.
Fujifilm BCP-002 Body Cap - $12.99.
Fujifilm FLCP-62II Front Lens Cap fpr GF 63mm Lens - $16.99.
Fujifilm VG-GFX1 Vertical Battery Grip f/GFX 50S - $599.00.
Fujifilm NP-T125 Rechargeable Battery for GFX 50S - $119.00.
Fujifilm BC-T125 Battery Charger for NP-T125 Battery - $79.00.
Fujifilm AC-15V AC Power Adapter for GFX 50S - $99.00.
New X100F Camera
24MP.
Fujifilm X100F - $1,299.00. Also in black. Also at B&H in silver and at B&H in black.
Fujifilm WCL-X100 II Wide Conversion Lens for X100F - $349.00. Also in black.
Fujifilm TCL-X100 II Tele Conversion Lens for X100F - $349.00. Also in black.
Fujifilm Leather Case for X100F Digital Camera, Brown - $89.00. Also in black.
New X-T20 X-Mount Camera
24MP, 5 FPS.
Fujifilm X-T20 Mirrorless Digital Camera Body - $899.00. Also in black.
Fujifilm X-T20 Mirrorless Digital Camera Body, with XF 18-55mm F2.8-4 R LM OIS Lens - $1,199.00. Also in black. Also at B&H in silver and at B&H in black.
Fujifilm X-T20 Mirrorless Digital Camera Body, with XC 16-50mm F3.5-5.6 OIS Lens - $999.00. Also in black. Also at B&H in silver and at B&H in black.
New X-Mount 50mm Lens
Fujifilm XF 50mm F/2 WR Lens - $449.00. Also in silver and also at B&H.
Fujifilm FLCP-46 Lens Cap, Compatible with XF50mmF2 Lens - $12.99.
Fujifilm PRF-46 46mm Protector Filter for XF50mmF2 - $59.95.
NEW: Rokinon XP 85mm f/1.2 Lens for Canon EF.
IN STOCK: DJI Inspire 2 Quadcopter.
Deals
Manfrotto MBSB390-5BB Backpack: $29.95 (Reg $79), with free shipping.
Brenthaven Collins laptop shoulder bag: $19.95 (Reg $59), with free shipping.
Canon MF726CDW Laser Printer: $274.99 (Reg $399), with free shipping.
Flashpoint Bi-Color On-Camera Light: $39.95 (Regular $100), with free shipping.
17 January 2017, Tuesday
This is brand-new and from a well-rated seller. It's $1,300 off because it's gray market, meaning that it's the same Nikon D5, but instead of a real Nikon USA warranty, the seller offers their own warranty.
For $100 off I wouldn't touch this, but for a $1,300 discount on a brand-new D5, I'd take the chance.
Friday the 13th, January 2017
In-Stock:
Deals
Nikon
Nikon D750 & 24-120mm: $2,397.
Nikon D3400, 18-55mm & 70-300mm: $597.
Canon
Canon 5D Mk III & Printer: $2,549 after rebate.
Fuji
Fujifilm X-T2 & Grip: $1,699.
Fujifilm X-Pro2 & 23mm f/2: $1,899.
Sony
Sony A77 II: $998.
Panasonic
Panasonic Lumix DMC-GH4: $1,198.
Olympus
Olympus PEN-F: $999.
10 January 2017, Tuesday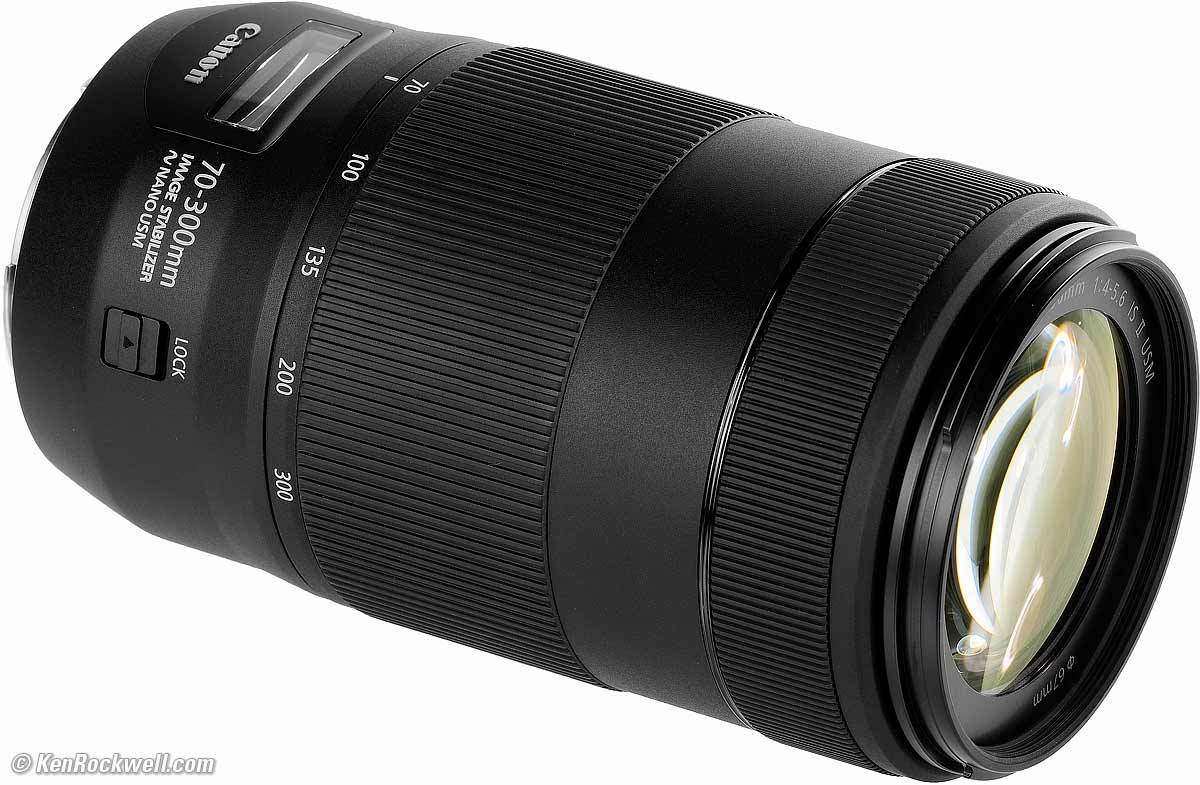 Canon 70-300mm IS II.
I kid you not: this lens autofocuses instantly!
It's so much better than every consumer telephoto zoom that it is now the world's best consumer telephoto. Whoo hoo, and it sells for a bargain price.
Canon just hit it out of the park with this one.
Apple Aperture
People keep asking me, and my version 3.6 of Apple Aperture seems to be working just fine on my Mac Pro (Late 2013) on the latest OS 10.12.2.
I only use Aperture when I have raw files to process, and I only shoot raw files if I shoot my LEICA M9, and I only shoot raw files on it because its JPGs are so awful.
Otherwise I don't shoot raw, and so I rarely use Aperture.
When I do use Aperture, my biggest problem is remembering how to use it, and helping it find wherever I've moved my projects.
American Express promotion
Adorama is running a promotion with American Express.
Spend a total of $250 get $25 back as a one-time statement credit from now until February 22, 2017.
You find this under "my offers" in your account with most Amex cards. Once the offer is "added to card" all you need to do is pay with your American Express Card at checkout. Whoo hoo!!!!!
More Deals
Manfrotto 190Go! Tripod & Manfrotto MVH502AH Video Head: $229.88 (Reg $349), with free shipping.
Manfrotto PIXI Evo Mini Tripod: $24.88 (Reg $49.88), with free shipping.
Serious home theatre deals:
(2) Polk LSiM 707 Floorstanding Speakers, (2) LSiM 703 Bookshelf Speakers & one LSiM 706C Center Speaker: $2,799.99 (Regular $6,699), also in cherry, all with free shipping.
(2) Polk LSiM 707 Floorstanding Speakers, (2) LSiM 703 Bookshelf Speakers, one LSiM 706C Center Speaker & (2) LSiM 702 F/X Surround Speakers: $3,299.99 (Reg $8,199), also in cherry, all with free shipping.
The beauty of these systems is that you have two full-range speakers for front left and front right, so you set up the bass management in your receiver accordingly and retain stereo bass, compared to only having mono bass of using a single subwoofer. While bass tends to be nondirectional, the reality is that we can hear the direction from which it's coming from a woofer; you need stereo woofers or subwoofers if you're serious. These setups work great for music as well as movies.
09 January 2007, iPhone Introduction
Ten years of iPhone
Ten years ago today Steve Jobs introduced the iPhone.
When I catch up with old friends, we speak of the time before the iPhone as if it were ancient history — because it is.
Today, my iPhone 7 Plus has an extraordinary camera. It gives better results on the first shot more often than any other camera. It has better exposure, better white balance and better color than any other camera at its default settings. In its Portrait mode, it also has better bokeh than anything else, with super-smooth backgrounds.
While 20% of the photos I make, like shots under moonlight or photos of things a mile away, require a DSLR, 80% of my family, travel, macro and fun photos are best served by the iPhone already in my pocket. Not only are the photos first rate, once snapped on the iPhone, I can edit and distribute them immediately.
Ignore the ignorant who are prejudiced against small cameras. The iPhone easily holds up to, and even betters exotic cameras shot head-to-head. My iPhones certainly take better pictures than my digital LEICAs because the color rendition is far better, and the iPhone is also far better for reportage because it's less visible. With a default ISO of 20 and premium fixed high-speed optics, the iPhone makes super-clean photos better than compact point-and-shoots that default to ISO 100.
My iPhone 6s Plus ran at 10 frames per second continuously at 12 MP. I presume my 7 Plus is at least as fast for action.
If you're serious about photography, you deserve an iPhone 7 Plus. Did you know it has three complete cameras? It has one on the screen for FaceTime, and two on the back: one for wide shots with a 28mm (eq.) f/1.8 lens, and another with a 56mm (eq.) f/2.8 lens, each of which is seamlessly selected as you zoom.
Bravo Apple!
06 January 2017, Friday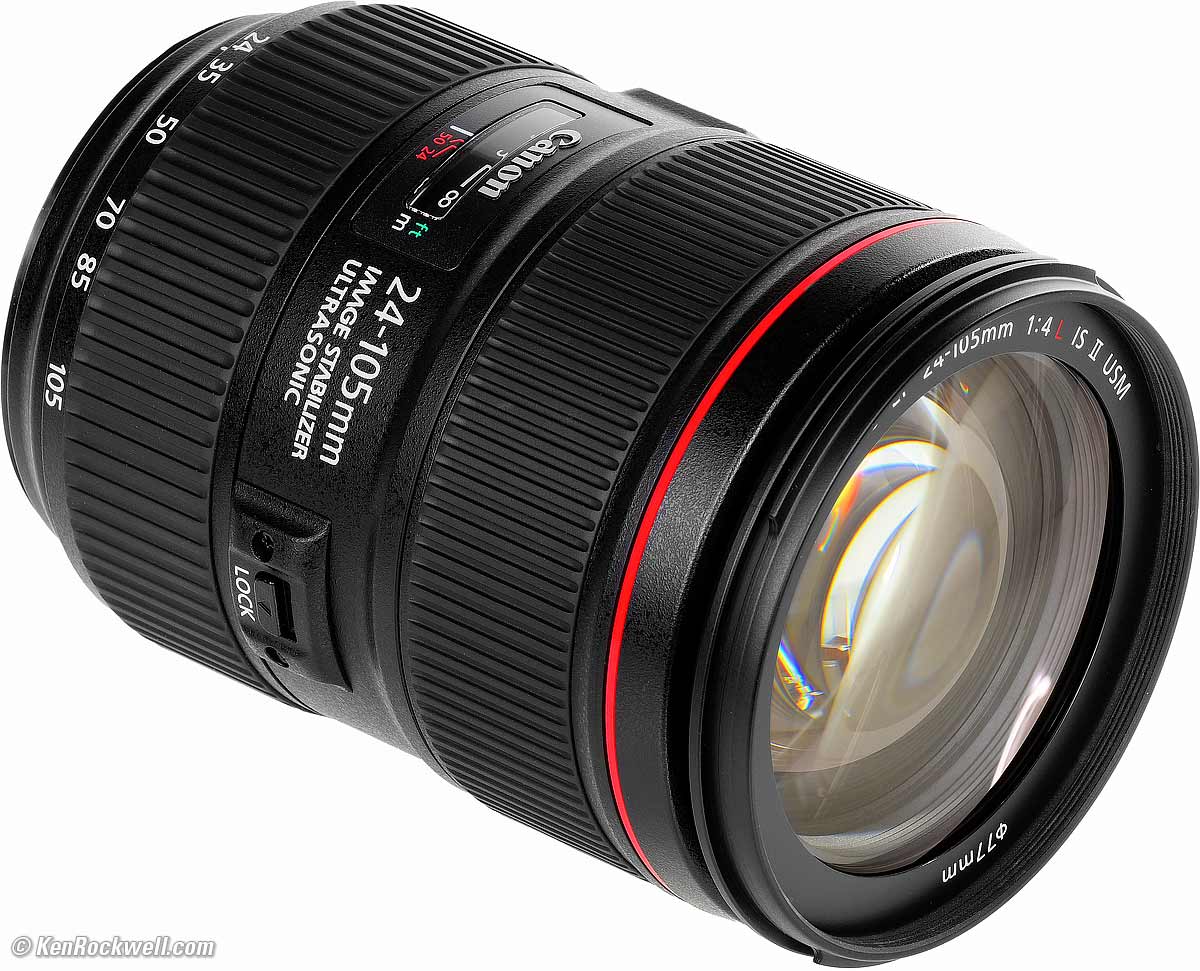 Canon EF 24-105mm f/4 L II.
Great optics, but big and heavy.
Not that much different in performance than the 24-105 STM or the previous 24-105/4 L IS, but a whole lot heavier.
How crazy is this? Kodak cancelled its slide films in 2012 because they couldn't compete against Fuji's film, which have better colors and much better permanence and resistance to fading, but heck, I can't complain about anyone reintroducing film. I suspect today since most people shooting film don't really know what's going on, they'll just think "cool, I'm so retro; look at my goatee!" and not notice.
I've been waiting for Kodak to make something better than Fuji since 1990, but they never have. The tide was turned one day in the 1980s when a news writer was doing an article about film, and walked down to the newspaper's photo department to ask some questions, and was astounded when they told him that they'd all been shooting Fuji color print film, not Kodak. Kodak always advertised like crazy, while Fuji made better film; pros knew Fuji film, but not the public.
Likewise, I shot some defective TMAX 100 last year, which Kodak never replaced, so I tried Fuji ACROS which is even better. The Japanese are crazy about cameras and film, while Kodak has slowly been going out of business since the 1980s.
Of course every film gives a different look. Which gives your look depends on who you are; one of the reasons I've never shot Ektachrome is that it fades. All my Kodachromes from over 40 years ago still look like the day I got them back from Fairlawn, NJ, while most Ektachrome has faded away over the decades.
It's only to come in one version (Ektachrome always came in many versions) and in only one size, 36 exposure 35mm. This is the most popular, but ever since DSLRs made it to 24MP I haven't shot any 35mm film; I shoot 120 in my Hasselblad. Once DSLRs made it to 24MP from 12MP back around 2012, digital has been better than 35mm film — so I shoot a Hasselblad.
Deals
SUPER DEAL: Beyerdynamic DT 1350 Headphones: $119.99 (Original $279.99), with Free shipping. Expires 1/11 or while supplies last. I bought one of these deals and these are among the best headphones I've ever heard at any price. They are for serious listening; they have no remote or mic; just genuine German-made headphones in a portable case. For the same price as others pay for Chinese-made plastic rubbish these are the real pro deal. Get them now at a dime-store price!
FLIR Scout TK Compact Thermal Vision Monocular: $499 (Reg $599), with Free shipping.
Canon MF726CDW Laser Printer & D-Link Wireless Router: $274.99 (Reg $499), w/Free shipping.
Samson MTR101A Condenser Microphone w/Shockmount & Pop Filter: $49.99 (Reg $119.99), with Free shipping.
05 January 2017, Thursday
New at CES
New from Fuji
Fujifilm X-T2 in Graphite Silver, also at Adorama. Same camera, new color.
Fujifilm X-Pro2 & 23mm f/2 Lens in Graphite, also at Adorama. Same camera, new color.
Fujifilm XP120 Waterproof in yellow, also in blue, in green and in cyan (sky blue).
New Micro 4/3 from Panasonic
Panasonic GH5. Also at Adorama.
XLR1 XLR Audio Expansion Unit for GH-5.
Panasonic G X Vario 12-35mm F/2.8 II Aspherical Power OIS.
Leica Panasonic G DG Vario-Elmarit 12-60mm F/2.8-4 Aspherical Power OIS.
Panasonic G X Vario 35-100mm f/2.8 II POWER OIS. Also at Adorama.
Panasonic G Vario 45-200mm f/4-5.6 II POWER OIS. Also at Adorama.
Panasonic G Vario 100-300mm f/4-5.6 II Power OIS.
Panasonic GX850 w/12-32mm Lens, also in silver. Also at Adorama in black and in silver.
Panasonic FZ80. 60x optical zoom (not micro 4/3). Also at Adorama.
04 January 2017, Wednesday
New at CES
Nikon D5600, which also comes as kits with D5600 & w/18-55mm AF-P VR, D5600 & 18-140mm VR and as the D5600, 18-55mm AF-P VR & 70-300mm AF-P (no VR). Also at B&H: D5600, D5600 & 18-55, D5600 & 18-140 and D5600, 18-55 & 70-300.
Nikon Coolpix A300. Also at B&H.
Nikon Coolpix W100, which also comes in white, and both also at B&H.
Coolpix? Really? And they say Nikon has lost touch. Ever heard of an iPhone? I know its a new thing, not barely 10 years old yet, but you've got to be kidding me; my iPhone 7 Plus camera so outperforms any point and shoot (better lenses, better sensor that defaults to ISO 20 for cleaner images and better color rendition under every kind of light), and does so much more than a point and shoot once you have your image captured. Geeze!
02 January 2017, Monday
New Year, New Gear
I'm working on reviews of the Canon 70-300 USM II (superb, with the fastest autofocus of any consumer telephoto lens ever — a new benchmark!), Canon EOS M5 (great images but slow handling) and EF-M 15-45mm (perfect little lens for mirrorless), and the Canon 24-105 IS L II (very good but big and heavy, so why do we want it over the original 24-105?).
Those reviews are all under construction, so no need to go following all those links in any detail.
New Year, New Deals.
Induro GIT204 Carbon Fiber Tripod: $349 (Reg $525), with Free shipping.
Timbuk2 Messenger Bag: $79 (Reg $149), with Free shipping.
Tenba Messenger Bag: $49.95 (Reg $126), with Free shipping; while supplies last.
Hubsan H107D+ FPV X4 Plus Drone: : $79 (Reg $119) with Free shipping, while supplies last.
Fender Passport 150W Monitors: $219.99 the pair (Reg $599), with Free shipping.
Senal SMH-1200 - Enhanced Studio Monitor Headphones: $99 (reg. $149).
What Was New in:
November & December 2016 (Fuji X-A10)
September & October 2016 (Nikon 70-200mm f/2.8 FL, Nikon 19mm PC-E, Sony A6500, Sony RX100 Mk V, Sony Alpha 99 II, Canon EOS M5, Canon EF 70-300 IS II USM, Sony 50mm f/2.8 Macro)
July & August 2016 (Canon 5D Mk IV, 16-35 IS II, 24-105 IS II, Nikon D3400, Nikon 105mm f/1.4, Fuji XT-2)
Help me help you
I support my growing family through this website, as crazy as it might seem.
If you find this as helpful as a book you might have had to buy or a workshop you may have had to take, feel free to help me continue helping everyone.
If you've gotten your gear through one of my links or helped otherwise, you're family. It's great people like you who allow me to keep adding to this site full-time. Thanks!
If you haven't helped yet, please do, and consider helping me with a gift of $5.00.
The biggest help is when you use any of these links when you get anything, regardless of the country in which you live. It costs you nothing, and is this site's, and thus my family's, biggest source of support. eBay is always a gamble, but all the other places always have the best prices and service, which is why I've used them since before this website existed. I recommend them all personally.
Thanks for reading!
Ken