Nikon D40 Specifications
© 2006 KenRockwell.com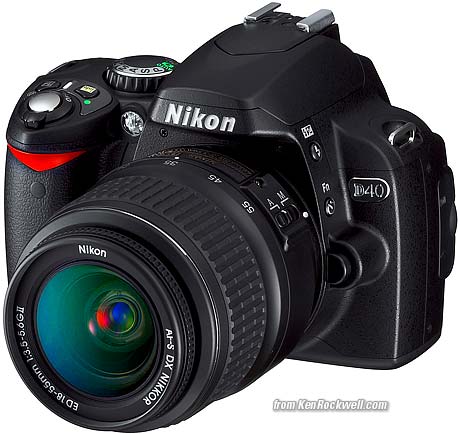 Nikon D40 with new 18-55mm lens. enlarge
I bought mine here from Ritz. I'd have gotten it here or here just the same.
SPECIFICATIONS with commentary
Top Introduction Specifications Performance Recommendations
Price: $599 with new G-II version of the 18-55mm. The body is not available separately. The body-only version will be available in Europe at 450 Euros (530 Euros with 18-55mm II). USA Readers: avoid any offers for body-only, since they will be gray-market.
Availability: Shipping since November 30th, 2006.
Colors: It comes in professional, low-key black. In some countries it also comes in foolish silver paint. These are factory seconds, please avoid them. Just kidding: I think silver-painted cameras look foolish and they drive me up a wall when I see them in public.
Lenses: AF-S (internal motor) lenses only. Won't focus with older (or current, brand-new non-AF-S) AF lenses. It also works with old professional AF-I lenses, like my 15-pound 400mm f/2.8. An easy way to tell if it will work with your lens is to look at the mount: if it has about 10 electrical contacts you're fine. If it only has 5 (or no) contacts you're out of luck. Traditional AF lenses (5 contacts) work but have to be focused by hand, manual focus lenses don't do squat unless you focus and guess the exposure manually. No problem with lenses like the 10.5mm fisheye - they don't really need to be focused anyway, so just tape it at about 6 feet!
What's Included: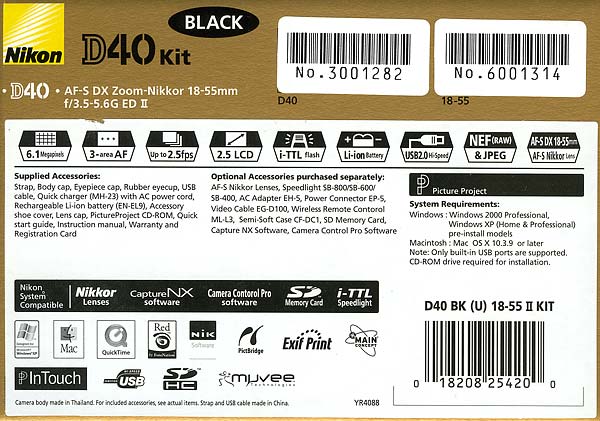 What's included, USA version.
If an online dealer doesn't include all this, you're getting ripped off. This is printed on the side of the box.
Here's the top of the box: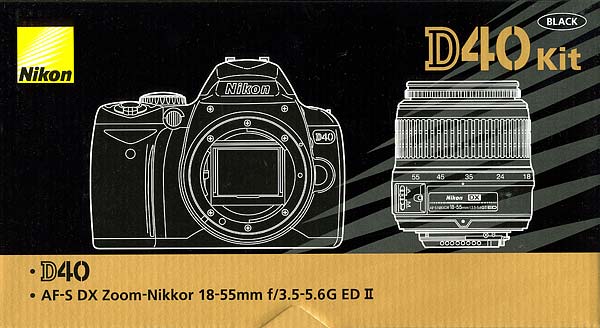 Box, USA version, kitted with lens.
Unlike past kits, this one comes in one box. Earlier kits had separate boxes for lens and body.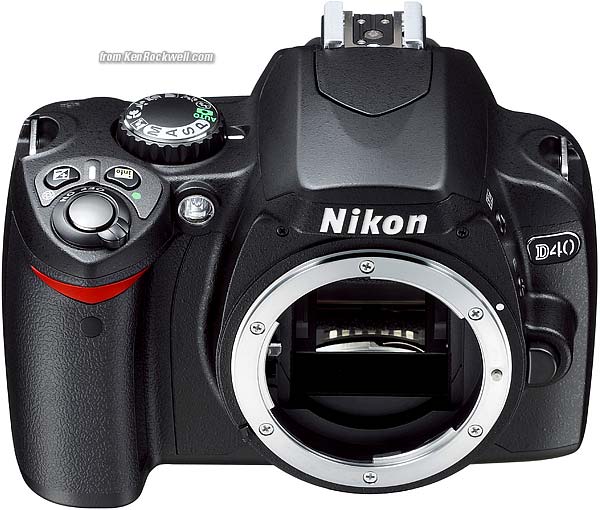 Note lack of screwdriver AF lens coupler: AF is via electronic contacts only.
AUTOFOCUS and VIEWFINDER
AF: 3 AF points, downgrade from every other Nikon DSLR. Multi-CAM530 autofocus module with a center cross-type sensor. I suspect each sensor covers more area than the smaller AF sensors used in cameras with 11 of them.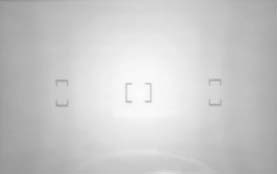 Nikon D40 AF Sensor Layout
AF Sensor Selection Modes: Single, dynamic (selects magically as a moving subject moves across the finder), and Closest Subject, which you use when handing the D40 to a stranger to take your picture.
AF Motion Modes: AF-A (the magic do-everything mode I love), AF-S (single focus for still subjects) and AF-C, continuous, for moving subjects.
Manual Focus? Of course.
AF Lock? Of course.
AF Illuminator: Built-in incandescent AF assist light.
Viewfinder:
0.44x magnification with standard (for DX) 28mm lens. (0.78x with 50mm tele lens).
It's just a tiny bit bigger than the D70/D50, and smaller than D200/D80.
Penta-mirror for light weight with smaller peep-hole.
Adjusts from -1.7 to +0.5 diopters.
18mm eyepoint. 95% coverage.
Seen in Finder: Focus indications, "EL" exposure lock indicator, Shutter speed, Aperture value, Exposure/Exposure compensation indicator, Exposure mode, Flash output level compensation, Exposure compensation, Number of remaining exposures, Flash-ready indicator.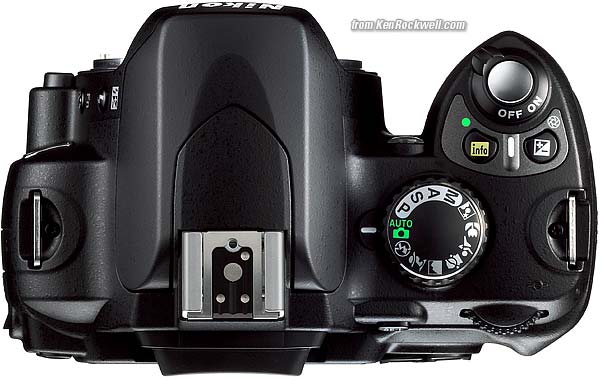 Nikon D40.
METERING and EXPOSURE
Meter: Matrix, Center-weighted and Spot. The Matrix meter is a 420 segment 3-D Color Matrix meter. This meter works great in the D50 and has problems in the D80, so let;'s hope it's OK. "Better" is relative: in poor, contrasty light the D50 errs on the side of safety (dark) while the D80 errs on the side of peril: overexposure. Most D40 users will probably prefer the meter from the D80, so what do I know.
Exposure Modes: The usual Program (my favorite), Shutter-priority, Aperture-priority and Manual.
Convenience Modes: Auto, Auto (Flash Off), Portrait, Landscape, Kid, Sports, Close-Up and Night Portrait. (I never use these).
SHUTTER
Speeds: 1/4,000 - 30s and Bulb. Electronic and mechanical internal design.
Remote Control: Wireless ML-L3. Get one; it's the best $17 you can spend. It also works with the D80, D50 and D70.
Frame Rate: 2.5 FPS.
FLASH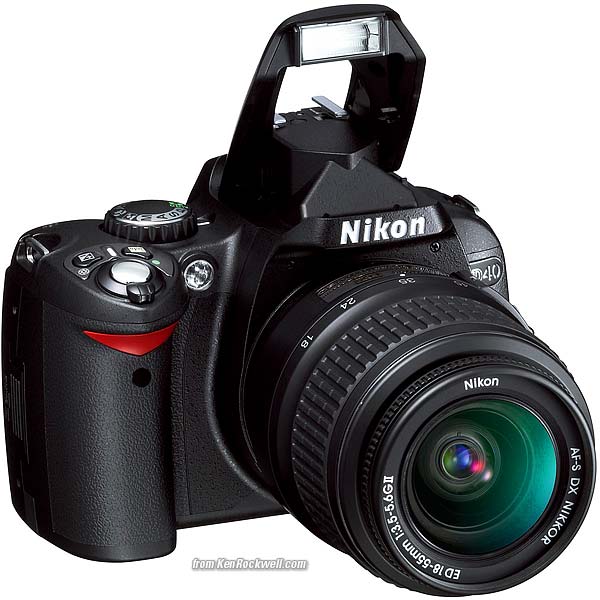 Nikon D40 with pop-up flash and new 18-55mm lens.
Built-in Flash? Yes, GN 39/12 (ISO 100, ft/m), GN 42/13 in manual (ISO 100, ft/m).
Flash Sync: 1/500, Yay! This is twice as good as my much more expensive D200!
Flash Sync Modes: All the usual: slow, rear, etc.
Flash Exposure Compensation: -3 to +1 stops.
Flash Compatibility: Uses Nikon's good i-TTL system like the D80, D2X, D200 with SB-600 and SB-800. Built-in flash cannot function as a remote commander; for that you need the SU-800. New: SB-400 mini flash introduced today for use with the D40, or any Nikon DSLR.
SENSOR and IMAGE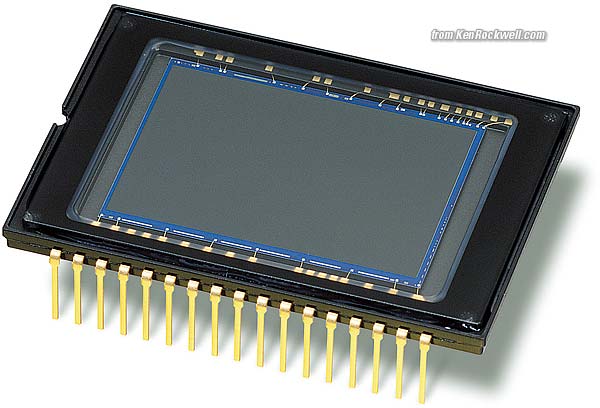 The sensor of the Nikon D40.
Sensor: 6 MP - same as D50, D70 and D70s. Standard Nikon DX size: 23.7 x 15.6 mm.
Image Sizes: 3,008 x 2,000 pixels (native) as well as 2,256 x 1,496 and 1,504 x 1,000 pixels.
ISO: 200 - 3,200 and AUTO. Nikon labels ISO 3,200 as "H" so most people won't use it. This is because experienced photographers know ISO 3,200 is supposed to look grainy, but most people don't. Nikon (and Canon) hide these very fast settings with code names like "HI+1" so normal people won't use them and be unhappy with the grain and noise.
White Balance: The usual Incandescent, Fluorescent, Direct Sunlight, Flash, Cloudy, and Shade presets, as well as Auto WB and manual white or gray-card.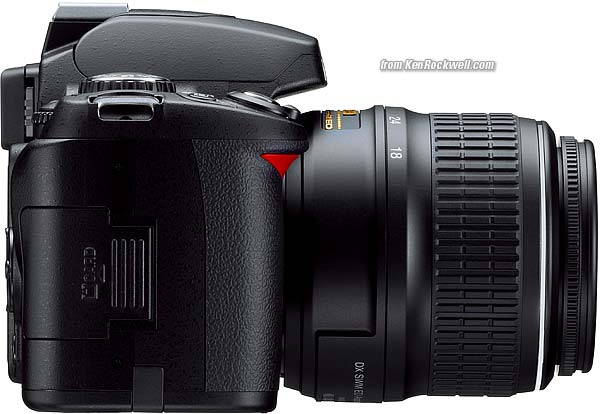 Right Side. Note SD card door.
DATA
File Formats: JPG and NEF (Compressed 12-bit, the good kind).
Storage: SD cards, the teeny ones like the D50, D80 and pocket cameras, up to 4 GB.
Data Transfer: USB 2.0 (Fast!)
Secret Data Embedding? YES! I explain this my free D200 User's Guide.
LCD and PLAYBACK
LCD: 2.5″ 230,000 pixel LCD, the good one! It has great-looking menus.
Color Histogram? Not really, but I discovered a trick to get a real RGB color histogram (not the useless single one you get by clicking the up or down arrows).
After making a shot, press OK which brings up the gimmick (retouch) menu. Click down to FILTER EFFECTS, then press OK, click down to COLOR BALANCE, and hit OK. AHA!! RGB Histogram! See Why You Need Color Histograms.
The next time you need the RGB Histogram, and I use it almost every scene, you won't need to navigate to it. Once you've used it the first time, press OK exactly three times (slowly) and you're there. Hit Play to get back.
Some of the Nikon D40's rear LCD displays.
STUPID CAMERA TRICKS
I forget these since I prefer to do this in Photoshop, but then again, my version of Photoshop costs more than this camera. To use these you fumble around in the menus to process images in-camera.
D-Lighting lightens dark areas.
Red-Eye Correction isn't needed and doesn't work very well on my D80, even if you can figure out a way to get redeye. Unlike compact cameras, it's next to impossible to get any redeye on a D40 because the flash is so far away from the lens. You're only likely to get red-eye with the D40 if you make flash shots from further away than 15 feet.
Trim and Size reduction lets you crop a shot or reduce it for web and email use.
Overlay is totally silly. It's lets you put two NEF images on top of each other.
B/W, Sepia (brown-and-white), Cyanotype (blue-and-white) and Skylight, Warm filter and Color Balance filter effects. I prefer to Convert to B/W in Photoshop for better results.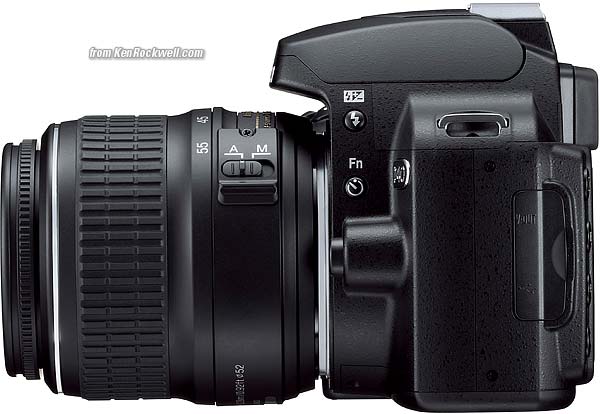 Nikon D40 and new 18-55mm lens.
POWER
Nikon EN-EL9 battery and MH-23 charger (included).
Battery: New 1,000 mAh lithium-ion EN-EL9. Sadly incompatible with all my chargers and batteries from every other Nikon DSLR. Rated for 470 shots, 50% flash. Without flash it ought to be more shots then anyone who uses this camera could shoot in a day.
DIMENSIONS
Size: 3.7 x 5.0 x 2.5" (94 × 126 x 64mm).
Weight:
18.485 oz. (524.1g), actual measured weight with card and battery, but no strap, lens or caps.
Nikon specifies 16.8 oz (475 grams) butt-naked (no battery, memory card, LCD cover or body cap).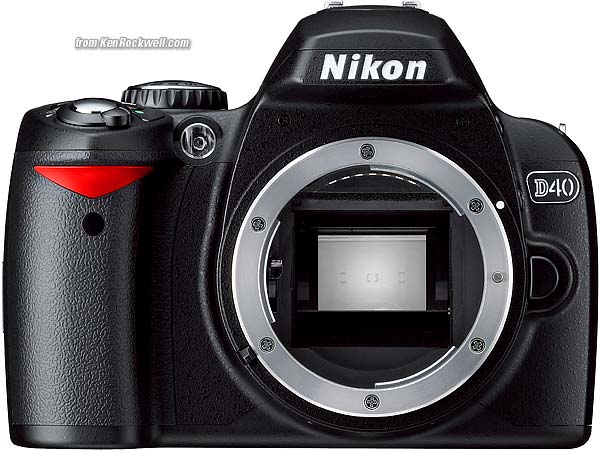 ACCESSORIES
Warning: If anyone tries to charge you extra for these included accessories, you're getting ripped off! Hang up and use a legitimate dealer. There are no deals on super-hot, hard to get new digital cameras, so anyone offering you a serious discount on this new model is more likely offering you a serious scam.
Included Accessories:
EN-EL9 battery.
MH-23 battery charger.
Camera strap.
BF-1A body cap.
DK-16 eyecup.
DK-5 eyepiece cap (not needed).
BS-1 hot shoe cover (not needed, as the model number ought to hint).
UC-E4 USB cable.
Software CD.
I should hope it comes with a printed manual and warranty cards; I presume Nikon didn't include that on the press release just in case some countries don't get them.
Optional Accessories:
EG-D100 video cable. These come free on more expensive cameras and I've never used them because pictures look crappy played on TVs.
ML-L3 Wireless Remote Control. Get one; it's the best $17 I've ever spent. It also works with the D80, D50 and D70. It's tiny, fits in the small key-holder pocket of your jeans and lets you shoot photos of yourself as you stand in the photo.
CF-DC1 Semi Soft-Case (does anyone still use these? Wow, this is a blast from the 1950s.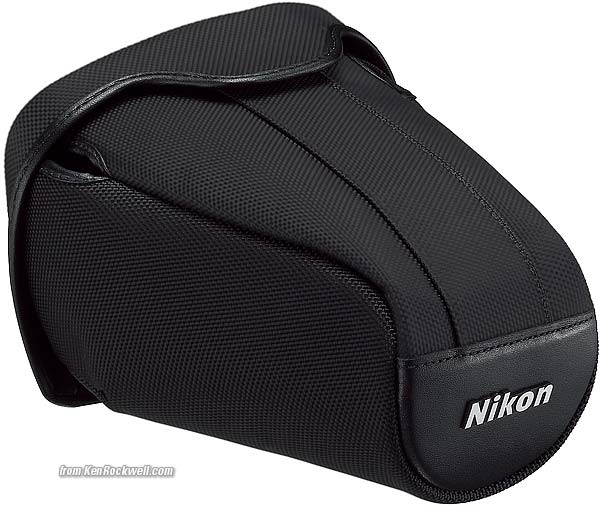 CF-DC1 Case.
It looks nice in this photo that I had to show it. Personally I wrap my camera in a sweatshirt.
EH-5 AC Adapter, which requires the EP-5 AC Power Adapter Cord shown below which you have to buy separately.
Two views of the exciting EP-5 AC Power Adapter Cord.
Specifications with Commentary
NEXT: >> Performance and Examples
PLUG
If you find this as helpful as a book you might have had to buy or a workshop you may have had to take, feel free to help me continue helping everyone.
It also helps me keep adding to this site when you get your goodies through these links to Ritz, Amazon and Adorama. I use them and recommend them personally .
Thanks!
Ken
Caveat: The all the ads below come from third parties. I don't see them before they appear on your screen. See more at my Buying Advice page. Personally I get my goodies at Ritz (the store, not the hotel gift shop), Amazon and Adorama.