Home Donate New Search Gallery How-To Books Links Workshops About Contact
Canon S90 User's Guide
© 2010 KenRockwell.com. All rights reserved.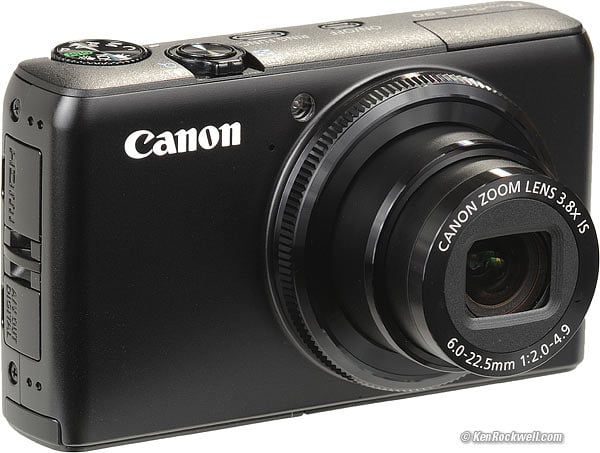 Canon S90 IS (6.9 oz./197g with batteries and card).
See the big ring around the base of the lens? It's a rotating, programmable control ring you can set to direct control of aperture, exposure compensation, or almost anything!
The S90 has a built-in pop-up flash, not seen in this shot since it's retracted.
July 2010 Canon S90 Review More Canon Reviews
Introduction
This is how I set my S90 to make great pictures, like these from New York in January 2010, Death Valley and the Eastern Sierra in January 2010, and Indian Country in November 2009.
I'm covering how I set my S90. I'm covering just what's important for making pictures, not every possible crazy setting.
Batteries and Power
The standard battery has enough power to let me shoot my S90 as my primary camera all day, for days on end.
There is no need for a spare battery, if you can charge it each night.
I charge my S90 battery each night under heavy shooting, and always have more than enough power.
Canon's standard (at least in the USA) CB-2LY charger has an integral folding plug, so it needs no power cord and folds-up flat. Other countries may get the corded CB-2LYE, which is far less convenient.
The CB-2LY folding-plug charger works on 100-240 VAC and 50-60 cycles, so with the correct passive plug adapter, it works anyplace on earth.
Memory Card top
I can shoot for a week, using my S90 as my only camera, and fill only half of a 4GB card with thousands of great images.
Therefore, any $15 4GB SD card from Sandisk or Lexar is all you need.
Initial Menu Settings top
Once we've set the menus, we've pretty much set them for life. Our shot-to-shot settings are made with control knobs below, not in menus.
The menus you may set at any one time depend on the camera's mode: play or shoot.
To set your S90 as I set my S90:
The Play Menu [ > ] top
Press the PLAY button. (Trick: If the camera is off, hold the PLAY button a few seconds to wake it up in PLAY mode without having to extend the lens.)
Press MENU.
I set these and leave the rest alone:
Scroll Display: OFF.
This skips the annoying cartoons when you rotate the ring to select different images with the rear dial.
Resume: Last Seen.
This starts play where you left off.
Transition: OFF.
In OFF, images come up instantly.
In the default of FADE, you have to wait for the stupid animation to do a crossfade each time you select a different image.
Print Menu (printer icon)
I don't print from my S90, so I don't bother with this.
The Shoot Menu [ camera icon ] top
If in the PLAY mode, tap the shutter button to get to the SHOOT mode. Otherwise, the S90 wakes up in SHOOT when you hold the ON/OFF button.
I leave things in their defaults, unless changed here. If I've forgotten if I use a setting at its default, I list it here again just to be sure not to forget it.
AF Frame: Face AiAF.
AF Point Zoom: OFF.
Servo AF: OFF.
i-Contrast: Auto.
Review: 2 seconds.
Review Info: OFF.
Custom Display: For [1], I check nothing. For [2], I check all except the 3:2 guide.
What this does is select what junk I see on the screen as I'm shooting. Each time I hit DISP while shooting, it toggles between whatever I've selected for [1] and [2].
With what I choose, I usually work with a clean screen for [1] (nothing selected, in which case ISO and compensation still clog the bottom of my screen), and for [2], I select everything I might ever want.
IS Mode: Continuous.
Date Stamp: OFF.
If ON, it puts a permanently date imprint on each image.
This one's important: it selects what the [S] button does.
When using the [S] button, hold and release to get the selected function.
By selecting WB, just hold the [S] button for a moment, and the large front ring selects A/B (amber/blue) WB trim instantly!
Likewise, hold the [S] button and you can use the left and right buttons to select overall WB.
Once I set everything else I outline below, I hit FUNC SET and select OK. This programs ALL my settings to recall themselves when I select the C position on the top dial.
Now when I change anything while shooting, as soon as I reselect the C position (or turn the S90 back on in the C position), all my settings are recalled, no matter how screwed-up they were for the previous shot.
Tech Menu (hammer and sickle icon) top
Mute: ON.
This silences the stupid beeps.
Better than older Canons, it does let us hear the audio that goes along with movies as they play.
Hints & Tips: OFF.
I usually like tips, but in this case, they slow down the S90 a bit waiting for them to come up.
Start-up Image
For most people, set [X]. This skips the stupid Canon ad every time I turn on the S90.
If you would like to program your own image to appear, like a photo of your name and address case you lose your S90, press:
MENU > hammer and sickle > Start-up IMage > FUNC SET > 3 > (select image) > FUNC SET.
It has been suggested that one may set the start-up image to an image from your computer if you use the included CameraWindow software. To do this, put a 640x480 image in /Library/Preferences/ImageBrowser/MyCameraFiles/SI_JPG to make it appear on the software for upload.
File Numbering: Continuous.
This makes the file numbers keep advancing, instead of repeating from IMG_0001.JPG every time.
Create Folder: Daily.
Now the S90 starts a new folder each day, numbered with month and date.
Controls top

Top, retracted Canon S90. enlarge. The ring around the lens is a control ring!
I prefer to let the big front ring set exposure compensation (how dark or light is the next picture).
To set this,
Press RING FUNC. on the top of the S90.
Click two to the right to +/- (exp.) / Tv.
Tap the shutter, ignore it, or tap RING FUNC. again to exit and take pictures with the new setting.
Exposure top
With the vivid colors I set next, I usually prefer the look of images made outdoors when set to -2/3, which I set as my default.
Indoors, at night or in flat light, I usually prefer 0 compensation.
This is set by simply turning the big front ring until the picture looks perfect. We set the big front ring to control exposure above.
To lock exposure, hold the shutter and tap the UP (+/-) button.
To shift program exposure, lock the exposure, and spin the rear dial!
Color top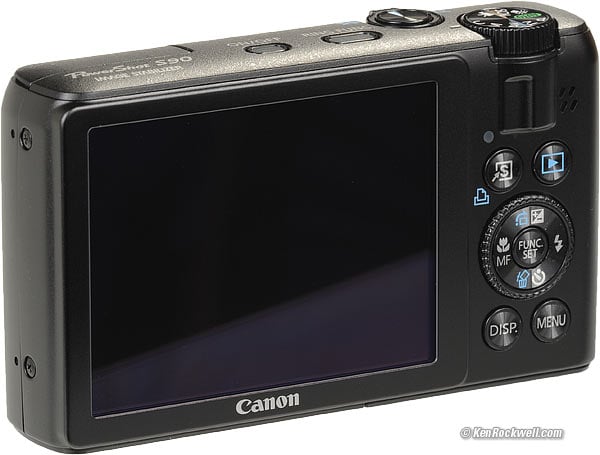 Rear, Canon S90, larger than life. enlarge.
Vivid Mode
I set my S90 to VIVID color mode. To get this:
Hit the FUNC SET button (the button in the middle of the round rear dial) .
Click down two to OFF.
Click one to the right to V (VIVID color mode).
Hit FUNC SET to exit and shoot.
White Balance
I use AUTO WB, but set the trim (fine-tuning) to A3 to get warmer (more amber) results.
To set A3, hold the [S] button (preset above), and simply turn the front ring! Tap the [S] button again to exit and shoot.
If you want to tweak green/magenta bias, tap DISP while you have the White Balance selection active.
One Amber or Blue unit of WB adjustment is 0.7 decamireds. Therefore, to get the same effect as a glass A2 filter, dial-in A3.
WB tweaks run to +/-9, and since 7x9 = 63 mireds, or the equivalent of an A6 or B6 filter.
Data top
I shoot in NORMAL LARGE JPG, shown with an L and a stair-step icon.
The S90 defaults to the data-wasting FINE setting. In FINE, images look the same as NORMAL, but use twice the file size.
To correct this:
Tap FUNC SET.
Click down to L.
Tap DISP.
Click left or right to get Normal (the stair-step icon) instead of Fine (the quarter-circle icon).
Tap FUNC SET to return to shooting.
If you shoot RAW, know that the color settings above probably won't make it into your image, and that the S90's lens has a lot of distortion at the wide end which is corrected automatically in JPG, but left uncorrected in RAW. Unless you're using DxO or Canon's software, other software like Adobe Camera Raw will give you highly distorted images from RAW files made at the wide end of the zoom.
I'm told that you can add a comment that will appear in the EXIF data, which you set under Preferences as "Owner's Name" in the included CameraWindow software.
The Magnificent C Mode top

Top Dial Set to C Mode. enlarge.
Now that we've set everything, store it as I explained above under Save Settings.
Once saved to the C position, and all these settings come up every time you set the S90 to C, every time the S90 wakes up or is turned on in C, or any time you turn away from and then back to C.
The beauty of this is that you can change and set anything and everything for each shot while in the C position, and when the S90 wakes up again, it's back at your personal defaults instead of you having to run down this entire page again.
If you change the WB and exposure and ISO for a shot, instead of having to reset all three for the next shot, simply flick the dial away from and back to C.
The S90 automatically wakes up back at your defaults every time you turn it back on for your next shot. Brilliant!
For instance, this prevents starting each day shooting at ISO 1,600 and tungsten WB from the night before.
This is especially important, because the flaky rear dial of the S90 is often knocked by accident, setting you to ISO 3,200 instead of AUTO, thus this automatic reset corrects this by magic.
Trick Clock Display
Hold FUNC SET for a few seconds.
To add the year, month and date, rotate the camera vertically!
TO see this without having to turn on the S90, hold FUNC SET and tap ON/OFF. TO cancel, tap ON/OFF again.
LCD Brightness Boost
Hold DISP for a few seconds. Hold it again to revert to normal brightness.
Help me help you top
I support my growing family through this website, as crazy as it might seem.
If you find this as helpful as a book you might have had to buy or a workshop you may have had to take, feel free to help me continue helping everyone.
If you've gotten your gear through one of my links or helped otherwise, you're family. It's great people like you who allow me to keep adding to this site full-time. Thanks!
If you haven't helped yet, please do, and consider helping me with a gift of $5.00.
The biggest help is to use these links to Adorama, Amazon, B&H, Calumet, Ritz and J&R when you get your goodies. It costs you nothing and is a huge help. These places have the best prices and service, which is why I've used them since before this website existed. I recommend them all personally.
This page is copyrighted and registered, so if you'd like to make a printout for personal use and haven't helped me otherwise, you must PayPal me $5.00 for each copy as a license (your PayPal confirmation is your receipt), just as you'd pay for any other printed guide or eBook. I find it much easier to let you read this first and pay on your own, than trying to ask for payment first.
If you got your S90 through my links, thank you, and please enjoy printing this page for yourself with my compliments.
Thanks for reading!
Ken
Home Donate New Search Gallery How-To Books Links Workshops About Contact