Home Donate New Search Gallery Reviews How-To Books Links Workshops About Contact
Canon 600mm f/4 L IS II
© 2011-2012 KenRockwell.com. All rights reserved.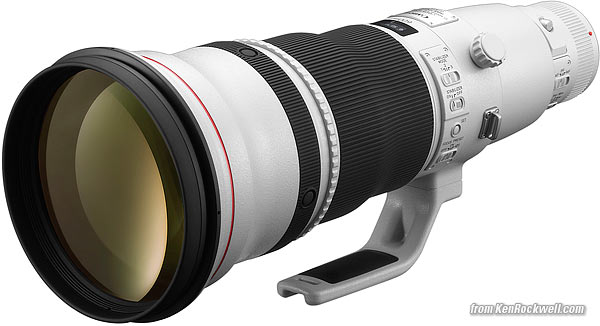 Canon 600mm f/4 L IS II. enlarge. This free website's biggest source of support is when you use these links, especially these directly to it at Adorama, Amazon, B&H, J&R and eBay when you get anything, regardless of the country in which you live. Thanks! Ken.
Adorama pays top dollar for your used gear, especially the original Canon 600mm f/4 L IS.
June 2011 More Canon Reviews Canon Lenses All Reviews
Announced 07 February 2011:
Canon U.S.A., Inc., a leader in digital imaging, today announced two new versions of its popular Image Stabilizer (IS) super-telephoto lenses. The EF 600mm f/4L IS II USM and EF 500mm f/4L IS II USM super-telephoto lenses deliver incredible image quality at all apertures for professional photographers and filmmakers. It has been 11 years since Canon initially introduced its Image Stabilized 500mm and 600mm lenses and in that time the Company has listened to feedback from professionals and worked to implement their most desired enhancements. Replacing the current EF 500mm f/4L and EF 600mm f/4L IS lenses, both the new EF 600mm f/4L IS II USM and new EF 500mm f/4L IS II USM have experienced a drastic weight reduction making them lighter and more durable than their predecessors. Both lenses also achieve a higher level of image quality through the incorporation of two fluorite optical lens elements which help to minimize chromatic aberration and eliminate color blurring around the edges of the subject. Both new lenses offer improved Image Stabilization, providing the equivalent shutter speed of approximately four steps faster in addition to enhanced durability and operability through thoroughly re-designed optical and mechanical components.
"These lenses were made to be used under the harsh and challenging conditions faced by professionals in the fields of photojournalism, sports and nature photography. Utilizing valuable customer feedback, we have re-designed these lenses to create a powerful telephoto lens lineup for working professionals," stated Yuichi Ishizuka, executive vice president and general manager, Imaging Technologies and Communications Group, Canon U.S.A.
Lighter, More Durable and Enhanced
Canon engineers succeeded not only in reducing the overall weight of these lenses but improving on their optical performance as well. The optical formula of each new lens was re-designed to include two fluorite elements instead of one fluorite and two Ultra-low Dispersion (UD) glass elements. The new lens element configuration weighs less yet performs better. Other factors contributing to the overall weight reduction include increased use of magnesium alloy, use of titanium and a smaller and lighter Image Stabilizer mechanism.
Optically, both lenses will outperform their predecessors through the use of two fluorite elements over the previous one fluorite and two UD glass elements. More fluorite results in better image quality as it reduces chromatic aberration to a greater degree than UD glass. The reduction of chromatic aberration contributes to superior resolution, contrast, and color fidelity; this is especially evident when used in conjunction with Canon's Type III EF Extenders. In addition to the fluorite lens elements, the new super-telephoto lenses also include a nine-blade circular diaphragm for a smoother appearance in areas outside the depth of field of the main subject. In addition, Canon's SWC (Subwavelength Structure Coating) is applied to four internal groups in each lens to improve resistance to flare and ghosting.
A convenient and useful feature when shooting in the often adverse conditions professionals find themselves in, these new lenses are treated with Canon's new fluorine anti-smear lens coating. The fluorine layer is highly oil- and water-repellent so that any oil smears or water droplets on the lens can be wiped off quickly and easily, without the aid of solvents, using a soft dry cloth.
The new Series II EF super-telephoto lenses can correct camera shake up to four full shutter speed steps, compared with two shutter speed steps with their predecessors. This improvement is made possible by a new low-friction stabilizer mechanism that is not only more efficient than the previous design but also smaller and lighter. Other enhancements to the IS systems of both new super-telephoto lenses have enabled quieter operation; ideal for use during video capture.
Canon has developed a third Image Stabilization mode option for its super-telephoto EF lenses. First introduced in late 2010 with the EF 400mm f/2.8L IS II USM, and EF 300mm f/2.8L IS II USM lenses, and now available on the new EF 500mm f/4L IS II USM and EF 600mm f/4L IS II USM lenses, IS mode 3 is designed to provide professional sports and wildlife photographers with greater tracking flexibility. When mode 3 is selected on the lens, the Image Stabilization effect will not occur until the shutter is pressed, making the viewfinder image more natural in appearance while tracking a subject. In mode 3 when the shutter button is pressed halfway, the lens will begin detecting camera or lens movement and only during exposure, when the shutter is fully depressed, will the Image Stabilization engage.
Helping filmmakers achieve smoother and more appealing focus shifts when filming on EOS DSLR cameras, Canon has included a new Power Focus (PF) mode on the Company's new super telephoto lenses[i]. This mode allows manual rack focusing to be operated smoothly by turning a playback ring that is normally used for the focus preset function. Both low-speed and high-speed focus shifting are available.
Additionally, a new security slot attachment has been included on both of the new super-telephoto lenses to allow a wire-type security lock to be easily affixed, a great safety feature for professionals shooting from high vantage points above arenas and crowds.
Canon EF 600mm f/4L IS II USM Lens for Wildlife and Photojournalism
The Canon EF 600mm f/4L IS II USM is the successor to the current EF 600mm IS lens first introduced in 1999. This new lens has been engineered for outstanding optical performance and durability and includes two new fluorite lens elements for improved quality and reduced chromatic aberration. Helping photographers in the field, Canon has reduced the overall weight of the lens by a substantial 27 percent from 189.1 oz to 138.3 oz. The Image Stabilizer provides an equivalent of approximately four full shutter speed steps of shake compensation and has been enhanced through the incorporation of a rolling-ball-friction system in place of sliding parts in the compensation optics barrel for a minimum-friction structure. The overall durability of the lens has also been enhanced through increased usage of magnesium alloy and titanium for lens barrel components, together with weather sealing for all exterior joints and switches and a new fluorine anti-smear coating is applied to the front and rear elements.
The Canon EF 600mm f/4L IS II USM lens is expected to be available in June for an approximate retail price of just $11,999.00.
UPDATE: This was delayed care of the tsunami; as of June 2011, expect it in December 2011, still at $12,000.
As of July 2012, it sells for $13,000.
Help me help you top
I support my growing family through this website, as crazy as it might seem.
The biggest help is when you use any of these links to Adorama, Amazon, eBay, Ritz, Calumet and J&R and when you get anything. It costs you nothing, and is this site's, and thus my family's, biggest source of support. eBay is always a gamble, but all the other places always have the best prices and service, which is why I've used them since before this website existed. I recommend them all personally.
If you find this page as helpful as a book you might have had to buy or a workshop you may have had to take, feel free to help me continue helping everyone.
If you've gotten your gear through one of my links or helped otherwise, you're family. It's great people like you who allow me to keep adding to this site full-time. Thanks!
If you haven't helped yet, please do, and consider helping me with a gift of $5.00.
As this page is copyrighted and formally registered, it is unlawful to make copies, especially in the form of printouts for personal use. If you wish to make a printout for personal use, you are granted one-time permission only if you PayPal me $5.00 per printout or part thereof. Thank you!
Thanks for reading!
Mr. & Mrs. Ken Rockwell, Ryan and Katie.
Home Donate New Search Gallery Reviews How-To Books Links Workshops About Contact