Casio EX-Z600
© 2006 KenRockwell.com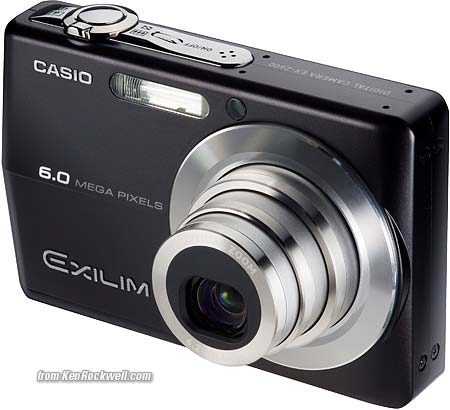 Black version.
I'd get it here in silver or here in black. It helps me publish this site when you get yours from these links, too.
INTRODUCTION
I love all the Casio cameras for their tiny size, full-size image quality and super fast and easy operation. I bought an EX-Z750 for myself in 2005.
The Casio EX-Z600 is a 6 MP, 3x optical zoom 2.7" LCD microcam. It was announced in February 2006. It's a little less compact and a little less expensive than the EX-S600. This EX-Z600 comes out in mid-April 2006 for an MSRP of $299. I was able to borrow one to try out.
It's one heck of a camera for an MSRP of $299.99, although the smaller and more expensive EX-S600 would be my first choice. If you're on a budget you'll love this EX-Z600. I mention both this Z600 and the different S600 throughout this review, so note that they are different cameras with very similar model numbers.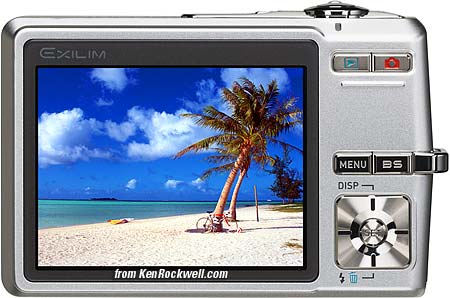 Silver version.
SPECIFICATIONS and MEASUREMENTS
Lens: 6.2 - 18.6 mm, f/2.7 - 5.2, 6 elements (one aspherical) in 5 groups. Similar to 38 - 114mm on 35mm.
Close Focus: 16" in normal mode, 6" in macro mode. (all in wide setting.)
CCD Sensor: 6MP, small 1/2.5."
Image Sizes: 2,816 x 2,112, 2,816 x 1,872 (3:2), 2,304 x 1,728,
2,048 x 1,536, 1,600 x 1,200 and 640 x 480. Movies in 640 x 480 and 320 x 240, 30 and 15 FPS.
LCD Screen: 2.7," blindingly bright and auto-adjusting for ambient light.
Measured Size: 3.60" W x 2.36" T x 0.85" D, including protrusions. Casio specifies 3.48" W x 2.24" H x 0.81" D excluding protrusions. A business card is 3.5 x 2.0" x 0.01" and my Visa card measures 3.37" x 2.13" x 0.05."
Measured Weight: 5.065 oz (143.6g) with battery, strap and SD card. 3.945 oz empty and stripped. The NP-20 battery alone weighs 1.002 oz (28.5g).
Power: Big NP-40 Li-ion battery. Comes with a handy cradle for charging, which also allows data downloading.
Price and Availability: $299.99, mid April 2006, in silver and black.
PERFORMANCE
I prefer the more expensive Casios. Duh, who wouldn't? This is Casio's least expensive and when compared directly to jewels like the EX-S600 it feels less precise. If this was all I could afford this I would be very happy with it. Image quality and flexibility is almost identical to the more expensive models; the difference is in how small it is and how precise it feels when you use it. Today you pay more for smaller cameras.
Ergonomics
It's as great as all the other excellent Casio credit card cameras. See the other Casio reviews like the EX-S500 for operational details common to all the Casios. Its excellent ease-of-use and fast operation are why I bought a fancier EX-Z750 for my own use last year.
The EX-Z600 improves on the play/record buttons of my EX-Z750 because they are recessed into the camera. They can be pressed by accident in my pocket with my EX-Z750, which turns on the camera. The improved and recessed play/record buttons of the EX-Z600 fix this.
LCD Screen
It's big and bright, but doesn't seem as sharp or as even as the other Casios. It's great by itself, but I can see a difference compared side-by-side to the others.
It's big (2.7" specified, 2.63" measured image diagonal) and bright. It automatically adjusts for use in bright light. It's much easier to see than other digital cameras outdoors.
Rapid Shot Mode
The "Continuous High Speed" mode is new and not on older cameras. It makes three shots spaced 0.2 seconds apart from each other. In other words, it makes three shots at a 5 FPS rate in less than half a second. The only problem is that the image and file size are full size, but the actual resolution is much lower. This makes the images unsharp. They look like good video blown up to fit the frame. If I used this mode often I'd experiment to find the resolution setting which matches the actual resolution to save storage space.
The "Continuous Normal Speed" mode is the same as earlier cameras. It makes real, full resolution images at about 1.2 FPS. It locks the AF and exposure to the same value for all shots, and can run just about indefinitely at that speed.
eBay Preset Scene (Best Shot or BS) Mode
This is simply the camera setting itself for a 1600 x 1200 pixel, 350kB JPG.
There's nothing else special about it. You can set all the other Casio cameras to this same setting in the menus; it's just not called out as a BS mode.
Interestingly when you set and save your own BS modes they don't save the image size settings, but the eBay mode does. Read more about these BS Scene Modes.
Sharpness
It's a little soft on the left side and corners. It's perfect everywhere else where it counts. I'd have no problem making stunning 12 x 18" prints with this camera. It's very similar to the other Casio cameras, although the newest EX-S600 I tried was better.
Data Downloading (from in the cradle)
It's slower than the other Casios. It's data rate is only 12MB/s, not 480 MB/s like the EX-S600 and EX-Z750 etc. I find this annoying compared to the other cameras. If you shoot a lot you'll want a different camera or use an external card reader.
More
This little gem is loaded with far more features, like grids, automatic perspective corrections, presets, movies with sound and more, than I can describe. See my more detailed reviews of my EX-Z750 and the EX-S500 to get a taste for some of it. This EX-Z600 has even more features than those other year-old cameras.
RECOMMENDATIONS
The EX-Z600 is a great camera, but looking at actual selling prices as of March 17th, 2006 the superior EX-S600 doesn't cost much more.
I'd suggest the EX-S600 over this EX-Z600 as the best take-everywhere camera for a normal person. Even better, you can buy the EX-S600 today.
We photographers usually want immediate access to features most people don't even know exist. The EX-Z750 and EX-Z850 offer more knobs and buttons in a not much bigger package. Personally I bought an EX-Z750 for my own use in 2005, and probably will replace it with an EX-Z850 this year.