Epson V700 and V750 PRO Scanner Review Test
© 2006 KenRockwell.com



About these reviews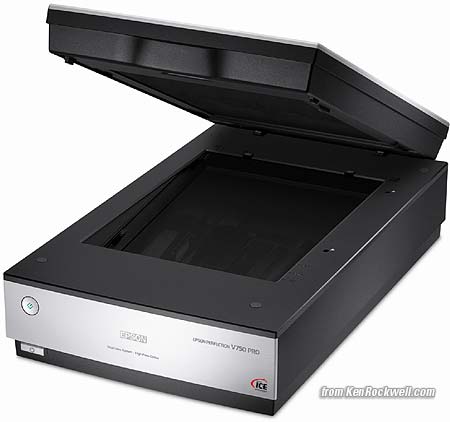 I'd get it here, here or here (V700) or here, here or here (V750 PRO)
INTRODUCTION
Epson introduced these two film scanners at PMA in February 2006. The $550 V700 Photo is available today and the and the $800 V750 Pro is expected on May 14th, 2006.
They each are rated at 6,400 DPI, but the optics aren't quite up to it. Epson is almost British in their reservation describing these as "inexpensive alternatives to dedicated film scanners." Other film scanner makers have given up because Epson's earlier scanners were so good! These are dedicated film scanners. No one scans flat art at 6,400 DPI unless you're counterfeiting currency.
I intend to show a direct comparison to my $3,000 Minolta Multi PRO scanner which Epson told me in person looks crummy next to scans from the V750. We'll see. I don't have a V750 yet.
The V700 and V750 each have two lenses. The "low resolution" lens is a mere 4,800 DPI and covers the entire scanner bed. The 6,400 DPI lens covers an area 5.9 x 10."
The V750 Pro adds a glass holder for wet mounting. This helps get rid of dust and holds the film flat enough to get 6,400 DPI resolution in focus. The V750 also includes some more advanced software I probably won't use. I find the default drivers and calibrations of their other scanners just fine.
The V750's glass holder is one sheet of glass on top of which the film is sandwiched under a sheet of Mylar with some drops of KAMI mounting fluid. Wet mounting goes a long way towards eliminating dust and scratches. Drum scanners have used wet mounting for decades for the same reason. Glass holders are used to get good enough focus for the high resolution, and then the wet mounting eliminates the Newton ring problems from the glass mount.
These scanners also have the traditional ASF-Kodak Digital ICE. DMax is rated 4.0. They have both USB2 and Firewire connections. The V700 should ship at the end of March, 2006 and the V750 should ship in May, 2006. A scanner like this would have cost tens of thousands of dollars in the 1990s. Today's price? $799 for the V750 Pro and $549 for the V700 Photo.
I definitely need to get one of these to try.
SPECIFICATIONS
Optical Resolution: 4,800 DPI, entire bed, or 6,400 DPI in an area 5.9 x 10."
DMax: 4.0. Considering how the 4990 easily can see the base density of Fuji Velvia 50 I don't doubt this. Just like the 4990, the V700/V750 have a light which scans along the film with the sensors just like a film scanner. None of these use a light box on top like crappy flatbeds do.
Film Sizes: Holders for 35mm strips and mounted slides, 120, 4x5" and 8x10" film. The 120 holder holds two strips, each up to 6 x 20 cm, perfect for panoramic photographers!
RECOMENDATIONS
Lat year's Epson 4990 does an incredible job as it is; I'm wondering just how much better a scanner possibly could get.
I would recommend any of the 4990, V700 or V750 for anyone, regardless of how picky you are. Get one online as I do, and if you hate it you can just send it back.