Home Donate New Search Gallery How-To Books Links Workshops About Contact
Leica 21mm Finders
© 2010 KenRockwell.com. This page best with Corporate S regular and bold activated.
More Leica Reviews Leica 21mm Lenses All 21mm Lenses

Leica 21mm Finder 12 008. (click either to enlarge.) This one came from Adorama, and you might be able to find them used at this link to Adorama. It helps me keep adding to this site when you use these links to get your goodies. Thanks! Ken.
May 2009 How to Use Ultra-Wide Lenses
Leica Camera Reviews Leica Lens Reviews Recommended Leica Lenses
Voigtländer 21mm f/4 Review Leica 21mm f/2.8 ASPH Review
Leica 21mm lenses Comparison tables of all brands of 21mm lenses
How to Afford Anything Leica Lens Names
Introduction
When shooting a 21mm lens, you can use any 21mm finder of any brand.
Feel free to skip to the Summary Table.
Plastic 21mm Leica Finder (12 008 and 12 012)
The best finder is the plastic Leica 21mm finder shown above. It comes both with (12 008) and without (12 012) a lock. The secret code on the box of the 12 008 is 439 668.001-329, and it's made in Portugal.
The 12 012 came out in 1980. (its 28mm brother is the 12 017).
It's the best because it works better than other finders, often has a lock lever, and weighs less than any other finder, even less than the crappy Cosina (Voigtländer) finder which has no lock.
Get one of these plastic Leica finders and you're done.
The dedicated locking lever expands both sides of the plastic foot to hold it tight without marring anything, with no need to align pins.
This plastic Leica finder has the usual lame mirrored frame, but it also blacks-out outside the frame. Since I'm only seeing what's in my composition and not what's outside the frame, I get a much better feel for how my composition balances.
It shows a rectangular image inside blackness. There is no image outside the area you'll capture on film. The mirrored lines parallel the black outline.
I have little idea why Leica included reflective frame lines when the finder's active image area is the same as the area defined by its frame.
There is also a dotted parallax line along the top, which I ignore since it's not that visible.
If I'm close, I make a mental note to compose to remember I'm getting an extra 2.5" (6cm) on the bottom and losing 2.5" (6cm) from the top.
I weigh the 12 008 at 0.962 oz (27.3g).
It is the most accurate finder I've used. True to German tradition, watch your borders, because if you go over, you'll crop that part of the subject out of the frame. Be careful at most distances, because you'll lose 2" (5cm) off the top of most subjects due to parallax. I ignore the not particularly visible dotted line at the top of the finder, and try to remember that I get an extra 2" at the bottom and lose 2" off the top of anything.
These sell used for a few hundred dollars, which is too bad because they are hard to find.
Metal Leica 21mm Finders (SBKOO, 12 002, 12 024 and 12 025) top
Original LEICA SBKOO 21mm finder. (click either to enlarge.)
The hell-bent Leica photographer (as opposed to the practical photographer) will accept nothing less than the best, which is the heavier milled-brass version of the same thing. It looks the same, but weighs more and doesn't have as efficient a lock.
The first silver metal finder was the SBKOO, made from 1958-1960.
The 12 002 L was made from 1960 - 1980.
Either sells used for about $350 and has a magnification of 0.3x. Its leather case is the 14 617. It first came in silver, and later changed to black. (Its 28mm brother was the SLOOZ, later called 12 007.)
Ironically, the original 12 002 metal 21mm finders command premium prices in the used market, but they use uncoated optics and therefore have less contrasty views than the newer plastic finders, which use coated optics.
Today's current black metal finder is 12 024 and the silver metal one is 12 025. Each sells for about $900 new and is coated for higher contrast. You gotta bless those Leica fanatics: you can buy a lot of great complete cameras for that price!
Leica Universal Wide Finder (12 011) top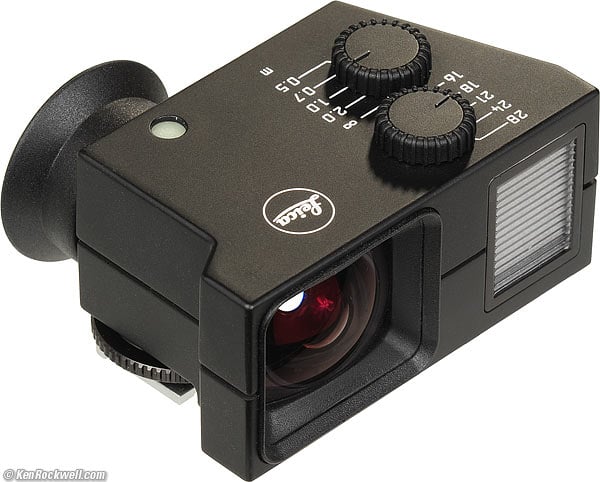 Leica Universal Wide FInder 12 011. enlarge.
Leica's $1,000 Made-in-Germany Universal Wide Finder works great and adds a bubble level visible in any light through the finder.
The Leica Universal Wide FInder is the world's most precise 21mm finder, as well as the world's most precise 16mm, 18mm, 24mm and 28mm finder.
It's also much bigger than anything else. What a pain.
If you don't mind the weight, it's an all metal Made-in-Germany meisterstück and has a screw-down friction lock on its metal foot.
The finders above are all fixed-focal-length, but you can screw up and knock the variable focal length setting of this finder. Each of the two setting knobs needs a push-to-release lock on it to prevent inadvertent misadjustment.
It has frame lines for 16, 18, 21, 24 and 28mm lenses. Only one appears at a time, which is better than Leica's own cameras.
Its magnification is fixed at 0.28x. Different finder lines appear as you change the settings.
I dislike the view through the Leica Universal Wide Finder because it includes a lot of view outside the active film area. I can compose more strongly if I only see what's on film and see black beyond, as most other finders do.
The view is moderately polarized so that the bright lines work. Be careful when viewing through polarizers or polarized subjects, like skies. They will look different through the finder compared to what you get on film.
Viewing is optimum with your eye 1/2" (15mm) away. Get too close and the view is a little softer.
There is a glow-in-the-dark bubble level visible under the frame lines. You can see it even in pitch blackness!
This finder is unique in having a second window just to ensure that the frame lines are always bright and visible, just like good rangefinder cameras. This puts this finder in a class above everything else, and also why it costs $1,000.
It has somewhat more barrel distortion than the rest of these finders. It has the unique advantage of distorting the frame lines to match, so you get a very accurate idea of where straight lines will go.
It's 2.0 x 2.8 x 1.5" (52x 70mm x 38mm) DWH, including the foot.
There's one more teensy-weensy problem with this finder: on Leicas with canted rewind knobs, which is just about every camera they've made since about 1967 like the M4, M4-P, M6 and M7, the rewind lever hits the finder in part of its travel. Whoops! Don't scratch your $1,000 finder! You seem to be fine with the M3, but I'd put a piece of black electrical tape on the finder's side to prevent scratching it.
I weigh it at 4.320 oz. (122.5g). Leica specifies 5.9 oz. (150g), which is more than the Cosina (Voigtländer) 21mm f/4 lens!
Leica 21-24-28mm Zoom Finder (12 013, Japan) top
| | |
| --- | --- |
| On a Leica M4-P with 21 ASPH. | Leica's secret. |
Leica Variable 21-24-28mm finder 12013. Click any to enlarge.
Leica's current discount finder is the black made-in-Japan Leica 21-24-28mm zoom finder.
Model number 12 013 is all black as shown.
Model 12 014 has a silver chrome foot, zoom ring and front. Only the rear and inner barrel are black.
Looking through it, all you see is an image surrounded by black. There are no frame lines; just your image. This is good, except that the black borders are very fuzzy and therefore imprecise.
The image is an undistorted rectangle, but like all these finders, the image itself has barrel (bulging) distortion. You can't line up a straight line along any edge of the finder, because the subject will be curved while the finder edge remains straight.
It will only set you back $500, but it's the least accurate finder there is.
It is extremely well made and has a big, bright, sharp image, but it does a poor and wishy-washy job of showing what you'll get on film.
You'll see different framings depending on the position of your eye! With your eye in the center it shows slightly less than the other 21mm finders, but if you move your eye to see further into a corner, you can see more than the view through a 16mm lens in any one direction at a time! What will you get on your film? Who knows? Good luck guessing!
The frame edges are very soft, so you don't really know where the image starts and ends.
There is enough curvature of field so that you have to refocus your eyes to see the corners sharply.
It's got five single-coated elements and has a click-stopped zoom ring.
It's got a rubber a 15mm eyepoint and magnifications of 0.42x at 21mm, 0.48x at 24mm and 0.56x at 28mm.
It's 1.9 x 1.5 x 1.8" (48.3 x 39 x 45mm) LWH. The diameter of the optical tube alone is 1.4" (36mm).
It weighs 2.850 oz. (80.8g). The leather case with its "Echtes Leder" (genuine leather) tag weighs 1.075 oz. (30.5g). The cased ensemble weighs 3.925 oz. (111.25g), not that anyone uses the case. Leica specifies 3.0 oz. (85g).
For many people this can be a great finder for action and general use because the image is big, bright, clear and obvious. It's got the biggest, brightest image of any 21mm finder available, and for most people shooting fast or casually, probably the best finder made today.
For precise, slow users like myself, I prefer the precision and accuracy of the other finders. The plastic 12 012 is my favorite, but if you're shooting fast from the hip, you'll probablt prefer this finder to all others.
Another advantage of this zoom fincer is for half-frame (M8 and M8.2) shooters using the 16-21mm f/4 Tri-Elmar zoom. The three settings of this 21-24-28mm finder match the three settings you get on half frame (M8, M8.2) with this lens.
Be careful not to knock the setting of this zoom finder: it won't be obvious and you'll get even less accurate framing if you knock it to 24mm or 28mm.
Cosina (Voigtländer) Finder top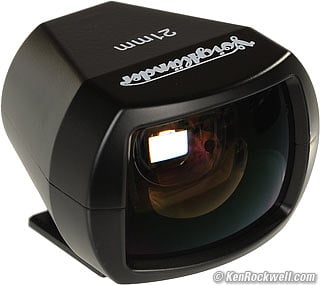 Cosina 21mm finder, twice life-size. enlarge or actual-size.
Cheapskates may settle for the $130 Voigtländer-branded Cosina finder.
It works, but it's a cheap feeling thing.
It has no lock: just your faith that its molded plastic shoe won't slide off after years of use.
I dislike that this finder shows the area not shown on film, but others may prefer this.
The Cosina finder also has an unprotected front element: don't put it down front-first, because you'll grind a very visible spot into the its front glass.
The worst think about this Cosina finder is that the mirrored lines are needed to define the active image area, since the finders shows more than what lands on your film, but that the finder lines of the Cosina finder aren't always visible.
I hate that I need to wiggle my eye around to get the lines to show up as I'm trying to concentrate on my composition.
It's not always easy to see the frame lines in the Cosina finder, while the Leica finder is always very clear because it only shows the image inside a black rectangle, even if you can't see the Leica's frame lines which parallel the sides of the image.
The Cosina finder distorts the image like all these finders, but has straight frame lines for less accurate framing.
I weigh it at 1.115 oz. (31.6g).
Contax GF-21mm Finder top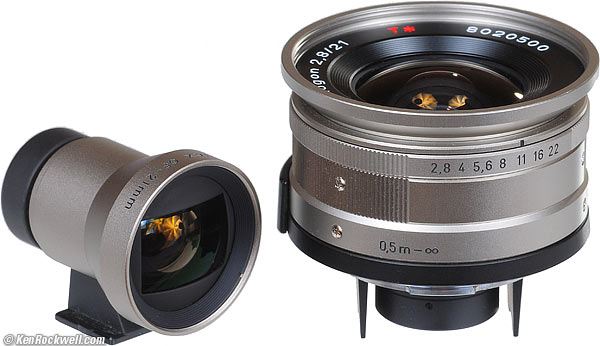 Zeiss-for-Contax GF-21mm finder and 21mm f/2.8 lens. enlarge.
If you've got one of these finders, you've probably also got one of the Zeiss-for-Contax G 21mm f/2.8 lenses.
This finder has just a black rectangle for composition, which is great. It also has a lightly silvered cross in the middle, which is handier than you might think.
The framing rectangle is straight, while the image inside the rectangle is barrel distorted (bulging) as in all these finders.
The biggest negative of this finder is that you'll see different things included depending on the position of your eye. Leica's 12 013 zoom finder is worse; the Contax finder doesn't vary the framing as much as you move your eye and the Contax finder's black rectangle is sharper.
It shows a little less than I get on mounted slides. I have to move my eye around to see each corner fully, in which case I can see too much if I move my eye too far. It is better than Leica's 12 013 zoom finder, which is far more wishy-washy.
The Contax finder has a dinky plastic foot with no lock.
I weigh it at 1.915 oz. (54.3g).
Summary top
My favorite is the plastic 12 012 because it's the lightest and gives me the best view. My choice is easy.
None of these finders is very accurate.
All of them sit about 2-1/2" (6cm) above the lens, so even if they covered the correct angles-of-view and corrected for parallax, they are still viewing from the wrong place, which can be critical with 21mm lenses.
I often compose, and then move the camera up 2-1/2" (6cm) to put the lens in the same place as the finder.
A much better solution for accurate composition is a single-lens-reflex camera. You can buy a Nikon FE and a used 20mm Nikkor lens for less than any of the new Leica finders, and get far more precise and accurate viewing, as well as not needing to buy the Leica lens and camera in the first place!
Covers

Mag

Bubble Level?

Weight

Price

Leica Universal 12011

16, 18, 21, 24, 28mm

0.28x

Yes

4.320 oz/122.5g

Leica Metal 21mm 12024

21mm

0.3x

no

?

Leica Zoom 12013

21, 24, 28mm

0.42x @ 21

0.48x @ 24

0.56x @ 28

no

2.850 oz/80.8g

Voigtländer

21mm

no

1.115 oz/31.6g

-

-

-

-

-

-

Leica Plastic 21mm 12008/12012

21mm

0.3x

no

0.962 oz/27.3g

$250 Used

Leica Metal 21mm 12002

21mm

0.3x

no

1.195 oz/33.9g

$350 Used

Leica Metal 21mm SBKOO

21mm

0.3x

no

1.565oz/44.4g

$350 Used

Contax GF-21

21mm

no

1.915 oz/54.3g
Covers

Made in

Body

Foot

Lock

Leica Universal 12011

16, 18, 21, 24, 28mm

Germany

Metal

Metal

Wheel

Leica Metal 21mm 12024

21mm

Germany

Metal

Metal

?

Leica Zoom 12013

21, 24, 28mm

Japan

Metal

Metal

Wheel

Voigtländer

21mm

Japan

plastic

plastic

no

-

-

-

-

-

-

Leica Plastic 21mm 12008/12012

21mm

Portugal/
Germany

plastic

plastic

Lever/
maybe

Leica Metal 21mm 12002

21mm

Germany

Metal

Metal

none

Leica Metal 21mm SBKOO

21mm

Germany

Metal

Metal

none

Contax GF-21

21mm

Japan

Metal

plastic

faith
PLUG
I support my growing family through this website.
If you find this as helpful as a book you might have had to buy or a workshop you may have had to take, feel free to help me continue helping everyone.
If you've gotten your gear through one of my links or helped otherwise, you're family. It's great people like you who allow me to keep adding to this site full-time. Thanks!
If you haven't helped yet, please do, and consider helping me with a gift of $5.00.
The biggest help is to use these links to Adorama, Amazon, B&H, Calumet, Ritz, J&R and when you get your goodies. It costs you nothing and is a huge help to me. eBay is always a gamble, but all the other places have the best prices and service, which is why I've used them since before this website existed. I recommend them all personally.
Thanks for reading!
Ken
Home Donate New Search Gallery How-To Books Links Workshops About Contact