Home Donate New Search Gallery How-To Books Links Workshops About Contact
LEICA 90mm f/2
SUMMICRON (Canada, 1959-1980)
© 2010 KenRockwell.com. All rights reserved.
Intro Specs Performance Compared Recommendations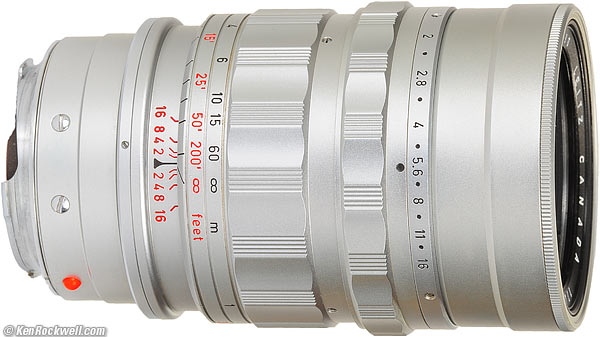 1960 style. Vergrößern.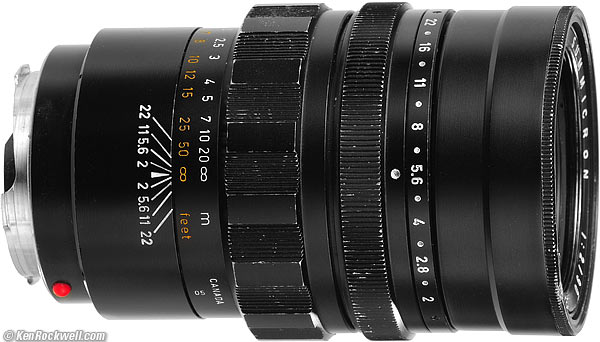 1970 style. Vergrößern.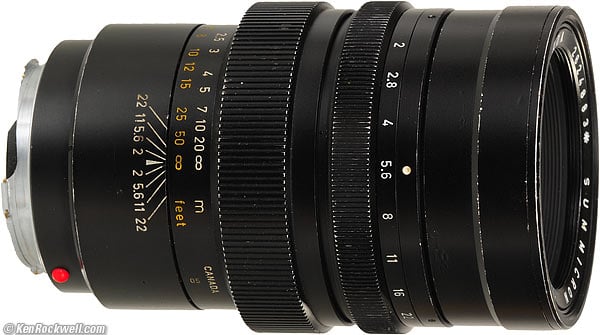 1973 style. Vergrößern.
Three samples of LEICA SUMMICRON 90mm f/2 from various years (48mm filters, 22 oz/625g, about $500 used). You can get them Adorama, my local authorized Leica dealer, OC Camera, and of course always at eBay. It helps me keep adding to this site when you use these links to get yours, thanks! Ken.
February 2010 More Leica Reviews Leica Lens Tests
Compared to other 90mm f/2 lenses.
Compared to other 90mm f/2.8 lenses.
Tabulation of the various versions made over the years
Introduction top
Intro Specs Performance Compared Recommendations
The LEICA SUMMICRON 90mm f/2 was Leica's very finest high-speed telephoto lens for 22 years.
Its optics never changed, even though it was made in many different cosmetic styles to suit fashion. (The short-lived 1958 screw-mount version used different and inferior optics.)
The LEICA SUMMICRON 90mm f/2 is 100% compatible with every LEICA M camera from the LEICA M3 of 1954 through today's LEICA M7, MP and the LEICA M9. It also came in screw mount.
Its performance is outstanding on film. It's very sharp when shot properly, especially wide-open at f/2, however if you're counting pixels on an M9, the sides are softer at the larger apertures. f/5.6 is optimum.
This original SUMMICRON isn't as good as the LEICA APO-SUMMICRON-M 90mm f/2 ASPH on the M9 (nothing is), but on film, this SUMMICRON is fantastics. On the M9 even the LEICA TELE-ELMARIT-M 90mm f/2.8 is sharper, and of course, so is the LEICA ELMARIT-M 90mm f/2.8, but on Velvia at 22x or 3,600 DPI, this 1950s design is 95% the same as the APO ASPH.
This original SUMMICRON is a bargain second-hand. Each of the two beaters you see above sold for about $250 each, and a nice one, like the chrome version shown at the top, would sell for about $500 - $600. New, in 1969, catalog price was $1,560, corrected for inflation in 2010 (or $264 in 1969 dollars).
The reason it's such a bargain is that:
1.) The SUMMICRON 90mm f/2 was extremely popular in its day, so there are many of them available.
2.) It's heavy. When Leica came out with newer, smaller versions (the SUMMICRON-M and APO-SUMMICRON-M 90mm f/2 ASPH), shooters dumped these old SUMMICRON. Thus there is little demand for these among the truly Leica smitten.
3.) If you're counting pixels, this lens wants to be stopped down for best results. It looks fantastic on film wide-open, but if you're shooting flat test targets at larger apertures, other 90mm lenses are better at the sides on the M9.
To quote Leica's own sales material of its time (LEICA M5 sales brochure 110-87e, VI/75/DLX/w (1975)), this 90mm "at f/2 offers outstanding performance over the whole image field" and "Besides exceptional definition it offers high resolution and optimum image contrast."
Leica advertised it, along with the 35mm SUMMICRON and 50mm SUMMICRON as "the most advanced optics yet created by man."
If you want a great 90mm lens for your LEICA at a bargain price, this is it, especially if you get a beater. Beaters were lenses that were good enough to be carried by professionals day in and day out, so they are the good ones. Each of the beaters above performs exactly as well as the shiny silver one. Even if the lens has a small chip in its glass, that's a discount on price, and rarely on image quality.
Specifications top
Intro Specs Performance Compared Recommendations
Name
Leica calls this the LEICA SUMMICRON 90mm f/2.
Optics top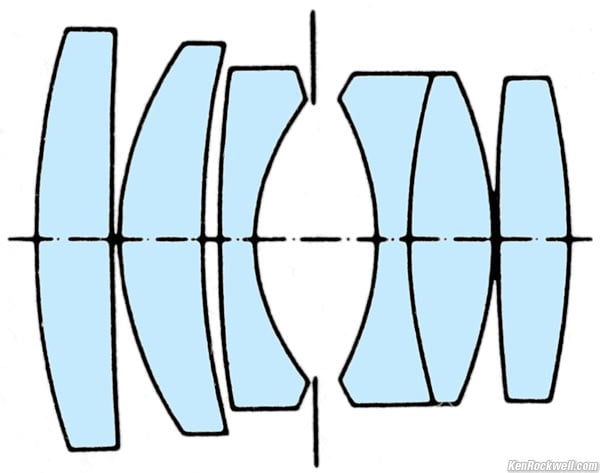 Cross-section.
6 elements in 5 groups, double-Gauss variant.
Five surfaces are planes.
Mostly single-coated in magenta (black models), older silver models coated in amber and magenta (optimized for black-and-white).
Diaphragm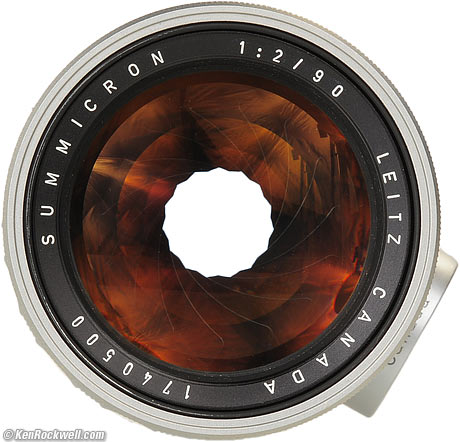 15 blades: LEICA SUMMICRON 90mm f/2, 1960 style. Vergrößern.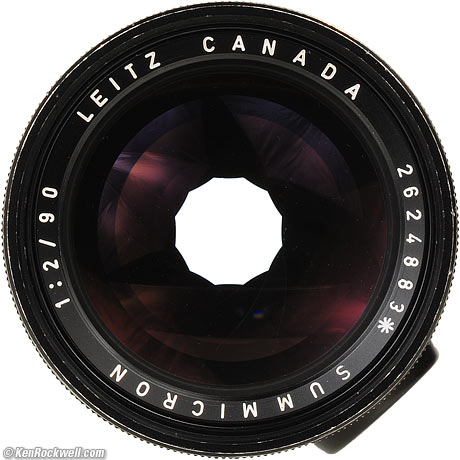 12 blades: LEICA SUMMICRON 90mm f/2, 1973 style. Vergrößern.
15 blades, early versions.
12 blades, later versions.
Stops down to f/16 or f/22 depending on versions.
Half-stop clicks.
Rotates backwards on earlier versions.
Close Focus
Marked: 1m and 3.5 ft.
Size top
Length
4.03" (102.5mm) extension from flange, hood retracted.
5.00" (127mm) extension from flange, hood extended.
Maximum diameter
1960: 2.571" (65.30mm).
1973: 2.597" (65.94mm).
Filters
48 x 0.75mm screw-in filters.
Weight top
1960: 22.410 oz. (635.4g), measured.
1970: 21.285 oz. (603.34g), measured.
1973: 21.435 oz. (607.7g), measured.
Rated between 660 and 680g.
Hood top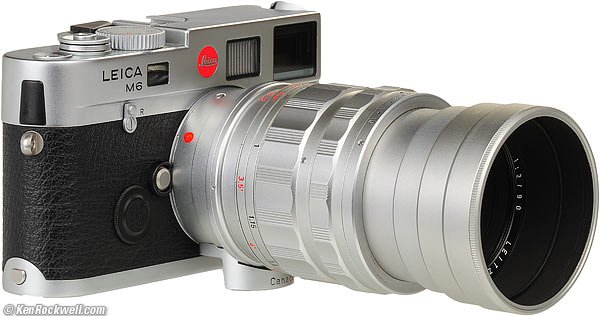 1960 LEICA SUMMICRON 90mm f/2, hood extended, on an M6 TTL. enlarge.
The hood is built-in.
It's a two-section telescoping affair, similar to a folding drinking cup.
Caps top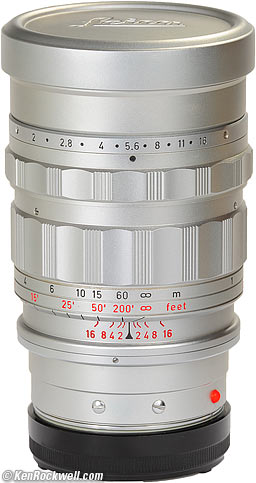 1960 LEICA SUMMICRON 90mm f/2 with period caps. Vergrößern.
Front cap
63mm slip-on.
In the 1950s and 1960s, you used the glorious Hungarian-yak-velvet-lined chromed brass caps.
By the 1970s, Leica had downgraded to a plastic 14 133 63mm diameter slip-0on cap.
The actual outside diameter measures 63.6mm.
Rear cap
Standard 14 269, plastic.
As shipped, it used whatever flatter cap was current.
Part Numbers top
Bayonet: 11 123 or SEOOM.
Screwmount: SEOOF or 11 023.
Made in top
Canada, all versions.
Leica had always made it's biggest lenses, like the ELMARIT 135mm f/2.8 and NOCTILUX 50mm f/1, in Canada.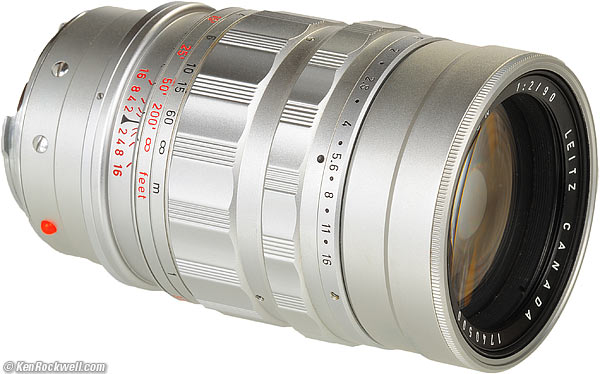 1960 style. Vergrößern.
Performance top
Intro Specs Performance Compared Recommendations
The LEICA 90mm SUMMICRON was the world's reference for high performance, high speed teles for over twenty years. Newer teles are better under the microscope, but this bargain-priced lens can still create great images.
This SUMMICRON may no longer be the best from Leica, but its' still better than the Nikon 85mm f/1.4 AF-D shot on a Nikon D3X. I've compared them.
LEICA shooters don't waste time counting pixels. They just shoot.
Bokeh top
Bokeh, the quality of out-of-focus areas as opposed to the degree of defocus, runs the range from fair to good.
f/2: fair; blur circles have brighter edges.
f/2.8: fair to neutral.
f/4: good.
f/5.6: neutral.
Here are crops from extremely enlarged prints of about 36 x 48 " (100 x 150cm), or the equivalent of looking at LEICA M9 images at 100% on-screen.
In these examples, a vertically polarized phase lattice was set up at 3 meters (10 feet) on which the SUMMICRON was focused, and the synthetic reference vegetation seen out of focus in the background was at 15 meters (50 feet).
Color Balance top
The amber-coated 1960 chrome sample is cooler than newer lenses.
Diaphragm Calibration top
The calibration is right-on: the meter in my M9 tracks each half-stop click perfectly.
Distortion top
The LEICA SUMMICRON 90mm f/2 has no visible distortion.
Shoot it on the M9 at any reasonable distance, blow it up to 200% on-screen, drop a ruler on it in Photoshop, and it's still perfectly straight.
Ergonomics top
As LEICA M lenses go, this is a big fat lens that handles great.
The only funny business is that different versions have aperture rings that go in different directions!
Look carefully: sometimes just the dot moves against a fixed scale (earlier versions), or the numbers move past an index on the newest version, just as today's lenses.
If the dot moves against a fixed scale, the numbers need to be in backwards order for the ring to move in the direction it usually does on most Leica lenses today.
(click any to enlarge)
Finder Blockage top
This long, fat lens blocks some of the lower right of the finder.
It actually blocks a lot, but I never noticed it until I went looking for it to write-up this section of the review.
Focus top
Focus accuracy is a personal issue between your sample of body and your sample of lens.
If you're picky, it's very rare to find any combination of samples of rangefinder camera and long lens that give perfect results at every distance, every time.
Sorry.
Falloff (darker corners) top
This SUMMICRON has some amount of falloff at f/2, and none visible by f/2.8.
I've greatly emphasized it below by shooting a gray field and presenting it against another gray field
LEICA SUMMICRON 90mm f/2 falloff on full-frame M9 at infinity,
no in-camera profile:
© 2010 KenRockwell.com. All rights reserved.
Lateral Color Fringes top
There no color fringes anywhere.
Materials and Construction top
All of these lenses are solid metal. The only plastic is the red mounting index ball.
Early versions are made mostly of chromed brass.
Later versions use mostly aluminum in their barrels, and retain brass in the helicoids.
All the marking are engraved and filled with paint.
Sharpness top
The more you know about photography, the more you know that lens sharpness doesn't matter.
This isn't Leica's sharpest lens wide-open, but it's still sharper than Nikon's 85mm f/1.4 AF-D.
As shot on the LEICA M9:
The center is contrasty even at f/2, but resolution isn't as high. Sharpness improves at each stop, becoming optimum and really sharp at at f/5.6.
At f/2, the sides are less sharp. They improve as stopped down, becoming optimum, but never quite as sharp as the center, by f/5.6.
You're not going to see this unless you're shooting tests. Your biggest limitation to getting sharp results is how well the rangefinder of your sample of camera matches your sample of lens.
This beater Canadian 90mm f/2 is sharp at f/2, just as Leica's sales material claimed for it back when it was the best Leica had to sell.
I don't belive page 65 of today's "Leica M Lens Secrets," where the clever marketing people pull a rare double-switch and now claim that "Its performance at full aperture was moderate, so the ever-creative sales people invented the notion of a portrait lens."
In 1965, Leica described this lens' performance as "brilliant images with crisp edge-to-edge sharpness from f/2." (Leica lens brochure 11-34f, October 1964.)
Tripod Socket top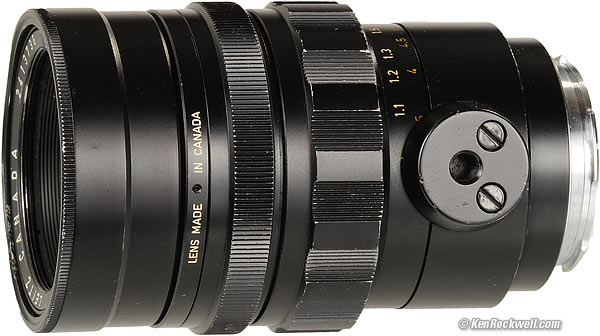 Bottom, 1970 LEICA SUMMICRON 90mm f/2. Vergrößern.
All versions have a little tripod socket on the bottom.
Most versions have both 3/8" and 1/4" sockets. The newest versions only have a 1/4" socket. See Versions for details.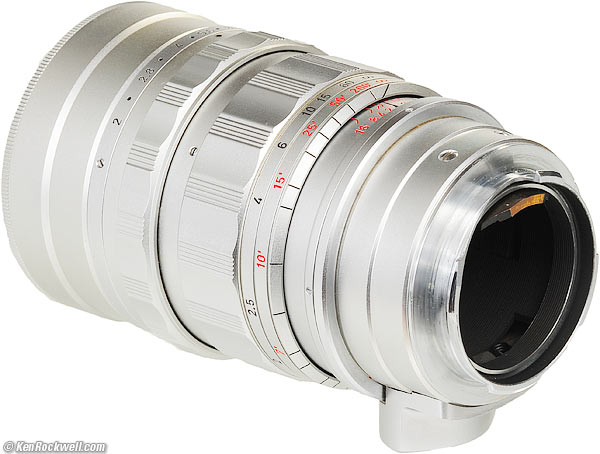 Rear, 1960 LEICA SUMMICRON 90mm f/2. Vergrößern.
Recommendations top
Intro Specs Performance Compared Recommendations
This is today's bargain in fast Leica 90mm lenses. Buy a beater, and you'll be set for only a few hundred dollars.
If you want to spend $400-600 and can make due with f/2.8 instead, pass on this SUMMICRON and get a used the LEICA TELE-ELMARIT-M 90mm f/2.8 (about $400) or the state-of-the-art LEICA ELMARIT-M 90mm f/2.8.
If you need the sharpest possible 90mm, that's the LEICA ELMARIT-M 90mm f/2.8 (about $600 used), or a new LEICA SUMMICRON-M 90mm f/2 APO ASPH, about $3,500 new.
If you don't want to gamble on eBay, my local authorized Leica dealer OC Camera sells only new and good used samples.
Deployment top
I use a 48mm -> 52mm adapter ring, and then 52mm filters.
Feel free to use 48mm filters if you don't already have a bunch of 52mm as I do.
It would be nice to use a 48mm -> 55mm step-up ring for congruence with the newer 90mm f/2 lenses (and the 21mm f/2.8 ASPH), however you won't be able to extend the hood over a 55mm filter.
For use with color transparency film outdoors, I prefer a B+W 48mm 81A filter.
For B&W outdoors, you want a yellow filter standard, like the B+W 48mm #022.
For color print film or digital, you want a Leica 48mm UV filter for protection, or go commando.
(the old M8 needed a Leica 48mm IR filter.)
If you're trolling for beaters, you may find one that needs a cleaning or adjustment. If so, I use Leica specialist Gus Lazzari, who has serviced many other lenses for me.
More Information top
Compared to other 90mm f/2.8 lenses.
Compared to other 90mm f/2 lenses.
Help me help you top
I support my growing family through this website, as crazy as it might seem.
If you find this as helpful as a book you might have had to buy or a workshop you may have had to take, feel free to help me continue helping everyone.
If you've gotten your gear through one of my links or helped otherwise, you're family. It's great people like you who allow me to keep adding to this site full-time. Thanks!
If you haven't helped yet, please do, and consider helping me with a gift of $5.00.
The biggest help is to use these links to Adorama, Amazon, Calumet, Ritz, J&R and when you get your goodies. It costs you nothing and is a huge help to me. eBay is always a gamble, but all the other places have the best prices and service, which is why I've used them since before this website existed. I recommend them all personally.
Thanks for reading!
Ken
Home Donate New Search Gallery How-To Books Links Workshops About Contact