Mamiya 7 N 150mm F/4.5 L Test Review
© 2004 KenRockwell.com
about these reviews



get it here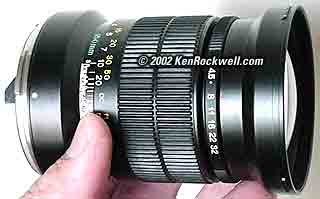 March 2010 More Mamiya Reviews
Introduction
This is a great, in fact almost perfect, lens.
Specifications
It has six elements in five groups.
It is 3.8" (96mm) long by 2.8" (70mm) around and weighs 18.3 oz. (520g).
It focusses to six feet or 1.8m.
It has a metal 67mm filter thread.
It has a five-bladed diaphragm stopping down to f/32.
The bayonet plastic lens hood is included, so don't buy a used lens without the hood.
Performance
It's almost flawless. It's sharp at every aperture and has no light falloff, even at f/4.5.
You need to ensure that your camera's rangefinder is well calibrated and that your eyesight is keen to get accurate focussing and sharpness with this lens. Otherwise you will not get accurate focus at f/4.5 and unfairly blame fuzzy results on the lens instead of poor focussing.
It handles two or three 67mm screw in filters without vignetting.
There is no distortion.
There is a little bit of ghosting if you have the bright sun in your image.
Recommendations
Just buy one and make sure your rangefinder is properly calibrated.
Unlike the great quality variations in amateur small format equipment like Nikon and Leica, professional medium format gear like this is usually just about perfect, so I don't need to say much at all. This is a good thing.