Mamiya 7 N 80mm f/4 L Test Review

© 2004 KenRockwell.com
about these reviews

get it
here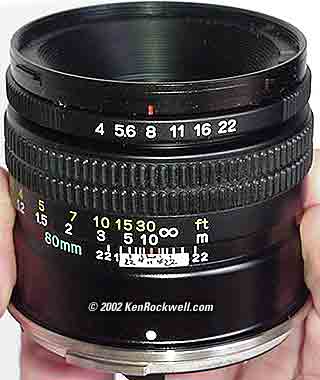 March 2010 More Mamiya Reviews
Introduction
This is a great lens. I use it a lot!
Specifications
It has six elements in four groups.
It is 2.2" (56mm) long by 2.6" (67mm) around and weighs 10.2 oz. (290g).
It focusses to three feet or 1m.
It has a 58mm filter thread.
The special lens hood (not shown) is included, so don't buy a used lens without the hood.
Performance
It's almost flawless. It's sharp at every aperture and has no visible light falloff, even at f/4. I can't name a flaw, so maybe it is perfect.
It handles at least a couple of (!) 58mm screw in filters without vignetting.
It also handles several (!) 67mm screw-in filters when used with a 58m -> 67mm step-up ring.
There is no distortion at any distance.
This is a really, really good lens. If you are used to slumming with Leica, Canon and Nikon you will be astounded.
Recommendations
Just buy one. See the Photodo.com test here.
The reason I have little to say is because I expect lenses to be just about perfect as this one is. There isn't anything bad to say about it, unlike the lenses for 35mm and SLR cameras that usually have many optical compromises that need to be discussed.