Home Donate New Search Gallery How-To Books Links Workshops About Contact
Mamiya DM33, LEICA M9, Canon 5D Mark II and Nikon D3 Sharpness Comparison
© 2010 KenRockwell.com. All rights reserved.

It helps me keep adding to this site when you use these links to Adorama, Amazon, B&H, Calumet, Ritz, J&R and eBay to get your goodies. Thanks! Ken.
March 2010
Reviews: Mamiya DM33 LEICA M9 Canon 5D Mk II Nikon D3
Introduction top
Let's compare the state-of-the art 35mm DSLR, rangefinder and medium-format digital cameras.
I shot a Mamiya DM33, LEICA M9, Canon 5D Mk II and a Nikon D3, each with the best standard lens I could get.
The Mamiya DM33 used its standard, excellent 80mm f/2.8.
The LEICA M9 used the LEICA SUMMICRON-M 50mm f/2.
The Canon 5D Mk II used a Canon EF 50mm f/1.4 USM.
The Nikon D3 used a Nikon NIKKOR 50mm f/1.4 AF-S.
Each lens is more than good enough to excite each sensor to the fullest. Each was shot at f/5.6 on a tripod in raw.
Each was opened in Photoshop CS4 in ACR. The three smaller files (LEICA, Nikon and Canon) were made the same size as the larger Mamiya file, so that all the examples are seen at the same print size.
In the examples below, these are roughly equivalent (presuming a standard 106DPI monitor) to sections cut out of 48" x 64" (4 by 5 feet or 125 x 160cm) prints.
Each was shot at its optimum ISO: ISO 50 for the Mamiya, ISO 100 for the Canon, ISO 160 for the LEICA, and ISO 200 for the Nikon.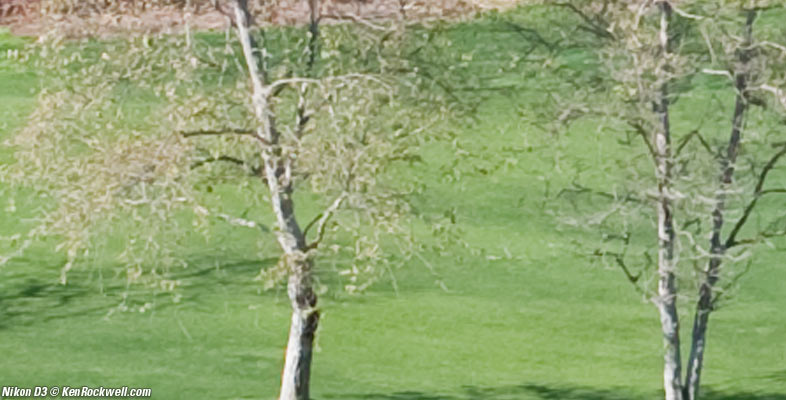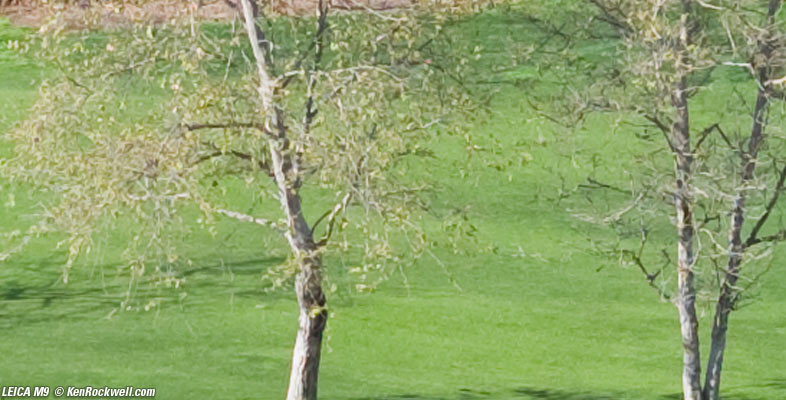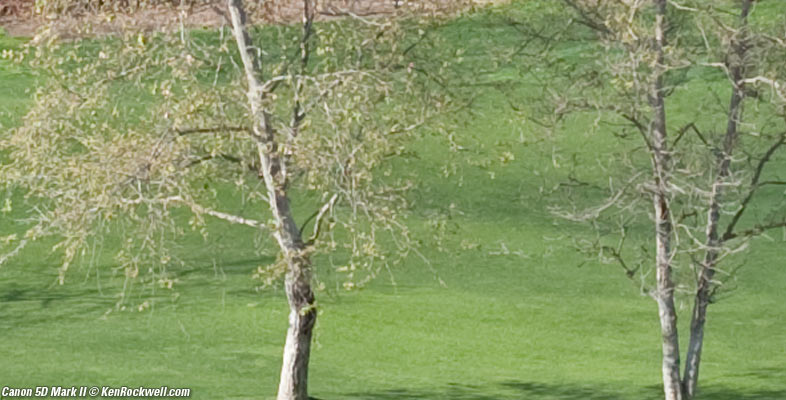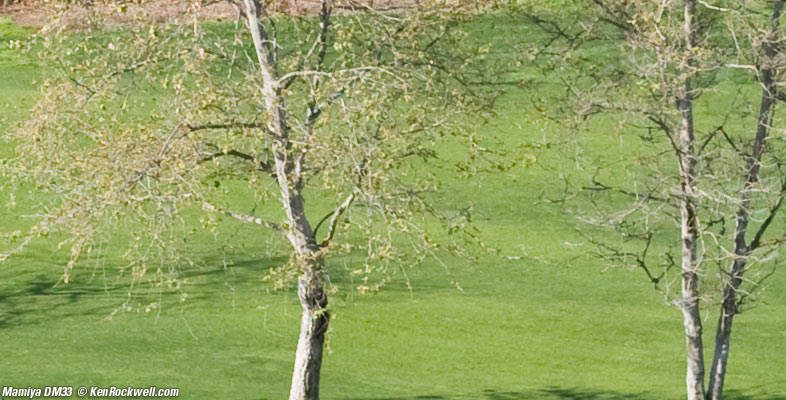 Analysis top
This was easy this time.
More pixels win, since this was using ideal lenses under ideal conditions.
The Mamiya has 33MP, the Canon has 21MP, the LEICA has 18MP, and Nikon trails at only 12 MP.
Few people will actually get this level of performance from the Nikon or Canon because most people shoot zooms. Especially with wide zooms, I've already shown that you won't get this level of performance from the 35mm DSLRs most of the time. How few of you actually shoot fixed, slow lenses?
Even if you do shoot fixed lenses, the SLR lenses don't match the rangefinder lenses away from the center, as I've also shown.
The LEICA will usually beat the Nikon and Canon under most real conditions, as the previous links show.
I can't say for the Mamiya. Its 80mm f/2.8 lens is superb, but I have not tried the others.
Since most of the Mamiya lenses are slow and fixed, that I expect that the Mamiya will retain this easy supremacy over the other systems with other lenses in actual shooting conditions.
Help me help you top
I support my growing family through this website, as crazy as it might seem.
If you find this as helpful as a book you might have had to buy or a workshop you may have had to take, feel free to help me continue helping everyone.
If you've gotten your gear through one of my links or helped otherwise, you're family. It's great people like you who allow me to keep adding to this site full-time. Thanks!
If you haven't helped yet, please do, and consider helping me with a gift of $5.00.
The biggest help is to use these links to Adorama, Amazon, Calumet, Ritz, J&R and when you get your goodies. It costs you nothing and is a huge help to me. eBay is always a gamble, but all the other places have the best prices and service, which is why I've used them since before this website existed. I recommend them all personally.
Thanks for reading!
Ken
Home Donate New Search Gallery How-To Books Links Workshops About Contact