Nikon Nikkor 70-210mm f/4.5-5.6 AI-s Test Review

© 2005 KenRockwell.com
Lens Test Glossary About these reviews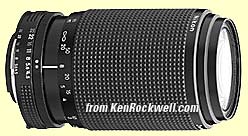 I bought mine here
Introduction
This plastic lens appears to be made by Cosina for Nikon. It sells for about $125 brand new. Do not confuse it with any of the other Nikon manual focus telephoto zooms. You can see more about it here on Nikon's site. I'd look for a superior used 80 - 200 f/4 if you can find one.
It's manual focus. It also attaches to the AF cameras. See what it will do here on them.
Specifications
It's a push-pull zoom.
Nikon USA's site is in error; it takes 52mm filters (not 62mm). I owned one of these, bought from Adorama.
It's 2.5" (64mm) around by 4.1" (104mm) long at the 70mm setting. It expands to 4.4" (112mm) at the 210mm seting.
It has eleven elements in eight groups.
It focusses down to 5 feet or 1.5m.
It weighs 13 oz. (375g), again the Nikon USA site seems confused.
Performance
It has very few ghosts and surprisingly little distortion.
It's very sharp in the center and a little fuzzy in the corners wide open.
It's single coated.
It focuses quite close.
It is made of plastic. Good plastic, but still plastic.
The markings are painted, not engraved.
Recommendations
For a small, cheesy plastic manual-focussing telephoto zoom this lens is great!
I bought mine here.
For an autofocus or digital camera I'd suggest the similarly priced 70 - 300mm AF G lens instead, since manual focus lenses don't do very much on AF cameras.