Home Donate New Search Gallery How-To Books Links Workshops About Contact
Sony DT 18-250mm ED
f/3.5-6.3, for 1.5x sensors only
© 2010 KenRockwell.com. All rights reserved.
Intro Specs Performance Recommendations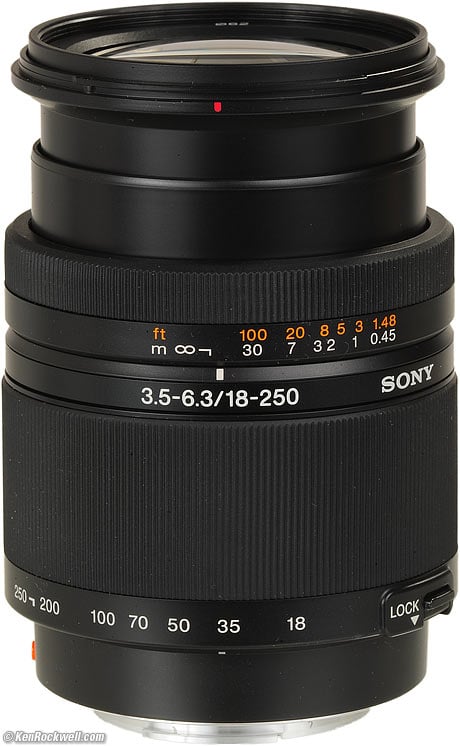 Sony 18-250mm (62mm filters, 15.5 oz./440g, about $579). bigger. This free website's biggest source of support is when you use these links, especially these directly to it at Adorama or at Amazon, when you get anything, regardless of the country in which you live. Thank you! Ken.
December 2010 More Sony Reviews Minolta Reviews Other Reviews
Introduction top
Intro Specs Performance Recommendations
The Sony 18-250mm f/3.5-6.3 DT is a made-in-China, 80% plastic, do-it-all lens for Sony's 1.5x sensor cameras, like the Sony A55, A33 and A55V.
It has low optical and mechanical performance, but it's probably good enough for the casual use it's likely to see from the people who actually will buy it.
It's not for serious use; it's loaded with distortion and it's soft at the long end, but for family travel, don't let me stop you if you want a do-it-all lens for your Sony.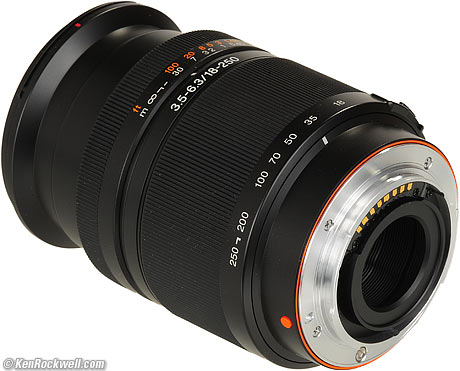 Rear, Sony 18-250mm. bigger.
Specifications top
Intro Specs Performance Recommendations
Name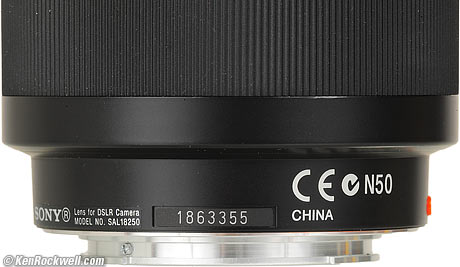 Barrel Bottom, Sony 18-250mm. bigger.
Sony calls this model number SAL18250.
Optics
16 elements in 13 groups.
3 aspheric elements.
Internal focus.
Pumper zoom: front section moves in and out a lot as zoomed.
Focal Length
18-250mm, which gives the same angles-of-view on 1.5x sensor cameras as a 28-375mm lens would give on 35mm and full-frame cameras.
Close Focus
1.5 feet (0.45m), rated.
Maximum Reproduction Ratio
1:3.4, rated.
Filter Thread
62mm, plastic.
Does not rotate, but moves in and out with zooming.
Diaphragm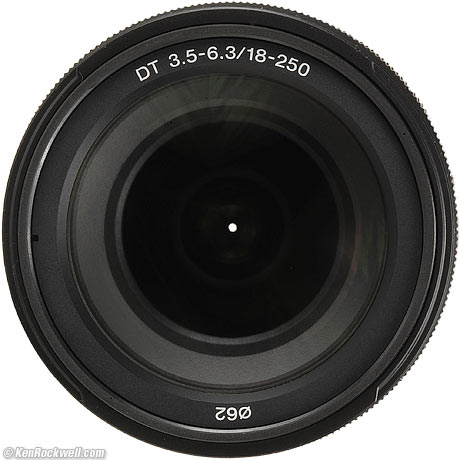 Front, Sony 18-250mm at f/22. bigger.
7 blades, stopping down to f/22-40.
Hood
Plastic bayonet C-SH104 included.
Size
3 x 3-3/8" (75 x 86mm), rated.
Weight
15.5 oz (440g), rated.
Performance top
Intro Specs Performance Recommendations
Lenses like this help me appreciate how good we have it with Canon and Nikon. Without low-performance lenses like this, we'd have nothing to show us how good even Nikon and Canon's cheapest lenses really are.
This Chinese-made Sony lens is often unsharp in test conditions, and loaded with distortion and lateral color fringes. You won't see these problems for the ordinary family photography for which this lens is intended, but it will be obvious to careful photographers. Unlike Nikon's 18-200 and 28-300mm, this Sony is not a wonder of technology. Lenses like this are why we were so surprised when the Nikon 18-200mm came out and it was good!
Distortion performance top
This lens is loaded with distortion.
This can be corrected for critical use by plugging these figures into Photoshop's lens distortion filter. These aren't facts or specifications, they are the results of my research that requires hours of photography and calculations on the resulting data.
Factor at
3m (10 feet)

18mm

-6.5*

35mm

-3.5

70mm

-3.2

135mm

-2.2

-2.0
© 2010 KenRockwell.com. All rights reserved.
* some waviness remains.
Lateral Color Fringes performance top
It has some minor lateral color fringes at 18mm.
It's OK from 35mm through 135mm.
It is loaded with green-magenta fringes at 250mm.
Mechanics and Materials performance top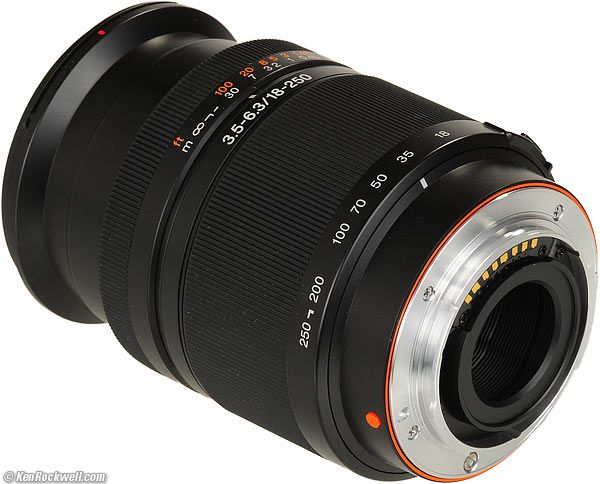 Rear, Sony 18-250mm. bigger.
The mount is metal, the glass is glass, and the middle barrel ring on which is printed "3.5-6.3/18-250" is metal.
Everything else is plastic, and feels like it.
The zoom and focus rings are dinky plastic.
The two extending forebarrels are plastic.
The filter threads are plastic.
It's dinky plastic, and over $500? I don't think so.
Sharpness performance top
As shot on a 16MP Sony A55V:
At 18mm, it's reasonably sharp, except on the sides and corners. The corners sort of get better as stopped down.
At 35mm, it's soft at f/4.5, and a little better stopped down.
At 70mm and 135mm, it was very soft on the left side, a sign of decentering.
At 250mm, it is soft all over and loaded with chromatic aberration, sort of like a toy lens.
Recommendations top
Intro Specs Performance Recommendations
I wouldn't buy one of these things. Low optical performance, made in China mostly of plastic, and over $500? Are you kidding? Sony doesn't even bother trying to make their plastic feel like something better, as do Tokina, Nikon and Canon.
I'd rather shoot with an old Minolta MAXXUM 50mm f/1.7, which has much better optical performance, is completely compatible with Sony DSLRs, including full-frame, and sells for about $75 used at eBay.
Help me help you top
I support my growing family through this website, as crazy as it might seem.
The biggest help is when you use any of these links to Adorama, Amazon, eBay, Ritz, Calumet and J&R and when you get anything. It costs you nothing, and is this site's, and thus my family's, biggest source of support. eBay is always a gamble, but all the other places always have the best prices and service, which is why I've used them since before this website existed. I recommend them all personally.
If you find this page as helpful as a book you might have had to buy or a workshop you may have had to take, feel free to help me continue helping everyone.
If you've gotten your gear through one of my links or helped otherwise, you're family. It's great people like you who allow me to keep adding to this site full-time. Thanks!
If you haven't helped yet, please do, and consider helping me with a gift of $5.00.
As this page is copyrighted and formally registered, it is unlawful to make copies, especially in the form of printouts for personal use. If you wish to make a printout for personal use, you are granted one-time permission only if you PayPal me $5.00 per printout or part thereof. Thank you!
Thanks for reading!
Mr. & Mrs. Ken Rockwell, Ryan and Katie.
Home Donate New Search Gallery How-To Books Links Workshops About Contact