Home Donate New Search Gallery Reviews How-To Books Links Workshops About Contact
Sony NEX-VG10
AVCHD Camcorder (2010-)
© 2011 KenRockwell.com. All rights reserved.
Intro Specs Performance Usage Recommendations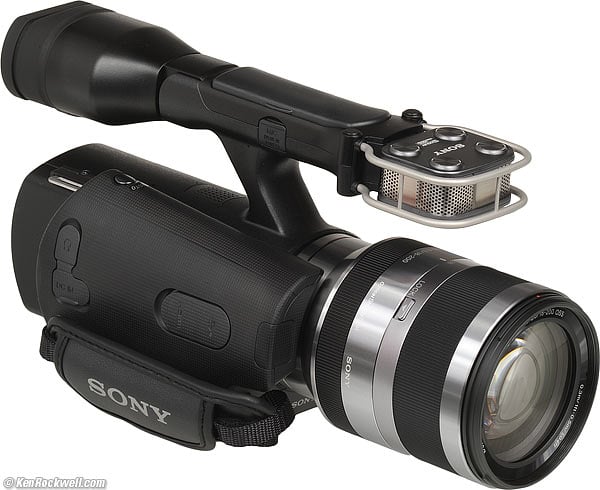 Sony NEX-VG10V and included Sony 18-200 optically stabilized lens. enlarge. (about $2,000, takes 67mm filters, 43.8 oz./1,241g with card, battery and lens). This free website's biggest source of support is when you use these links, especially this link directly to it at Adorama, when you get anything, regardless of the country in which you live. Thank you! Ken.
November 2011 DEAL: Sony NEX-VG10 for just $1,299 (add to cart for this price).
May 2011 All Reviews Sony Reviews
Sample Images, 01 May 2011:
Sample video clips at 24MBPS (16MB) ©, 17MBPS (12MB) © and 9MBPS (9MB) ©. If you can't open them after downloading, then you won't be able to do anything with this camcorder, either. I play these in VLC Player.
Sample sound, motion and bokeh clip at 9MBPS (12MB) ©.
Sample still image file © 8MB .
Introduction top
Intro Specs Performance Usage Recommendations
The Sony NEX-VG10 is a large-sensor, interchangeable-lens HD camcorder. It can also stand-in for a 14MP DSLR for still shots.
It's a real big-sensor HD camcorder, and an interchangeable-lens NEX E-mount still camera, all in one.
Better than camcorders, zoom is direct with a zoom ring, not motorized.
The funny thing about its sensor is that it is the same size as 35mm motion picture film! If you're shooting 1.85:1, you're shooting 24 x 13mm, and in 16:9, this camera shoots at 23.4 x 13.2mm. It's the same size as masked or 3-perf 35mm film. (35mm still images are shot double-frame on 24 x 36mm, a new format invented by Oskar Barnack of LEICA in 1918. The sensor is not double-frame sized as are still cameras; it is the same size as 35mm motion-picture film, from which the 35mm still format was adapted.)
The NEX-VG10 makes excellent HD video, as well as doing pretty much what a Sony A55 does for still photos. Just like every other camcorder, it autofocuses continuously while shooting video. It doesn't focus as fast as a regular camcorder because the large-sensor requires very precise focus, but it does autofocus far better than DSLRs trying to be camcorders do.
The NEX-VG10 is a consumer camera made mostly of plastic with very few controls; there is no manual audio level control for instance. Sony makes plenty of professional cameras in the $50,000 to $250,000 range if you prefer.
The funny-looking thing on top is a stereo microphone. Sony includes a swift little windscreen for it.
Making videos of my kids, they insist that the NEX-VG10 is a microphone, not a camera.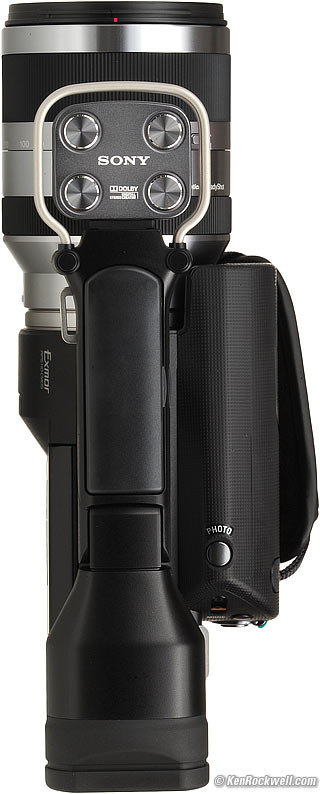 Top, Sony NEX-VG10V. bigger.
It records on SD cards, class 4 and faster.
It makes great video without the panning defects common to DSLRs, and it makes still images handling like the Sony A55.
Better than a camcorder, this Sony records in 29.97P instead of 60i, for a more cinematic look as opposed to a video look.
The Sony NEX-VG10 gives better video without the hassle of a DSLR, and makes still shots as well. It's what to get if you mostly want video with the occasional still, instead of wanting stills with an occasional video. Still photo frame rate is low, while video is superb.
It's about time someone made a large-sensor video camera dedicated for the video market, and it's about time that Canon and Nikon SLRs got put to bed for video. SLRs were never made for video, and Sony knows video cameras better than anyone.
With adapters, the NEX-VG10 takes not only NEX lenses, but Nikon lenses, Canon lenses, LEICA lenses and just about anything else. With the big sensor, you get nice subject differentiation (soft backgrounds) when you want them, with a camcorder that works well without the stupidness a DSLR.
You don't need other lenses; it comes included with an 18-200mm AF zoom with internal optical stabilization, which drops-out backgrounds just great at its longer settings when you'd need soft backgrounds.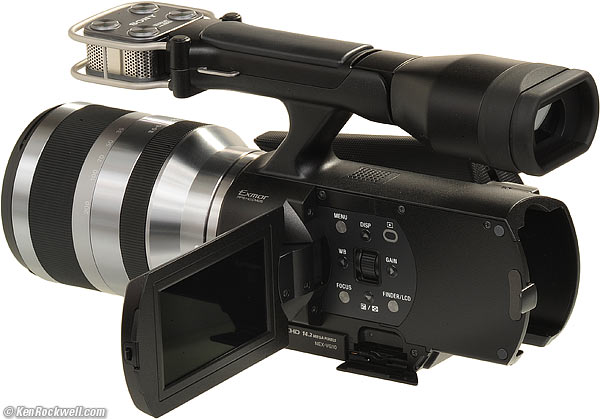 Side, Sony NEX-VG10V. bigger.
All the controls hide under the flippy LCD.
What's Missing
It does 29.97P only. It can't do 24P or 23.976P for serious cinematography.
It doesn't do 60i for fluid motion for sports as most people expect from video.
Personally, I love 29.97P which looks close enough to 24P for me, but I'm not delivering for broadcast, either.
It can't shoot standard 4:3 video.
The NEX-VG10 has no instant manual-focus override, nor does it have a manual-focus mode switch. You have to flip-out the LCD, navigate menus and revert to the manual-focus-only mode the hard way!
The NEX-VG10 offers no manual focus aids. There is no monitor zoom or anything else to help you nail manual focus other than by looking at the same monitor you always do.
The flippy LCD can't flip-over 180º for photographing yourself.
I never found the tally light (the light on the front that tells the talent they're on-air).
Still images are stored only as JPG, not as raw data.
It can't shoot stills in the movie mode. Drats, my Panasonic PV-GS120 3-chip DV camcorder does, but only at 640 resolution. If you want a still of something of which you're shooting video, you have to stop everything and change the shooting mode. This said, it changes from stills to movies and back again faster than my iPod Touch does.
Lens Compatibility top
The Sony NEX-VG10 takes Sony E-mount lenses for their NEX cameras.
The included 18-200mm optically-stabilized lens is all you need.
If you want soft backgrounds, shoot it at 200mm, which does a better job than a faster, shorter lens will. Yes; the included lens gets much better head shots with soft backgrounds standing back at 200mm than you'll get with a 50mm f/1.4 or 25mm f/0.95 lens; focal length has a much larger effect on defocus than aperture.
Take off the lens, and you're staring at what passes today for an APS-C sensor.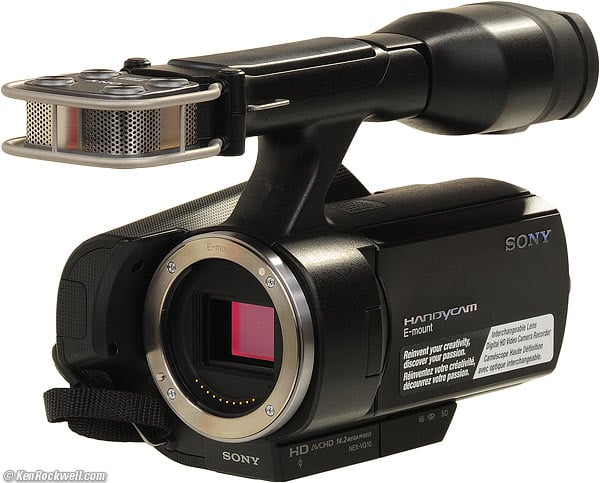 Body-only, Sony NEX-VG10V. bigger.
If you must use other lenses, there are a zillion adapters available to attach pretty much any lens you might imagine.
If you do this, you lose autofocus and image stabilization.
After you attach an adapter, everything works great until you try to take a picture or roll tape, in which case you'll get a LENS NOT RECOGNIZED warning. Not to worry, go into the SETUP menu and set SHOOT WITHOUT LENS to ENABLE.
The Sony LA-E1 Alpha Lens Adaptor lets one use Sony A-mount lenses on NEX cameras like this one. You still lose autofocus, but Sony claims automatic aperture control.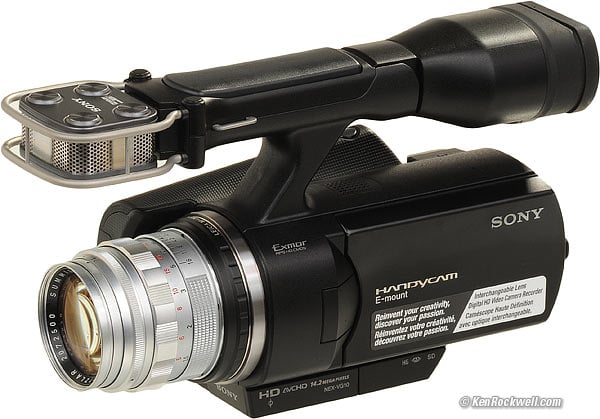 Sony NEX-VG10V and LEICA SUMMILUX 50mm f/1.4 with adapter. bigger.
I wouldn't use normal fixed lenses simply because one loses autofocus, image stabilization and auto aperture control. If you want soft backgrounds, the included lens does a better job at 200mm.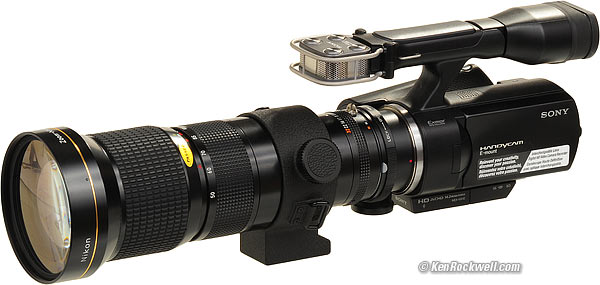 Sony NEX-VG10V and Nikon 50-300mm f/4.5 ED with adapter. bigger.
If you're serious about digital cinematography on an under-$250,000 budget, the Nikon 50-300mm f/4.5 ED is the best lens you can get for under $10,000.
The Nikon 50-300mm f/4.5 ED excels when you're using still-camera lenses because:
1.) It has a huge, smooth-running, well-spaced and separate zoom ring. Slow, smooth zooms are easy, and it's easy to attach a rig to it.
2.) It has a big, separate focus ring, Again, it's easy to attach a focus-pulling rig to this.
3.) Presuming your camera technician sets the back focus properly, focus holds as zoomed.
4.) Constant f/4.5 aperture. Most zooms today get darker as zoomed in, and get too slow on the long end. The included lens is only f/6.3 at 200mm, or one full stop slower.
5.) Real aperture ring.
6.) Tripod collar.
7.) Perfect focal length range for most shots from normal to tight.
8.) SHARP!
The biggest reason the Nikon 50-300mm f/4.5 ED stands out so much is its magnificent zoom range and zoom ring.
Specifications top
Intro Specs Performance Usage Recommendations
Sensor
Still Images
23.4 x 15.6mm (sub-APS).
Crop factor 1.5x.
ISO 200 - 12,800.
Auto ISO to ISO 1,600.
Resolution: 14MP; 4,592 × 3,056 pixels.
Capture Rate to 7 FPS free-running with no AF or exposure changes, or one shot every few seconds if you want each properly exposed and in-focus.
Video
The top and bottom of the sensor are ignored, using only the central 23.4 x 13.2mm section.
Crop factor 1.8x.
29.97P only, recorded sideways as 59.94i to fit in the AVCHD file format. Looks like 29.97P.
Amateurs and Sony's sales lit often say "30P" and "60i," but they mean 29.97 and 59.94.
Lens
18-200mm f/3.5-6.3 with internal optical stabilization, included.
17 elements, 12 groups, 5 aspheric surfaces.
67mm filter size.
Minimum aperture f/22-40.
7-bladed diaphragm.
Close-focus: 1ft - 1.6 ft.
E-mount lenses and others as covered at Lens Compatibility fit, too.
AF top
Slow AF, only reacting to the captured image stream.
Stabilization top
Optical, in-lens, not at the sensor.
Minimum Illumination top
11 Lux at 1/30 and f/3.5 in AUTO gain.
White Balance top
The usual settings, and 2,500K to 9,900K with green/magenta adjustment.
Finder
Electronic sequential-color LCD.
Shutter
Still
Vertical focal plane.
1/4,000 ~ 30s.
Bulb setting not listed.
Video
Auto: 1/4,000 - 1/30.
Manual: 1.4,000 - 1/4.
Flash top
NO HOT SHOE, only a Minolta MAXXUM-compatible dedicated flash shoe and a standard (cold) accessory shoe. Both are hidden under a plastic flap.
Audio
Mic input jack: 3.5mm stereophonic with some sort of phantom power.
Headphone jack: 3.5mm stereophonic
Stereo microphone on top.
Sony claims it uses four omnidirectional capsules from which the left and right stereo channels are computed. Too bad; it would have been cute if there were four cardioids for quadraphonic jammed into the data stream. Oh well, we only hope for the return of the 1970s.
LCDs top
Flippy 3" chopped LCD.
Viewfinder is a sequential-color LCD, meaning it alternates the backlight color with a B&W LCD, so if you move your eyes, you see weird RGB rainbow effects.
Coding
Still Images
JPG only.
Video
24 MBPS (FX), 17MBPS (FH), 9MBPS (HQ) AVCHD (MPEG-4 AVC (H.264)).
Recorded as MPEG Transport Streams in .MTS files. The 29.97P images are crammed-in sideways to meet the AVCHD standard, which only supports 59.94P, but they look like 29.97P.
1920 x 1080 in FX/ 24MBPS and FH/ 17MBPS.
1440 x 1080 in HQ /9 MBPS.
Variable bit rate coding.
Audio
Dolby Digital (AC-3) / MPEG-4 AAC-LC.
Storage
SD card or memory stick.
Class 4 cards or higher.
Outputs
HDMI: type C mini.
USB: teeny.
Headphones: 3.5mm stereophonic.
Power top
Battery: Sony "V" series; InfoLITHIUM NP-FV70 included.
Charger: BC-VH1 with folding plug, 100-240 VAC, 50 cps/ 60 cps, 4 W.
Rated 9 hours charge time for only 1.2-2 hours of shooting.
A free AC adapter is included in case you're stuck with a dead battery.
Size top
3.88 x 5.25 x 11.5 inches, with 18-200 lens.
97 x 132 x 294 mm with 18-200 lens.
Weight
43.765 oz. (1,240.7g) actual measured, with card, battery and included 18-200mm lens.
Lens alone specified at 18.5 oz.
Software
None included, except for "Sony Vegas Movie Studio HD Platinum 10" that won't work at all except on some windows computers.
Quality
Camera made mostly of plastic in Japan.
Plastic lens with metal cosmetics and mostly glass optics made in People's Republic of China.
Metal lens mounts on both camera and lens.
Performance top
Intro Specs Performance Usage Recommendations
Ergonomics
The lens is bigger than the camera.
The top handle works great for carrying.
The NEX-VG10 is designed for baby hands; the start/stop button is at the base of the thumb of an adult's hand!
None of the few controls are accessible while rolling, unless you have the LCD flipped open.
The menus are clunky, and the few buttons one has available to press aren't very well thought out, but I did figure it out.
There isn't much that can be set.
It's made almost entirely of plastic, and feels like it. It does not feel like a $2,000 camera.
It responds slowly to my commands to start and stop rolling. It's hard to catch kids playing with the fast trigger-finger I need. With a class 6 card, I sometimes got RECOVERING DATA, PLEASE WAIT failures. By failure, I mean if a product I bought expects me to wait around on its time, it is defective. I want to shoot NOW. If I have to wait, it's a problem. It works OK if you're not as offended as I am by machines telling you what to do.
The battery slot is deep and weird. You have to poke the battery way down into the slot.
The len's focal length scales are on the very top of the lens, where you can't see them under the big microphone.
The charger takes forever (up to 9 hours) to charge, but it is a nice slim all-voltage device with a folding plug.
Lenses pop right on and off with the bayonet mount. It feels a little gritty. The index dots are invisible gray on silver.
Still Shooting
Still shooting works about as well as the Sony A55. It's not fast to focus or fast enough to shoot action as you'd like to shoot, but is sure works better than any other camcorder for still shots.
It takes about a second to make each new shot. The 7 FPS number came from the marketing department for when it shoots with the same settings each shot. If you want to have each shot with the correct focus and exposure as things move, you can shoot at about one frame every couple of seconds
Forget shooting action, autofocus is slow.
Image Quality
Video
Video is nice! It seems better than the overly-compressed HD files I saw coming out of Canon's best consumer HD camcorders at a 2009 press introduction.
This is a video camera, and Sony's been making video cameras for professional use at least since the 1960s, long before consumer video. I may poke fun of Sony's still cameras, but when it comes to video, Sony's known what it's been doing for decades and decades and decades.
Sample video clips at 24MBPS (16MB) ©, 17MBPS (12MB) © and 9MBPS (9MB) ©.
Sample sound, motion and bokeh clip at 9MBPS (12MB) ©.
In backlight, the exposure isn't always as smart to expose for the backlit face as is my Panasonic camcorder, and it's a bear trying to find the compensation button while rolling. There is no dedicated BACKLIGHT button as there ought to be.
Dirt
You will get dirt on the sensor. Unlike fixed-lens camcorders, dirt can and will get in. This new sample seen here had some dirt visible in video at very small apertures.
Unlike still shots, forget dirt removal in video with any consumer software. You need a clean sensor before you shoot.
Stills
Image quality is about the same as the Sony A55. It's nice, but the colors never seem to be what I love.
The included 18-200mm lens isn't very sharp at the long end on the sides, which means nothing for video, but could for pixel-counters. In fact, compared to the LEICAs I usually shoot, its pretty crappy, but compared to most DSLRs, it's swell.
Sample still image file © 8MB .
Autofocus top
AF is slow, because it only reacts to the captured images; it can't see the live images directly from the lens as can the Sony A55.
AF is very slow for stills, but fast enough for video.
Audio with Included Microphone top
Audio sounds fine, with a cut low end.
If doing VO (voice-over) while rolling, my voice comes mostly from the left channel.
You'll hear the soft sliding sound made by zooming the lens if it's quiet. You won't hear the lens focusing.
Data top
Data is klunky. SD cards are formatted as NO NAME, and not the name of the camera.
Oddly, even though I had it set to number files sequentially, every time I formatted a card, it started the file numbers at 00000.MTS again.
The on-card file structure is obtuse. It takes ten clicks down to find the sub-sub-sub-sub-subfolder with the video files. Video files are hidden on the SD card at NO NAME > PRIVATE > AVCHD > BDMV > STREAM > #####.MTS.
Viewfinder top
The Sony NEX-VG10 has a very sharp electronic viewfinder. It is much sharper than other finders because it uses a sequential-color display.
A sequential-color display works by using a black-and-white LCD, and changing the color of the backlight quickly as the B&W display is sent the appropriate information for each color. Our brains sum all the colors together, and it looks much sharper and with more vivid reds than traditional LCDs, which have to use numerous triads of different-color dots with a continous white backlight.
A sequential-color display has about double the resolution, and much lower power consumption than traditional color LCDs with the same number of dots.
The bad news is that the sequential-color display is lit by a backlight that alternates between colors too slowly, so as you move your eyes around the finder, you'll see numerous R-G-B smears (rainbow artifacts) as you slew your eyes. This could drive some people crazy.
Usage top
Intro Specs Performance Usage Recommendations
The battery takes 9 hours to charge for an hour or two of shooting. Plan ahead.
An 8 GB SD card runs an hour or two at 17MBPS or 9MBPS rates.
If using lenses with an adapter, you'll probably get a LENS NOT RECOGNIZED warning. Not to worry, go into the SETUP menu and set SHOOT WITHOUT LENS to ENABLE so you can shoot with non-Alpha or non-E lenses.
For still shots, half-press the PHOTO button on top to set and lock exposure and focus, then press it all the way down to take your shot instantly.
While rolling video, press the PHOTO button to get the autofocus system to hurry up and focus on something if it doesn't do it by itself.
Recommendations top
Intro Specs Performance Usage Recommendations
This is a great video camera, just that I'm not a video shooter.
I spent decades in Hollywood designing major studios and networks for a living, but I'm not a video editor. I have no real idea what anyone would do with the AVCHD files this camera makes. Personally, I have no time to import files to a computer; I need to output my family videos direct-to-DVD for distribution, which I do with a conventional 2005 Panasonic PV-GS120 3-chip DV camcorder, and a Sony VRD-MC5 DVD recorder. (The Sony VRD-MC6 is the 2011 model).
I have no idea what you people do with all the video you shoot, especially when it's HD. If you're like me, you're probably amassing terabytes of data, and will probably never actually get it edited and released in some form where you might actually get to see it some day. That's why I shoot linear DV tape, but I'm a weirdo.
For those of you looking mostly to make video, I consider this a much smarter buy than a DSLR, and the NEX-VG10 includes a great lens for video; no need to use the interchangeable lens feature.
Don't let my whining dissuade you. This is a great video camera for video shooters. The video looks great; but international bandwidth regulations prevent me from sharing any more files online than I already have.
The Sony NEX-VG10 makes great video, and makes great still-image files as well.
If you find all the effort I've spent sharing what I've learned, this free website's biggest source of support is when you use these links, especially this one directly to it at Adorama, when you get anything, regardless of the country in which you live.
Thank you!
Ken.
Help me help you top
I support my growing family through this website, as crazy as it might seem.
The biggest help is when you use any of these links, when you get anything. It costs you nothing, and is this site's, and thus my family's, biggest source of support. eBay is always a gamble, but all the other places always have the best prices and service, which is why I've used them since before this website existed. I recommend them all personally.