Home Donate New Search Gallery Reviews How-To Books Links Workshops About Contact
CES 2012 Audio Report
Live from Las Vegas
© 2012 KenRockwell.com. All rights reserved.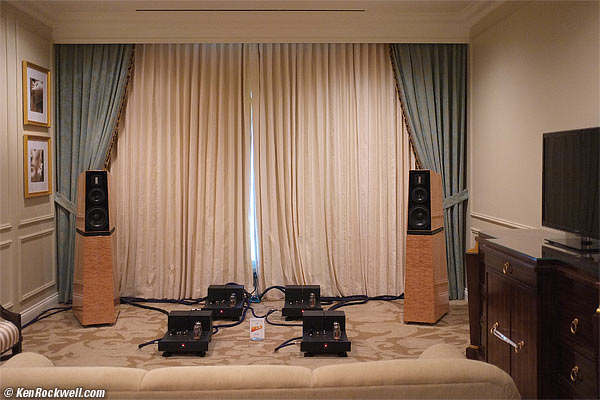 Verity Audio's typical suite at The Venetian. This free website's biggest source of support is when you use these links when you get anything, regardless of the country in which you live. Thanks! Ken.
January 2012 Nikon Reviews Canon LEICA Audio Reviews All Reviews
Overview
The CES and PMA shows are for electronics and imaging.
Part of the CES show includes high-performance audio.
Unlike cameras, the USA has always lead the world of audio, and thus at the audio show you often would find the founder and owner whose name is engraved on the gear, like Manley, JPS, Koss and Woo, standing in the suite to greet you. Bravo!
The CES audio exhibits were mostly shown in suites at The Venetian.
Sadly for the great equipment being offered, with speakers typically in the corners near the panelled hard wood walls, and no room treatment save for the drapes over the window, most of the $150,000 hi-fi systems shown sounded pretty crummy.
I thought my visit might result in me wanting to dump $50k of the bank's money into some new hi-fi gear, but pleasantly this show simply convinced me that my current gear is so much better because it's better set-up — and that I need to write an article on how to get great sound. It also showed me what fluff are audiophile magazine reviews of things heard at this show, since even the best exhibits sounded pretty dodgy in absolute terms due to the conditions.
The Venetian exhibits usually had no bass. Audiophiles usually are stuck with wimpy speakers because they blow too much of their limited funds on fancy amps and cables, and even the fancy speakers at the show were pretty light in the two bottom octaves. The crummy rooms may have made this worse. Only a few exhibits, like Wisdom and Velodyne had proper bass.
Since these rooms are only 12 feet (3.5m) wide and most rooms were set up as shown, wall reflections caused all sorts of comb filtering — but no one seemed to care, because almost all I heard was crappy music anyway.
For some unknown reason, it was rare to hear anything other than the same baloney Bose uses for in-store demos: one or two instruments, and maybe a voice. Anything sounds good reproducing simple music; it's far more difficult to reproduce a full symphony orchestra or chorus, and few exhibitors had the guts to play anything anyone actually wanted to hear.
I kept asking myself why the only good music (Bach, Mozart and Beethoven) was only heard over the PA system in the Venetian's public spaces, and the music playing over the $300,000 hi-fis was usually boring.
Sadly I waited until the last minute to see the splinter THE show at the Flamingo, which was the only one open to the public.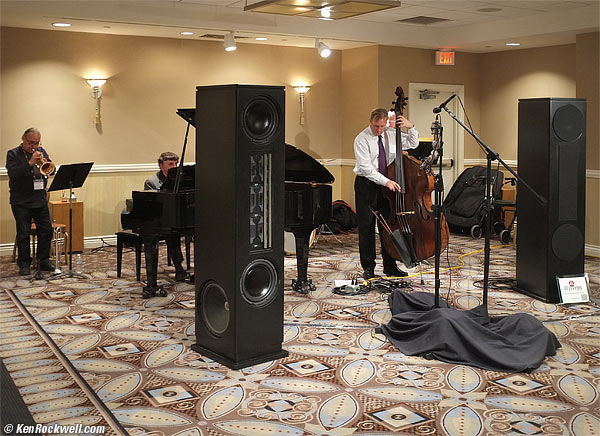 The T.H.E. Show at the Flamingo: much more music.
AHA!!! The T.H.E show had the best music and the best sound as they had bigger rooms and better gear — and even the only real, live musicians seen all week.
Most of the CES audio show was just cone speakers in boxes, which are very profitable to make and sell, while the better sounding electrostatics and planar speakers were far more prevalent at the T.H.E. show.
The best sound of show was at Woo Audio. Even their inexpensive ($650) amp sounded awesome.
Observations By Brand
Anthem top

Anthem Statement M1.
Anthem's $3,500 M1 is a monophonic 1kW class-D power amp. It has no fan, thank goodness.
It delivers 1,000 watts at < 0.06% THD from 20 ~ 20,000 Hz.
Frequency response varies with load, and varies by 0.1 dB between between a 2Ω load and no load.
audioengine top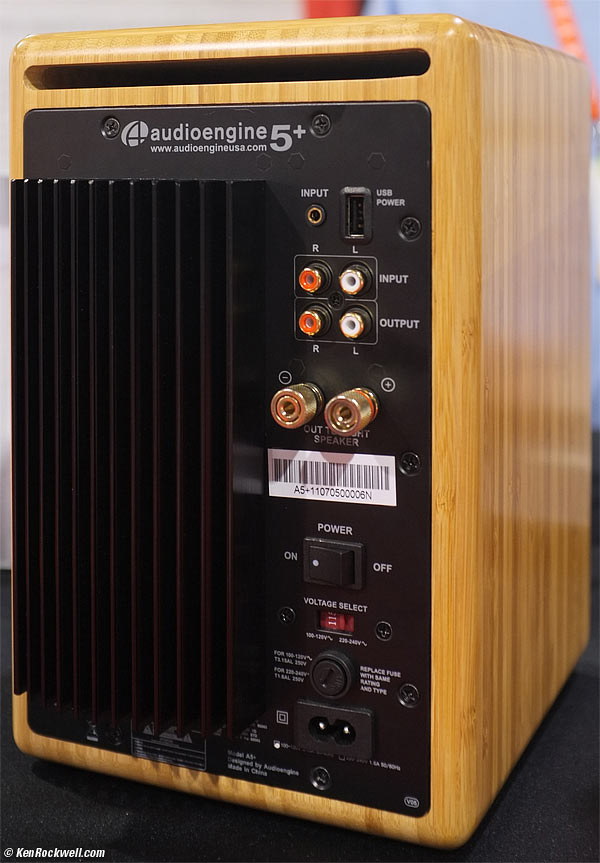 audioengine A5+ self-amplified speakers.
audioengine's A5+ self-powered speakers are beautiful! They are made of solid laminated bamboo, and are a joy to behold. They sell for less in black.
They have soft rubber pads on the bottom, so they sit on desks without damage. Others use audioengine's little stands, and they also have ¼-20" tripod sockets on the bottom.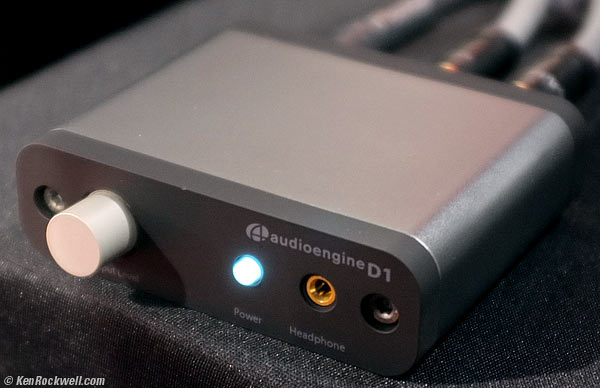 audioengine D1 24/192k DAC and headphone amplifier.
New at the show is the tiny, USB-powered $169 audioengine D1 DAC and headphone amp. It's about the size of a deck of cards, powered only through USB, and has only USB or TOSLINK as its input. It has a rotary analog gain control and 3.5mm headphone jack on the front, and a pair of RCAs for output at the back.
I've got one of these DACs on the way to review.
AudioFly top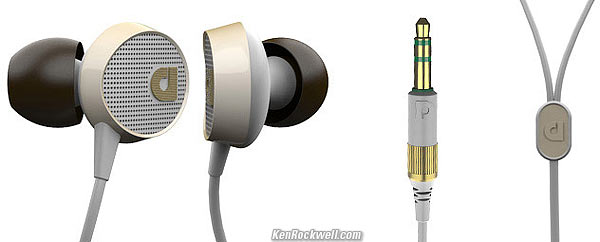 AudioFly is a new company offering in-ear headphones.
The reason they might be worth investigating is because they are founded by some musicians, and tell me that their headphones are voiced to be natural, without the usual bass and treble boosts present in most consumer headphones.
If indeed they pull this off, they'll be worth a listen. Their are loads of companies jumping on the headphone bandwagon, and AudioFly's pitch of "accurate" sound will demand a listen.
Their product line runs from $30 - $210.
Audio-Technica top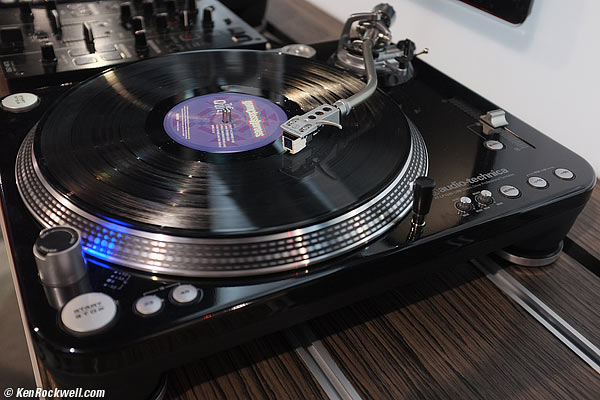 Audio-Technica AT-LP1240-USB. bigger.
Audio-Technica is celebrating its 50th anniversary. In this spirit, they've introduced a slew of new turntables, headphones and phono cartridges. A-T has been doing all this non-stop for 50 years. I didn't see any new recording microphones, but they are probably saving these for NAMM next week.
Among them is an excellent turntable; an inexpensive recreation of the classic's classic, the Technics SL-1200 Mk II. It's called the AT-LP1240-USB and has the same nearly instant start and stop and high torque of the real thing, and adds a slew of features like 78 RPM, more pitch change options, reverse rotation, built-in analog preamp and USB output. It will be available in March 2012 for $529.95.
Today, the Audio-Technica ATLP120 is readily available for only $230, and is pretty much a direct copy of the Technics SL-1200 Mk II, without the new features of the new AT-LP1240-USB.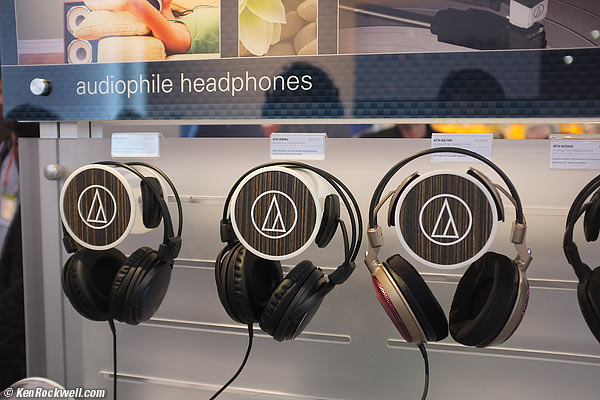 One of about 20 different racks of Audio-Technica headphones.
In headphones, a quick listen to the practically-free ATH-A700x, ATH-A900x and ATH-AD700 were astoundingly good. Maybe it's just because anything that isolates me from the din of the show sounds great, or maybe these really are super bargains at about $180 each. From what I can see, these -x models are new versions of last year's non-x models and not quite yet available.
I put these headphones on my list of items to review. They sounded fantastic, for pennies.
Ayre MADE IN COLORADO, USA top
Ayre announced that they just hired Alan Clark as the EVP of R&D. He had been the CTO of B&W and VP of R&D for Classe. That's a lot of acronyms!
They showed the Ayre QB-9 DAC and QA-9 USB analog-to-digital converter (ADC). Why would a consumer want an ADC? To record LPs as digital files.
Arye's goodies were much better built than most audiophile items. While audiophile items always look tough on the outside, on the inside to the educated observer they are usually just the same wimpy consumer-grade components and mechanics. Ayre's assemblies and circuit boards are made to a commercial, not consumer, standards. Heck, the billet-aluminum cases (not just front panels) reminded me of my work in military electronics, where every case was milled out of solid aluminum.
Their press materials never said what exactly was new for the show and their images were difficult to read, so we'll all have to guess.
Bang & Olufsen top
B&O was doing hour-long presentations to the press every hour.
B&O had $500,000 USD in sales in 2011.
The Beosound 8 was their best seller.
They plan to get into home automation in their high traffic retail locations.
They have a new cheaper brand, "B&O PLAY," with which they hope to reach more people, impress them with the products, and get them back later for B&O's traditional no-holds-barred fare.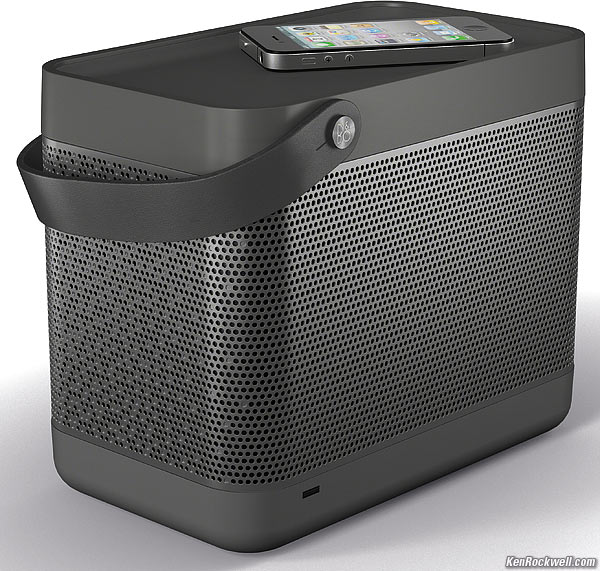 B&O PLAY Beolit 12.
The first of these new wares is the Beolit 12 AirPlay speaker, due at the end of January 2012 for $799 in 4 colors. It's a little rechargeable-battery-powered lunchbox with 120w of class D amplification to drive its two 2" tweeters and single 4" woofer.
Its rechargeable battery is rated for 4 hours, or as much as 8 hours if you aren't using AirPlay.
B&O also showed the flat wall-mounted Beolab12 speakers, which are based on car speakers and lots of DSP to get decent sound with nearly no cabinet volume.
Behringer Tuff Tunes.
Behringer is a maker of pro recording and live sound equipment priced so low that most pros don't trust it, but those who use Behringer love it.
Exactly like B&W and everyone else, they also think the word needs more iPod docks and inexpensive consumer audio toys, so they introduced a new line of them.
Behringer's pitch is that they bring their experience in making pro audio gear at super-low prices to making high-performance consumer audio baubles at super low prices. We'll see.
Beyer MADE IN GERMANY top
Beyer showcased their new closed-back Beyer T70p. It replaces the Beyer DT 770. A quick listen revealed similar sound to the DT 770, which is a bit too tizzy in the mid-treble for me, but probably smooths out wonderfully with a Woo Audio amp.
I gave a fast listen to the Beyer T5p, which also had plenty of sensitivity from my iPod touch, and sounded pretty nice, possibly without the harsh treble of the Beyer T70p.
The portable Beyer T50p had plenty of sensitivity and had great bass, very similar in sound and design to the Koss Porta Pro.
I wouldn't put too much weight into what I heard at a very noisy trade show; I should have the T70p in for review soon; it adds "Tesla" technology to the DT 770. The T70p had plenty of sensitivity for use with my iPod Touch.
Bob Carver MADE IN WASHINGTON, USA top
The real Bob Carver is making tube amps today.
He sold Carver decades ago, and started Sunfire later, and today, operates as Bob Carver LLC.
He had some candy-apple red tube power amps on display.
Bryston MADE IN CANADA, EH top
Bryston, probably the world's most popular power amplifiers used in recording studios for monitoring, showed their new BHA-1 headphone amplifier:

Press Photo, Bryston BHA-1. bigger.

Press Photo, Bryston BHA-1. bigger.

Actual unit, Bryston BHA-1. bigger.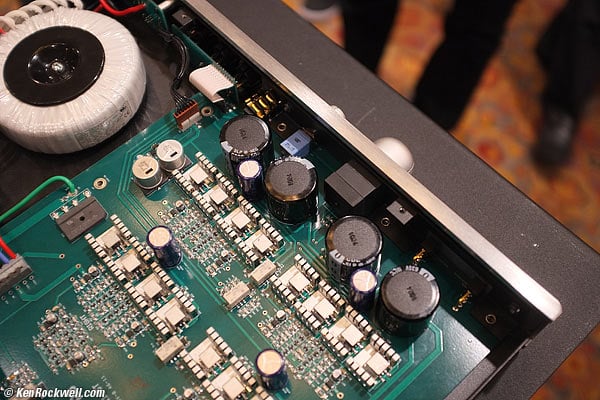 Actual unit, Bryston BHA-1. bigger.
The Bryston BHA-1 is a fully discreet dual mono amp using Class A circuitry.
It comes in two versions: the regular model has a power supply, as well as a model without a power supply if you already have a Bryston MPS-2 discreet power supply.
The standard BHA-1 is backed by Bryston's 20-year warranty.
The BHA-1 of course has only a real ¼" jack, as well as fully balanced 4-pin stereo and dual left/right 3-pin outputs using all gold plated connectors.
It has a decent Noble pot for front-panel gain control.
50 kΩ input, 14 dB gain.
± 33V rails, enough to make your neighbors deaf from just your headphones.
Dynaudio top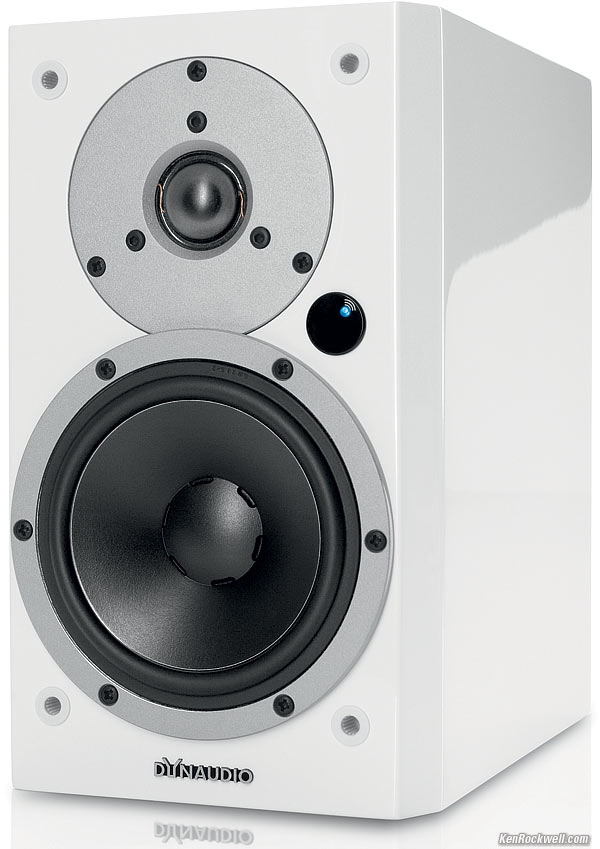 Dynaudio Xeo 3.

Dynaudio Xeo 5.
Dynaudio introduced two wireless speakers: the Xeo 3 compact and Xeo 5 mini-floorstander. They come in glossy white as shown or glossy black.
These only work with the included Xeo wireless transmitter and remote control. They don't work with AirPlay.
Plug the speakers into the wall and your music into the transmitter. Of course you'll need one remote to control your music and anther for the Xeo.
Tweeters are 27 mm soft domes and woofers are 14.5 cm drivers with MSP (Magnesium Silicate Polymer) cones.
The transmitter works at 48k/16 bits.
Xeo 3 Set: $2,300, including remote and transmitter.
Xeo 5 Set: $4,500, including remote and transmitter.
Speakers, remotes and transmitters are also sold separately.
Ferrari by Logic 3 top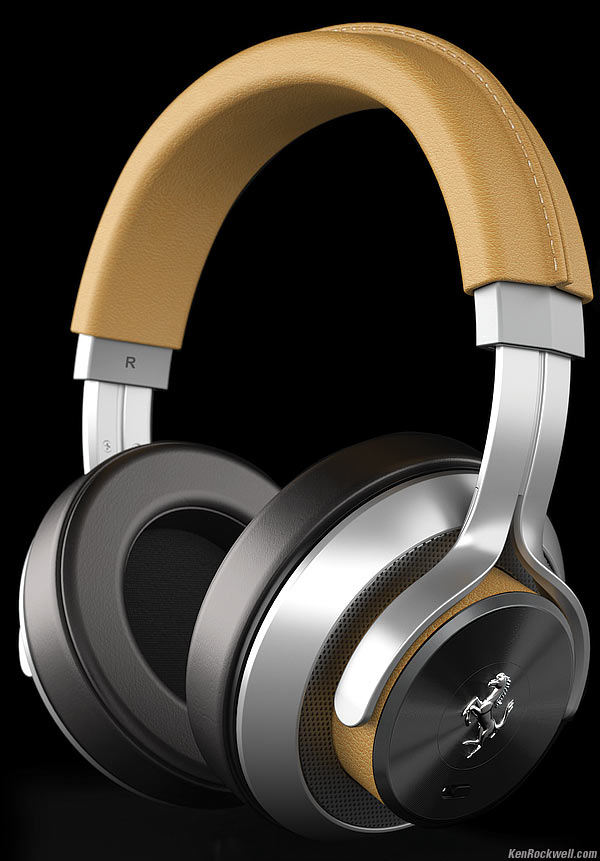 Ferrari by Logic 3 T350 headphones.
I was quite surprised by these Ferrari-branded headphones because they were actually quite good, at a reasonable price.
I was expecting $10 headphones with a Ferrari logo, like the Toy Story 3 items I buy for my kids, except selling for four figures, but in fact, these headphones are quite good and competitive in price with Beyer.
They are offering several different color schemes for each of two iPod docks and both a few models of in-ear and regular headphones. The regular headphones come in both open and closed models, and there are even two active noise-cancelling versions.
I gave a quick listen to a prototype of the F350 active noise-cancelling (ANC) 'phones above, and for $380, they sounded fantastic.
Specifically, they had extraordinary bass. Since they use internal amplifiers because they are ANC, they apply some bass equalization, and have both flat, unboomy response, and far more extension and response below 60 Hz. In fact, they have far better response below 30 Hz than any passive (conventional) headphone I've heard!
Yes, they isolate well, but no battery power, and no sound.
The overall balance and clarity were swell, with just a little bit of peakiness around 8 kHz, probably less (better) than the peakiness of the Beyer DT770.
Since amplification is internal, they also have great sensitivity. They work great fed from an iPod.
I'm looking forward to getting a shipping pair in for review; if you tape-over the Ferrari logo, they just could be a great headphone choice for careful listening. I suspect that since I was at a very noisy trade show at the end of the day that anything quiet was going to sound good, and I also expect these headphones to be far better than I expected.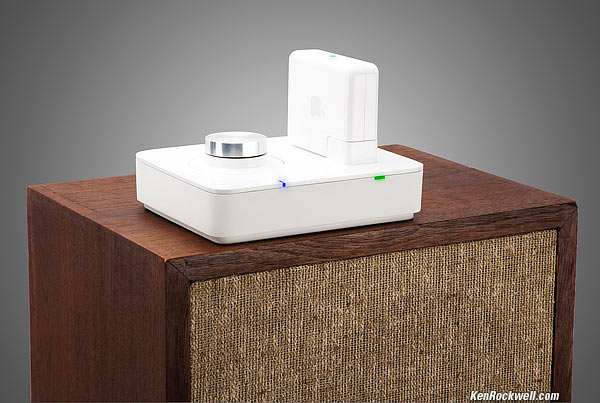 Griffin 20, shown on a speaker with an AirPort Express.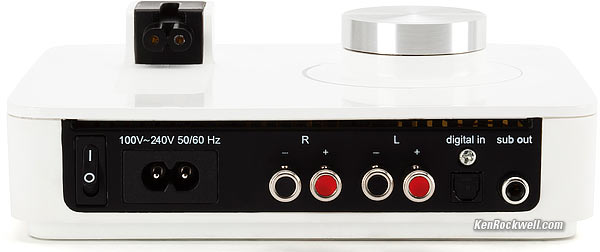 Rear, Griffin 20.
Griffin, best known for it's plug-in-wall iPhone charge adapters, introduced an audio power amplifier with built-in Wi-Fi as well as a dock for the Apple AirPort Express.
It runs on 100-240V with a direct AC power cord socket on the back, no power adapters needed.
You can stream audio to it wirelessly via generic internal Wi-Fi, or slip your own AirPort Express into it for power. Not shown here is that you have to run a short audio patch cord (analog or optical digital) from the AirPort Express to the rear of this little amp.
As soon as you're on-air, there are push-type speaker wire connectors on the back. Wire up some speakers to this (it won't accept banana plugs), and voilà, you can turn your good speakers into AirPlay speakers.
It's rated at 20 WPC class-D at 0.08% THD.
To support one self-powered mono subwoofer (real music demands two subwoofers for stereo, or two real speakers), it claims to detect if a subwoofer is connected, after which it will high-pass filter the main outputs at 80 Hz at 12 dB/octave (2nd-order Linkwitz‐Riley) , and low-pass filter the mono subwoofer output likewise.
HiFiMan top
HiFiMan introduced an HE-400 headphone, a planar magnetic for $399, claimed to work well even with iPods.
Since it claims to to need a separate amplifier and is their least expensive planar, it ought to be poplar.
More.
HiVi (Swan) top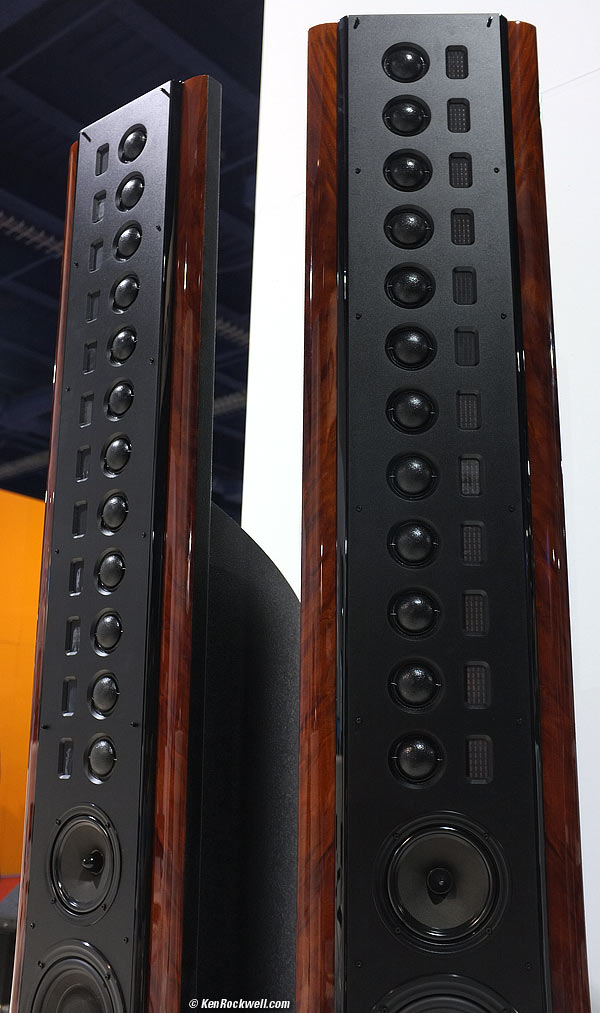 HiVi line-source dome-midrange and ribbon speakers.
I stopped as I walked past native Chinese speaker maker HiVi (aka Swan) when I saw line arrays of midrange domes and ribbon tweeters. The bad news is that these babies cost as much as real speakers, about $31,199 the pair.
Sucked into the booth, HiVi makes everything including $129 desktop monitors.
Here's one of their higher-end desktop recording monitors: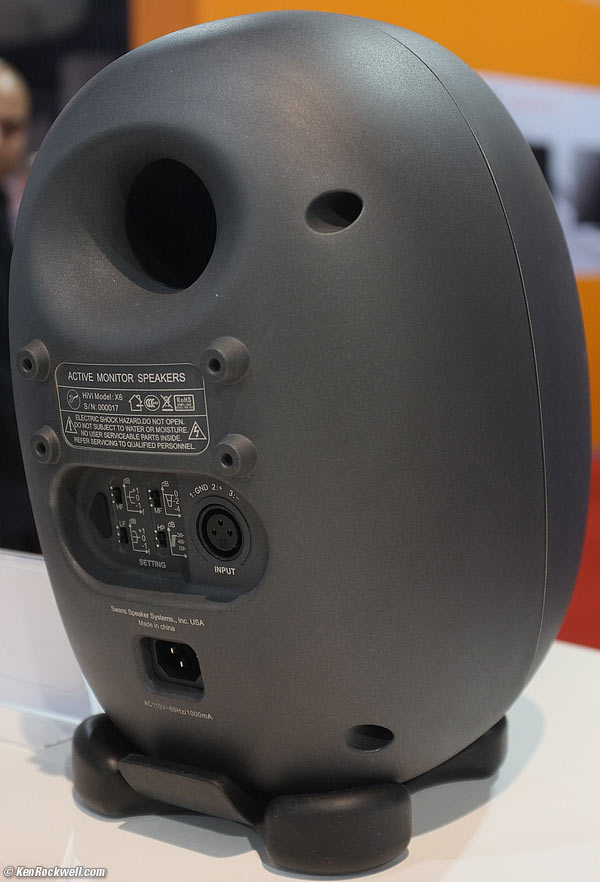 HiVi Recording Monitor.
I might get some to Audition. I've never heard from this company before and it looks like they have the right idea, even if it's copying Genelec.
A nice thing about the desktop monitors is that they have permanently-attached perforated metal grilles as part of their design, so there's no danger of poking-in the drivers. They also come with rubber seats, making it easy to angle them in any direction.
Intersil top
Audio chip-maker Intersil was there in the high-end Venetian audio exhibits showing off their class-D audio power amplifier chips to design engineers.
They had a demo comparing their IC amp to a 50-pound pair of high-end monoblocks with some $10,000 speakers. Their point is that their amps sound great, and weigh nothing.
They are marketing these to engineers to design into equipment, not to consumers. I've been designing with Intersil audio chips since the NE571 and NE572 compander chips in the 1970s!
JL Audio MADE IN FLORIDA, USA top
JL Audio's booth was over at the Convention Center, since most of their exhibit were noisy car stereos.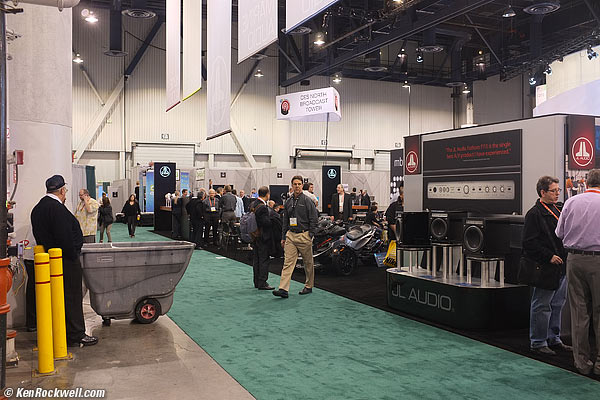 JL Audio's Exhibit's Backside.
JL got the worst location in the LVCC, and their home/studio subwoofers got the very worst spot in their exhibit, hidden behind their office and facing the trash dumpsters on the opposite end of a mile of convention floor! Geeze, one of the very few products I specifically needed to audition, and they're in the worst possible spot.
Their home and studio subwoofers were hidden behind their exhibit, which was mostly loaded with motorcycles and other ride-on toys.
New at JL are a lower-priced line (E-Sub) of their world's-best (F-series) subwoofers. The new E-Subs will sell for about half of the Fathom line, and use rubber, not foam, surrounds, which is also a huge improvement for those of us who expect to enjoy these for decades without needing any service.
Their controls at the top back, not the front as on the Fathoms. The E112 (12") looked awesome in wood, but I'm told don't get my hopes up, as colors are still undefined.
I was told these new E-Subs ought to have the same performance within 2 dB of the Fathom (F112 etc.) line, for half (-6dB) the price. That tells me that two of them will cost the same as one Fathom, and be 4 dB better in performance! In any case, stereo music needs two subwoofers, so get two.
The only missing control compared to the Fathoms is the crossover slope, which is fixed at 24 dB/octave. It includes both HP and LP sections. I don't recall any auto- room correction ability.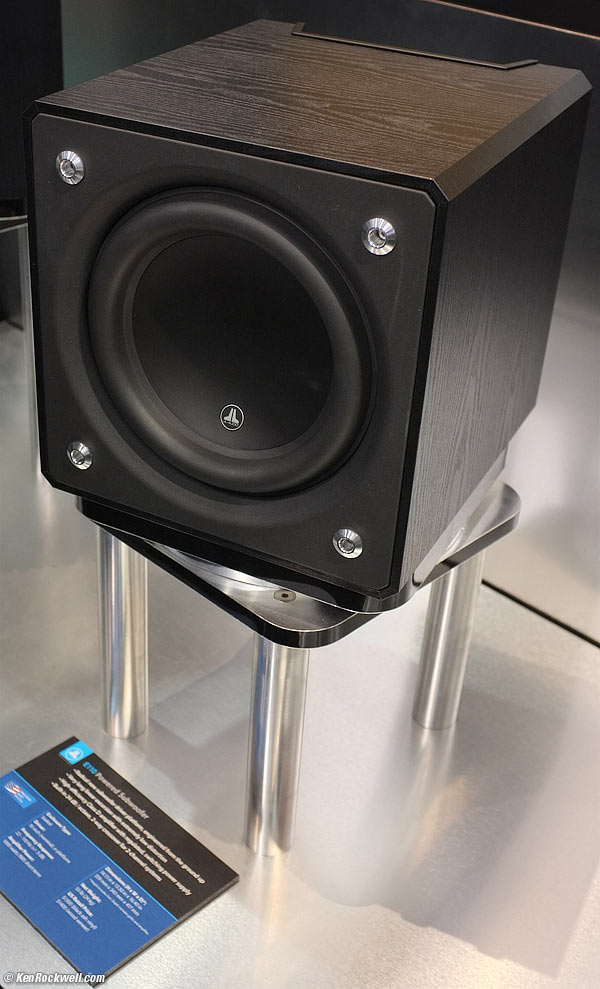 JL E110 prototype in "black ash."
JL E-110:
Enclosure Type: Sealed.
Driver: 10-inch (nominal), e-platform.
Frequency Response: 22 - 110 Hz (+/- 3 dB).
Amplifier Power: 1000 watts RMS short-term.
Dimensions (HWD): 14.13 x 13.5 x 16.4 inches (359 x 343 x 417 mm), including feet and controls.
Net Weight: 53 lb (24 kg).
Available: Third Quarter 2012
Retail: Black Ash: $1,300.00. Wood Veneer: $1,400.00 (each; two needed for stereo).
JL E-112 prototype in "wood."
JL E-112:
Enclosure Type: Sealed.
Driver: 12-inch (nominal), e-platform.
Frequency Response: 20 - 110 Hz (+/- 3 dB)
Amplifier Power: 1400 watts RMS short-term.
Dimensions (HWD): 16.13 x 15.5 x 18.2 inches (410 x 394 x 462 mm), including feet and controls.
Net Weight: 70 lb (31.8 kg).
Available: Third Quarter 2012.
Retail: Black Ash: $1,600.00. Wood Veneer: $1,700.00 (each; two needed for stereo).
These new E-Subs look much better than the Fathoms. I love the beveled edges, which match classic ADS and B&W main speakers.
Even though the prices are as low as imitation subwoofers from overseas, here's what's inside these American-made beauties: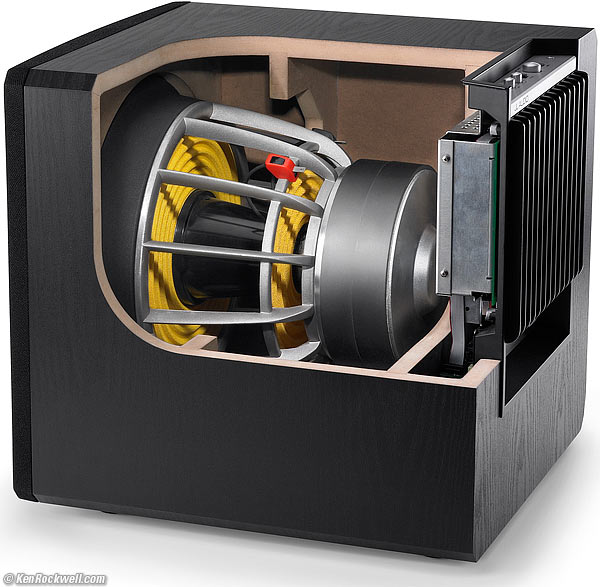 JL E-Sub innards.
The front plate of the E-Sub series is actually a continuation of the frame of the driver; it's to heavy just to screw into the front wood of the cabinet.
I definitely want to get some of these in for review. My biggest potential beef is that music goes down to 16 Hz (a 32-foot pedal C), and we can hear that, but that JL considers anything below 20Hz as noise, and does its best to filter it out. Everyone loves JL subwoofers, but that last third-octave from 20 Hz to 16 Hz is half the reason to add subwoofers. We'll see.
More about the JL E-Subs.
JPS Labs MADE IN NEW YORK, USA top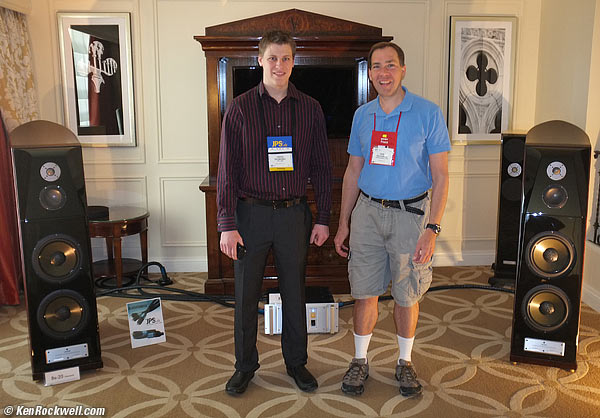 JPS Jr. and myself at the JPS & Usher suite.
I ran into the JPS Labs guys (Joe and son Jason) in the elevator, and they are big fans of this site.
I followed them to their suite, and my gosh, they and their cables had one of the best-sounding exhibits at the show, along with a $1,600 MyTek 192k & DSD DAC (not on their website yet) and Usher amps and speakers.
Of course most of the great sound came from the superior sonics of their cables, but some of it was the fact that they played much better music than most of the turkey exhibits (I heard a lot of Eagles from HD Tracks), and that they had a bigger suite with some slightly less hideous acoustics.
They were running the Usher BE20 Diamond loudspeakers ($21,300) driven by an Usher R-1.5 150 watt class A/B stereo amp ($2,500). Source material was DSD music files directly from the studio masters played through a MyTek model Stereo 192 DAC ($1,600) using a MacBook Pro laptop running Pure Music software. Cables and cords were all Aluminata series by JPS Labs, except for the DAC which had a JPS Labs Digital AC-X filtered AC cord ($399).
Kingsound top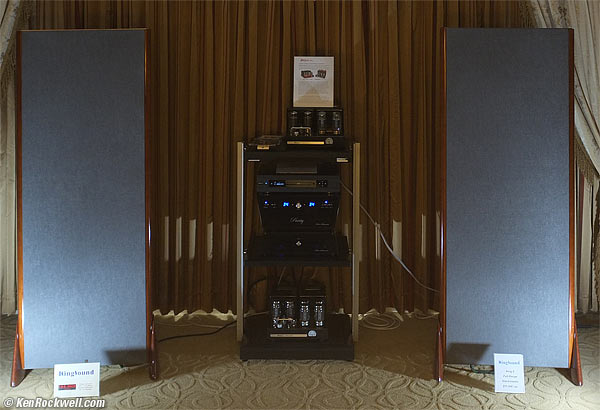 Kingsound electrostatic speakers.
Kingsound showed some big $10,000 (cheap) full-range electrostats, made in China. They had separate electrostatic woofer and tweeter panels.
They sounded OK, with prodigious bass, but nothing sounded that great in the little Venetian suites.
Klangwerk top
Klangwerk showed some small white Swiss-made speakers in the SimpliFI audio suite at T.H.E., and they sounded surprisingly nice. I don't know that they were that exceptional as speakers, just that the suite in which they were shown was more conducive to proper sound than what was over at The Venetian.
Koss MADE IN WISCONSIN, USA top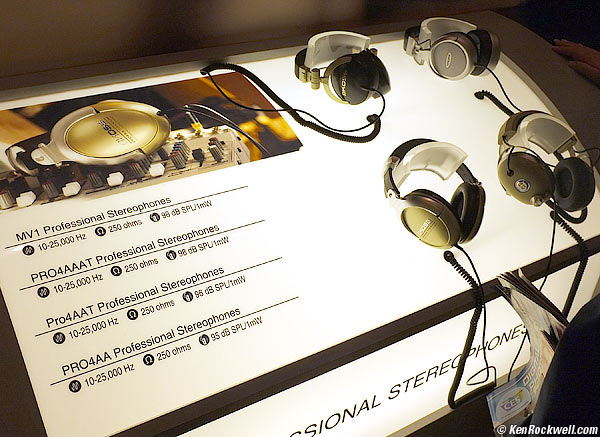 Some of Koss' pro headphones at CES.
Everyone at this show thinks they're suddenly a headphone maker.
Koss has been at this since 1958, and has always made almost all of their stereophones in Milwaukee, Wisconsin, USA.
The Koss 4AA is still in the catalog, and has been since 1970. Even Ryan loves my pair from the late 1970s, and new ones today are still made from the same original dies as always in Wisconsin, USA.
Koss headphones are guaranteed forever. I know: the connections of my late 1970s pair of 4AA got flaky in the 1990s, and Koss cheerfully rebuilt them for free. They still run solid today.
New from Koss are the Porta Pro KTC, an addition to the eternally popular Koss Porta Pro. The Porta Pros are folding headphones ideal for travel, and if you sit on them or run them through the wash, Koss will fix them for free just like any of their other stereophones.
The new Porta Pro KTC adds Koss Touch Control, a corded mic and remote control for iPhone and iPod. Koss had Seal playing over them, and they sounded swell, with surprisingly solid bass, especially for an on-ear headphone. I hope to get a set for further review.
Krell top

Krell Phantom III preamp. bigger.
Krell introduced the Phantom III Preamplifier, the first Krell preamplifier to include an optional digital input module. It is also the first Krell preamplifier to include a headphone input (I have no idea what is a headphone input).
The digital module features AES/EBU, coaxial, and optical digital inputs for use with streaming devices or other digital sources, and supports up to 24 bit/192kHz LPCM.
The preamp sells for $5,000, or $6,000 with the digital option.
Krell also introduced their new S-550i integrated amplifier: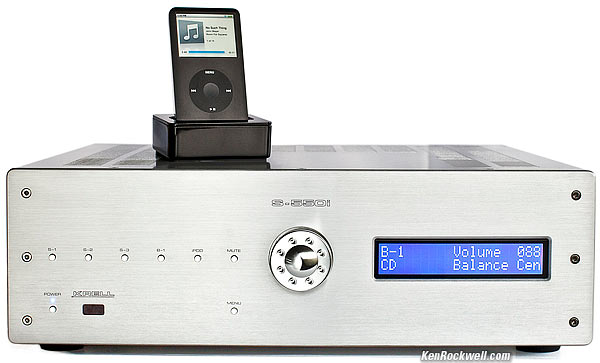 Krell S-550i. bigger.

Krell S-550i. bigger.
It has not only the usual unbalanced and professional balanced inputs, the S-550i also includes an iPod dock. Ha!
The volume control is a balanced resistor ladder, so channel tracking ought to be essentially perfect.
It's rated at 275 watts into 8 Ω and 550 watts into 4 Ω.
For American-made Krell quality, it would be a bargain at only $5,000, and should be available in March 2012 — except that the press photos show it as MADE IN CHINA.
Kronos top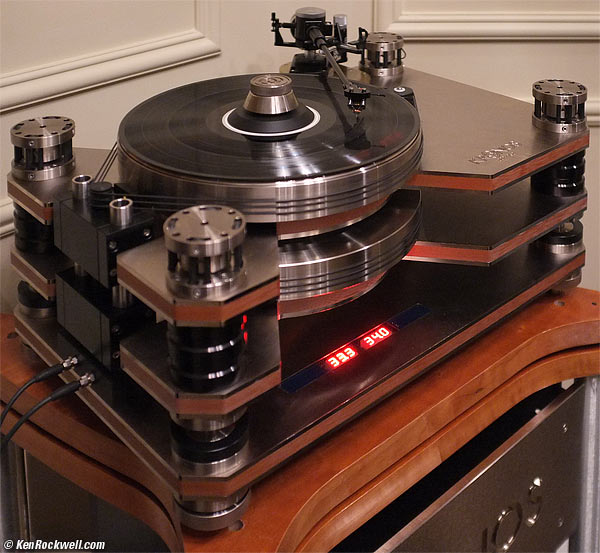 Kronos Counter-Rotating Turntable with Graham Phantom arm.
Kronos showed the world's first dual-platter, counter-rotating suspended turntable. Kronos claims that it's more stable, but hey, I never liked LPs even in the 1970s.
M A Recordings MADE IN CALIFORNIA, USA top
M A Recordings is a one-man shop that's been producing recordings for decades. His CD jackets and graphics are extraordinary. He only produces work from small ensembles, because that's all he can afford to pay, and his work sounds great. Unlike "audiophile" recordings, the performances on his labels are very good.
I bought Orgelbüchlein of J. S. Bach.
Manley Labs MADE IN CALIFORNIA, USA top
Manley Labs is among the world's premier maker of professional and home amplification — tube amplification, that is.
They had some of the best music playing at their exhibit, and unlike most of the exhibitors, these folks actually love music. Maybe it also helps that they are probably more popular in the professional music recording industry, making superb microphones, mic preamps and mastering EQs that keep them in touch with music.
Manley Labs makes the best professional and home hi-fi gear on the planet, and it only costs a third of what "suit" brands cost.
New from Manley is the $2,250 Chinook phono preamp (45 or 60 dB gain), which pretty much does the core of what the Steelhead does, for less money. The new Chinook is essentially a baby Steelhead.
MartinLogan MADE IN KANSAS, USA top

MartinLogan Montis.
MartinLogan showed their new Montis hybrid electrostatic.
The woofer is driven by a 200W class-D amplifier with internal equalization "down to 29 Hz."
It comes in Black Ash, Dark Cherry, and new High-Gloss Black Cherrywood — but this is of course only for the woofer cabinet; the panel is always black perforated metal.
They "start at" $10,000 the pair. More information.
Martin Logan also showed new Motion 20, Motion 40 and Motion SLM speakers, which are ordinary speakers with AMT tweeters. AMT means (née Heil) Air-Motion Transformer corrugated ribbon tweeters. Ordinary or not, the price is right; the Motion 10 floor-stander sells for only $250 each.
Even MartinLogan's least expensive electrostatic speakers, passive hybrids at about $2,200 the pair or less, are worth a listen by everyone, far superior to ordinary cones-in-boxes speakers at ten times the price as sold by everyone else. Electrostatics are the way to go for top-notch audio.
MBL top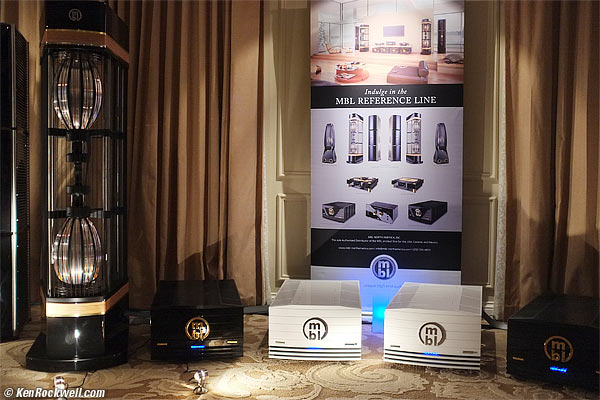 MBL Exhibit.
I didn't see anything new at the MBL suite, but at least they weren't playing the same boring imitation music as almost everyone else. MBL was rocking-out with Michael Jackson's "Thriller," a pleasant surprise after all the night-night music everywhere else.
McIntosh Labs MADE IN NEW YORK, USA top
McIntosh Labs showed a 50th anniversary MC275 amp, which has a beautiful gold finish, but adds nasty green LEDs to light the driver tubes. I didn't stop to ask if you can set them to pulse, change color or race to the music.
To quote McIntosh, "A very limited quantity of the special 50th Anniversary Limited Edition McIntoshMC275 has been created for only the most discerning of audio connoisseurs. Individuals who are fortunate enough to own this timeless amplifier are certainly amongst the most sophisticated audio enthusiasts globally," which I will interpret as meaning that the price is insane, and if you buy one, you just acquired sophistication — exactly like the LEICA.
Personally, I'd stick with the regular version and skip the green LEDs. I'm sure you can turn them off, and the gold does look nice if you are among the discerning to acquire the anniversary model.
Meridian top
Meridian showed a new M6 loudspeaker. It's a tapered vertical cylinder, sort of like a smaller version of B&O's Beolab 5, but without Saturn's rings.
MK Sound top
MK Sound is back. M&K went bankrupt in 2007, and was purchased by a few of their engineers in Denmark who bought the rights to everything.
They've reintroduced much of the line, and have a new dual 12" subwoofer on the way.
In case you forgot, M&K invented the self-powered subwoofer in 1973. I had one in the late 1970s before upgrading to stereo subwoofers in the 1980s. Not being able to afford a pair of new M&Ks, I built a pair of 8-cubic-foot cabinets from raw lumber for two 18" JBL 2245H drivers.
Monster Cable top
At Monster Cable's big whoop-dee-doo press conference, they also thought the world needed another headphone brand, so they also jumped on the headphone bandwagon.
Seeing how Monster Cable now sells power conditioners and headphones and sorts of other fluff, they decided to change their name more simply to "Monster," and now the URL MonsterProducts.com. Thank good ness I learned al this in the first few minutes (thank you, Noel Lee for getting to the point), so I bailed and wrote about the Canon releases above.
Earth, Wind & Fire were there pimping Monster's "Gratitude" headphones, and I missed it. Dagnabit, I miss the days of them fronting for Panasonic's Ambient sound. Some Earth, Wind and Fire certainly would have improved the music mix at this show.
Napa Acoustic top
Napa Acoustic showed some baby hybrid integrated tube amps.
They had a little $400 job plugged into some little Wharfedale 10.1 speakers sitting on a dresser that didn't sound half bad.
Hybrid means the 12AX7s are just for show in the preamp stage; the 25 watt per channel power amps are solid state, so they are a bit of a hoax (the tube shields are lit also by amber LEDs to heighten the effect), but sounded swell.
Paradigm top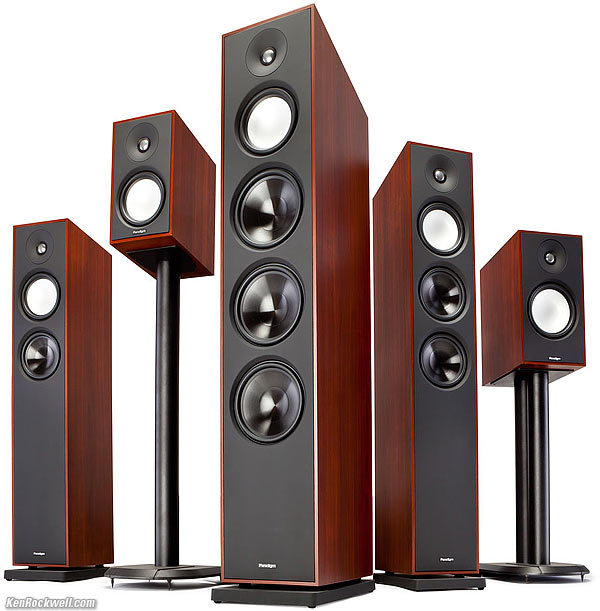 Paradigm Monitor 7 series.
Paradigm announced many ceiling and other speakers, but for music, the Monitor 7 series is the most relevant.
Atom Monitor: $199
Mini Monitor: $279
Monitor 7: $449
Monitor 9: $599
Monitor 11: $799
Center 1: $379
Center 3: $599
Surround 1: $279
Surround 3 $399
More about the Monitor 7 Series.
Pass Labs MADE IN CALIFORNIA, USA top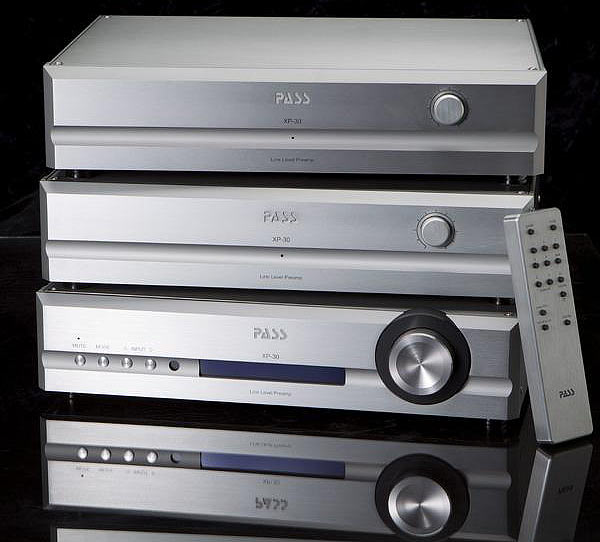 Pass XP-30 stereo preamp.
Pass Labs introduced a new "X" series of amplification. These are the XP-30 remote-controlled preamp and two power amps, the Xs 150 and Xs 300.
The XP-30 is a simple, inexpensive preamp which comes usually as three separate boxes: one power supply and two mono channels, for only $16,500. You can use up to six channels at once.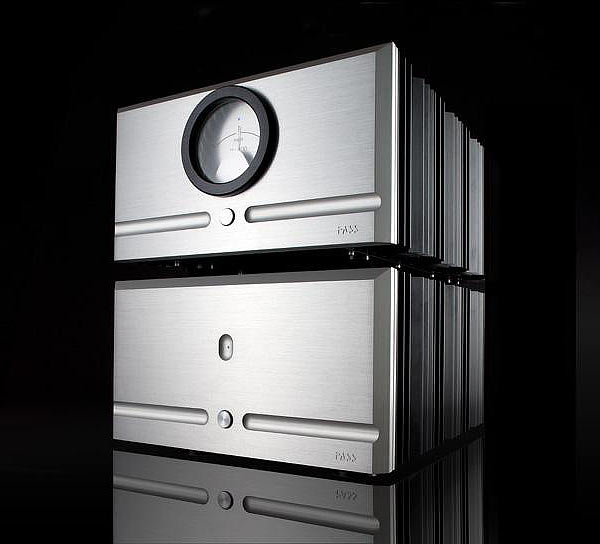 Pass Xs 150 monophonic 150W amplifier.
The Xs 150 and Xs 300 are 150W and 300W monophonic amplifiers. They also use two cases: one for the power supply, and one for the amplifier. For stereo, you've got four boxes.
The big meters show bias.
For a stereo pair, the Xs 150 runs $65,000, ad the Xs 300 is priced at only $85,000 for two complete amplifiers and power supplies.
Pass' exhibit sounded pretty good because they had a bigger suite and because I could get closer to their speakers — or maybe it was because of the superior amplification.
Philips top
The niftiest thing I saw at Philips suite was their new $150 desktop docking system: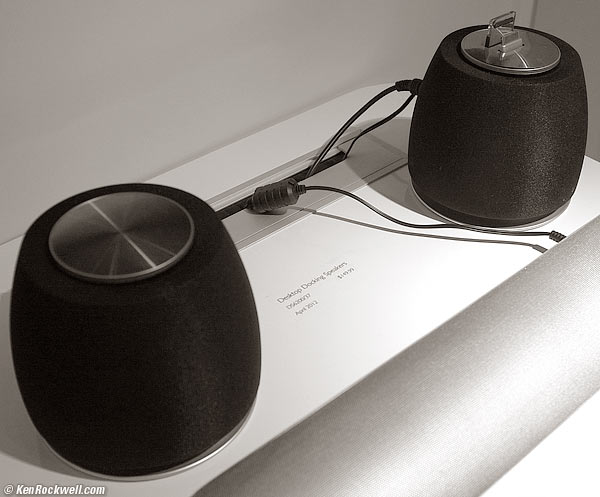 Philips DS6200 Desktop Docking System (the silver bar in front is something different).
This new system is two internally amplified and equalized speakers, with an important twist: one of them has an iPod/iPhone/iPad dock, so plug it in the wall and drop your doo-dad on top, and it charges and plays!
But wait: plug it into your computer, and you now can sync, as well as use these as desktop computer speakers!
Yip, these are both a portable (plug-in-the-wall) pair of speakers, as well as a combo desktop speaker/charger/iPod sync dock. Use these on your desk, and you can throw away your existing sync cord and other speakers.
The coolest thing is when I lit them up: for the few moments I listened, they sounded great, far better than the quick listen I had to the $500 B&W MM1 desktop speakers elsewhere. Even if the MM1 sounded as good, they still don't dock or charge your iPhone. Of course all these speakers can play from an external input.
I hope to get a set of these new Philips for review; they are sort of a no-brainer if you need a dock or speakers for your computer. They are rated 10 watts per channel, include dynamic bass equalization and are expected in April 2012.
Philips also wants in on the headphone game, but I'll cut them some audio slack. Philips invented the compact disk, the cassette tape, and just about half of audio, so they can do whatever they want and get no kidding from me.
Philip's "high end" $300 L1 headphones felt nice, but they aren't very sensitive for iPod use, similar to a 600 Ω Beyer DT 880.
Philip's "Citiscape" line of headphones has an "Uptown" leather-like model for $150, however it's also not very sensitive, and I doubt it's a good fit for outdoor use from an iPhone or MP3 player as intended.
The cheapest "Citiscape Metro" for $50 was sensitive, but their sound was relatively muffled.
The tough, abuse-taking all-weather "Construct" model at $149 sounded surprisingly good, as well as being tough and good looking.
The Philips DC290 (iPod or iPhone), Philips DC291 (iPod, iPhone or iPad) and Philips DC390 (iPod or iPhone AND a second iPod/iPhone/iPod position) clock radio docks are the same except for which iDevices they accept. They are excellent. I know, I could have asked for any clock radio dock at any price for Christmas 2011, and I chose the Philips DC290 because it has a real clock, very good sound, and small size. They also all come with a remote control and built-in FM radio if you want to use them as your main stereo. They have good bass response down to about 70 Hz with their internal active bass equalization, and are rated about 5 watts per channel.
Philips also showed many AirPlay speakers, including the intriguing $800 DS9800 and wooden $1,100 DS9860W "Sound Spheres" rated for 100 watts total output. The amp is in one of them, and you run speaker wire from the one with the amp to the other one.
Rohde & Schwarz top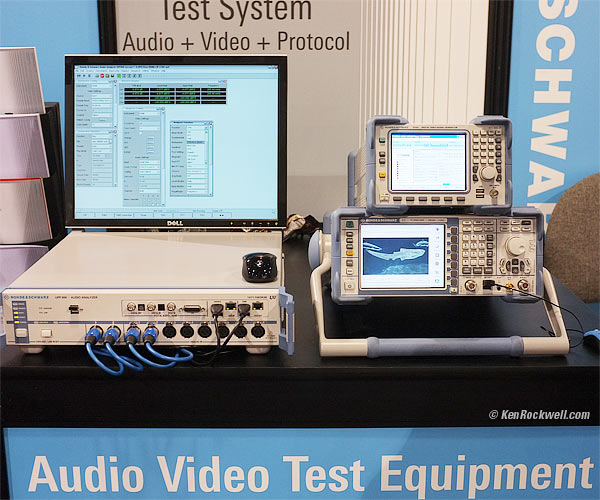 Rohde & Schwarz at CES 2012.
R&S showed a new HDMI option for their UPP audio analyzer. It allows testing equipment which has HDMI as an input. It can generate audio test signals in all sorts of multichannel formats, including Dolby.
The R&S UPV (not shown) is still their top of the line, which is an update of the R&S UPL I use for my own testing.
Sennheiser top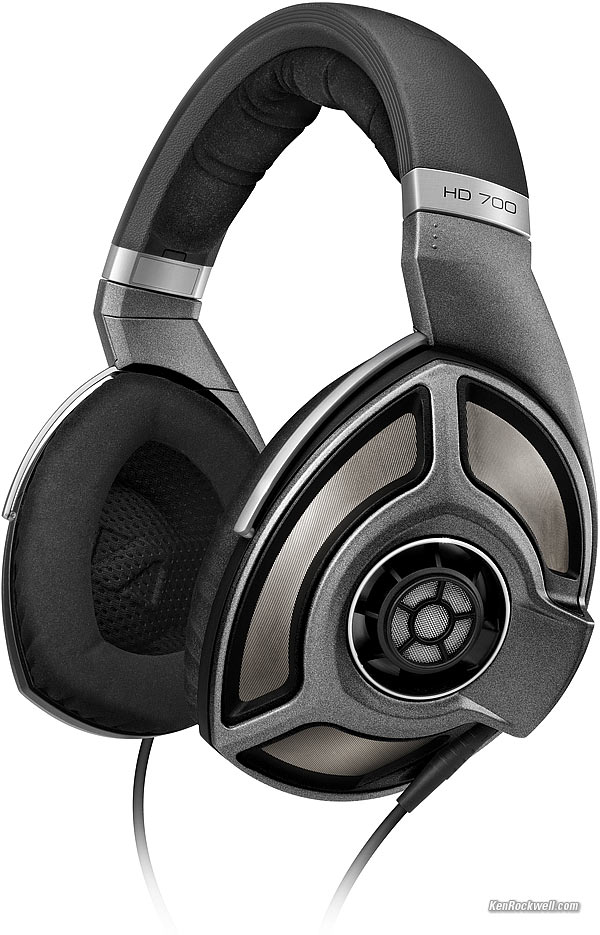 Sennheiser HD700.
Sennheiser introduced the new HD700, a $999 version of the superb $1,500 HD800. They are both open headphones.
From my short listen to the HD700 at the show, it sounded very similar to the HD800 as I expected. This means too bright for my taste fresh out of the box with a solid-state amplifier, however I'll bet you that the HD700s will be astounding when broken-in and used with a tube amp like any from Woo Audio, as are the HD800s.
A new patent-pending feature is the special shape of the gauze, which continues the curved lines of the diaphragm. The resulting curvature reduces the volume of air beneath the diaphragm, thus guaranteeing even more precise control of the diaphragm motion and significantly lowering total harmonic distortion.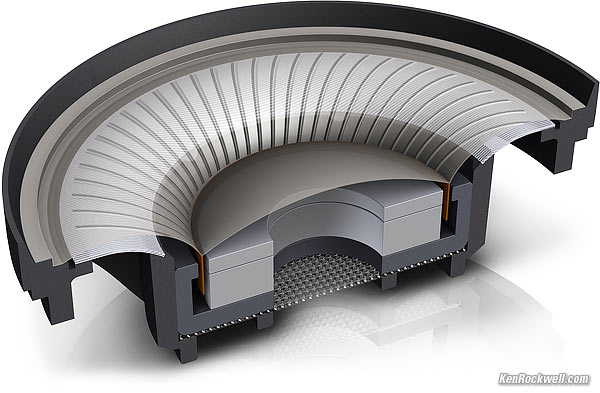 Sennheiser HD700 Driver.
Rated 150Ω , which means more sensitive in practical use than the HD 800.
Professional ¼" plug (use the Grado Mini Adapter with little 3.5mm jacks).
273 grams without cable.
3m (10') cable.
10 to 42,000 Hz.
THD < 0.03% at 1 kHz 105 dB SPL, which is pretty darn impressive, like an electrostatic!
Ear cushions of microfibre fabric.
Available in March — I can't wait!
Sony top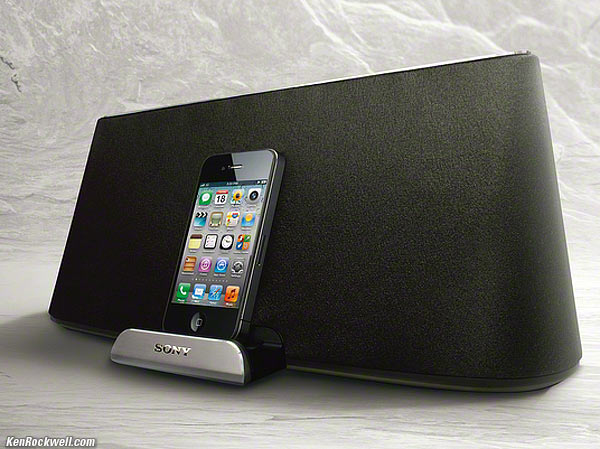 Sony RDP-XA700IP.
Sony announced a new RDP-XA700IP iPod dock. It's the same thing as the Sony RDP-X500iP I reviewed last year, except that the RDP-XA700IP adds an Apple AirPlay receiver and $100 to the price. Personally, I bought the RDP-X500iP and will use a $100 Apple AirPort Express if I need AirPlay.
Even slicker was a new, giant Sony RDP-XA900iP. It's the big one in this picture; the RDP-X500iP is the little one at the top: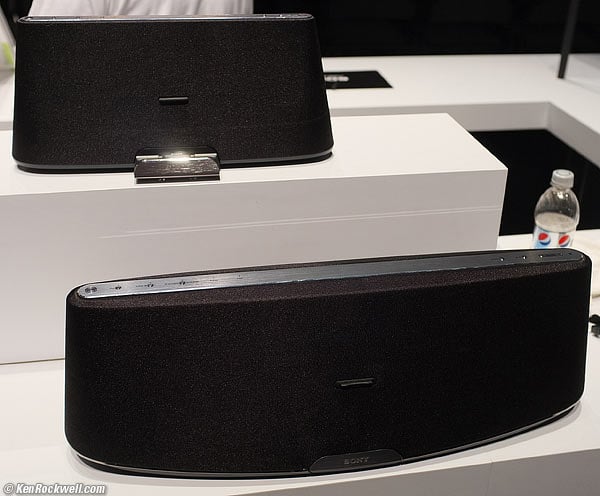 Sony RDP-X500iP (top) and RDP-XA900iP (bottom).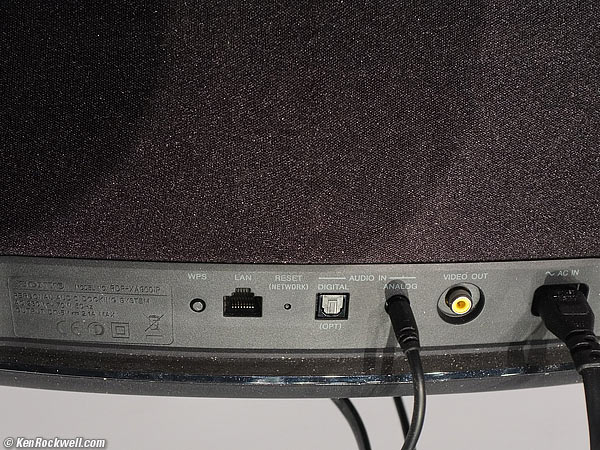 Back of Sony RDP-XA900iP.
Seeing how the Sony RDP-X500iP is the best sounding dock I've ever heard, regardless of price, the larger 900 must be a monster. Sadly, for we Ganjin here in America, it's not coming to our fair shores. Like most of the good Japanese stuff, it's for Japan only.
Sony announced a smaller, cheaper version of last year's SS-AR1 speaker, calling it the SS-AR2.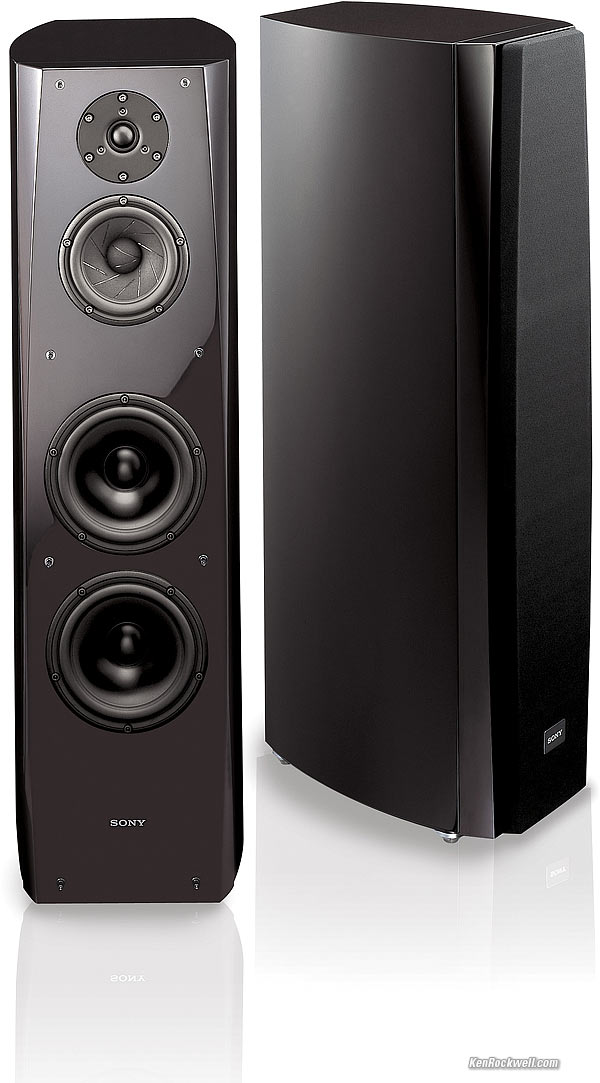 Last Year's SS-AR1.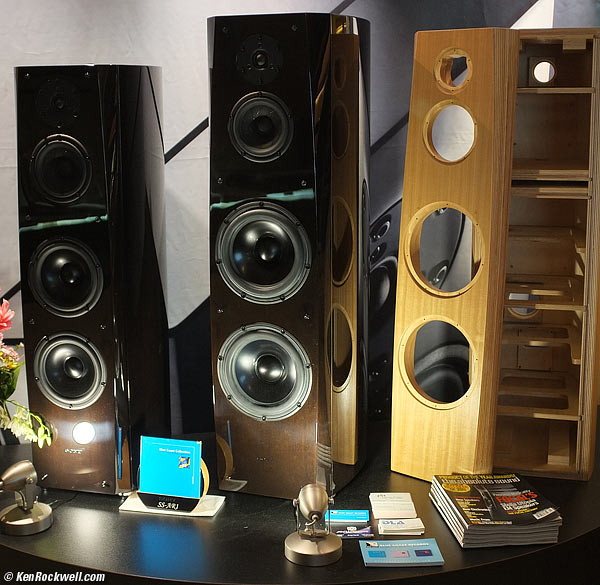 Sony SS-AR2, SS-AR1 and a naked SS-AR1.
I gave the SS-AR2 a quick audition. All the exhibits sound pretty awful in the Venetian motel rooms, but these Sonys did have a more solid central image than average, but still not as solid as my 30-year-old B&W 801s.
Why anyone would want to pay $27,000 for off-brand paper-cone speakers is beyond me, but no need to worry: Sony is making sure that these can't be bought anywhere except at a couple of stores of which no one has ever heard.
Likewise, Sony is also working in its interest, not ours, by trying to make sure no one can buy the previously excellent and inexpensive ES series equipment, either. We used to be able to get Sony ES everywhere (my Sony ES SACD player in my office is playing a CD from M A Recordings I bought at the show through a Sony ES receiver into a pair of B&W 801s as I write this — not bad for an office system), but Sony is getting like the phone company worrying more about itself than about its customers by infringing our purchasing liberties.
SoundLAB MADE IN UTAH, USA top
SoundLAB and its founder Dr. West were at the T.H.E. show with their full-range electrostatics, playing some pretty decent music.
They are the real deal, running from a couple of grand to close to $40k for their best speakers.
Usher top
Taiwan's Usher Audio showed both speakers and some excellent — and very inexpensive — electronics. Sadly, the electronics aren't sold in the USA because the price is so low that foolish American audiophiles can't fathom how they could be any good without 5-figure price tags.
The Usher preamp that sells for under $1,000 overseas impressed as being the only preamp I saw with its gain and balance controls calibrated precisely in deciBels.
Likewise, the huge 150 watts per channel R-1.5 power amp sells for only about $2,500 overseas, not $15,000 like everything else at the show.
Usher speakers now have Dr. Joseph A. D'Appolito on their staff.
These Taiwanese speakers were on display in the JPS Labs room, and they sounded better than most other exhibits.
Velodyne top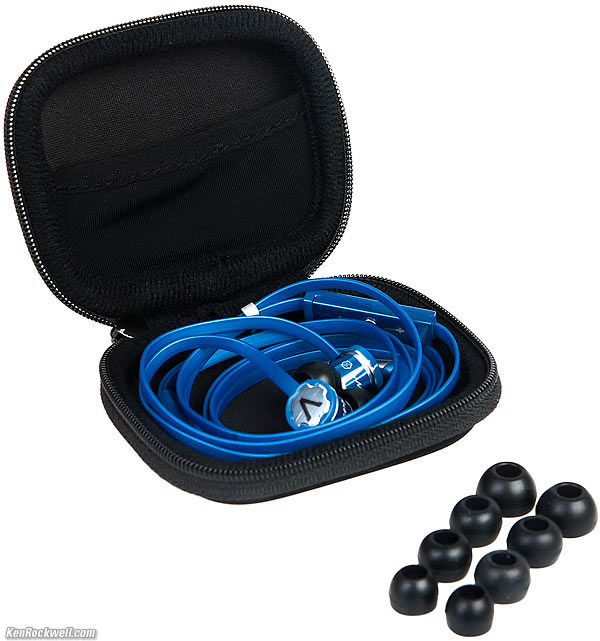 Velodyne has been one of the world's very few dedicated subwoofer specialists since 1983. They had the best bass in their suite, as expected.
New for Velodyne are these in-ear headphones.
I already have a pair; see my complete Velodyne vPulse Review.
Wisdom Audio MADE IN NEVADA, USA top
Wisdom Audio had a much better-than-average sounding display.
They showed their newest LS4 planar speakers and a stereo pair of their existing real-man STS subwoofers. The STS are rated for 130 dB SPL at 20 Hz at 1 meter, probably the only real subwoofer I saw at any of these shows.
Woo Audio MADE IN NEW YORK, USA top
Woo Audio WES Electrostatic Headphone Amplifier and power supply ($5k).
The alphabet has saved the best for last: Woo Audio had by far the best sound at the show. Of course this wasn't difficult because speakers in motel rooms aren't going to sound great, especially compared to electrostatic headphones, which are the world's reference for audio reproduction. Couple a Stax Omega II or Stax SR-009 with Woo's superior amplifiers, and you've got perfect reproduction.
I was expecting that, but I wasn't expecting how wonderful Woo's all-tube transformer-coupled amplifiers for traditional dynamic headphones were going to sound. Darned if Woo's amplifiers didn't smooth out the glare in the Sennheiser HD800 and make them sound almost as good as the Stax Omega II!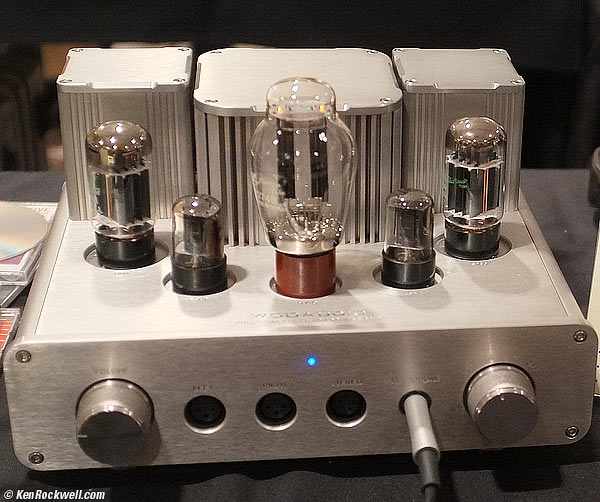 Woo Audio WA22 conventional headphone amplifier ($1,900).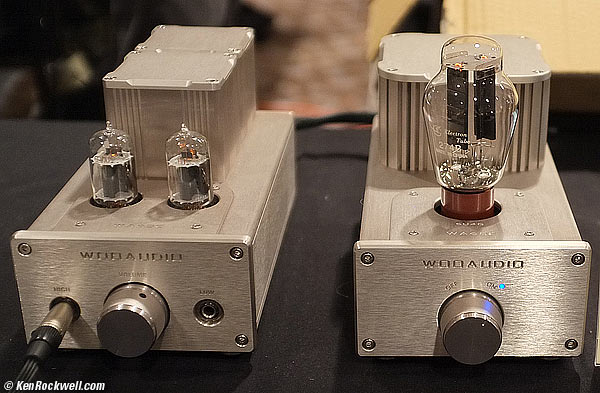 Woo WA6-SE conventional headphone amplifier and power supply ($1,050).
Woo's amps are all vacuum-tube, even the rectifiers, as Jack says it improves the sound over solid-state rectifiers. The electrostatic amps have direct-coupled outputs, and the amps for dynamic 'phones have transformer-coupled outputs as we'd expect.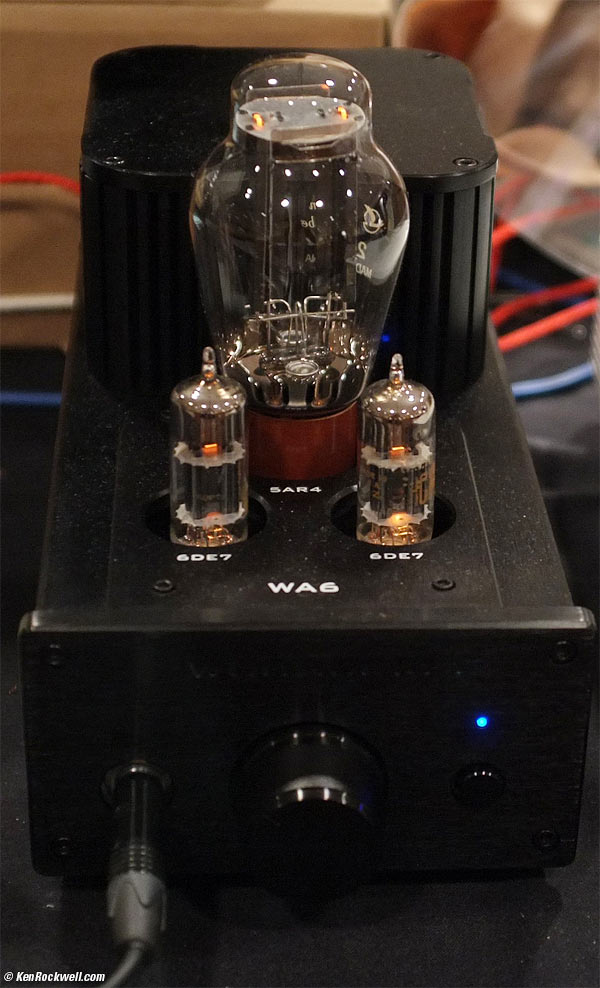 Woo WA6 conventional headphone amplifier with internal supply ($620).
Woo's better amps use separate power supplies connected with military-style circular connectors. Wow, I haven't seen gear with this attention to design detail since the professional studio and broadcast equipment of the 1940s and 1950s with which I used to work. Woo Audio's amps have all their markings engraved, even the tube-type markings. 100 years from now, it will be easy to read which tube goes in which socket.
Woo's better amplifiers even use stepped resistor-ladder attenuators for perfect channel balance.
New from Woo Audio is a CD transport and DAC, which unlike his extraordinary hand-made amplifiers, won't be made in New York: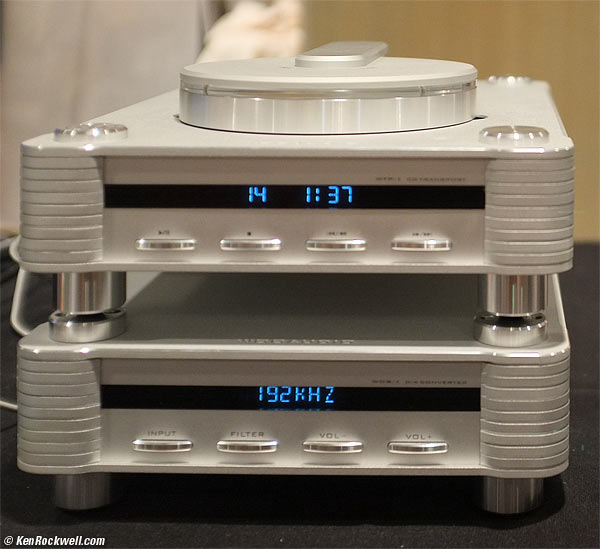 Woo WTP-1 CD Transport ($1,199) and WDS-1 DAC ($1,199).
Woo Audio's amplifiers are better made than most of what's sold today as high-end gear with five-figure prices. They are still bargain-priced because they are sold factory-direct. If these ever start selling through dealers, the prices will probably have to double to pay all the middle-men.
Help me help you top
I support my growing family through this website, as crazy as it might seem.
The biggest help is when you use any of these links to Adorama, Amazon, eBay, Ritz, Calumet, J&R and ScanCafe when you get anything, regardless of the country in which you live. It costs you nothing, and is this site's, and thus my family's, biggest source of support. These places have the best prices and service, which is why I've used them since before this website existed. I recommend them all personally.
If you find this page as helpful as a book you might have had to buy or a workshop you may have had to take, feel free to help me continue helping everyone.
If you've gotten your gear through one of my links or helped otherwise, you're family. It's great people like you who allow me to keep adding to this site full-time. Thanks!
If you haven't helped yet, please do, and consider helping me with a gift of $5.00.
As this page is copyrighted and formally registered, it is unlawful to make copies, especially in the form of printouts for personal use. If you wish to make a printout for personal use, you are granted one-time permission only if you PayPal me $5.00 per printout or part thereof. Thank you!
Thanks for reading!
Mr. & Mrs. Ken Rockwell, Ryan and Katie.
Home Donate New Search Gallery Reviews How-To Books Links Workshops About Contact