Lexar 233x CF Cards
© 2008 KenRockwell.com. All rights reserved.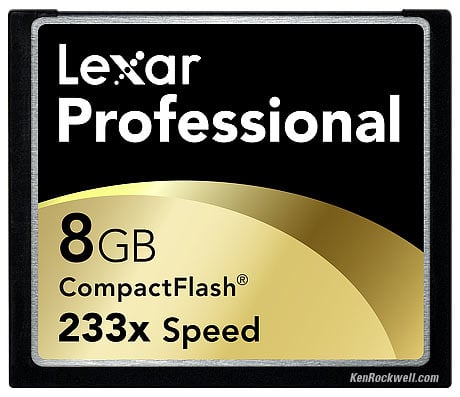 I get my goodies at Adorama, Amazon and Ritz. It helps me keep adding this site when you get yours from these links, thanks! Ken.
23 September 2008
Intro Performance Readers Recommendations
Lexar has just announced a new line of 233x CF cards. This line of 233x cards is a significant upgrade and replacement for Lexar's previous 133x line of cards.
These new 233x cards are UDMA compatible and rated to 35 MB/s, compared to the 20 MB/s rating of the old 133x cards.
The new 233x cards come in 2GB, 4GB and 8GB CF sizes. They have Lexar's standard limited lifetime warranty and will be available in October 2008.
Lexar's top 300x cards, rated for 45MB/s transfer, remain the same and come in 2GB, 4GB, 8GB and 16GB sizes.
After testing the Lexar 233x cards, I can't see any difference between them and Lexar's top 300x UDMA or SanDisk's top Extreme IV cards.
Lexar's less expensive 233x cards thus become the deal of the millennium, so far.
Performance back to top
Intro Performance Readers Recommendations
Downloading Shooting Uploading
Thankfully I haven't had any card corrupt or lose a file since 2003, so I have no way to rate reliability, thank goodness.
Today, cards perform based on download speeds. We have to wait for cards to download, and with the amount I shoot every day, the faster I can suck my data from a card, the happier I am.
Write, or buffer-clearing, speed, isn't particularly important, and doesn't vary much between cards.
Download Speeds (critical for frequent shooters)
Each card was loaded with 1.82GB (1,953,103,872 bytes) of JPGs and a few NEFs in 13 folders, as shot and foldered on a Nikon D3.
I stuck each card in each of the card readers below, dragged the folders to the hard drive of my Quad G5 Mac, and clocked how long it took for the blue progress bar to disappear.
Each was connected to the Firewire 400 port of my 30" monitor. It turns out that this port runs at Firewire 800 speeds if you use Firewire 800 devices, and oddly, ran a little faster than using the dedicated Firewire 800 ports on the back of my Quad G5 Mac.
Read from SanDisk Extreme IV Firewire 800 CF Card Reader
Lexar 8GB
233x

SanDisk 2GB
Extreme III

55.92s

58.02s

58.51s

190.71s
(3:10.71)
I see no difference between the 233x and 300x Lexar cards, or between the SanDisk Extreme IV card.
The slower SanDisk Extreme III card is a pig. It took over three times as long to download. You'd see this same slow speed with other slower cards; see my older Card Speed Tests for more figures for older cards.
This is why my slower cards stay in my sock drawer. I have no time to wait for files to download.
Read from Lexar Firewire 800 CF Reader
Lexar 8GB
233x

51.44s

54.23s

52.50s
The Lexar Firewire 800 reader is a tiny bit faster than the SanDisk, but I'd never notice it. Another day, the SanDisk reader might be faster. I'd get which ever is styled more to your taste.
Read from Lexar USB 2.0 CF/SD UDMA reader
If you want the benefits of fast cards, forget reading from a USB 2.0 card reader, or directly from your camera via USB. The USB interface is slower than these cards, so your speeds will be limited by the USB 2.0 interface.
Professional cards are for professionals, and to get professional transfer speeds, you need a professional Firewire 800, or at least Firewire 400, reader. All Macs have had Firewire 400 ports since the 1990s and most Macs have Firewire 800 ports; if your Windows PC lacks one, you can get a Firewire card for your desktop machine for about $20 last I checked.
These speeds are three times as slow as using a Firewire reader. Use USB in a pinch, but be sure to use a Firewire reader for these cards.
Shooting Speeds (rarely significant) back to top
Digital SLRs have buffers which allow you to shoot as fast as you want. The speed of your card doesn't matter so long as your buffer, usually many frames deep, doesn't fill up.
Your buffer will never fill up unless you're shooting fast in some goofy format like uncompressed raw. If you're shooting fast in a cumbersome file format, you're probably making a big mistake, because regardless of how fast and fat your cards may be, every other stage of your workflow will be slowed down, too. If you're shooting lots of long, rapid sequences where write speed might matter, shooting raw or TIFF is not a great idea.
To test write speed, I shot a Nikon D3 set to 14 bit uncompressed NEF raw, which makes huge 24.6MB files. TIFF is even bigger.
The D3 has a 13-shot buffer. I made 14 shots at 9 FPS, which means I got off 13 frames, at which point the buffer filled, and shot #14 came a half second later.
I timed from when I first pressed the shutter for the first shot until the green activity light on the back of the D3 extinguished.
Lexar 8GB
233x

SanDisk 2GB
Extreme III

Lexar 1GB
40x WA

29.87s

32.67s

28.87s

36.65s

50.26s
Even the slower SanDisk Extreme III is almost as fast for shooting as today's hottest cards. The ancient Lexar 40x Write Acceleration card I dug up wasn't a problem either.
Upload Speeds (not important) back to top
Photographers don't care, but to compare download speeds, I first needed to upload identical data to each card. I measured this while dragging and dropping in my Mac's Finder.
This is for 1.8GB (1,933,824,837 bytes) in 13 folders, and were uploaded using the SanDisk Extreme IV Firewire 800 reader.
Lexar 8GB
233x

SanDisk 2GB
Extreme III

132.62s

132.92s

124.33s

257.60s
The Lexar 233x, 300x and SanDisk Extreme IV are the same. The SanDisk Extreme III was twice as slow.
Firewire 800 Readers top
Intro Performance Readers Recommendations
Comparing the Lexar Firewire 800 reader and SanDisk Firewire 800 reader, the Lexar has a much more visible blue activity light. The light on the SanDisk reader is illegible.
The Lexar has a flippy card door to keep out dust, but when the card goes in, you can't see it at all. You have to press a button to pop it out. The cards go in sloppily and don't feel precise.
Unloaded, the Lexar reader feels tougher than the SanDisk, but the SanDisk feels better when actually jamming cards in and out.
The SanDisk feels crappier by itself, and has almost no visible activity light, but cards pop in and out much faster. You can see what car is in the SanDisk reader because they are not completely covered.
For travel, the SanDisk Extreme IV reader is smaller.
Recommendations back to top
Intro Performance Readers Recommendations
Would I buy these? You bet! (The card I reviewed was loaned to me by Lexar.)
Performance is the same as the top-line cards, at a better price.
If you get any of these, be sure to get the Lexar Firewire 800 reader and use it connected to a Firewire 400 or Firewire 800 port. These cards are faster than USB interfaces.
I ask myself who needs 8GB cards. Unless you're using it in a second backup slot in a pro camera, it shouldn't be asked to hold more than a day's shooting. If you're shooting 8GB each day, where do you store all this? CF cards double in capacity every week, yet my hard drive has grown from 160GB in 2000 to only 750GB today in 2008.
see also my older Card Speed Tests.
PLUG
I support my growing family through this website.
If you find this as helpful as a book you might have had to buy or a workshop you may have had to take, feel free to help me continue helping everyone.
If you've gotten your gear through one of my links or helped otherwise, you're family. It's great people like you who allow me to keep adding to this site full-time. Thanks!
If you haven't helped yet, please do, and consider helping me with a gift of $5.00.
The biggest help is to use these links to Adorama, Amazon, B&H, Ritz, J&R and when you get your goodies. It costs you nothing and is a huge help to me. These places have the best prices and service, which is why I've used them since before this website existed. I recommend them all personally.
Thanks for reading!
Ken