Home Donate New Search Gallery How-To Books Links Workshops About Contact
Moshi Cardette Ultra
© 2010 KenRockwell.com. All rights reserved.
Intro Specs Performance Recommendations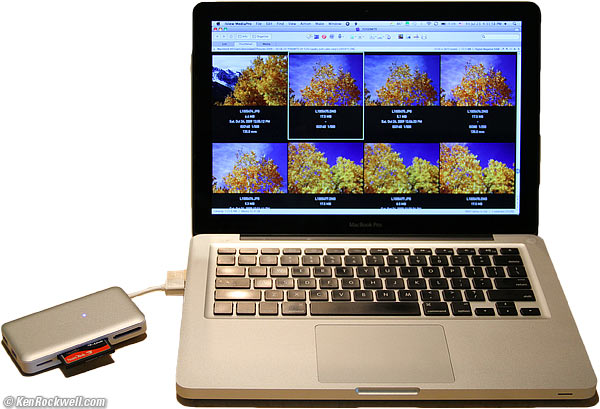 Moshi Cardette Ultra, Silver (reading a CF card as plugged into a 13" MacBook Pro). enlarge. I'd get it at Amazon for about $30.
July 2010 Nikon Reviews Canon Leica Pentax
Introduction top
Intro Specs Performance Recommendations
I got this little Moshi Cardette Ultra card reader for travel. It's styled to match the MacBook Pro.
It's very light weight, and has a captive pigtail 2" (5cm) USB cable that folds up inside itself.
Slide back the bottom door, flip out the cord, plug it in your MacBook Pro (or any other computer), and you're ready to go.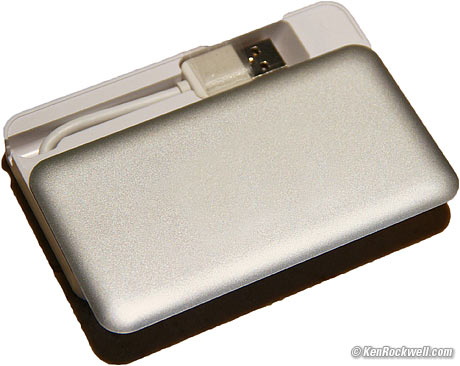 Bottom, slid-open, revealing folded USB cord. bigger.
It also has two USB outputs, so when you use this card reader, you're gaining an extra USB port!
Specifications top
Intro Specs Performance Recommendations
Reads
CF, SD, XD, MS/Pro/Duo, M2 Micro SD, as marked on the reader.
As written in the press materials, it supports all series of CompactFlash (CF) and MicroDrive, all series of Memory Stick (MS, MS Duo, MS PRO Duo), M2, MultiMediaCard (MMC), SecureDigital (SD), micro SD / TF, eXtremeDigital (xD-Picture), and SecureDigital High Capacity (SDHC).
Interface
USB 2.0, no software needed.
Power
None, powered via the USB cable from your computer.
Exterior
Plastic and aluminum.
Color
Silver; also some other colors.
Weight
TBD; light.
Made in
Taiwan.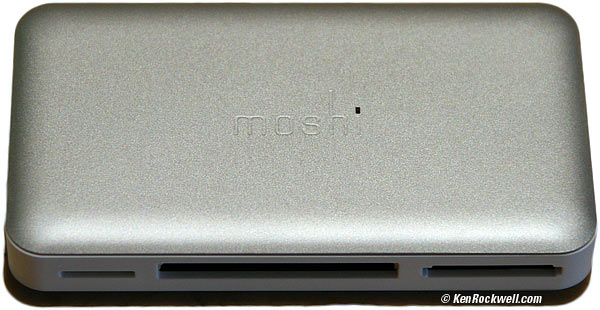 Top, Moshi Cardette Ultra.
Performance top
Intro Specs Performance Recommendations
The Moshi Cardette Ultra card reader works great. I only use it for reading CF cards; the MacBook Pro has the world's fastest SD card reader already built in with its own dedicated slot.
The Lexar Firewire 800 CF card reader is faster, but it's also much bigger and needs a separate Firewire 800 cord. The self-powered and larger Lexar reader also works fantastically in the field with a MacBook Pro, it's just more than I want to carry in my little bag. If I shoot a few hundred MB in a day, this little Moshi reader downloads just about immediately, and saves time by not having to carry, find and attach a separate Firewire cord as needed by the Lexar Firewire 800 CF card reader.
I don't use this reader to read anything other than CF cards, so I can't address those.
Here are actual test results:
2009 2.53 GHz 13" MacBook Pro, OS 10.6.4, Lexar 600x 32GB CF Card:
| | | |
| --- | --- | --- |
| | Cardette Ultra USB | |
| 494 MB Folder | 21.24 sec. | 15.14 sec. |
| 4.83 GB Folders | 172.3 sec. | 123.7 sec. |
2006 Mac Quad 2.5 GHz G5 PowerMac, OS 10.4.11, Lexar 600x 32GB CF Card:
| | | |
| --- | --- | --- |
| | Cardette Ultra USB | |
| 471 MB Folder | 51.2 sec. | 8.00 sec. |
| 4.5 GB Folders | 501.5 sec. | 79.7 sec. |
Analysis
On a new MacBook Pro, the USB connection is so fast that there isn't much difference between the Lexar Firewire 800 and this Moshi Cardette Ultra. This is great, because the Cardette Ultra is designed for use with the MacBook Pro; it's even styled just like it.
Oddly, the USB connection of the 2006 Quad G5 was way slower than on the MacBook, and the Firewire 800 connection was about twice as fast as the MacBook Pro, so on the Quad G5, the Lexar Firewire 800 is almost ten times faster. Therefore in my office, the Lexar Firewire 800 reader reigns.
Recommendations top
Intro Specs Performance Recommendations
I love the Moshi Cardette Ultra for travel because it's so small, works fast and has its own tethered cord.
In the studio I prefer the Lexar Firewire 800 CF card reader because it's faster, and has a solid, rubber-footed base for permanent placement on my desk.
This Moshi reader is great for the field. It looks just like a baby MacBook Pro, but it feels much flimsier. It's mostly plastic; the Moshi reader is not machined from a solid ingot of aluminum as is the MacBook Pro. The sliding bottom door of the Moshi reader is a bit flimsy and has no rubber feet as has a MacBook Pro; I would stick on my own rubber feet if I intended to use the Moshi reader in a fixed location for any length of time.
This Moshi reader is ideal for slipping in your bag and hitting the road. Bravo!
Help me help you top
I support my growing family through this website, as crazy as it might seem. I spend about 14 hours a day working on this website.
The biggest help is to use these links to Adorama, Amazon, B&H, Calumet, Ritz, J&R and when you get your goodies. It costs you nothing and is a huge help to me. eBay is always a gamble, but all the other places have the best prices and service, which is why I've used them since before this website existed. I recommend them all personally.,
If you find this as helpful as a book you might have had to buy or a workshop you may have had to take, feel free to help me continue helping everyone.
If you've gotten your gear through one of my links or helped otherwise, you're family. It's great people like you who allow me to keep adding to this site full-time. Thanks!
If you haven't helped yet, please do, and consider helping me with a gift of $5.00.
As this page is copyrighted and formally registered, it is unlawful to make copies, especially in the form of printouts for personal use. If you wish to make a printout for personal use, you are granted one-time permission only if you PayPal me $5.00 per printout or part thereof. Thank you!
Thanks for reading!
Ken
Home Donate New Search Gallery How-To Books Links Workshops About Contact