Home Donate New Search Gallery How-To Books Links Workshops About Contact
Nikon 200mm f/4 AI-s
NIKKOR (1981-1996)
© 2004 KenRockwell.com

get it used here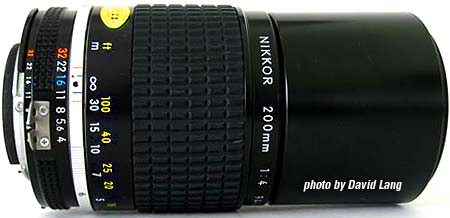 Nikon 200mm f/4 AI-s.
2004 More Nikon Reviews Nikon Lens Reviews
Nikon 200mm Lens Center Sharpness Compared
Nikon 200mm Corner Sharpness Compared
Other Nikon 200mm f/4 lenses:
200mm Micro-NIKKOR AF-D (1993-today, AF)
200mm f/4 AI-s Micro-NIKKOR (1978-2005) (1978-2005, manual focus)
200mm f/4 AI-s (1981-1996) (this lens)
200mm f/4 AI (1977-1981)
200mm f/4 Q (1961-1976)
Introduction
This lens is almost identical to the 200mm f/4 AI and most of this review is the same. I reviewed the AI version in more depth because I use the AI version; I only had an AI-s version for a short period. The only difference you'll see is if you have a dual program camera like the FA that gives different program exposure settings depending on lens focal length.
This AI-s lens has a lug that triggers the high-speed program on the FA; the AI version of this lens does not and leaves the FA in the regular program mode that I prefer.
This is also a great lens. It has great optical and mechanical performance in a light, compact package. It has a built-in telescoping hood and takes common 52mm filters. You can get them cheap today, although you be able to get the older but mostly identical AI version for a little less if you have a big selection from which to choose.
The 200mm was positioned as the cheap, light alternative to the bulky and expensive 180mm f/2.8 ED. Well I'll be darned, but when I actually TRIED this 200mm after hauling around a 180/2.8 for ten years, it was just as sharp! I had also found that I often left the 180mm at home because I didn't want to carry it. I will carry the 200mm, and it takes my 52mm filters, too!
Specifications
It has five elements in five groups.
It is 2.7" (68mm) around by 5" (126mm) long and weighs only 19 oz. (530g).
It has a nine-bladed diaphragm that stops down to f/32; one stop more than the $1,700 80-200 f/2.8 AFS.
This 200mm is extremely well made, far better than the AF lenses mechanically.
Close focus is 7 feet or 2m.
Performance
It has no distortion, although if I stare at the results too long I almost want to start seeing a wisp of pincushion. It really has no distortion I can see, unlike most every zoom lens.
It has no ghosts. Feel free to point it right into the sun at sunset. This is far better performance than the $1,700 80-200 AFS which does have ghosts.
At f/32 I saw random underexposure with Nikon FA when used in aperture preferred (A) mode, most likely due to the lens not having finished stopping down completely at the instant the final exposure reading was taken. Press and hold the depth-of-field preview lever before and during the exposure and this problem goes away. I saw the same problem with the AI-s version of the lens.
Recommendations
Buy this lens if you want great optical and mechanical quality for a low price in a small, handy package. It will provide you with decades of great images. It is built to the highest professional standard Nikon has ever met, and you can get it cheap today because the pros have long since moved on to different heavier zoom lenses for their convenience.
It selects the high-speed program on the FA. The older AI version selects the normal program which I prefer.
PLUG top
I support my growing family through this website.
If you find this as helpful as a book you might have had to buy or a workshop you may have had to take, feel free to help me continue helping everyone.
If you've gotten your gear through one of my links or helped otherwise, you're family. It's great people like you who allow me to keep adding to this site full-time. Thanks!
If you haven't helped yet, please do, and consider helping me with a gift of $5.00.
The biggest help is to use these links to Adorama, Amazon, B&H, Calumet, Ritz, J&R and when you get your goodies. It costs you nothing and is a huge help to me. eBay is always a gamble, but all the other places have the best prices and service, which is why I've used them since before this website existed. I recommend them all personally.
Thanks for reading!
Ken
Home Donate New Search Gallery How-To Books Links Workshops About Contact