Home Donate New Search Gallery How-To Books Links Workshops About Contact
Nikon 24-120mm
AF-NIKKOR f/3.5-5.6D (1996-2002)
© 2004 KenRockwell.com
Intro Specifications Performance Recommendations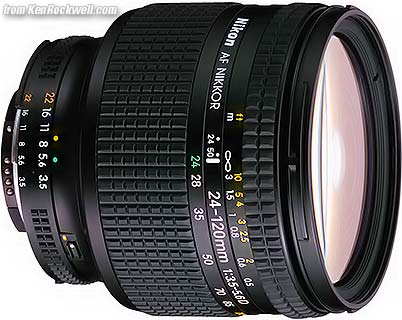 Nikon AF Nikkor 24-120mm f/3.5-5.6D. get it here
NEW: Nikon 24-120mm f/4 VR (2010-)
see also 24-120mm f/3.5-5.6 VR (2003-2010)
October 2010 More Nikon Reviews Nikon Lens Reviews
Sharpness Comparison to all other 24mm lenses August 2010
Introduction top
Intro Specifications Performance Recommendations
The original Nikon 24-120mm AF-D has been a popular lens for folks who want to travel light.
Newsmen of the 1990s dubbed it the "Streetsweeper" because, much as the large-magazine, fully automatic shotguns of the same name can single-handedly eliminate a street full of uncooperative personnel, this lens can deal with just about any photo opportunity it might encounter.
The Nikon 24-120mm goes from wide to close up in the twist of the wrist. It gets wide enough to get in close to a fight, and long enough to grab a shot of someone just about to throw a grenade some distance away.
Some newsmen used this as their lenscap lens when they were just wandering around, not knowing what to expect. It's well enough built to handle their abuse, and can do just about anything if it has to.
It was discontinued in 2003 and replaced by the 24-120 VR.
Unfortunately I didn't like it for idyllic landscapes because of the wild distortions of straight lines and some auto focus errors. These autofocus errors, caused by spherical aberrations tricking the AF system into focusing just a hair off, lower sharpness in real-world shooting at full aperture. This is a lens for covering action, not quiet contemplation.
I prefer my 15 year old 28-85mm f/3.5-4.5 AF that gives me much sharper results over a smaller zoom range.
Specifications top
Intro Specifications Performance Recommendations
It has fifteen elements in eleven groups.
It has a 72mm plastic filter thread, which is a real blunder. You can use a 72->77mm step up ring to get it to accept the standard 77mm filters, but it will vignette a little at the wide end. Otherwise, this lens is not compatible with the standard 77mm filters used by professional Nikon and Canon lenses.
It has a molded aspherical element and a hybrid one, too.
It focusses as close as 1.5 feet (0.5m) at all focal lengths.
It's 3.1" (79mm) around by 3.1" (79mm) long and weighs 20 oz (560g).
Performance top
Intro Specifications Performance Recommendations
I passed pretty quickly here. It has a lot of distortion of straight lines, the price you pay for wide zoom range and small size. I prefer performance to convenience.
Sharpness was off, too. AF errors caused my F100 to give poor accuracy at some focal lengths, softening the image at full aperture where I often shoot.
It's built quite well.
AF is fast. One full turn of the AF screw pulls focus from infinity in to 6 feet.
Recommendations top
Intro Specifications Performance Recommendations
I stick with my 15 year or 28-85AF for it's sharper and less distorted results.
All because I passed doesn't mean you should. If I was shooting regular print film and wanted just one lens to take all over the place for casual snapshots this would be a prime contender.
Help me help you top
I support my growing family through this website, as crazy as it might seem.
The biggest help is when you use any of these links to Adorama, Amazon, B&H, eBay, Ritz, Calumet and J&R and when you get anything. It costs you nothing, and is this site's, and thus my family's, biggest source of support. eBay is always a gamble, but all the other places always have the best prices and service, which is why I've used them since before this website existed. I recommend them all personally.
If you find this page as helpful as a book you might have had to buy or a workshop you may have had to take, feel free to help me continue helping everyone.
If you've gotten your gear through one of my links or helped otherwise, you're family. It's great people like you who allow me to keep adding to this site full-time. Thanks!
If you haven't helped yet, please do, and consider helping me with a gift of $5.00.
As this page is copyrighted and formally registered, it is unlawful to make copies, especially in the form of printouts for personal use. If you wish to make a printout for personal use, you are granted one-time permission only if you PayPal me $5.00 per printout or part thereof. Thank you!
Thanks for reading!
Mr. & Mrs. Ken Rockwell, Ryan and Katie.
Home Donate New Search Gallery How-To Books Links Workshops About Contact