Nikon D3 JPG vs. TIFF Comparison
© 2007 KenRockwell.com. All rights reserved.

Back to Nikon D3 Review
Curious if the lack of D3 sharpness was caused by a sloppy JPG algorithm, I compared JPG to TIFF. These are all separate exposures.
JPG looks the same as TIFF. I didn't try NEF because I'm too lazy to load the software. If you're interested in seeing an NEF comparison (I am, too), please do the comparison tests and share your results with us as I do.
Mouse-over to compare each format to TIFF. TIFF is an uncompressed image. All are shot at LARGE (12 MP) resolution.
Here is a Basic Optimal Quality JPG (1.3 MB) compared to the TIFF (35.2 MB):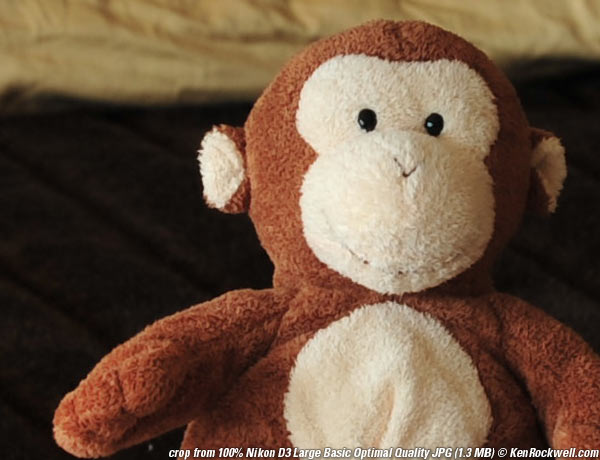 Basic Optimal Quality JPG vs. TIFF
I can't see any difference, which is why I shoot at this JPG setting. It saves a lot of time and space and money! The only difference is the monkey breathing.
You get to BASIC from the direct controls on-camera, but have to go into the menu to choose Optimal Quality under JPEG Compression. The Default is Size Priority.
Since I can't see any difference, lets drop down to Size-Priority, Basic JPG, which is the default for Basic JPG. It's a smaller file, only 650 KB even at full resolution.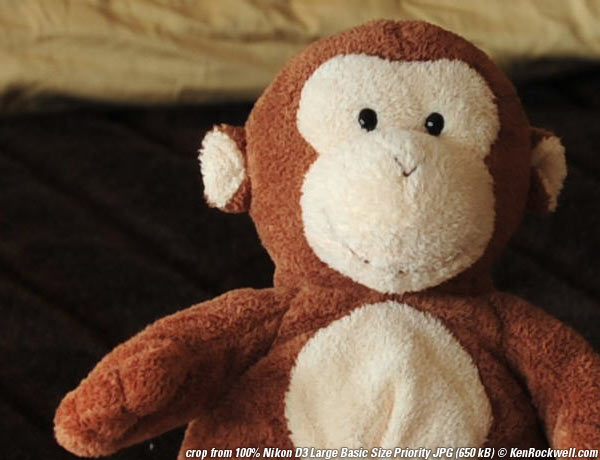 Basic Size-Priority JPG vs. TIFF
To show you how insignificant these differences are, even if you can see them (I can't), here's a comparison of the TIFF image to one with optimal pixel-to-pixel resolution. That means an image which can modulate each pixel at 100%, not softened by the Bayer Interpolation which is part of all single-chip digital cameras like the D3.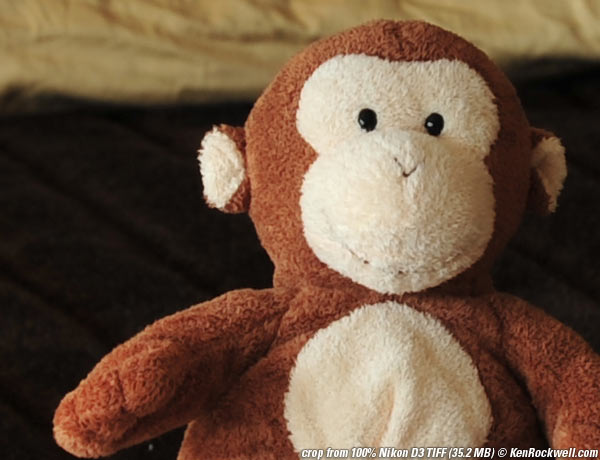 Bayer Interpolation (TIFF) vs. Fully-modulated pixels
I got the sharper image by zooming in and resampling the larger image down to the same size. Using at least a doubling of focal length and halving the image size lets at least four source image pixels drop into each target image pixel, eliminating the Bayer interpolation.
All are shot at 1/4 second at f/8, 80-200mm AF-S, ISO 200, Nikon D3. All except the last ideal image were shot at 80mm; the ideal image was shot at 200mm and resampled down to 1,750 pixels wide from 4,256 pixels wide. The ideal image was also shot in JPG.
PLUG
If you find this as helpful as a book you might have had to buy or a workshop you may have had to take, feel free to help me continue helping everyone.
Thanks for reading!
Ken
Back to Nikon D3 Review