Nikon D300 Accessories
© 2008 KenRockwell.com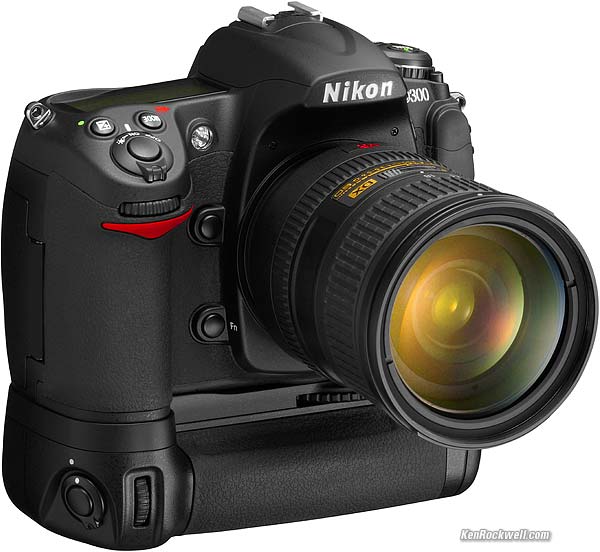 Nikon D300 and 8FPS MB-D10 Grip. I got mine from Ritz; Adorama, Amazon and B&H Photo Video are also great places. It helps me keep adding to this site when you use these links to get yours, thanks! Ken.
January 2008
Included Accessories (will vary by country):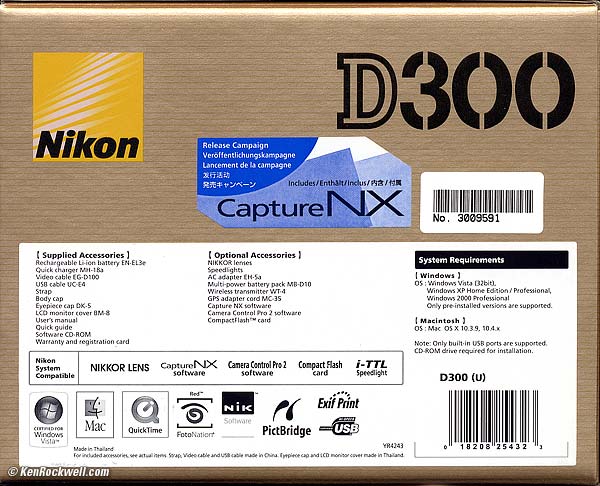 Nikon D300 Box: What's included.
Body Cap
EN-EL3e Battery (same as D200 and D80)
MH-18a Charger (same as D200 and D80)
UC-E4 USB Cable
EG-D100 Video Cable
AN-D300 Strap
BM-8 LCD Cover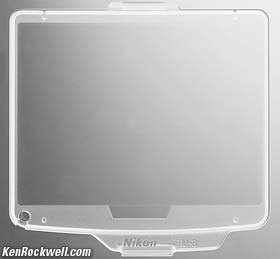 BM-8 LCD Condom
DK-5 Eyepiece Cap (for use on a tripod to keep stray light from affecting the meter reading)
DK-23 Rubber Eyecup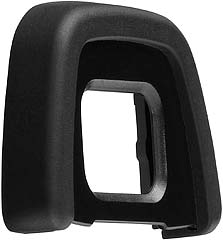 Nikon DK-23 Eyecup - wow!
Software CD
Optional Accessories
MB-D10 Multi-Power Battery Pack and Grip
This grip uses or the same EN-EL3e, or an EN-EL4a or EN-EL4 (same as the D2 and D3), or eight AA batteries.

Nikon MB-D10, back.
The AAs may be anything: alkaline, Ni-MH, throw-away lithium or even the crappy "heavy duty" batteries sold at flea markets. You can crank at up to 8 FPS with any of these except if you're using the little standard EN-EL3e.
If the battery in the grip dies, it switches automatically to the camera's own battery.

Nikon MB-D10, front.
WT-4 Wireless Transmitter
The WT-4 transmitter lets you connect the Nikon D300 to your computer via Wi-Fi and Ethernet. The Nikon D3 uses the same transmitter.
You can see thumbnails of images shot, and transfer the images you desire without having to download from CF cards.
You can buy more software, Nikons Camera Control Pro 2, (I think Canon includes this for free with their transmitter), and control the D300 from your computer.
Using the Live View function and the extra-cost software, you can see what you're doing or use the D300 as a remote spy cam. You can put your D300 someplace, and control and photograph with it from the secrecy of your remote laptop with Live View. If your target sees your camera you might lose your D300, but you can get away before they find you.
MC-35 GPS Cord
Expensive 10-pin remote cords. Nikon saves the good IR remotes for the cheap cameras. I hate these 10-pin things; I misplaced mine and I'm using my self timer until I find it.
Capture NX software (included free with some D300s)
Camera Control Pro 2 software
Back to Page Index of Nikon D300 Review
PLUG
If you find this as helpful as a book you might have had to buy or a workshop you may have had to take, feel free to help me continue helping everyone.
Thanks for reading!
Ken