Home New Search Gallery How-To Books Links Workshops About Contact
SMC Pentax-M 50mm f/1.7
(1977-1984)
© 2008 KenRockwell.com. All rights reserved.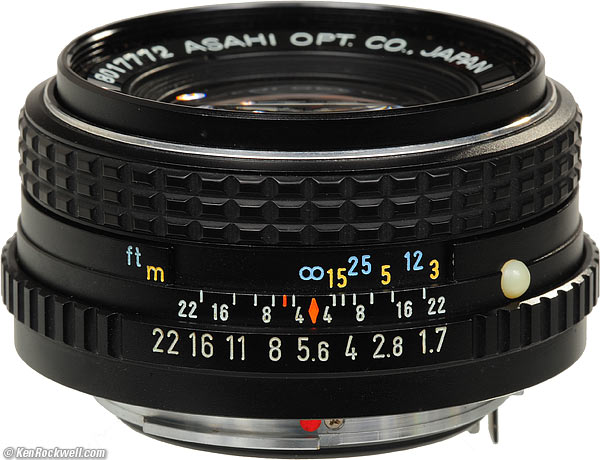 Pentax 50mm f/1.7 SMC-M. enlarge. I'd get mine at these direct links to it at Adorama and eBay. It helps me keep adding this old stuff to this site when you get yours through these links, thanks! Ken.
December 2008 More Pentax Reviews
Ideal Uses: Perfect for use on Pentax as a compact normal lens.
Not for: Autofocus. This is a manual focus lens. It works on AF cameras, but you must focus manually.
| | |
| --- | --- |
| Optics: | |
| Ergonomics: | (manual focus) |
| Usefulness: | |
| Availability: | |
| Overall: | |
Introduction top
Intro Specs Performance Recommendations
This is Pentax' standard standard lens of its era. It works on just about anything Pentax. I tried it on the Pentax ME.
You'll find many of these stuck on the fronts of the Pentax K1000 and the Pentax ME. The 50mm f/1.4 and f/1.2 were less common, while the 50mm f/2 and 40mm f/2.8 were cheaper alternatives.
Like almost all 50mm standard lenses, it is extremely sharp.
Even better, it's a very handsome lens. It just looks right. Call me crazy, but remember that photography is a visual art. If you can't appreciate good industrial design, you're toast.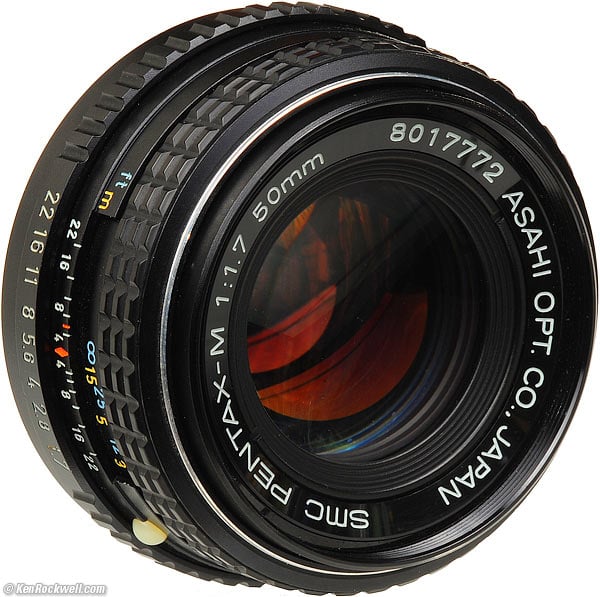 Pentax 50mm f/1.7 SMC-M. enlarge.
Specifications top
Intro Specs Performance Recommendations
Lens Mount: Pentax K.
Optics: 6 elements in 5 groups. Pentax Super Multi-Coated.
Diaphragm: 6 blades, stops down to f/22. Full, and sometimes half-stop clicks.
Filter Thread: 49mm.
Close Focus: 1.5 feet (0.45m).
Maximum Reproduction Ratio: 1:12.5
Size: 2.5" diameter x 1.2" long (63 x 31mm), rated.
Weight: 6.457 oz. (183.05g), measured. 6.52 oz. (185g), rated.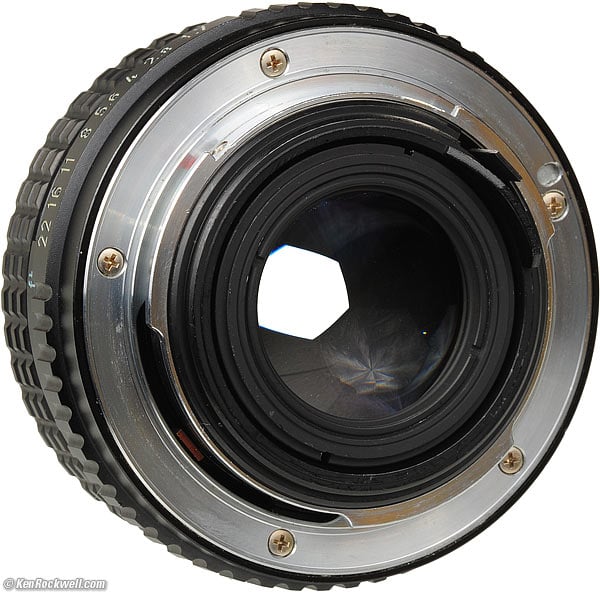 Pentax 50mm f/1.7 SMC-M. enlarge.
Performance top
Intro Specs Performance Recommendations
Performance is great, so long as you avoid f/1.7.
Coma
There is coma wide-open. It's gone by f/4.
Distortion
The Pentax 50/1.7 has no visible distortion.
For critical use, you can correct the invisible barrel distortion by plugging these figures into Photoshop CS2's lens distortion filter. These aren't facts or specifications, they are the results of my research that requires hours of photography and calculations on the resulting data.
| | |
| --- | --- |
| | On Film |
| ∞ | +0.5 |
| 10' (3m) | +1.0 |
© 2008 KenRockwell.com. All rights reserved.
Falloff
There was some, but not a lot, darkening of the corners at f/1.7. As usual, it got better at f/2 and went away entirely at f/4.
Focus
Focus is easy. I can do it with one firm finger.
Lateral Color Fringes
None.
Sharpness
Like most 50mm lenses, it's super-sharp. For hand-held shots, even f/1.7 looks fine. Read on for shooting test targets at infinity.
f/1.7: If you're shooting test targets, avoid f/1.7. It is significantly softer than any other aperture, although if you're shooting hand-held, f/1.7 works great for real photos.
f/2: f/2 is much, much better than f/1.7, if you're shooting test targets. It's much sharper all over. The sharpness improvement at f/2 is even greater in the center, so even though the corners are much better than at f/1.7, the corners at f/2 aren't as sharp as the center at f/2.
2.8: The Pentax 50/1.7 is sharp all over by f/2.8.
f/4: f/4 improves even more.
5.6: f/5.6 is crazy sharp all over. Smaller apertures get softer from diffraction.
Recommendations top
Intro Specs Performance Recommendations
As expected, this is an excellent lens for just about anything.
Avoid f/1.7 and stop down to f/2 for a huge improvement in technical quality. It's almost as if this was optimized as an f/2 lens, and the elements were merely oversized to provide f/1.7 for marketing.
Acknowledgment
Many thanks to Keith Anderson, who sent this to my Retirement Ranch for immortalization.
PLUG
I support my growing family through this website.
If you find this as helpful as a book you might have had to buy or a workshop you may have had to take, feel free to help me continue helping everyone.
If you've gotten your gear through one of my links or helped otherwise, you're family. It's great people like you who allow me to keep adding to this site full-time. Thanks!
If you haven't helped yet, please do, and consider helping me with a gift of $5.00.
The biggest help is to use these links to Adorama, Amazon, B&H, Calumet, Ritz, J&R and when you get your goodies. It costs you nothing and is a huge help to me. eBay is always a gamble, but all the other places have the best prices and service, which is why I've used them since before this website existed. I recommend them all personally.
Thanks for reading!
Ken
Home New Search Gallery How-To Books Links Workshops About Contact