Home New Search Gallery How-To Books Links Workshops About Contact
Pentax 645 35mm f/3.5
( - 2001)
© 2008 KenRockwell.com. All rights reserved.
Intro Specs Performance Usage Recommendations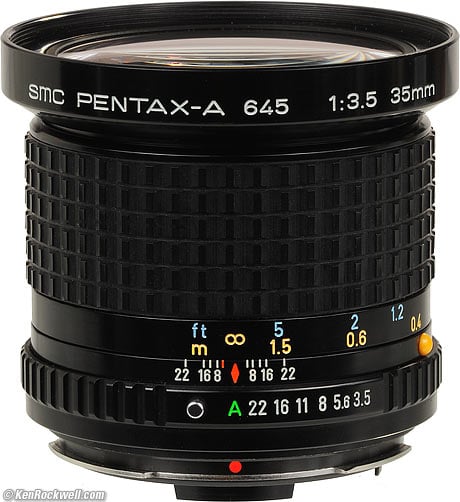 SMC Pentax-A 35mm f/3.5. enlarge. You can find these used at these direct product links to Adorama and eBay. It helps me keep adding reviews of this old stuff when you use these links to get yours, Thanks! Ken.

December 2008 more Pentax reviews

Intro Specs Performance Usage Recommendations

This is an exceptionally good manual-focus ultrawide lens for use on the Pentax 645, 645N and 645NII medium-format cameras.

It works in all the automatic and manual exposure modes of the Pentax 645, 645N and 645NII.

These are bargains. I paid $300 for this one over eBay in December 2008. Back in December 1997, B&H got $800 for this lens new, and it was up to $840 in April of 2001. That's over $1,000 in 2009 with inflation. It was replaced by the autofocus version in about 2002.

It is exceptional because:

1.) It works perfectly with 2 stacked 77mm filters. There's no vignetting as with almost every other ultrawide lens made in any format.

2.) Exceptionally low distortion for a reflex lens.

3.) Sharp, too!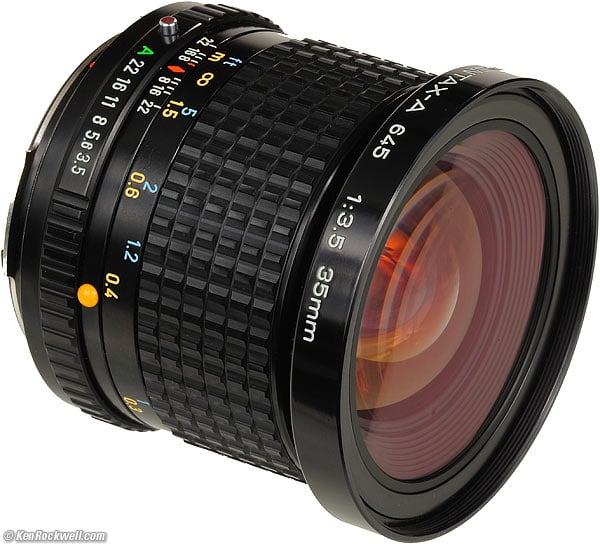 Pentax 645 35/3.5. enlarge.
Specifications top
Intro Specs Performance Usage Recommendations
Optics
9 elements in 8 groups. Floating rear group. Multicoated.
Focal Length
35mm.
35mm equivalent: It sees an angle of view on 645 film similar to what a 21mm lens sees on 35mm film.
See also my 35mm Equivalent Focal Length Chart for other 645 lenses.
Diaphragm
8 blades stopping down to f/22. Arbitrary half and full-stop clicks.
Close Focus
1 foot (0.3m).
Filter Thread
77mm, metal.
Does not rotate with focus.
Size
3.15" diameter x 2.64 " long (80 x 67mm).
Weight
16.520 oz. (468.3g) measured, 16.6 oz. (470g) specified.
Teleconverters
Pentax suggests the A645 2X converter, but not the A645 1.4X converter. Only an idiot would use a 2x teleconverter to make this into a very expensive 70mm f/7 combination, when the 75mm f/2.8 lens would be a much smarter idea. The 75mm f/2.8 is smaller and weighs less than the converter, too!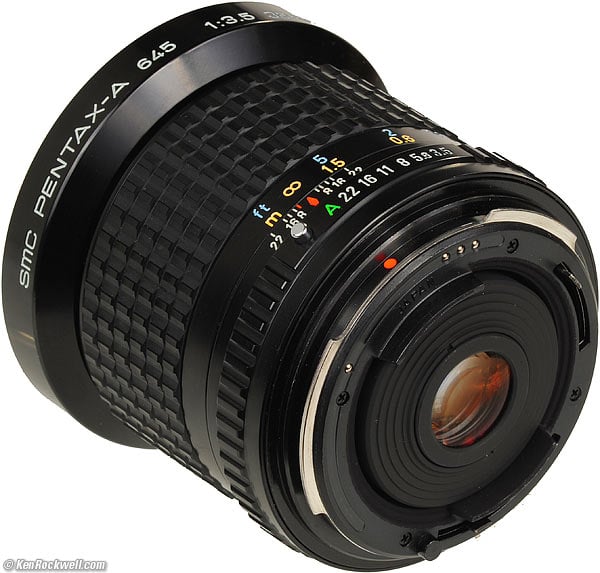 Pentax 645 35 3.5. enlarge.
Performance top
Intro Specs Performance Usage Recommendations
The Pentax 645 35mm f/3.5 is an exceptionally high performance and useful lens compared to other ultrawide reflex lenses.
The Pentax 35mm f/3.5 has no visible distortion. This is the worst I can make it look: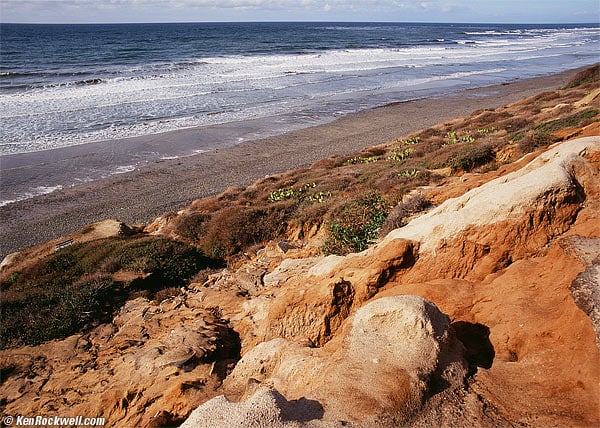 Horizon, worst case. enlarge. You're not going to get any better with any other ultrawide SLR lenses. Pentax 35mm with 81C filter on expired-three-years-ago Fuji Velvia 100, 6x4.5 cm, processed and scanned at NCPS, f/9.5 at 1/125, program auto.
This is extraordinary for an SLR lens; you usually need a rangefinder or view camera lens to work any better.
For very critical use, plug +0.5 into Photoshop CS2's lens distortion filter to correct the invisible barrel distortion, after which there is just a little bit of waviness left. I see the same distortion at 10 feet (3 meters) as I do at infinity.
Your chromes will look great. Shoot interiors with vertical lines or the horizon at the beach, and all is well. For any shots other than the horizon above, there simply isn't any visible distortion. Lay off the straight shots of brick walls and everything else looks perfect.
Ergonomics
I love it!
The focus ring feels fantastic; you can flick it with a single finger. It's smooth and slick, with no play. It's perfect.
The 35mm handles great. I wish all my lenses were this good.
Falloff
No surprises; there's a little at f/3.5 and it goes away stopped down.
Focus
This is one of the best parts: focus is a dream. Just one fingertip can flick it. It's slick, smooth and perfect.
Filters
As mentioned before, I can use two stacked 77mm filters without vignetting. 77mm is the same size as Canon and Nikon pro lenses have been for decades, so you probably already have a stack of them.
Don't bother with polarizers. This lens sees such a wide angle that the natural polarization of the sky varies so much that your pictures will have uneven darkening across the sky. This isn't caused by the lens, it's how God made the sky.
The Pentax 645 35mm is made as it should be.
Barrel: Enameled, anodized aluminum.
Focus Ring: Metal, rubber covered.
Depth-of-Field Scale: Yes.
Infra-Red Focus Index: Yes.
Aperture Ring: Metal.
Finish: Black enamel over black anodize.
Mount: Metal with some plastic nubbins.
Internals: Metal.
Markings: Engraved and filled with paint.
Sharpness
As expected, it's sharp.
Unlike the superior Mamiya 7 43mm f/4.5, it's not quite as sharp in the corners at large apertures, but this as expected for an SLR lens. The Mamiya lens has the advantage of using a totally different rangefinder design.
Stop it down a stop or two if you're on a tripod or have good light, otherwise, don't sweat it. It will cream anything in the smaller 35mm film format.
Usage top
Intro Specs Performance Usage Recommendations
This is another area where the Pentax 645 35mm manual-focus lens stands out: it works great even with two 77mm filters stacked!
Serious landscape photographers often run two or three filters at once.
I haven't tried it with three stacked filters simply because I haven't tried yet. I was astounded when my it passed my usual torture test of a screw-in grad on top of a regular filter, which no other ultrawide lens has ever passed.
For instance, I shot with an 81C warming filter and a Tiffen graduated-ND 0.6 filter in 77mm screw-in mount, and I got no vignetting.
If you're a serious shooter, you know how important this is; if you're not, you're probably not shooting medium format and reading this, either.
Recommendations top
Intro Specs Performance Usage Recommendations
This Pentax 35mm ultrawide lens feels great in-hand, has vanishingly low levels of distortion and takes stacked standard 77mm filters with no vignetting.
I'm a very happy camper: I've never used another ultrawide that can use two stacked filters without vignetting.
I have not tried the autofocus version of the Pentax 35mm f/3.5, so I can't comment on it other than that the AF version takes non-standard 82mm filters. I don't already have a stack of 82mm filters as most photographers do in the standard 77mm size. Nikon and Canon pro lenses have used 77mm filters for decades.
PLUG
I support my growing family through this website.
If you find this as helpful as a book you might have had to buy or a workshop you may have had to take, feel free to help me continue helping everyone.
If you've gotten your gear through one of my links or helped otherwise, you're family. It's great people like you who allow me to keep adding to this site full-time. Thanks!
If you haven't helped yet, please do, and consider helping me with a gift of $5.00.
The biggest help is to use these links to Adorama, Amazon, B&H, Calumet, Ritz, J&R and when you get your goodies. It costs you nothing and is a huge help to me. eBay is always a gamble, but all the other places have the best prices and service, which is why I've used them since before this website existed. I recommend them all personally.
Thanks for reading!
Ken
Home New Search Gallery How-To Books Links Workshops About Contact