Home Donate New Search Gallery Reviews How-To Books Links Workshops About Contact
Sony DT 18-55mm SAM
f/3.5-5.6, for 1.5x sensors only
© 2010 KenRockwell.com. All rights reserved.
Intro Specs Performance Recommendations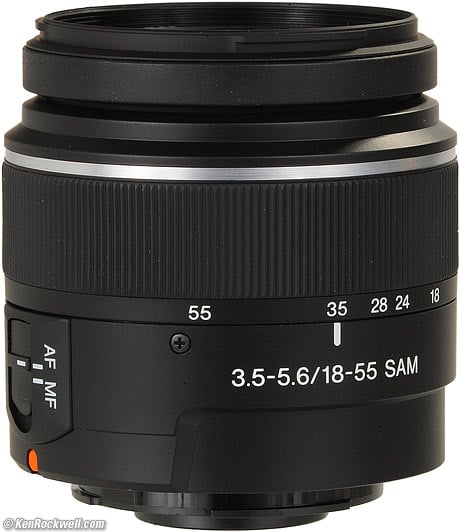 Sony 18-55mm (55mm filters, 7.5 oz./210g, about $200, often kitted with Sony cameras like the Sony A55). bigger. This free website's biggest source of support is when you use these links, especially these directly to it at Adorama or at Amazon, when you get anything, regardless of the country in which you live. See also all the kits with the A55V or A55, as well as the various kits with the A33. Thank you! Ken.
December 2010 More Sony Reviews Minolta Reviews Other Reviews
Introduction top
Intro Specs Performance Recommendations
The Sony 18-55mm f/3.5-5.6 SAM DT is a dinky plastic kit lens for Sony's 1.5x sensor cameras, like the Sony A55, A33 and A55V.
It has mediocre performance, but more than good enough for the casual use it's likely to see from the people who actually will buy it. It is not as good as Nikon's outwardly similar 18-55mm f/3.5-5.6 or Canon's 18-55mm f/3.5-5.6 lenses, which is odd, because they share what look like similar performance in other regards. Maybe I got a bad sample of this Sony lens — but then maybe you would, too.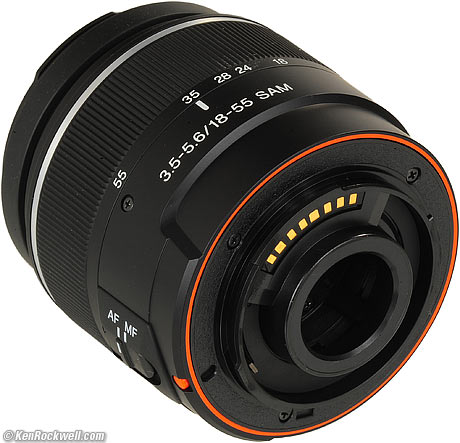 Rear, Sony 18-55mm. bigger.
Note Sony's clever use of an orange band on the rear mount to distract potential buyers from noticing the disposable plastic lens mount.
Specifications top
Intro Specs Performance Recommendations
Name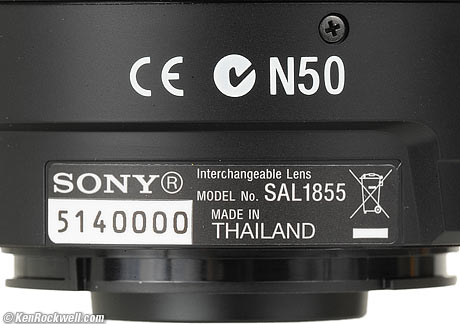 Barrel Bottom, Sony 18-55mm. bigger.
Sony adds the letters SAM DT to this lens' name. They probably mean something about the AF motor and the fact this lens only works on1.5x sensor cameras, and not full-frame.
Optics
8 elements in 7 groups.
2 aspheric elements.
Front-group focus.
Pumper zoom: front group moves in and out as zoomed.
Focal Length
18-55mm, which gives the same angles-of-view on 1.5x sensor cameras as a 28-85mm lens would give on 35mm and full-frame cameras.
Close Focus
0.82ft (0.25m), rated.
Filter Thread
55mm, plastic.
Moves with zooming and rotates with focus.
Diaphragm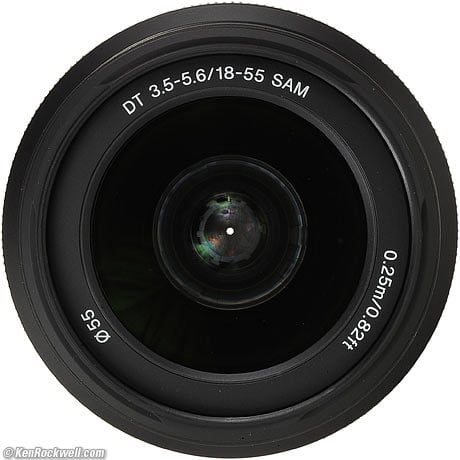 Front, Sony 18-55mm at f/22. bigger.
7 blades, stopping down to f/22-36.
Size
2-3/4" x 2-3/4" (69.5 x 69mm), rated.
Weight
7.5 oz. (210g), rated.
Performance top
Intro Specs Performance Recommendations
It's usually sharp in the center, where it matters.
At 18mm, it's soft on the sides at most apertures.
At 28mm, it's sharp throughout the image.
At 55mm, it's soft everywhere wide-open at f/5.6, and improves at f/11.
It has a load of barrel distortion at 18mm (use +5 in Photoshop's Lens Correction filter to correct.) The distortion goes away as zoomed to 55mm, at which focal length it has no distortion.
It is relatively free from lateral color fringes, except at 18mm.
Recommendations top
Intro Specs Performance Recommendations
I wouldn't buy one of these things.
I'd rather shoot with an old Minolta MAXXUM 50mm f/1.7, which has much better optical performance, is completely compatible with Sony DSLRs, including full-frame, and sells for about $75 used at eBay.
Help me help you top
I support my growing family through this website, as crazy as it might seem.
The biggest help is when you use any of these links to Adorama, Amazon, eBay, Ritz, Calumet and J&R and when you get anything. It costs you nothing, and is this site's, and thus my family's, biggest source of support. eBay is always a gamble, but all the other places always have the best prices and service, which is why I've used them since before this website existed. I recommend them all personally.
If you find this page as helpful as a book you might have had to buy or a workshop you may have had to take, feel free to help me continue helping everyone.
If you've gotten your gear through one of my links or helped otherwise, you're family. It's great people like you who allow me to keep adding to this site full-time. Thanks!
If you haven't helped yet, please do, and consider helping me with a gift of $5.00.
As this page is copyrighted and formally registered, it is unlawful to make copies, especially in the form of printouts for personal use. If you wish to make a printout for personal use, you are granted one-time permission only if you PayPal me $5.00 per printout or part thereof. Thank you!
Thanks for reading!
Mr. & Mrs. Ken Rockwell, Ryan and Katie.
Home Donate New Search Gallery How-To Books Links Workshops About Contact