Home Donate New Search Gallery Reviews How-To Books Links Workshops About Contact
Camera Straps
© 2014 KenRockwell.com. All rights reserved.

This free website's biggest source of support is when you use any of these links to approved sources when you get anything, regardless of the country in which you live — but I receive nothing for my efforts if you take a chance and buy elsewhere. I get no government hand-outs and run no pledge drives to support my research, so please always use any of these links to approved sources for the best prices, service and selection whenever you get anything. Thanks for helping me help you! Ken.
March 2014 Better Pictures Nikon Canon Fuji LEICA All Reviews
Introduction
I never use the strap that might come with a camera. They usually are worthless and weak, and worse, advertise a camera with no benefit to me. A "NIKON" or "CANON" strap makes you stand out in a crowd to criminals, which you never want to do.
I leave new camera straps wrapped up in their boxes for eventual resale, and buy superior straps to use in the field.
Here's what I use. Different weights of cameras demand different kinds of straps.
How to Wear a Camera
I always wear cameras over my neck and shoulder.
Wearing a camera directly over your neck not only makes you look like a goober, it also hurts your neck. Wearing it around the shoulder as well as the neck distributes the weight.
When you wear it like this, you can grab your camera with your elbow against your waist. Grab and go!
I don't trust myself to sling a camera strap only over my shoulder, so I can't comment on that.
Pocket Cameras top
These stay in my pocket. I don't use a strap for them.
I might use the wrist strap that came with them, otherwise, they live in my pocket and only come out to shoot.
Straps for Lightweight Cameras (up to about 2.5 pounds or 1.2kg) top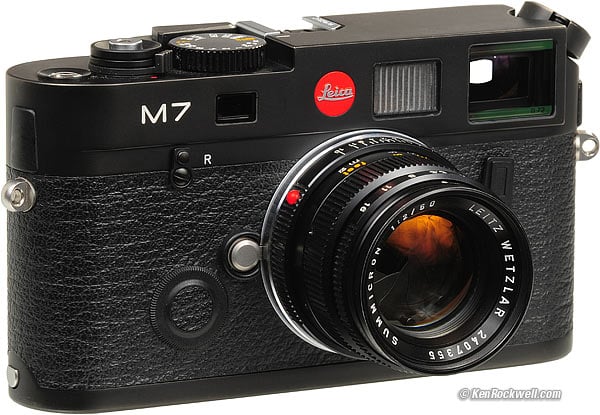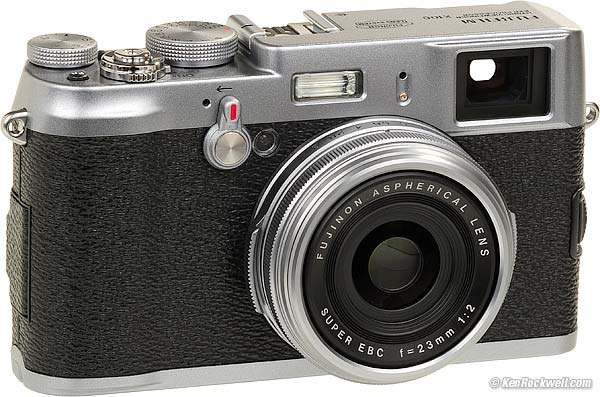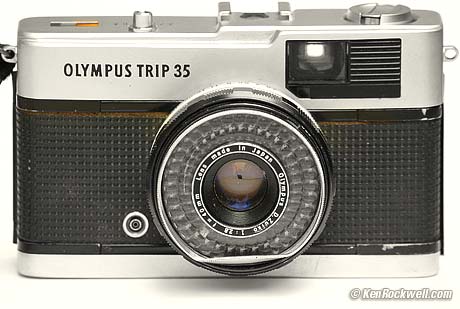 For light cameras, like a LEICA, Olympus or Contax G, I prefer Leica's standard 14312 strap. It sells for about $50, and is a German engineering marvel once you get used to it. It really is Made in Germany.
The Leica strap has quite a few benefits:
1.) Ingenious design that allows the strap to be attached and removed immediately without tools and without scratching the camera. This is great for me, since I'm constantly being loaned new cameras to test, and then need to remove the straps when I photograph the cameras to illustrate my reviews.
2.) Ingenuous design that incorporates rash guards to prevent brassing or other wear to the camera from extended use.
3.) Narrow strap materiel doesn't get in your way as you hold the camera to your eyes.
4.) Perfect width and grip permanently fixed shoulder pad. It's not too big and not too small. It's not too slippery and not too grippy. It feels perfect for light cameras.
5.) Much suppler than other strap material. The strap lays across your hand like a soft shirt; not at all like most other stiffer straps.
6.) Ingenious design that has no loose strap ends to poke you in the eye or chafe your hands.
7.) Ingenious design that can't possibly loosen or untie itself. The strap is sewn back into itself.
8.) Ingenious design that makes it fast and easy to adjust the length.
9.) Ingenious design that keeps the strap at the length you set it.
10.) No junk hanging off the strap or your camera: it's just a strap, a small pad, and ingenious fixation devices on each end.
11.) Even if you break one of the plastic buckles, no problem: they were just strap-end keepers. If one breaks, no big deal, since the clips at each end are what hold the strap.
12.) Even if you break one of the plastic clips at each end, no big deal, since the camera will be held by the plastic buckle in the middle of each side.
As you can see, the brilliant simplicity of this strap means you have to break at least two different things before you drop a camera.
This strap's only weakness is that it only works with pro cameras expecting to work with split-rings. It won't work with cameras with slots for straps like the Nikon D40.
Midsize cameras (about 2~3 pounds or 1~1.5kg) top
For midsize cameras, which means just about any non-pro DSLR or 35mm camera, I have two favorites.
Your favorite will depend on how grippy you like your pad, and how tough you want your strap.
I've been using the Tamrac N25 (about $25) since the 1990s. They are made of neoprene wetsuit rubber! They make it comfortable to carry a midsize camera all day long. I haven't bought any for a while, and all mine are made in Chatsworth, California, USA.
The Tamrac N25 isn't grippy; your camera will constantly slide around to seek the lowest point.
The Tamrac N25 is a fun strap. I've used the same strap for 10 years and it's held any camera to which its been attached, but it has numerous points of potential failure. It has a lot of places it can break and drop your camera. Still, I use one on my D40 and love it.
If any of the six plastic buckles, two metal buckles, stitching at any of twelve points, any of the neoprene, either of the two places where there's some weird vinyl holding it together, or either of the two quick-releases break, you drop your camera. Contrast this to the simple Leica strap above, which won't drop your camera unless at least two things fail at once, and on which there are only two buckles and two places with stitching.
Another weakness of the Tamrac N25 is that there always seems to be a pointy hot-wire-cut strap end trying to poke me in the eye.
A 1,285g camera (Canon 5D Mark II, 50/1.8 II and 220EX) feels great wearing all day and night with an N25. 1,470g (Canon 5D Mark II, 28/1.8 and 220EX) is fine. 1,580g (Canon 5D Mark II, 100/2 and 220EX) is doable, but becoming less fun.
By the time a camera weighs 1,700g (Canon 5D Mark II, 28-135 IS and 220EX), it's not comfortable with an N25.
For a tougher strap for a midsized camera, use the regular or smaller UPstrap, covered next. It's indestructible.
Big Cameras (3 pounds or 1.5kg and up) top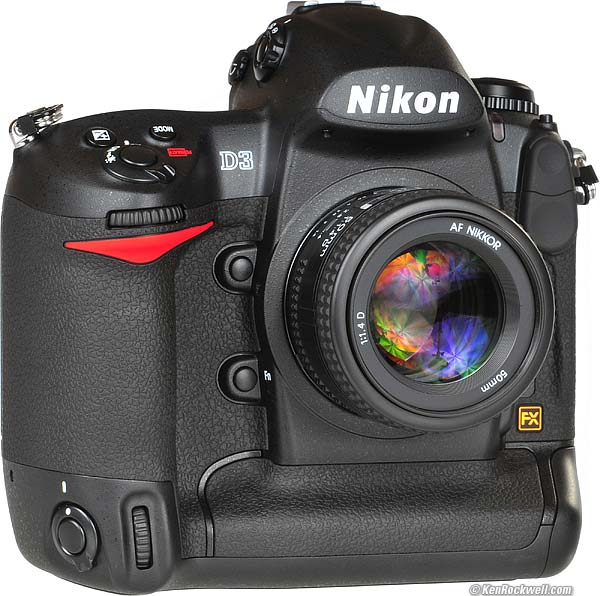 For my big Nikon D3, I use an "SLR Classic" UPstrap ($39). It's the strap of the pros.
I wouldn't trust any weaker strap to hold my D3. The UPstrap is indestructible Made-in-USA tough. It's one continuous tough (but thin) strap with a big, fat rubber pad in the middle. Its only buckles are solid stainless steel.
The UPstrap is tough, and the big, fat pad makes the D3 feel lighter. The upstrap isn't going to drop your camera, if anything, its going to drop you if you get it caught on something.
The big, sticky pad keeps my D3 where I put it. It doesn't tend to slide back down.
The only disadvantages to the UPstrap are that the pad is so sticky. If you live in a resort like San Diego as I do and wander around in Price Club silk shirts all day, the grippy pad can chew up your shirts. The grippy pad also can get in the way as you're pulling the camera to your eye, unlike the thin, not too slippery pad of the Leica strap, which conveniently seems to disappear as you bring the camera to your eye.
For lighter cameras, if you prefer a strap this tough and grippy, UPstrap makes a smaller model for lighter rangefinder cameras, called the UPstrap RF. It's the same thing, with a smaller pad.
Weaknesses:
1.) It's a tough strap. It's not a lot of fun trying to break free of the grippy pad as you pull the camera to your eye.
2.) It's a tough strap. No one is going to slip it off your camera without you knowing about it, and likewise, it's a pain if you want to adjust the length. Once you set the length, you leave it alone, and its not budging either.
3.) It's a rough strap. The tough webbing isn't soft and supple like the Leica strap; the UPstrap webbing is made of much rougher and tougher material.
4.) There's more junk along the strap than the Leica strap. You'll feel the buckles as you slide the strap through your hands, and depending on the length to which you adjust it, you may have big holes created where the strap, wound back over itself near the lugs, separate into two pieces of webbing. The Tamrac N25 doesn't have any long runs of just strap doubled over to split into two pieces of strap. The sublime Leica strap is so carefully designed for such a narrow range of cameras and athletic users that there isn't ever much slack, and the magic strap material somehow seems to bend together so there are never any openings where the strap doubles-back to the buckle.
The UPstrap is long enough so you can adjust it to any length, but you might have some free ends popping out.
A D3 and 50mm f/1.4 AF-S weighs 1,770g, and feels fine to wear all day with an UPstrap. With a heavier lens, like a 24-70mm f/2.8 AF-S, the whole thing weighs 2,390g, and isn't much fun to wear. Mount the beastly Nikon 14-24mm, and it weighs 2,490g. That's wearable, but not fun.
UPstrap makes a lot of other straps in all sorts of sizes and shapes; check them out. Run by an American innovator, they always have something new.
Help me help you top
I support my growing family through this website, as crazy as it might seem.
The biggest help is when you use any of these links when you get anything, regardless of the country in which you live. It costs you nothing, and is this site's, and thus my family's, biggest source of support. These places have the best prices and service, which is why I've used them since before this website existed. I recommend them all personally.
If you find this page as helpful as a book you might have had to buy or a workshop you may have had to take, feel free to help me continue helping everyone.
If you've gotten your gear through one of my links or helped otherwise, you're family. It's great people like you who allow me to keep adding to this site full-time. Thanks!
If you haven't helped yet, please do, and consider helping me with a gift of $5.00.
As this page is copyrighted and formally registered, it is unlawful to make copies, especially in the form of printouts for personal use. If you wish to make a printout for personal use, you are granted one-time permission only if you PayPal me $5.00 per printout or part thereof. Thank you!
Thanks for reading!
Mr. & Mrs. Ken Rockwell, Ryan and Katie.
Home Donate New Search Gallery Reviews How-To Books Links Workshops About Contact