Home Donate New Search Gallery How-To Books Links Workshops About Contact
Tokina 100-300mm AT-X
(c. 1989 - 1995)
© 2009 KenRockwell.com. All rights reserved.
Intro Specs Performance Recommendations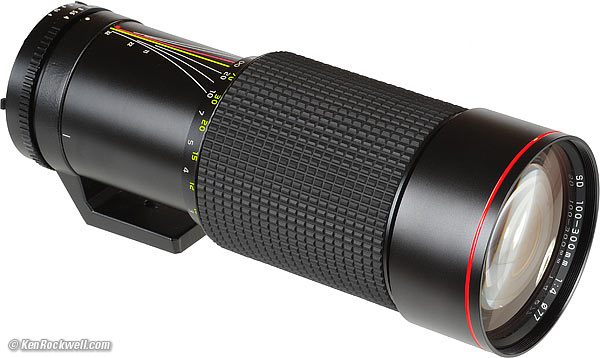 Tokina 100-300mm f/4 AT-X SD (77mm filter, 43 oz/1,220g). enlarge. I got this one over this link to it at eBay; you also can look for them used at Adorama and B&H Photo-Video.
August 2009 More Nikon Reviews More Canon Reviews
Intro Specs Performance Recommendations
This Tokina 100-300mm f/4 AT-X is a versatile manual focus lens. It works great on digital and film Nikon SLRs, especially on FX.
This lens came in mounts for many cameras, especially Nikon, Canon, Pentax, Olympus and Minolta. I'm showing the Nikon version here.
This Tokina is a a stop faster than the Nikkor 100-300mm f/5.6. Get the Nikkor if you can, but if you find one of these, don't throw it away either.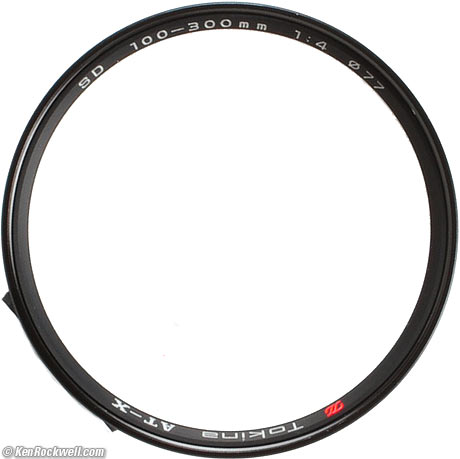 Tokina 100-300mm, at 300mm and f/4.
Specifications top
Intro Specs Performance Recommendations
Name
Tokina AT-X SD 100-300mm f/4. Model number: ATX 100.
AT-X: Advanced Technology - Extra.
SD: Super-low Dispersion glass, the same as Nikon's ED and Canon's UD.
Optics
Front-group focus.
Internal zooming, fixed rear group.
Close Focus
6.5 feet (2m).
Diaphragm
7 blades. Stops down to f/32. Annoying half-stop clicks between most full stops.
Filter Thread
77mm, metal. Rotates with focus.
Tripod Collar
Permanently attached.
Size
8.413" extension from flange x 3.148" diameter (213.7 x 79.95mm) when focused at infinity, measured. Hood is 1.731" long by 3.683" diameter (48.98 x 93.54mm) overall, measured.
Weight
43.020 oz. (2.69 pounds or 2 pounds, 11.02 oz.), measured.
1,219.6g, measured.
Hood adds 2.760 oz (78.3g).
Case
Fake leather tubular hard case. Red fuzz inside. Vinyl hinge and snapper catch.
Hood
Spun aluminum with double-threaded insert to reverse-mount over lens.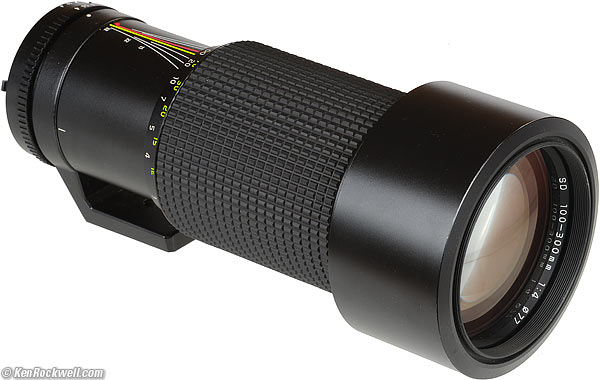 Tokina 100-300mm with hood reversed and screwed over front for storage.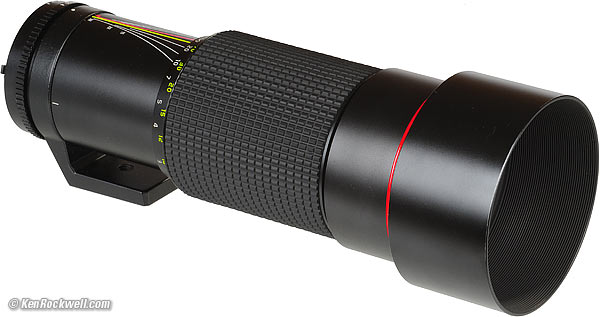 Tokina 100-300mm, with metal hood ready for shooting.
Performance back to top
Intro Specs Performance Recommendations
Overall
It feels nice. It's easy to focus and zoom. It has a bright finder image and never gets in the way of a great photo.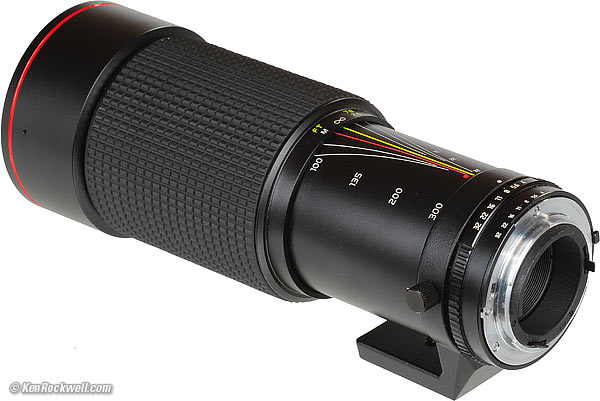 Tokina 100-300mm.
Balance with tripod collar
Balance is perfect with a D3. Of course you'll need the Nikon AH-5 Tripod Spacer with most tripods to keep the bottom of the D3 from interfering with your tripod head. This happens with most smaller lenses with tripod collars.
Distortion
Distortion is invisible in the shorter half of the range, and pincushion distortion in the longer half of the range
Plug these figures into Photoshop CS2's lens distortion filter to correct the distortion. These aren't facts or specifications, they are the results of my research that requires hours of photography and calculations on the resulting data.
| | |
| --- | --- |
| | |
| 100mm | +0.4 |
| 135mm | -0.2 |
| 200mm | -2.0 |
| 300mm | -2.5 |
© 200 KenRockwell.com
Lateral Color Fringes
None on a a D3.
Mechanics
All anodized aluminum. No enamel on the outside like Nikkors, and feels more like aluminum than brass on the inside. Mount seems like aluminum, not brass as Nikkors.
My sample has some wobble: mechanical play which lets the front of the lens wobble left and right from the back of the lens.
Sharpness
It's great at 100mm.
At 200mm and 300mm its very soft at f/4 and much better by f/8-11.
The Nikkor 100-300mm f/5.6 AI-s is much better: you can shoot it wide open and it's super-sharp. The faster f/4 speed of this lens is nice to help focus and viewing, but not usable for shooting at the long end where you'd need it.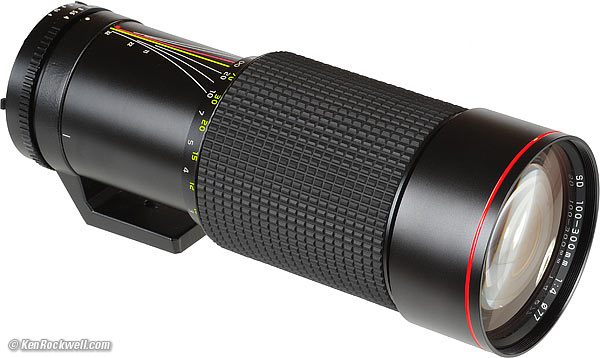 Tokina 100-300mm. enlarge.
Recommendations back to top
Intro Specs Performance Recommendations
This is an easy lens to shoot. It's not as well made or as good optically as a Nikkor, and they each sell for about the same price used, but if you find one of these, you certainly can make great photos with it.
I'd prefer the Nikkor 100-300mm f/5.6 AI-s, or any of the Nikkor 80-200mm zooms.
Help me help you top
I support my growing family through this website, as crazy as it might seem.
If you find this as helpful as a book you might have had to buy or a workshop you may have had to take, feel free to help me continue helping everyone.
If you've gotten your gear through one of my links or helped otherwise, you're family. It's great people like you who allow me to keep adding to this site full-time. Thanks!
If you haven't helped yet, please do, and consider helping me with a gift of $5.00.
The biggest help is to use these links to Adorama, Amazon, Calumet, Ritz, J&R and when you get your goodies. It costs you nothing and is a huge help to me. eBay is always a gamble, but all the other places have the best prices and service, which is why I've used them since before this website existed. I recommend them all personally.
Thanks for reading!
Ken
Home Donate New Search Gallery How-To Books Links Workshops About Contact