Home Donate New Search Gallery How-To Books Links Workshops About Contact
2003 BMW 540i
M-Sport Specifications
back to BMW 540i page
back to page index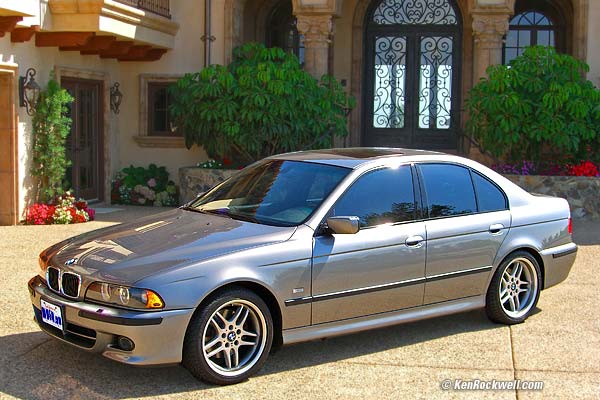 Rancho Santa Fe, California, July, 2005
2003 BMW 540i M-Sport, Sterling Gray (click to enlarge)
Dimensions
188.0" long x 70.9" wide x 55.7" tall (standard model 540 is 56.5" tall).
Turning Circle
37.4 feet.
Ground Clearance
I measure 4.6" (116 mm). The limitation is the wind pan under the front bumper.
Curb weight
3,803 pounds.
0 - 60 MPH
6.1 s
(6.2s for the non-sport package)
Top Speed
155 MPH, electronically limited.
(only 128 MPH without sport package), electronically limited.
Here's a video of what a US-spec European delivery 1999 540iA sport does in Germany, and this was with the slightly less powerful engine of that year that revs a little higher. Note it doesn't shift out of 4th gear till you hit 145 MPH at 6,100 RPM.
Here's a European version doing what it's designed to do at 164 MPH, and another one is here.
In fact, here's a whole web site from Germany of Germans doing what they do best. Mach Schnell!
The 2005 BMW 545i only goes to 150 MPH, sorry.
Trunk
16.2 cubic feet (460 liters).
Only rated 11.1 cf without folding seats.
Fording depth
12" of water (page 133 of manual).
Cd, aerodynamic coefficient of drag
0.31
Weight Distribution
52.5/47.5% f/r
Wheelbase
111.4"
Leg Room
41.7" front, 34.2" rear.
I'm six feet tall (182 cm.) and I can easily sit in the back even with the driver's seat adjusted as I always have it. You easily can take four full-sized Germans anywhere in comfort at any speed.
Engine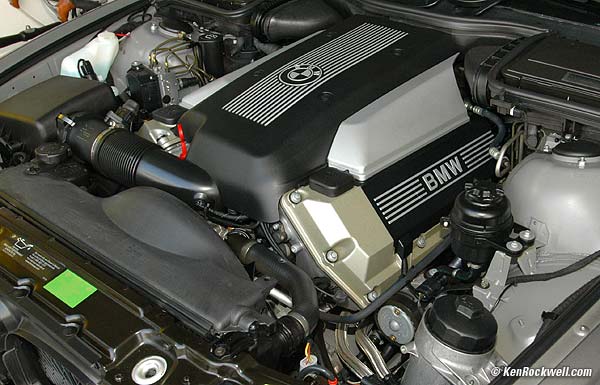 Olivenhain, California, August, 2005
2003 BMW 540 engine bay. (click to enlarge)
Like many engines today, it's buried under plastic vanity covers. You can't see any induction or exhaust, no cams, no spark plugs, no fuel system, no nothing really. You can see the cold air intake and filter on the left which then runs away and hides under the middle cover. The parallel silver lines on the valve covers are the same as those on my 1977 BMW R100S.
V8
Aluminum block and heads
Variable Valve Timing (VANOS) for both intake and exhaust
4,398 cc / 268.4 CID
324 foot-pounds @ 3,600 RPM (or 222 hp at this RPM). This is more potent than almost anything. For instance, the 2006 Aston Martin V8 Vantage ($110,000) has only 302 ft-lbs and the 2005 Porsche 911 Carrera S ($79,100) has only 295 foot-pounds. Torque is what accelerates a car, not horsepower. Horsepower only relates to top speed, and cars today are electronically limited for top speed so horsepower is irrelevant even if you could drive anywhere near top speed.
290 hp @ 5,400 RPM (or 282 ft-lbs at this RPM)
10.0 : 1 compression ratio
3.26 bore x 3.62" stroke (82.7 x 92.0 mm)
Bosch Motronic M 7.2 with adaptive knock control
Transmission
The M-sport steptronic automatic, even in normal mode, is usually in a lower gear than necessary for economy. The big V8 is always turning 2,000 - 3,000 RPM even in light driving. That's why the fuel economy sucks and the driving experience is extraordinary, just like a V-12. Most other automatics would rarely get over 2,000 RPM with a V8 tooling gently around town.
5-speed automatic ZF 5 HP 24 EH. ZF is a serious and specialized German power transmission company. ZF even makes transmissions and propellers for heavy ocean-going vessels here.
Ratios ( r : 1):
| | | |
| --- | --- | --- |
| | Ratio : 1 | Top Speed @ 6,000 RPM |
| 1st | 3.57 | 39 MPH |
| 2nd | 2.20 | 63 MPH |
| 3rd | 1.51 | 92 MPH |
| 4th | 1.00 | 139 MPH |
| 5th | 0.83 | 155 MPH @ 5,500 RPM* |
| | | |
| Reverse | 4.10 | 33 MPH (don't do this) |
| | | |
| Rear Axle | 3.15** | |
* Electronically limited. Standard, non-sport 540 top speed is limited to 128 MPH since the standard 540 only comes with H-rated tires.
** standard (non-sport) 540i has a 2.81 : 1 final drive ratio. Multiply MPH shift point numbers above by 1.12 and divide the RPM numbers below by 1.12 for the standard 540i.
540 Sport RPMs in top gear:
2,000 RPM @ 56.5 MPH.
2,090 RPM @ 60 MPH.
2,500 RPM @ 72.7 MPH.
Electrical
Battery
12V, 90 Ah
Alternator
Liquid-cooled, 150 Ampere.
This is hot stuff; alternators on other cars have always been air-cooled. This started with the 1999 model year and helps the alternator run cooler and have more output.
Fuse Panels
There are two.
The main one drops down from inside the glove box. You rotate two white latches at the front top of the glove box by 90 degrees and flip it down to reveal all the fuses. The design is brilliant: you now can see all the fuses clearly with easy access. If you pull the white tab to the bottom center of this panel you'll have the complete list of what fuse does what and its value. To the top of this panel you have a spare of every value and a fuse puller. Brilliant!
The second, smaller, fuse panel is behind a cover on the right side of the trunk.
Flashlight
There is a removable flashlight inside the glove box to the left. It, like the remote control keys, uses a battery which is recharged as long as it stays in the holder. It's always fresh and ready to go. I can't say how long it will last, but I can say that one I bought in Germany in 1992 by the same manufacturer that seems identical except that it plugs in the wall instead of 12V is still working fine today, 13 years later.
It's only a penlight bulb for seeing things up close. It's perfect for looking under the seats, inside the door cubby holes or in your camera bag. I also keep a bigger Maglite flashlight (you can get one here or here and get an LED bulb for the AA model here) just in case I need to signal the Space Shuttle or otherwise need a really bright light.
Light Bulbs
Xenon Low Beams
Osram D2S Xenon bulbs in Hella assemblies. (55W H7 on lower 5-series models). The Xenon bulbs last a long, long time compared to halogen bulbs. BMW cautions not to fiddle with them, they start with an arc of 25,000 volts and can kill you easily. BMW suggests only letting the dealer change these. I have a whole page on the fantastic headlights here.
High Beams
55W H7
Front Fog Lights (Nebelscheinwerfer)
35 W H8
Front Turn Signals
Dual filament 21 W
Front Standing Lamps
10 W.
These bulbs are complete assemblies with integrated reflectors, or so says the manual. I'm unsure if they are just ordinary 10 W European bulbs or not. These bulbs illuminate the four round outlines of the headlights.
The slang phrase for this effect is "angel eyes."
Side Fender Turn Signals
5 W
Tail and Rear Side Marker Lights
LEDs
License Plate Lights
5 W
Other Rear Lamps
21 W
Wheels and Tires
Wheels
18 x 8" front, 18 x 9" rear.
Style 37 dual-spoke.
I believe the hub centers are 1.5mm larger than any other recent BMW.
Tires
265/35R18 rear.
235/40R18 front.
Dunlop SP Sport 9000 are rated 280 A or AA A and 820 revs/mile
Lug Nut Torque: 72 Ft-lbs (100 Nm)
Fuel Tank
18.5 gallons with 1.8 or so as reserve.
That's pretty small for a gas hog like the 540, although I've gotten over 19 gallons into mine on a fillup. Details on my performance page
Fuel Economy
17 MPG City, 21 MPG Highway US EPA ratings for the 2003 BMW 540i Sport.
See it here at the EPA's site. This is 2 MPG better than the 1997 - 2002 sport models' city ratings.
The non-sport is rated 18/24 MPG. The Sport gets lower ratings due to the performance tricks that turn the V-8 into a virtual V-12.
I get about 14 MPG beating it around town waiting at stoplights and about 26 MPG on the freeway. More details on my performance page.
Next Page: Standard Equipment for all 2003 BMW 540i
or Previous Page: back to BMW 540 index page
Help me help you top
I support my growing family through this website, as crazy as it might seem.
If you find this as helpful as a book you might have had to buy or a workshop you may have had to take, feel free to help me continue helping everyone.
If you've gotten your gear through one of my links or helped otherwise, you're family. It's great people like you who allow me to keep adding to this site full-time. Thanks!
If you haven't helped yet, please do, and consider helping me with a gift of $5.00.
The biggest help is to use these links to Adorama, Amazon, B&H, Calumet, Ritz, J&R and when you get your goodies. It costs you nothing and is a huge help to me. eBay is always a gamble, but all the other places have the best prices and service, which is why I've used them since before this website existed. I recommend them all personally.
Thanks for reading!
Ken
Home Donate New Search Gallery How-To Books Links Workshops About Contact