Home Donate New Search Gallery How-To Books Links Workshops About Contact
BMW 540i
M-Sport Automatic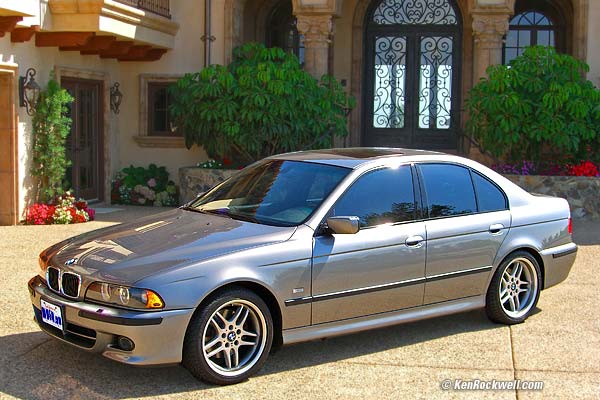 Rancho Santa Fe, California, July, 2005.
2003 BMW 540i M-Sport, Sterling Gray (click to enlarge)
Introduction
Specifications
Standard Equipment on all 2003 540i
Options (including crucial Sport Package)
Factory Window Sticker for an optimally configured 540i Sport
Performance
Xenon and Halogen Headlights
Headlight Conversions
Dashboard Computer
Performance Modifications
Certified Pre-Owned
Other BMW 5-Series Models
History of the BMW 5-Series
Links for more BMW 5-Series and 540i information
Funny German Automotive Words
Compared to Mercedes SL500
Compared to Mercedes E500
European - US Measurement Conversion Factors
About these reviews
How to Keep Your BMW Collectible
Did you buy this one, California license plate 5DBF016, VIN WBADN63423GS56914? Contact me and I'll tell you it's history. I owned it for 7 months and returned it to the dealer who sold it to me in February 2006. It's a great car!
The 2003 BMW 540i Sport combines sports car agility, tire-smoking, donut-turning, muscle-car brutality and luxury automobile quiet, comfort, convenience and finesse into one extraordinary motor vehicle. Most cars blab about this without doing any of it. Some cars have one or two of these qualities.The BMW 540 M-Sport really does all of these things simultaneously. It is this seamless and simultaneous excellence which exalts the 540iA to its throne among the world's finest automobiles.
The 540iA evolves the same luxury features and gargantuan engine and power train of BMW's hulking flagship 7-series into the agile 5-series body. BMW then adds powertrain tweaks magnifying the 540i's V8 into the equivalent of a luxury 12-cylinder engine. BMW also adds the suspension of the M series to make the mid-sized 540 handle as nimbly as a tiny car.
"Fun" doesn't do it justice. It's unlike anything else I've ever driven. "Insane," "Crazy" or "Sick!" are more fitting. You get one of these purely because it's a hoot and a half to drive. Just do it! Nothing comes close to offering this much fun and quiet comfort at the same time.
THE SPORT OPTION
The 540iA is the luxury version of BMW's 5-Series and adds a monster V-8 engine.
The sport version then turns the 540iA into something even more insane. Luckily the 540 M-Sport looks like any other tame BMW, stealthily cloaking its brutality.
This site specifically is about the 540iA Sport. It's not about the ordinary non-sport 540i or six-cylinder, Diesel, station wagon or M5 models. I cover those here.
The price difference between the 540iA M-Sport and an ordinary 5-Series is the price of a small car. One could buy two nice 3-Series for the price of a 540iA M-Sport!
The non-sport 540 is perfectly swell car, just like a Mercedes E430 or E500. The non-sport 540 is nowhere near as much fun, zippy and crazy as the sport model as I explain below. The non-sport 540 is more suited to commuting and racking up miles on cross-country trips; the Sport for the drag strip, autocrossing, chirping the tires and having a hoot while focusing 100% of your concentration on driving. They're all quiet and comfortable; the gearing, suspension and everything makes the Sport far more responsive.
All 540s get recirculating ball steering just like a Mercedes. The common six cylinder 5-Series gets rack-and-pinion steering.
BMW 540 vs. 540i vs. 540iA
The terms BMW 540, 540i and 540iA are used interchangeably. "540" is most often used in common speech, "540i" is most often used in print and on the trunk badge, and "540iA" has an automatic transmission. My 540 actually is a 540iA, and you only see that detail on the original window sticker and the certification on the door jamb with the VIN.
BMW NOMENCLATURE
The first digit of the model number is the size of the car. 3 is small, 5 is medium and 7 is large. There is a tiny 1-series in Europe and there is also a 6 sometimes between the 5 and 7. There have been 8s, which were super coupes.
The second two digits are the size of the engine in tenths of litres. Thus a 318 is a small car with a 1.8 litre engine, and a 740 is a big car with a 4.0 litre engine.
BMW doesn't often vary from this formula, but did with the 540. The 1997 - 2003 E39 540 is really a 545. The 540 has the same size engine as the 2004 - 2005 545i, 645i, 745I and 745Li. The biggest BMW V8 was introduced in 1992 and was 4.0 litres. When it was increased to 4.4 litres in 1996 the model numbers stayed stuck at 540, 740 and 840 for some reason.
The last time it varied was the 1980 - 1986 745i, which only had a 3.2L engine, but with a turbo.
THE CLASSIC 2003 MODEL
BMW sent the E39 5-Series out with a bang for it's final year of production, 2003. The sport package for 2003 (only) includes the same trim, suspension and wheels and tires as the M5. The 2003 540 M-Sport is the highest overall performance BMW ever made with an automatic transmission. It has the huge 4.4 liter V8 of the big 645i, the gargantuan 740i, 740Li and today's behemoth 745i and 745iL but in the smaller body. Yes, I prefer a clutch, however this is my wife's beater car she takes when she prefers not to leave her SL500 parked in public, and she demands an automatic. Even the color choices were opened up for 2003: the Sterling Gray metallic seen on this beauty isn't available on the new E60 2004 - 2006 5 Series. For 2006 you have to buy a new 7 Series to get this super-premium color.
Numerous comparison tests highlight the E39 5-series as the world's best sedan. Thus the 2003 BMW 540 may very well be the best sedan ever made. Of course most people agree the Mercedes SL500 is the best car overall, but that's a convertible, not a sedan.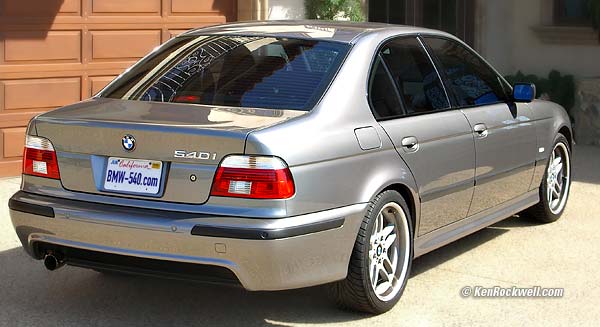 Rancho Santa Fe, California, July, 2005
2003 BMW 540i M-Sport (click to enlarge)
THE 1997 - 2003 E39 5-SERIES
This 5-Series, called E39 by BMW, was offered in the US from 1997 through 2003. It's been called the "Best Car on Earth"and "Best Car Ever Tested in 60 years of Testing" by just about everyone who tests cars, even Consumer Reports. This simply is because it does everything well, all at the same time. It easily won every magazine's comparison tests. The BMW 540 has the smooth, silent and luxurious ride of a huge luxury car and has the nimble, agile handling of a small sports car. It has every luxury convenience imaginable, yet is small enough to park anywhere and retains plenty of room for all front and rear passengers. The V8 is hellaciously powerful, as well as being smooth and silent.
PRODUCTION NUMBERS and EXCLUSIVITY
There were 3,306 model year 2003 BMW 540s made for the entire world. Only 2,185 made it to the USA.
Of the 2,185 540s that came to the USA, only a fraction were the sport model. 147 were Sterling Gray 6 speeds and 408 were Sterling Gray automatics. There were
980 2003 Sterling Gray sports delivered worldwide. 48 went to Canada.
Compare this to over 30,000 ordinary 520, 525, 530 etc. model BMWs made for 2003. 2,185 includes all 540s.
Your 540 Sport is more exclusive than almost anything, and is really made by a premium marque. BMW is made by BMW. Many names that used to be great are today owned by and made of parts scavenged from generic brands.
The Aston Martin 2006 Vantage V8 ($110,000) hopes to sell about 3,000 cars, each with less torque than a 540. Aston Martin is owned by Ford.
The 540i Sport is for the privileged few. Bentley sold twice as many (5,000) twelve-cylinder, $171,000 Continental GTs in 2004 for comparison's sake. Bentley is owned by VW, just like Lamborghini and Bugatti today. You can pay over $1,250,000 for the Bugatti Veyron 16.4, and its dashboard is made of parts from my mom's Passat. Just look at the dashboard central LCD!
Porsche makes 25,000 cars a year.
Ford sells an average of 350,000 Tauruses each year and Toyota sells over 400,000 Camrys.
Rolls-Royce? They're owned by BMW today. Ha Ha.
MADE IN GERMANY
Not only made in Germany, but made in BMW's premier plant in Dingolfing, Germany. Dingolfing is 60 miles northeast of Munich. It's BMW's biggest and best plant where all the top models are brought to life by BMW's most skilled craftsmen. The werke has its own website here and the city has its site here.
Read the door jamb of many other "German-designed" cars and you'll see the bulk of BMWs are put together in South Carolina, VWs are made in Mexico and Mercedes from Alabama.
I prefer a motorcar carefully hewn by experienced, educated individuals who have spent decades apprenticing in the land that invented automobiles and where people driving at 110 MPH on freeways are the slow cars. No car in Germany has a scratch, dent, ding or broken light. Other Americans may prefer disposable transportation thrown together by the cheapest possible raw labor in lands where oxcarts or rusty trucks are objects of admiration. Chacun ses goût (to each their own).
Thank God we can still buy quality products made by real people with skills worth paying for.
RENTALS
NO, mine isn't for rent. Here's a link to a place in rainy Illinois where you can rent a 540i for $229 a day. Theirs has only the standard radio, not the premium hi-fi. It looks like a 2003. Since you only get 50 miles for your $229 a day and additional miles are a couple of dollars each you might want to get a better radio since you're not going anywhere.
OTHER CARS CONSIDERED
I originally started shopping for a Mercedes S500 or S600, except the S600/S500 is too darn big and they are pretty crappy today, at least according to Consumer Reports' reliability ratings. Even worse, when test driving the S Klasse I was astounded that I could turn the wheel faster than the power steering pump could handle while parking. BMW makes a better, sturdier, less compromised car for the new millennium. Consumer Reports' April, 2005 issue specifically recommends the 2001 - 2003 BMW 5 series as a great used car.
The Mercedes E500 is a direct contender. See my direct comparison between the 540i and the E500.
Poke around Edmund's consumer ratings and comments and you'll see a lot of complaints about electronics of the E500 and nothing but praise for the 5 series.
Next Page: Specifications
or back to top
Help me help you top
I support my growing family through this website, as crazy as it might seem.
If you find this as helpful as a book you might have had to buy or a workshop you may have had to take, feel free to help me continue helping everyone.
If you've gotten your gear through one of my links or helped otherwise, you're family. It's great people like you who allow me to keep adding to this site full-time. Thanks!
If you haven't helped yet, please do, and consider helping me with a gift of $5.00.
The biggest help is to use these links to Adorama, Amazon, B&H, Calumet, Ritz, J&R and when you get your goodies. It costs you nothing and is a huge help to me. eBay is always a gamble, but all the other places have the best prices and service, which is why I've used them since before this website existed. I recommend them all personally.
Thanks for reading!
Ken
Home Donate New Search Gallery How-To Books Links Workshops About Contact