Home Search Gallery How-To Books Links Workshops About Contact
2003 BMW 540i Standard Features
back to BMW 540i page
back to page index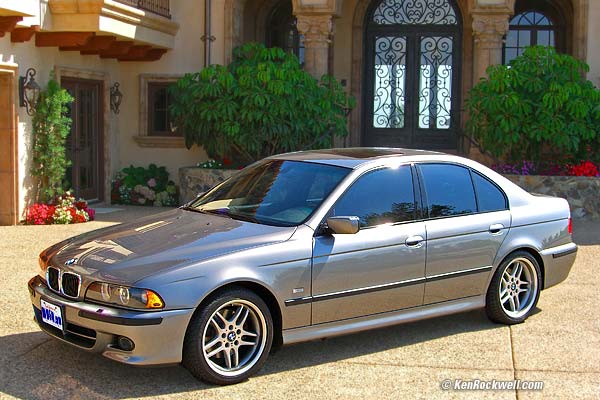 Rancho Santa Fe, California, July, 2005
2003 BMW 540i M-Sport, Sterling Gray (click to enlarge)
Premium Package. All 540s come with genuine wood and leather and etc., thus the premium package is only an option on the lower models like 530i.
Montana Leather Upholstery. Soft as a glove; feels like the softest leather on a goose down filled sofa.
Xenon Headlights. Standard on the 2003 540 and honestly much better than the landing lights of a Boeing 747. I have a whole page about these xenon headlights here. They include high-pressure washers and automatic dynamic height adjustment.
Full Aluminum Front and Rear Suspension A first in the automotive world, this reduces unsprung weight to improve both handling and ride quality at the same time.
Intensive Headlight and Windshield Cleaning System. This has a separate control and reservoir in addition to the usual windshield cleaning system. Caution: this stuff is strong and I've heard it can eat through your paint. It is for cleaning off really nasty stuff and is a great safety feature if you get something tough on your windshield while driving. Leave it to the Germans to invent a better cleaning system.
Heated Windshield Washer Jets This prevents the washer fluid from freezing. My wife's Saab lacks this (odd for the Swedes) and in cold weather the jets have frozen, making it impossible to wash the window. No worries with the 540i.
Rain Sensing Wipers. These make the wipers wipe when they need to, and stop when they don't. It's extraordinary for driving in the on and off rain we get here when we get rain in Southern California.
Dual-Bladed Wiper Arms The wiper arms each hold two blades, just like razors with dual blades. Germans take cleaning very seriously.
High-Intensity Headlight Cleaning System
Auto-Dimming Inside and Left Outer Rear View Mirrors These mean you never again have to fiddle with the dimmer switch below the mirror, in fact, there is no switch! It continuously and automatically adjusts depending on who's following you and the lighting conditions.
Heated Dual Outside Rear View Mirrors No problems with fogging or icing!
Tool Kit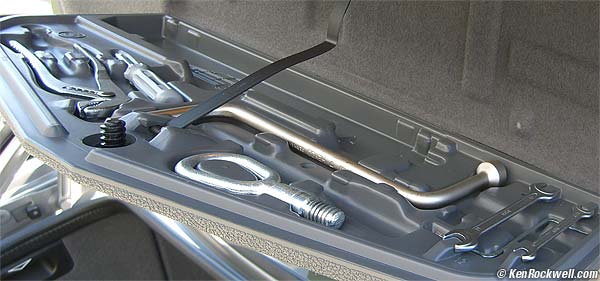 BMW 540 Tool Tray
The tool tray folds down from the trunk lid. All these tools are standard. There's a two-ended screwdriver, channellock-type pliers, towing bolt, lug nut wrench, teo crecent wrenches and a Z-shaped Allen key under them. You'll have more tools if you get run-flat tires. Many people rip off these tools; don't pay top dollar for a 540 missing tools. The long empty slot to the left if for an orange safety triangle, mandatory in Germany but not included with US models. I kept a tire pressure gauge and other tools there.
Interior Motion Detector Alarm. That's right, if a person or pet stows away or breaks in through an open window the alarm goes off, even if they don't touch the car at all. You can see the sensor hanging down from the middle of the headliner. Of course the alarm is also sensitive to towing and anything being opened.
Outside Air Microfilters. There are two big air filters under the hood at either side of the windshield. They take air from outside and filter dust and vapors before the air enters the interior of the BMW 540i. They also include activated charcoal for eliminating poinsonous and carcinogenic gasses.
Not only does this help protect you from cancer causing dust and chemicals, it also keeps the interior free from dust! Of course there's no benefit if you run with all the windows open, but run with the windows closed and you'll rarely have to clean the dash and interior!
Ram-Air Front Brake Cooling There are two ducts that lead from the lower front bumper, through the lower engine bay and exhaust against each of the front disc brake rotors. This helps cool them to improve brake performance for multiple stops from very high speed.
Triple Zone Fully Automatic Climate Control Fully automatic means you just set your desired temperature once and the 540i sport sets everything, including fan speed, heating, air conditioning, recirculation and venting, to keep you comfortable. Day or night, summer or winter, sunny or cloudy, you never need to tweak it. The three zones are his and hers up front which you enter in degrees, and one zone for the rear. The center rear console control sets the variation for temperature and air volume for the rear in relation to the front.
Radio, Phone, CD and Cruise Controls on Steering Wheel
Four Fully Automatic Magic Power Windows Just tap one or all the window switches and the windows open or close completely with no need to hold the button. Every window front and back has this. The BMW 540i has real window switches, not the ones pulled out of a Toyota which require you to reach in and lift up just to close the windows. Just tap the UP or DOWN arrow on the switch. The BMW 540i's owners' manual tells us there are contact strips along the top of the window frames in case something gets caught (page 44). This is much better than a switch designed to make operation difficult because the manufacturer neglected to take the same safety steps as the 540i. PS: The 540i has the good switches. The new 2006 BMW 760Li (base price: $119,995) has the same rental car style window switches that require you to reach in and lift up just to close your own windows.
Fully Automatic Magic Power Glass Moonroof Just tap the switch all the way and the roof opens or closes completely. There's no need to have to hold the switch and wait.
All-Open and All-Closed Convenience Modes Hold down the OPEN button on the remote and all four windows and sunroof open completely, Likewise, hold the key in the door lock in the UNLOCK position (left) and the entire car opens up. To close everything at once hold the key in the LOCK (right) position. Unfortunately the 540i is programmed not to allow closing everything via the remote just in case of the remote getting pressed by accident.
Enforcement Package. When the car is locked with the remote control the doors cannot be opened from the inside. I know, I've tried. There is no response to pressing the unlock button on the console. Pulling any interior door handle pops up that door's lock button, but that button goes right back down as soon as you release the handle. The door doesn't open, even if you get sneaky and hold the door button up when trying to pull the handle again. Under normal operation if you accidentally lock someone or a pet inside the motion detector fires off the alarm (Diebstahlwarnanlage). To secure a prisoner just press the lock button of the remote control a second time, which deactivates the motion and tilt detectors so he won't set off the alarm, but will if he manages to open anything. Likewise for enforcement be sure to lock the folding rear seats to prevent access to the trunk. Remove the emergency trunk release handle inside the trunk by clipping its cable if you'll be using the luggage compartment for prisoner transport. BMW obviously doesn't call out this package as such; it's just the way the 540 works.
Magic Automatic Engine Starter. Just tap the starter for an instant. The BMW 540i magically continues to crank all by itself until it starts. You don't have to hold your hand there and wait. I love this; it makes other cars seem primitive by comparison.
In-Dash Radio and CD player. At no charge you can request a cassette player instead of the CD player. This makes some sense if you opt for the 6-disk trunk-mounted CD changer.
Glovebox-Mounted Rechargeable Flashlight Never needs batteries and always ready to go.
CD Changer Wiring. This makes it easy to pop in the CD changer later. No, I got mine with the car from the dealer; I don't know what's involved in programming it.
Navigation Computer (time/speed/distance/fuel). This calculates arrival times, average speed, has two fuel economy computers and too much more to list. You even can program it to turn on the ventilation before you return to the car to have it all comfortable for you! This computer lives inside the radio and is different from the expensive GPS satelite system. I have a complete page on this standard computer, called MID by BMW, here.
Universal Garage Door Opener This is slick: no need for remotes clipped to the sun visors. You have three positions you can program. I have the three garage doors of both my homes programmed.
Outside Temperature Display
Remote Keyless Entry Unlike my Mercedes, the batteries inside the BMW transmitters never need replacing. Instead of throw-away batteries the BMW keys use a rechargeable battery that charges while you drive. Thus the remote keys always have full batteries, forever!
Keys: Two remote control transmitter keys, one thin spare plastic pocket key and one valet key are standard.
I read that the 540i has internal memory that can be programmed to recognize up to 10 different keys. Other keys, even if they fit the locks, are ignored. Thus the 540i can be deprogrammed not to respond to rogue keys that have been stolen. I think your dealer would do the deprogramming.
Vehicle Memory The dealer can program your preferences for things like daytime running lights.
Key Memory The dealer can program your keys to reset seat positions and climate controls each time YOU drive the car, regardless of who drove it last with their own key.
Two-Stage Unlocking The dealer can correct this to unlock everything on the first press of the remote control. Default is that only the driver door opens on the first press, and the rest of the car opens on the second press.
Alarm System including an ultrasonic motion detector which works even if you leave your windows wide open while the 540i is locked!
Automatic Headlight Control This means they come on at night or in your garage, parking structure and tunnels and turn off in the daytime.
Front Fog Lights These halogen fog lights don't really do much when competing with the Xenon low beams. They are more of a leftover from the other 5-series models that only had halogen low beams.
Power Front Memory Seats, Outside Mirrors and Steering Wheel. There are three memory positions for the driver but none for the passenger. The driver's seat, outside mirrors and steering wheel positions all are memorized and recalled. By comparison the 2006 7-series only has two positions. I use all three: two for me and one for my wife.
Automatic Magic Tilt-Away Steering Wheel. The wheel automatically moves out of the way as you enter and exit the 540i. I forget if the 2006 7-series has this.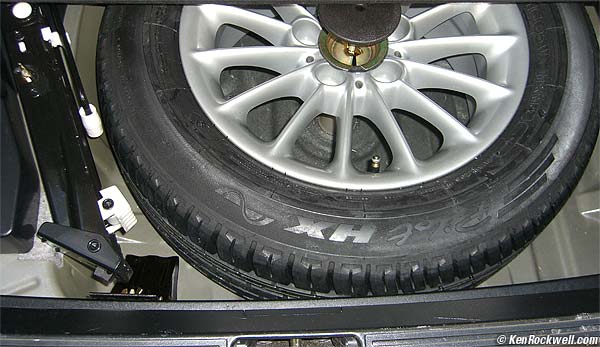 168 MPH Full-Size Spare Tire
Full-Size 168 MPH High-Performance Spare. The 2003 540 sport has a full-size W-rated (168 MPH / 270 km/h) P225/55VR16 95W Michelin Pilot HX spare on a style 48 radial spoke alloy rim. The spare is the size of the standard, non-sport 540's tires but speed rated for the 540i sport. It's not the exact size of either front or rear sport version tire since it needs to replace either. Thus you may barrel down the autobahn at full speed with the spare, but please avoid having an accident since the tires are different sizes (and probably brands) and won't handle the same way in severe maneuvers. That's my warning. For all I know BMW's DSC will automatically compensate anyway. I'll let you know if I get into an accident or autocross on the spare.
It's interesting to note that BMW supplies a W-rated 168 MPH spare on the 540i sport, and the regular 540i (non-sport) only comes with H rated (130 MPH) tires all around. The Germans think of everything!
Daytime Running Lights. Default is off. The dealer can program your 540i to do this if you prefer. Daytime running lights leave the high beams on at reduced intensity. They are dim enough that your flash-to-pass still works great.
European-Standard Parking/Standing Lights. Just leave the turn signal lever up or down if you park in the dark with your car sticking out in a potentially dangerous place. Just one marker light on front and back stay lit so drunks won't run into your car. You should be able to leave these on all night.
Full Free Maintenance included for 4 years or 50,000 miles.
Service Interval Indicator The 540i calculates and monitors when it's time for an oil change or service and lets you know. It even gives you advance warning to let you know it's time to schedule an appointment!
Battery Switch and Safety Terminal This disconnects the battery when you crash into something or have your 540i dropped forward off a bridge to prevent electrical fires.
Phone Preparation. Who cares? Drive a rental car if you want to talk on a phone while driving. Being distracted with a phone call while driving is a serious offence prosecuted as DUI in many localities. DUI, driving under influence, applies to cell phone calls and eating, writing notes as well as alcohol intoxication. A Harvard Study showed cellphone use while driving kills 2,600 and injures 330,000 Americans every year, worse than the World Trade Center collapse five years ago. Unlike the WTC collapse, cell phone use while driving continues and kills all these Americans every year.
Center Adjustable Arm Rest The standard one slides forward and back a bit. It has two padded sides and a depression in the middle to hold something about as big as a cell phone. I don't use it for storage: it would be a hazard in a crash since things would go flying around the cabin. Some people soup this up and replace it with an arm rest with more covered storage as you can see here.
5 Series Mats Whoo hoo!
Funny German Feature Translations (all standard on 540i)
Next Page: BMW 540 Options
or Previous Page: BMW 540 Specifications