Home Search Gallery How-To Books Links Workshops About Contact
2003 BMW 540i Options
back to BMW 540i page
back to page index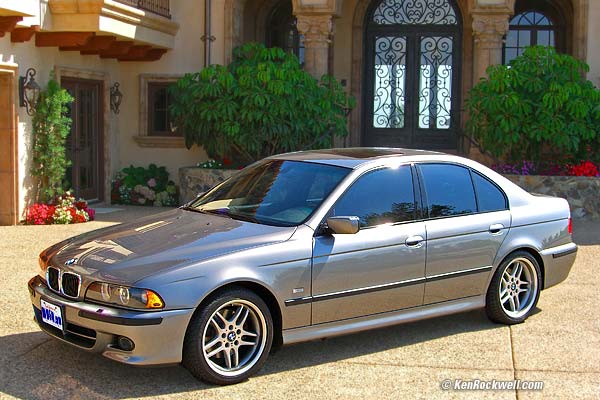 Rancho Santa Fe, California, July, 2005
2003 BMW 540i M-Sport, Sterling Gray (click to enlarge)
IDEAL OPTIONS TO GET
M Sport (0337) and Sport (0ZSP) packages ($4,100). The sport package is what makes this 540i so special. Unlike Mercedes' sport packages, most of which are just trim, the BMW sport package completely redesigns not just the wheels and tires, but also completely changes and lowers the suspension, has a completely different transmission, torque converter and even a much shorter axle ratio! The BMW sport package is not for the timid; the lower gearing and sport programmed transmission make the 540i fly like the Hammer of Thor and suck a lot of gas and tires. The sport package is designed for performance, not for fuel economy or tire life. Due to the low gears you should have seen the smirk on my face when I chirped the tires in reverse trying gently to back into my garage the first time. Without the sport package the 540 is ho-hum compared to real sports cars, with it the 540 is a real sports car.
Clarification: People call this package by many names. There is only one sport package for the 2003 540, and it involves numerous suspension, powertrain and trim changes. When you order it for your $4,100 you get the two codes above. They weren't orderable separately. You'll see the window sticker only mentions "Sport Package," and includes all the goodies below, not all of which fit on the sticker. 2003 is different from earlier years, and also mixes in some trim stolen from the M5 parts bins and wheels stolen from the 7 series. If you're looking at used cars you'll hear people confused between "M-package" and "Sport Package" and "M Sport Package." They are all the same thing as I explain below.
Spotter's Guide: To save money and mimic the look of the real sport package many non-sport 540 owners replace their rims and tires. Some even lower their suspensions and add aero plastic trim pieces. Of course these folks aren't replacing the axle ratios, transmissions, torque converters and everything else that really matters in the true Sport package. What few posers replace is the trim around the windows. The standard model has chrome trim. The genuine Sport model seen at the top of the page has black chrome trim and no silver chrome except for the 540 badge and grill. BMW calls the black chrome "shadowline trim."
You can identify the Stepronic transmission by the "M" gate to the left of "D." The regular crummy automatic has no manual gate and is marked P R N D4321. The Steptronic has no 4, 3, 2 or 1 markings.
The M-Sport package includes:
Steptronic Transmission. The Steptronic transmission is an ordinary 5-speed electronically controlled automatic transmission that also allows manual selection of gears. It has a torque converter and no clutch. It is not a manual transmission.
The Steptronic is an excellent automatic. Punch it and it shifts down and goes. Along with the low axle ratio it always has you in a relatively low gear for lots of fun, and I've never even put it into its sport mode. It has no winter mode so be very careful in the wet since you'll be hitting the traction control most of the time.
The steptronic has a manual up/down clicker instead of the familiar D-4-3-2-1 control. It lets you force the transmission into one gear at a time. I think the Steptronic feature is as silly as my friends in high school who would delay upshifts by keeping the transmission selector of their father's Oldsmobile in the lower gear positions. Your father's Oldsmobile knows when it's time to shift. It's sad people don't realize automatic transmissions for decades have known when to shift depending on how you're driving. Anyway, I see little point of a sequential ability to force the transmission into one gear or another for anything other than autocrossing. I trust it. Steptronic has nothing to do with manual transmissions which I prefer; it still has a torque converter to waste power and no clutch to pop for burnouts. Actually the gears are so low that burnouts just happen with the DSC traction control off and punching the gas. Steptronic is a marketing feature to satisfy midlife crisis men who are embarrassed about the wife wanting an automatic. I know, I would have gotten a 6 speed or the M5 if it was for me and not for my wife to drive.
The shift pattern of the Steptronic makes no sense for manual use. The only time I would use it is to grab a lower gear going down a long hill. For that you need to pull it to the left and then count the number of jerks forward. Good luck if you're just trying to drop down a gear. The Steptronic is worse for this than your father's Oldsmobile, and worse than the brilliant Mercedes automanual standard on all Mercedes. On Mercedes today you just tap the gear selector left or right from the D position. There's no need to jerk the Mercedes auto transmission selector into different gates or anything as on the BMW. The Steptronic gate is so counterintuitive I'm afraid to use it while driving. Just leave the Steptronic in Drive and you're fine.
High-Stall Torque Converter. This means the engine can spin faster, use more gas and thus make more power when starting off. It's another common trick used to hotrod cars and make them suck more gas and belt out more real power. You find low-stall torque converters in economy cars while hot rodders change them out for high-stall versions. This is another reason the sport model gets lower MPG and goes faster. The 2004 - 2006 sport packages lack the high-stall tourque converters.
3.15 : 1 performance rear axle ratio. This means the car is always in a lower gear than the standard 2.82 : 1 ratio. This way you always get more torque at the rear wheels which means more thrust which means more acceleration. It also means you suck more gas and that you go faster. You'll have to upshift earlier of course. Not to worry, top speed is still 155 MPH electronically limited; you really lose the overdrive with top gear pretty much pulling you to 5,000 RPM at 155 MPH. 60 MPH pulls about 2100 RPM. By comparison the 2005 545i only goes to 150 MPH and the 2006 sport package has the same axle ratio as the standard model, sorry.
M-Sport Aero Kit. Unique for 2003. This is the bolt-on plastic stuff that my wife thinks makes the 540 look cool.
M Suspension II. Unique for 2003. This is stiffer springs, shocks and anti-sway bars. It also lowers the entire car by 0.8 inches. It still rides nice and comfy, and makes it stiff and nimble enough for a lot of fun anywhere you drive. Good news: I don't believe this since it's a more sporting suspension than my wife's earlier 525 sport package, but she never liked the comfort of the standard sport suspension of her 2000 525. She loves the 2003 540 M-Sport. If she's happy, I'm happy.
Black Roofliner. Unique for 2003. This is for all you heavy-metal rockers, Darth Vader fans and people who need their car to make them look bad-ass. Black-interior cars usually have light roofliners. All the other BMWs do. It's just plain weird to be driving around all day with a black sky; I know this as a photographer who's very attuned to lighting. The black roofliner is pitch black and so are the interior pillars which give a dungeon-like feel to the interior. You get to pretend you're Charon the Ferryman taking the dead across the river Styx into Hades. The good news is Charon receives a coin from each soul, who otherwise have to walk around for a hundred years till they get across the river. My sweet wife loves the heavy-metal black headliner. To each their own.
M Footrest. Unique for 2003. This is a place to rest your left foot while you drive.
M Sport Steering Wheel. This is the excellent thick leather steering wheel with perfectly positioned finger controls for the radio, CD player and cruise control. It's a masterpiece of ergonomics. Unlike the standard wheel, everything is right under your thumbs when you're driving or racing with just three fingers holding each side. You can identify each button by feel so you never need to take your eyes off the road, which might save your life. Your two thumbs can do it all without taking them off the wheel. Bravo! Most other BMW wheels, like the 2006 7-series versions, aren't as well done and require more thumb movement away from the wheel.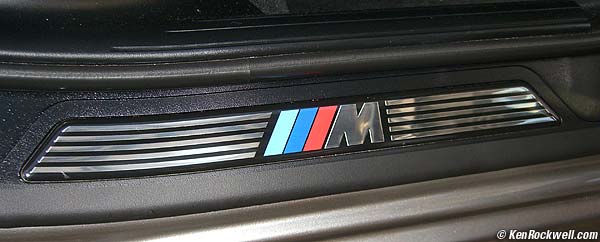 M Sport Door Sills. More leftover BMW parts included with the sport package.
High Gloss Shadowline Trim. This is black chrome around the windows instead of the usual silver. This is another reason my wife thinks her 540 looks so cool.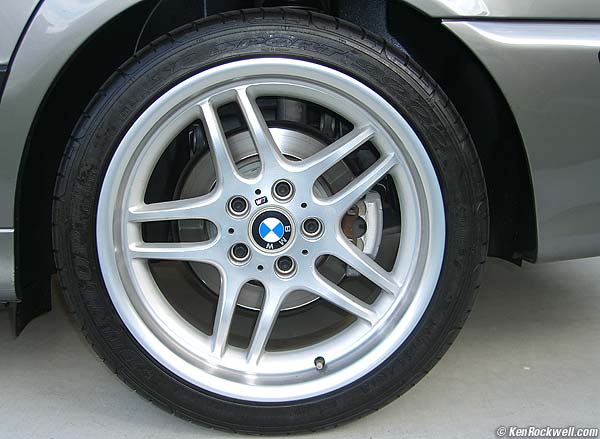 Rear Wheel
M-Sport Parallel Spoke Style 37 Forged Alloy Wheels, raised surface polished. 9 x 18 rear, 8 x 18 front. Unique for 2003. I believe the hub centers are 1.5mm larger than any other recent BMW. You can wipe these off quickly with a rag, even between the few spokes. The older 15-fin versions took forever to hand wipe or wax. These genuine BMW forged wheels are far stronger than imitation aftermarket cast wheels. Cast means limp molten alloy is simply poured in a mold the same way as a cheap toy. Forged means the metal is forced into shape under great pressure, just as tools are made. These wheels also work on the 7 series from 1994.
235/40R18 Front and 265/35R18 Rear Performance Tires. Unique for 2003. These tires are only 3" tall but 10" wide.
12-Way Power Memory Sports Seats The sport seats are perfect, for my butt anyway. You can identify the sport seats by the adjustable leg rest. This is missing on the standard seats that come without the sport package.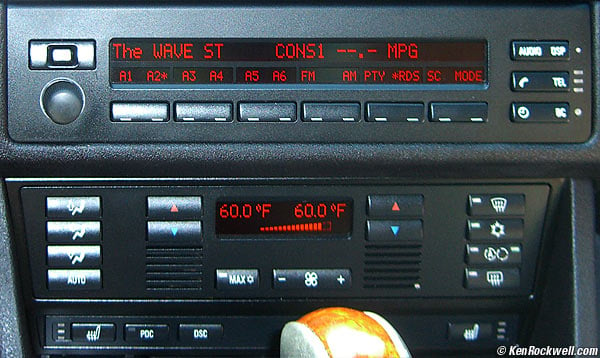 Spotters Guide: DSP button on upper far right is the only visible clue to the $1,200 audio option. Heated seat buttons on bottom right and left are the $600 cold weather package. PDC button, bottom left, is $700 Park Distance Control option. Everything else is standard on this console.
Super Premium Hi-Fi system ($1,200): This is the difference between an awesome hi-fi system and a radio. It includes 12 good speakers: two three-way tri-amplified speakers in front, two two-way bi-amplified speakers in the rear and two individually amplified rear subwoofers. It also includes digital sound processing, more power and better drivers than the standard radio. It sounds great!
The standard radio is fine for news and weather, especially in Germany where you turn off the music when you're driving. If you want to listen to music that sounds great then this option is for you. It also adds a silly echo chamber gimmick (DSP) I always leave turned off. BMW probably added the echo chamber because except for the "DSP" button on the radio there is no way to see that you got the premium sound. The difference is audibly obvious, especially in the bass, but otherwise the two look the same. You're paying for quality sound, not brand tie-in with Bose or Quad or JBL or whoever. There are no badges on the speaker grilles and no money wasted on brand awareness advertising.
There are three memory presets for DSP system settings. personally I can do without the echo chamber, whose size and regeneration level are programmable. THe clever use of the three memory positions for the DSP system is that they also each include memory settings for the multiband equalizer. Thus if you like to have different EQ settings you may recall them via the DSP memories.
The BMW premium hi-fi system has pleasantly neutral voicing, perfect for just about anything. It sounds great without any adjustment of the tone controls. The bass is solid and extended without the booming common to other brand premium systems designed to impress on a three-minute test drive. The BMW sounds great for hours; the more you listen the more you appreciate it's careful balance without all the boom. Each bass note is different and distinct; they don't all just resonate with the same monotonous boom that other systems do.
The antennas are all in the rear window along with the defroster elements . There is no power or whip antenna. This is great; there is no need to wait for a power antenna to crank up and down, and no power antenna to have to fix in 20 years.
The FM radio appears to employ two antennas and two tuners for a diversity reception system. This means that there really are two radios running at the same time. The system continuously always selects the strongest signal instant by instant, which means you don't get much problem from multipath reception. In the old days you may remember stopping the car at a light and just losing a weak signal, and having to inch forward or back to get back the signal. Not anymore; the 540i's system automatically picks the strongest signal from the two tuners so you'll never have an FM signal fading in and out.
The system has 12 discreet channels of amplification, one for each driver. It uses special equalization and active crossovers for each and every speaker driver. See also here, here, here and here. There are connections to dual voice coils in the subwoofers; I'm unsure if these are simply for more power at 12V or if they are negative feedback. If you're curious, reverse the connection to one of the two voice coils and see what happens: if you get no sound then they were just power, if it goes berserk and blows up it was distortion cancellation. Let me know. There also are dual coils in some of the other speakers used for the phone amnd Park Distance Control.
The system has reasonably low stored energy. This means it sounds clear and not muddied. Cheap systems use crappy drivers and sloppy insulation and enclosures and leave a lot of mutilated sound energy running around. This energy, which comes from the back of the speakers, winds up leaking out eventually and muddying up the direct sound. Some of this mung energy in crappy systems comes from sound energy bouncing around inside paper cones as well. The premium system uses good drivers and enclosure design so all you hear is the direct sound and not all the crud.
Front (all in the door):
1" dome tweeters
2" midranges
5-1/4" midbasses.
Crossovers at 1.25k and 8k. The front speakers aren't driven below 80 Hz.
Rear:
1-1/4" dome tweeters in the rear doors
5-1/4" midbasses in the back deck
5-1/4" subwoofers in plastic Nokia bandpass enclosure below the back deck.
Crossovers: Beats me. The subwoofer is cut off at 12 dB/octave above 40 Hz presumably to prevent boominess due to the bandpass enclosure's gain, This is a very clever way to get great efficiency in the mid bass range with low distortion.
PDC Park Distance Control Ultrasonic Parking Sensors ($700): This is a musical device that beeps as you get closer to things in front or in back of the car. It turns on automatically when you go into reverse and turns off after you've gone 160 feet or go faster than 25 MPH. You can turn it on and off manually. The user's manual cautions to keep power washers at least 10" away when cleaning the car. I'm still learning it. It won't see low curbs so look out with the lowered 540i sport.
Cold Weather Package ($600): Adds heated front seats and headlight washers. This is great for my convertibles, but I'm unsure why I got it here in sunny Southern California. I suspect this car is a death trap in the snow; there is no winter setting on the transmission to keep you from throwing out the rear most of the time.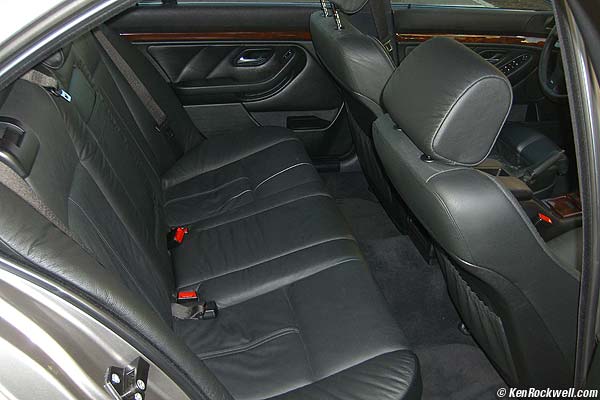 Folding Rear Seats: Latch on upper left.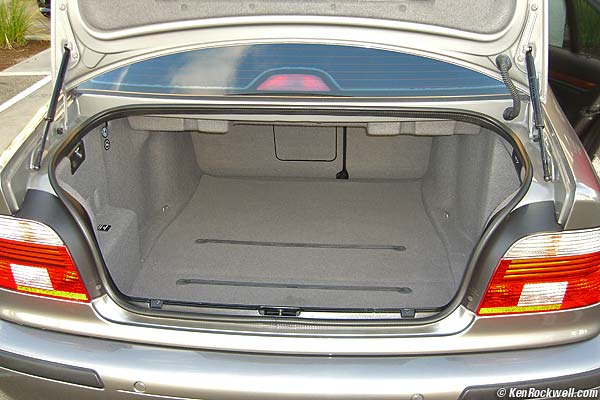 Trunk. Optional ski pass-through on folding rear seats, and premium hi-fi woofer below rear deck.
Split Folding Rear Seats and Ski Bag ($475). I kid you not: the rear seats fold forward so you can jam all sorts of things in the trunk. Another benefit is you can get to things in the back of the trunk without having to unpack everything! An American friend also noted if you drink and drive or carry loaded weapons that if stopped for questioning you can throw the contraband in the trunk where it's legal without having to get out of the car! I wouldn't know, even though I'm personally part Bavarian (the B in BMW and the inventors of the Oktoberfest) I don't drink.
Gas Guzzler Tax: A relic of America's more timid times, the US Government still imposes the idiotic and obsolete gas guzzler fine of $1,000 for the sport version. The sport model is designed for performance without regards to fuel economy, thank God; that's why BMW makes Diesels for Germany. The regular, non-sport 540i gets better fuel economy and isn't subject to this fine. This is why I caution that the 540 sport is for the kind of people who appreciate blown hot rods and not for people who need it to commute to work.
6-Disc CD Changer ($1,100): This is mounted in the trunk. It prevents you from having to jockey disks from and to the dash-mounted player while you drive. With this 6 disc changer you have seven discs on tap, since of course you have a seventh disc in the dash.
Unlike my Mercedes, the CD changer is so smart that it automatically knows which of the six positions have a CD and which are empty. Instead of lighting all six CD buttons on the dash it only lights the buttons which actually have a CD loaded. Clever!
OPTIONS TO AVOID
Obsolete GPS Navigation system ($1,800). These old car-mounted GPSs are as obsolete as the old car phones. Hand-held GPSs like this one have replaced car-mounted units as of 2004. Hand-held GPSs that do street-by-street and turn-by-turn navigation are so new that few people know about them yet. Just like pocket cell phones, these pocket GPSs come with you into whatever you drive (or bike or walk or jet ski) and are of course already programmed with your same personal favorite places when you take them from vehicle to vehicle. More here about them. I paid $500 for my pocket GPS complete with maps for the entire USA, and it's also programmed with just about every museum, dry cleaners, gas station, restaurant etc. and can do things like let you search by name (BMW dealer) or category (Mexican restaurant) and give you lists of them by distance, with phone numbers and addresses as well. Why pay more to get less in a car-mounted dinosaur? Even worse, the GPS system also absorbs the radio and computer controls so it's much more difficult to work the radio or trip computers without taking your eyes from the road.
Comfort Seats ($1,200): These big seats are standard in the 7-series. They add a pivot adjustment in the middle of the seat back! Of course this adjustment is unnecessary unless you have a very peculiar back. The comfort seats are designed for fat butts. Forget them for a sports car since they lack side support. The sport seats that come standard with the sport package are superbly comfortable and finished ion the softest leather you'd dare have in a car, presuming you have an athletic body yourself. Fat butts will overflow from the sports seats. Of course this is very personal; go sit in them yourself and see. No one can tell you what's comfortable for you.
OTHER OPTIONS YOU DON'T WANT OR CAN'T GET
Rear Sunshades: ($575) What? These are little rolled up black scrims you can pull out of the rear doors and clip so they cut down the direct light. The rear window has a motorized scrim controlled from the dash. I've never figured out why people like these, so I didn't order them. My wife loves them, however, but given tinted windows she's just as happy.
Heated Steering Wheel ($150) This is only available on the crappier, standard wheel of the non-sport 540. You can't get this with the far better sport package's M Sport steering wheel. Honestly, if I drove in winter the sport 540 is not the car to get anyway; I'd want all wheel drive.
Lumbar Support for Front Seats ($400) Only available on the regular, non-sport seats that only come on the base model 540. They're not available on the sports seats that come in the sport version. They are standard on the comfort seats you don't want.
Rear Door Side Impact Airbags ($385) All 540s already have rear head protection airbags, standard. That's the HPS logo (Head Protection System) on the inside C-pillar. Additional rear door side airbags would be a great option if you never carried children. If you do carry children these door bags could kill them. I've seen many cars with this option only to see red stickers in the door jambs pointing out that these bags have been disabled at the request of the customer.
Self Leveling Suspension. Only available on the 540 station wagon, on which it's standard.
WINDOW STICKER FOR AN OPTIMALLY CONFIGURED 2003 540i
see an actual original factory sticker here.
| | |
| --- | --- |
| 2003 BMW 540i Sedan | $ 51,800 |
| Sport Package | $ 4,100 |
| Premium Hi-Fi | $ 1,200 |
| Parking Distance Control, Front and Rear | $ 700 |
| Cold Weather Package | $ 600 |
| Fold-down rear seats | $ 475 |
| Gas Guzzler Tax | $ 1,000 |
| Destination Charge | $ 695 |
| | |
| SUBTOTAL | $ 60,570 |
| | |
| Dealer Installed Options: 6 CD changer | $ 1,100 |
| | |
| TOTAL | $ 61,670 |
Next Page: Factory Window Sticker for an optimally configured 540i Sport
or Previous Page: BMW 540 Standard Features