2003 BMW 5-Series Models
back to BMW 540i page
back to page index
BMW 5-Series Six Cylinder and Diesel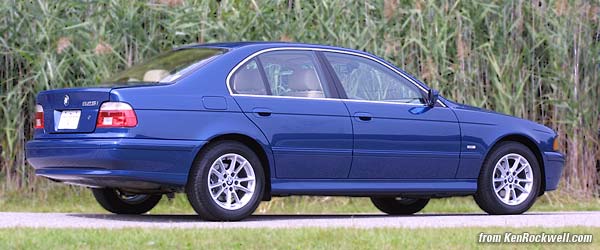 2003 BMW 525i sedan (press photo)
Most BMW 5-Series are ordinary six-cylinder 530, 528, 525 and European 520, 523, 535 and 520d, 525d, 525tds and 530d (Diesel) models not covered here.
Note that without a sport package the 5-Series shown above rides higher, has smaller wheels and has chrome, not black, trim around the windows.
I'm tempted to get a European 520 badge to replace my 540 trunk badge except that they are glued on. I prefer a low profile. In Germany they are quite happy with a 115 hp, 2.0 litre 6-cylinder engine for the Autobahn. In the USA we aren't happy with anything less than a V8 of double the displacement and three times the horsepower.
535i V8 for Europe
In Europe there's the 535i V8 which makes 245 hp. It only made 235 hp from 1996 to 1998. The 535 comes only as a sedan, not a wagon.
Station Wagons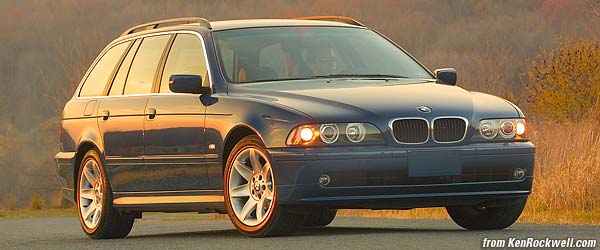 2003 BMW 525iT Station Wagon (press photo)
BMW calls their station wagons "sport wagons." The "T" in the model name stands for "Touring."
They are as much fun to drive as their cars, whichs makes them more fun to drive than almost any other car and certainly any SUV.
The 5-Series station wagon comes as the 6 cylinder 525iT and the monster V8 540iT Touring.
Every 540 wagon comes with the sport package. Compared to the 540i car, the wagon weighs 250 pounds more, sucks even more gas (15/21 MPG EPA) and has a thinner sounding premium hi-fi since there's no trunk to use for woofer Vab.
The wagons haul a ton of stuff fast, and have specially designed rear suspensions that eliminate the traditional suspension towers that intrude into other wagons' hauling space. The made-in-Germany 540 wagon is faster, safer, more fuel efficient, has more storage and better-handing and is far more fun than the made-in-South-Carolina X5.
Laugh all you want. While the guys with the sedans are telling all their car buddies what studs they are, the guys with station wagons in Germany are getting all the real action. Click around here to see all the girls hot for this guy's wheels.
Diesel Wagons
Sorry, only available in practical Germany. You can see one here.
M5

2003 BMW M5 (press photo)
The M5 is the car to get for fun, presuming you have no wimpy wife demanding an automatic transmission. The M5 only comes with a six-speed manual. It has the same 3.15 axle ratio as the 540 sport and the gears are 4.23, 2.53, 1.67, 1.23, 1.00 and 0.83 : 1. The M5 looks almost identical to the 540 sport.
The M5 is the 540 sport with a somewhat hotter motor (368 ft-lbs. torque vs. 324) and only comes with a standard transmission. The M5 also adds many pimp accessories like nipply-pimply leather seats and macho-man black or heavy-metal headbanger interior trim to replace the wood. The M5 even has an imitation suede headliner. The good news is that the M5, unlike Mercedes AMG, can also be ordered in the more sedate colors I'd prefer, like white paint and tan interior with wood. I've never seen one of those; everyone who orders one seems to want the Knight Rider or Darth Vader looks like every other high school kid.
The M5 weighs over 200 pounds more than the automatic 540 sport. The M5 is nice and includes every option, including the obsolete, clumsy satellite navigation system. The M5 is too fast: my friend Carlo had one and tweaked the software to allow him to run at 180 MPH (290 kph) on Texas' freeways. After three tickets he got rid of it. It's too fast to enjoy driving at legal speeds. The M5 has two 10' free air woofers instead of the premium sound's dual bandpass woofers. Carlo, who also owned other 5-Series, said he didn't hear any difference between the premium and M5 systems' audio.
Next Page: History of the BMW 5-Series
or Previous Page: Certified Pre-Owned