Home Donate New Search Gallery Reviews How-To Books Links Workshops About Contact
Canon 430EX II
Speedlite Flash (2008-today)
© KenRockwell.com. All rights reserved.
Intro Compatibility Specs Performance
Compared Usage Recommendations More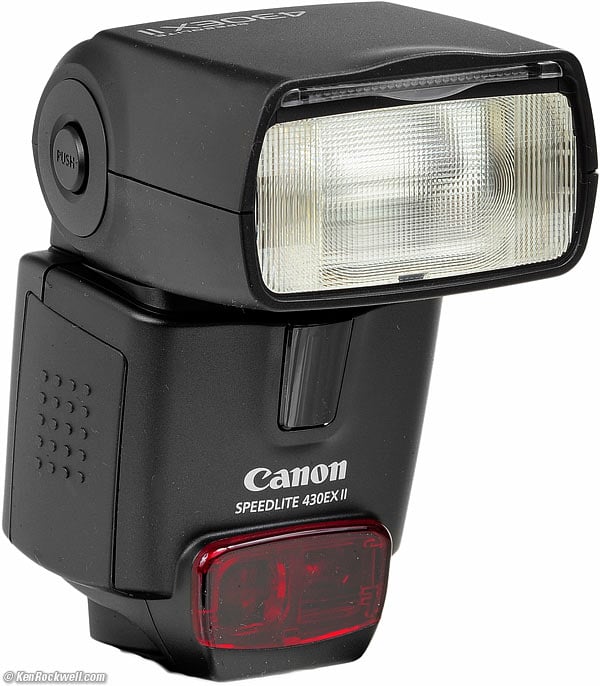 Canon 430EX II (14.8 oz./420g with 4-AA eneloop cells, 1.8 second measured recycle time, measured ISO 100 guide number of 24 meters/80 feet at 35mm, rated guide number 31m/102' at 35mm, 24-105mm zoom head with 14mm wide panel, about $200 new or about $175 used if you know How to Win at eBay).
I got mine at Adorama; I'd also get it at Amazon or at B&H.
This ad-free website's biggest source of support is when you use those or any of these links to approved sources, when you get anything, regardless of the country in which you live. It helps me keep adding to this free website when you get anything through these links — but I receive nothing for my efforts if you take the chance of buying elsewhere. Canon does not seal its boxes, so never buy at retail or any other source not on my personally approved list since you'll have no way of knowing if you're missing accessories, getting a defective, damaged, returned, store demo or used flash. Buy only from the approved sources I use myself for the best prices, service, return policies and selection. Thanks for helping me help you! Ken.
July 2015 Canon Reviews Canon Flash Canon Lenses All Reviews
NEW: Canon 430EX III RT Adds radio control and a catchlight card for $100 more.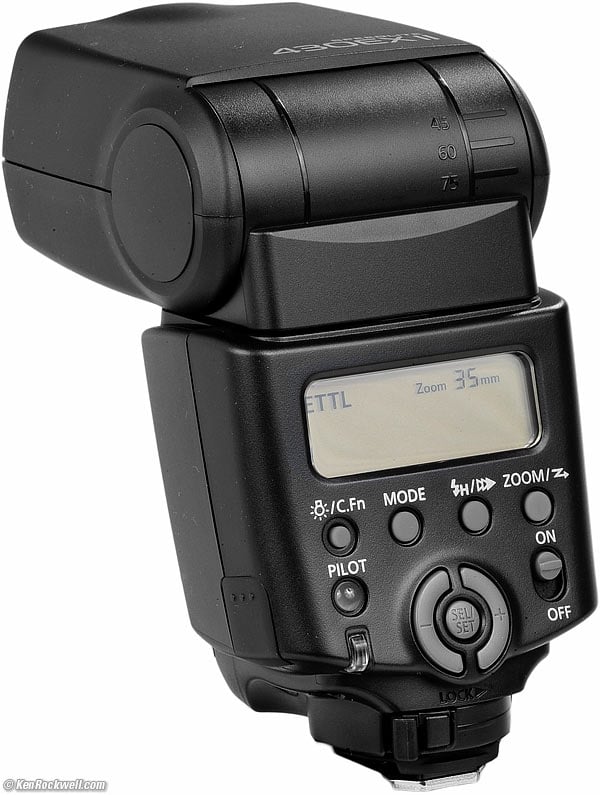 Rear, Canon 430EX II.
Introduction top
Intro Compatibility Specs Performance
Compared Usage Recommendations More
The Canon 430EX II flash is Canon's best mid-sized flash for when you're using a flash all day long for sports, portrait and wedding work. It excels because it's loaded with power and recycles silently and almost immediately, even at full power.
The 430EX II also excels at ease of use, with a real power switch, dedicated control buttons, an easy-to-read custom LCD display and a built-in infrared autofocus illuminator.
You can pay much more for the 600EX-RT, but all you get is more weight, a much more difficult-to-read LCD and a convoluted menu structure — not for me!
Flash exposure is controlled by the camera. Different flashes will give the same results, with the only difference being if they have enough power and if they are ready to shoot fast enough.
The only reason not to use the 430EX II is if it's too big, in which case I prefer my old Canon 220EX.
Good
Loads of power.
Easy-to-use dedicated controls.
Easy-to-read rear LCD.
Super-fast and silent recycling. You can just keep shooting and the 430EX II keeps blasting out the power with no waiting.
Missing
No built-in bounce card.
No "A" mode for use with ancient non-TTL cameras.
Extra Features
Flip-down diffuser panel for 14mm lenses on full-frame or 9mm lenses on APS-C.
Manual power mode.
Wireless control; comes with a little foot to let it sit on a table.
Compatibility top
Intro Compatibility Specs Performance
Compared Usage Recommendations More
It works on all Canon EOS cameras, digital and even Canon's very first EOS cameras from 1987.
I tried it on my 5D Mark III and my EOS 650 (Canon's first EOS camera from 1987), and everything that matters works great!
Wireless Features
Used wirelessly with a camera that supports it, it gives TTL or manual exposure, flash exposure compensation, rear sync and repeating flash.
On old 35mm EOS cameras
Everything works great on current 35mm cameras like the EOS 1V.
On the earliest 35mm EOS cameras from the 1980s, TTL and manual exposure and rear sync work great, but the shoe lock, FEL (flash exposure lock) and HSS (high-speed-sync) weren't invented yet, so these features won't magically start working.
Even on my 1987 EOS 650, TTL (through-the-lens) exposure, data communication and the green exposure OK light all work great.
With the 1987 EOS 650, the 430EX II's computer display cheerfully calculates and displays the maximum flash distance as the camera automatically sets the aperture! No problems here with any EOS camera.
Even with the camera turned off, slipped onto my 1987 EOS 650 the 430EX II automatically zoomed to the 50mm lens that I had on it!
On manual-focus 35mm cameras
I didn't try it on any manual focus cameras like the AE-1 or T90; let's not push our luck (It might work TTL on the T90, I don't know).
For these cameras, you can get used flashes from 25 years ago better dedicated to these cameras for much less money.
Type A or B cameras and Flash Metering Modes 1, 2 and 3
Canon has never told us precisely and exactly which cameras are A or B or which uses Metering Modes 1, 2, or 3, so don't worry about it. See more at Canon.
On older (type B 35mm) cameras, you'll lose some fluff features like FE Lock and High-Speed sync. No worries, everything you need like TTL exposure works great on any EOS camera.
Specifications top
Intro Compatibility Specs Performance
Compared Usage Recommendations More
Power (rated, ISO 100)
Zoom Setting
Full-frame (APS-C equiv.)

Rated GN,
Meters

Rated GN,
Feet

14mm (9mm)

11

36

24mm (15mm)

25

82

28mm (17mm)

27

89

35mm (22mm)

31

102

50mm (31mm)

34

112

70mm (43mm)

37

121

80mm (50mm)

40

131

105mm (65mm)

43

141
Recycling Time (rated)
3 seconds with alkaline cells.
Full-Power Flashes (rated)
200 with alkaline cells.
Zoom Head
24-105mm with 14mm flip-down diffuser.
Smart enough to recognize cropped digital cameras and set itself accordingly.
Bounce
0º to 90º up.
No downward bounce.
-180º left to to +90º right horizontal.
AF Illuminator
Yes, infra-red.
Two beams: one for the center AF area, and another to light the side AF areas.
Wireless Control
Optical transmission system.
Works as slave only.
4 channels (1, 2, 3 and 4).
3 IDs (A, B or C).
Size
2.8 x 4.8 x 4.0 inches, WHD.
72 x 122 x 101 millimeters, WHD.
Weight
14.800 oz. (419.7g) actual measured with 4-AA eneloop cells. Alkaline weigh the same, lithium cells weigh less.
11.150 oz. (316.1g) empty.
Canon specifies 11.6 oz. (330g) empty.
Announced
10 June 2008.
Quality
MADE IN CHINA: flash, stand and case.
Includes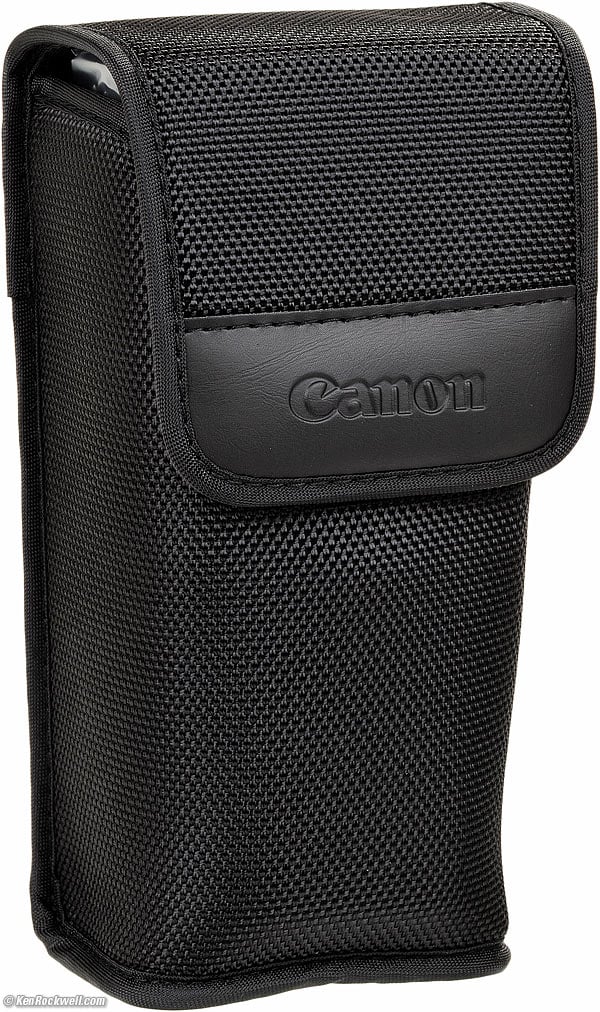 Case, Canon 430EX II.
Flash.
Padded nylon velcro-closing case.
Little table stand.
Price
July 2015: about $200 new or about $175 used.
February 2014: about $270 new or about $200 used.
November 2013: about $300 new or about $200 used.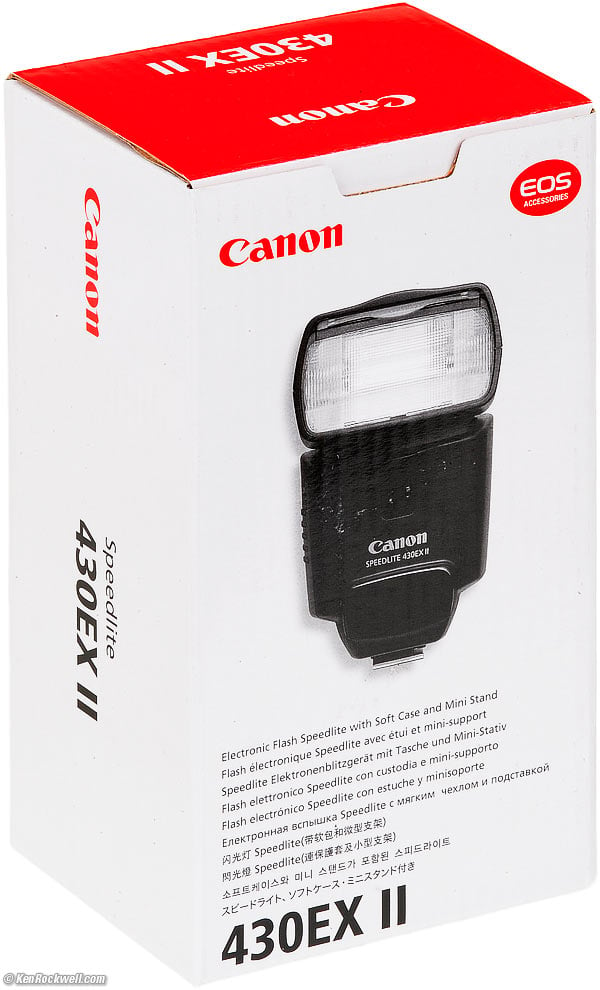 Box, Canon 430EX II.
Performance top
Intro Compatibility Specs Performance
Compared Usage Recommendations More
Power (actual measured ISO 100 guide numbers)
Zoom Setting
Full-frame (APS-C equiv.)

GN,
Meters

GN,
Feet

14mm (9mm)

15

48

24mm (15mm)

22

71

35mm (22mm)

24

80

50mm (31mm)

27

90

105mm (65mm)

34

110
This is pretty good, it's only about 2/3 stop short of its rated power. Most flashes are one stop weaker than rated, so this is excellent performance.
It's got loads of power for fill flash photographing my kids at 1/200 at f/16 in daylight.
It makes a slightly audible "tick" when fired.
Recycling
I measure only 1.8 seconds from a full-power dump to ready light ON with a freshly charged set of eneloop cells. At 80% charge, it's only 2.4 seconds.
It charges silently; the inverter runs at a supersonic frequency.
After about 90 seconds it goes into standby, and wakes right up when you tap the shutter and wake up your camera again. The Pilot button will also wake the flash.
If it's been sleeping a while, it might take as long as 2.4 seconds to recharge again.
Ergonomics
The power switch is perfect: one finger flip and it's ON or OFF. Done!
The combined ready ("Pilot") light and test button are very good.
The unmarked green "Exposure OK" light just below the Pilot light is a bit too directional; it's less visible from the sides.
The 430EX II calculates and its LCD displays the maximum range for TTL exposure, up to 60 feet or 18 meters.
Since they are slightly inset, it might be more difficult to push the +, - and SET buttons.
It's a mystery and a pain to set flash exposure compensation. You have to press and hold SET, wait for a blinking +/- icon, and then press the left or right buttons to go up or down by thirds of a stop. It will be easier to set this from your camera if you can.
Ideally it needs a wheel or rocker buttons for setting exposure compensations directly.
Manual zoom is also a clumsy mystery. You have to tap the dual function ZOOM button, but don't hold it or you'll get into the wireless options instead. Once you've tapped the ZOOM button properly you see ZOOM blink, and then you use the + and - buttons to change it. It's clumsier because you can't go directly from 24mm or 105mm back to the other; you have to go all the way back up or down. The Auto Zoom setting is at the bottom below the 24mm setting.
The battery door and markings are excellent. It's easy to open and close and see what batteries go where in the dark.
The buttons are unlit, but the markings are clear.
The custom LCD is big, clear and well-lit, but the only way to light it is the button on the flash; pressing the camera's LIGHT button won't light the flash, and the flash's LIGHT button won't light your camera's LCD as Nikons do.
There are custom functions, but they are only numbers and therefore meaningless unless you have the Users Manual handy. You can set most of these from a DSLR in simple English in the camera's flash controls menu, but not if you're using a 35mm SLR.
The MODE button is easy.
High-Speed Flash (HSS or FP) is easy to set. Press the Bolt-H button, wait for the icon, and use Av or Tv mode on your camera. The LCD will calculate your maximum range, which is greatly reduced as you go to higher speeds.
You'll see a green exposure OK light below the red Pilot light if your auto exposure was OK.
AF Illuminator
The AF illuminator has two emitters: one for the center, and a second for the other AF areas.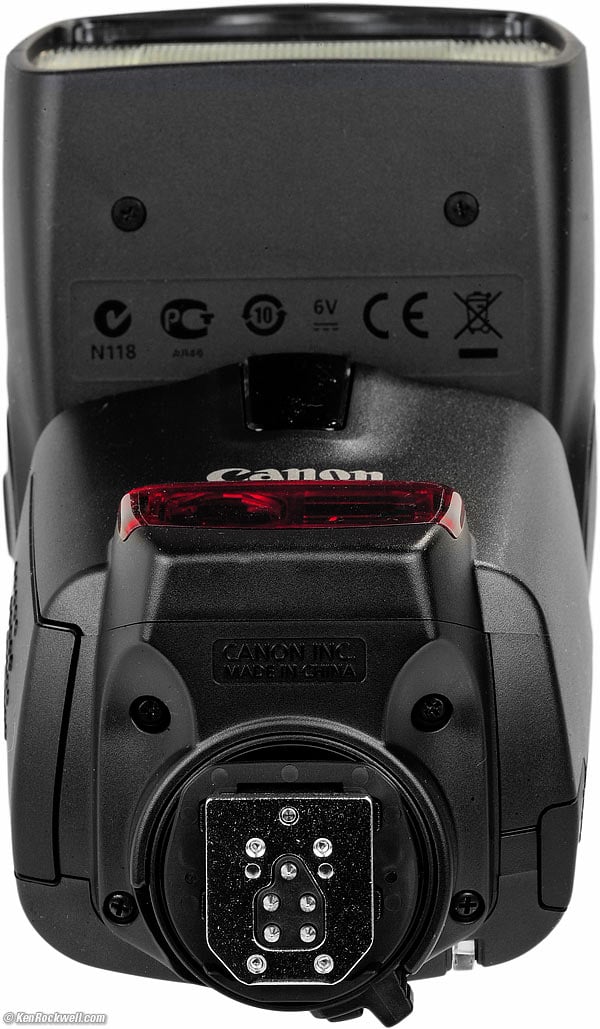 Bottom, Canon 430EX II. The shoe is silver, but reflecting the black of my studio here.
Compared top
Intro Compatibility Specs Performance
Compared Usage Recommendations More
600EX-RT
Today's 600EX-RT is a bigger, more complicated and more difficult to use flash. I don't want one, but if you're the sort of geek who gets excited by being able to update a flash's firmware yourself, it could be for you.
430EX (non-II, 2005-2008)
The older 430EX looks the same, but has different charging circuitry that leads to slightly longer recycling times and a plastic foot with an older locking system. The older 430EX also radiates more RF noise that's more likely to interfere with radio triggers, but for use as an optical slave, has a dedicated SLAVE switch instead of needing to piddle in menus as you now do with the 430EX II. Since one of the best things about the 430EX II are its ultra-fast recycling, I wouldn't bother with the original 430EX unless you prefer a real switch to get into slave mode.
420EX (2000-2005)
The older Canon 420EX has essentially the same size, wireless ability, zoom range, power and features of the original 430EX (which is pretty much the same as the 430EX II).
The 420EX has even simpler controls, no rear LCD, no 14mm diffuser panel and recycles a bit more slowly than the 430EX.
The 420EX is even easier to set up for wireless use, with dedicated pushbuttons to set wireless channel and to set group.
The 420EX is a screaming bargain at about $70 used, and a great choice if you want easy wireless setup and don't care about ultrafast recycling. My 420EX recycles in 4.8 seconds at full power, compared to 2 seconds with the 430EX II.
220EX (1996-2009)
For general use where I'm not shooting a wedding or portraits all day, I prefer a smaller flash like my Canon 220EX.
Usage top
Intro Compatibility Specs Performance
Compared Usage Recommendations More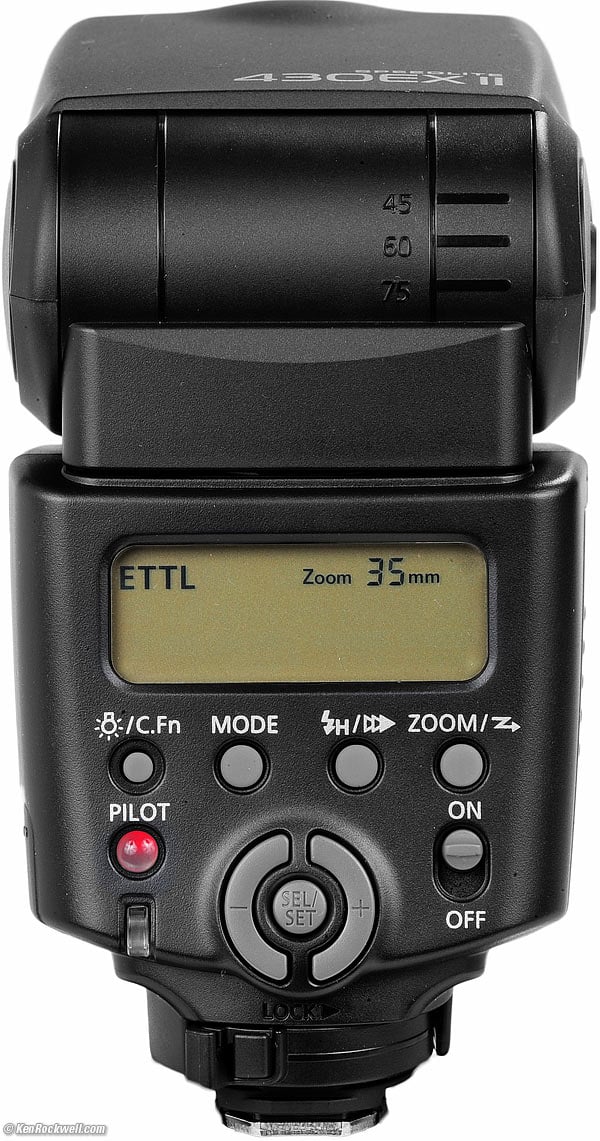 Back, Canon 430EX II.

Basic TTL Shooting

Just slide it on, flip the lock lever to the right, turn it on, and shoot.

The lock lever locks, too. To remove it, you have to push-in the little unlock pin so you can move the lever to the left to unlock the flash from the shoe.

It should read "TTL" on the top top left of the 430EX II's LCD. If not, press MODE until it does.

Everything else is handled automatically. If the flash it too dark or too light, you can change this with your camera's exposure compensation, or hold SEL/SET on the rear of the 430EX II.

The maximum flash range will show on the flash's rear LCD. This can be set to meter or to feet via the flash's CFNs or in a DSLR's Flash menu.

Flash Exposure Compensation

To set exposure compensation, you're better off if you can do it on your camera. To set it on the 430EX II, hold SET until you see the +/- icon and then press + and - to compensate in third stops. The on-flash setting overrides any setting made in-camera.

Flash Exposure Lock

For Flash Exposure lock, for instance if your subject is close and off to the side, put the subject in the middle and press FEL to lock it.

Manual Flash

In manual flash, the correct distance calculated for your ISO and aperture is shown on the LCD.

Test Firing

To test the flash, the camera's meter needs to be off. If the camera's meter is on, pressing the Pilot button won't do anything.

High Power Loads

If you use loads of power repetitively, the recycle time may be slowed deliberately to let the 430EX II cool. I've never had this happen.

Custom Functions

Custom Functions are best set in English the menus of a DSLR. If you set them on the flash alone, you'll need the manual to interpret which number function does what.

The manual says the CFNs reset if the batteries are out for more than 1 minute.

Hint: I leave them alone, but I set Fn 2 = 3 to disable the blinding "Modeling Flash" that fires the flash if you hit your camera's depth-of-field preview button.

Wireless Flash

If I want remote flash, I use inexpensive professional studio strobes, not these expensive little battery powered gizmos.

Even if you ever figure out how to use wireless strobes, they don't really have the power you want, and even if they did, it's nearly impossible to figure out how to get them positioned as you want them. A $400 set of studio strobes complete with umbrellas and stands is the way to go if you're setting up for portraits.

If you do want to fiddle with wireless strobes, you set everything (like repeating strobe or flash ratios or repeating flash) on the master flash on your camera, and all the slaves follow those commands. You can force any given slave to manual at the slave flash.

Recommendations top

Intro Compatibility Specs Performance

Compared Usage Recommendations More

Get this 430EX II flash for hard-core outdoor fill flash, sports and portrait work. Personally I prefer the smaller 220EX flash; this larger flash works a little more quickly and has a little more power, which means a little more range in daylight, but I don't want to carry it around my neck all day.

Use eneloop rechargeable batteries. They don't run down when you don't use them, and are loaded with power for fast recycling even if you haven't used your flash in months.

If you've found all the time, effort and expense I put into researching and sharing all this, my biggest source of support for this ad-free website is when you use any of these links to approved sources, especially these links to it at Adorama, at Amazon and at B&H when you get anything, regardless of the country in which you live. It helps me keep adding to this free website when you get anything through these links — but I receive nothing for my efforts if you take the chance of buying elsewhere.

Thanks for your support!

Ken.

More Information top

Intro Compatibility Specs Performance

Compared Usage Recommendations More

Canon USA's page on the 430EX II.

Canon 430EX II Users Manual, original PDF in English, French and Spanish.

Canon 430EX II Users Manual, scanned PDF in English only.

Help me help you top

I support my growing family through this website, as crazy as it might seem.

The biggest help is when you use any of these links when you get anything, regardless of the country in which you live. It costs you nothing, and is this site's, and thus my family's, biggest source of support. These places have the best prices and service, which is why I've used them since before this website existed. I recommend them all personally.

If you find this page as helpful as a book you might have had to buy or a workshop you may have had to take, feel free to help me continue helping everyone.

If you've gotten your gear through one of my links or helped otherwise, you're family. It's great people like you who allow me to keep adding to this site full-time. Thanks!

If you haven't helped yet, please do, and consider helping me with a gift of $5.00.

As this page is copyrighted and formally registered, it is unlawful to make copies, especially in the form of printouts for personal use. If you wish to make a printout for personal use, you are granted one-time permission only if you PayPal me $5.00 per printout or part thereof. Thank you!

Thanks for reading!

Mr. & Mrs. Ken Rockwell, Ryan and Katie.

Home Donate New Search Gallery Reviews How-To Books Links Workshops About Contact