Canon Service
© 2007 KenRockwell.com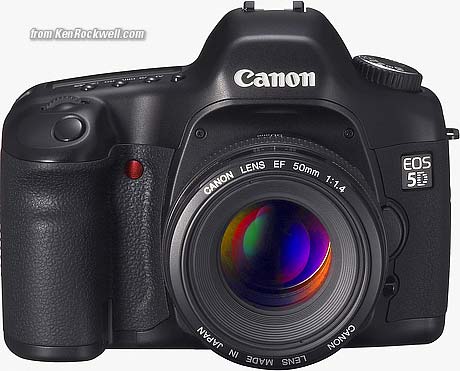 I get my goodies at Ritz, Amazon and Adorama. It helps me keep adding to this site when you get yours from those links, too.
September 2007
Introduction
How boring, but readers wanted to know what I thought of Canon service when I sent my 5D in for cleaning in September, 2007.
I had noticed a few dust specs, visible at f/11, and wanted to pay to have it cleaned properly.
Since I was nearing the end of my warranty period, I also figured it would be good to pay for a genuine Canon cleaning so they could check it all out.
I'm in the USA, so I phoned (800) OK-CANON and asked.
I was told it's best to go to Canon's website and register there. This way all my information is entered into their system, and I get the address of the service facility and a repair order number.
What Happened When
I registered online, packed up my 5D in a crummy old box and dropped it off for FedEx ground on Thursday, 20 September 2007.
FedEx emailed me a delivery confirmation the next day, Friday, the 21st. Canon is close enough to me that inexpensive FedEx Ground is next-day. I insured my 5D for $2,500 and the shipment only cost me $17.47, mostly for the stated value insurance. Without insurance it would have been about half that.
On Monday, 24 September 2007, Canon emailed me to let me know that they received it and would get working on it. That's the beauty of registering online: they knew what to do, so there was no silly waiting for approval of estimates. I was told the expected cost when I registered online and approved it then. Canon of course reserves the right to requote the job if they found saltwater dripping out of my 5D, but that didn't happen.
On Thursday afternoon, 27 September 2007, the FedEx guy brought back my 5D. Canon had sent it FedEx Express, which for me wasn't any faster than ground, but cost Canon a little extra.
What I Got
My 5D returned, in a nice cardboard shipping box instead of the used beater one in which I sent it.
For the life of me I couldn't find my second 4GB SanDisk Extreme IV CF card this past week, and thought that I may have been silly enough to have left it in my 5D. I was careful to remove the strap and battery so that there was nothing to lose at Canon. I went of my way stripping my 5D before I sent it, so I doubted my CF card was in it.
Lo and behold, my 5D returned with my CF card. I had just paid $240 for that card in January 2007. My card was even listed on the manifest, and I hadn't even realized the eye cup was removable.
So in what shape is my 5D?
As I expected, firmware was updated to 1.1.0.
The clock was still running after most of a week without a battery. The little lithium button cell kept it on time.
The menus had been reset to defaults, as I expected.
I set them back to (here's a listing I wrote as I updated them to my preferred settings; everything is left at default unless otherwise listed):
Quality: L normal (stair step, not 1/4 circle).
Beep: OFF!
Color Temp: 2,800K.
Picture Styles:
Portrait: -1 Contrast, +3 Saturation.
User 1: -2 Contrast, +3 Saturation.
User 2: +3 Saturation (my default).
User 3: +4 Saturation.
Shoot w/o card: OFF!
Review Time: 8s.
AF Points: Display.
Histogram: RGB.
Custom Functions:
01: 2: SET button: CHANGE PICTURE STYLE.
08: ISO Expansion: ON.
16: Safety Shift: ENABLE.
Not as expected, the settings of my C dial position, which I keep set to the manual setting I use in the studio with my strobes, was as I left it. The funny thing about this C position is that it recalls everything from when it was set, including all the Picture Styles (contrast and saturation settings) and all the menu and custom function settings.
My file number had advanced from IMG_4327.jpg when I sent it to IMG_7131.jpg when it returned. That means someone in service used another CF card that ended in IMG_7130.jpg from the last time it was used in someone else's camera, so my camera then started to number from there. No problems, I reset this by renumbering a file on the CF card from my computer and letting the camera reset to it.
So was it cleaned?
YES! It's all clean. A zillion little pieces of dirt only visible at f/22 are all gone.
And what did it cost?
I got lucky: according to the guy I reached at (800) OK-CANON, so long as you don't overdo it, I got my camera cleaned for free under warranty. Not that they'll do that for everyone, but who knows; I don't know if I just got lucky or if most people will get the same.
Every situation will be different.
But don't they know me?
I doubt it.
I'm not even part of CPS (Canon Pro Services, a free club for pros to whom Canon then gives special attention) or Canon's Explorers of Light.
Canon's Public Relations dept. knows me, but they're in New York and I sent my camera to California for service.
I've had other good dealings with Canon service before. They issued a service advisory and replaced the sensor in my A70 for free, long after the warranty expired. I was going to chuck my A70, but Canon repaired it years after I bought it.
Recommendations back to top
This only strengthens my cautions against ever letting anyone other than factory service clean your camera.
Not only was the sensor cleaned and the firmware updated, they checked everything and also updated my firmware, all for FREE.
Beat that! Canon service rules.
PLUG
If this just saved you from paying some stranger to destroy your camera or if you find this as helpful as a book you might have had to buy or a workshop you may have had to take, feel free to help me continue helping everyone.
It also helps me keep adding to this site when you get your goodies through these links to Ritz, Amazon and Adorama. I use them and recommend them personally .
Thanks!
Ken
Caveat: The ads below come from a third party and I don't see or approve them. They are sent to your screen directly from a third party. They don't come from me or my site. See more at my Buying Advice page. Personally I get my goodies at Ritz, Amazon and Adorama.