Fuji S3 Review Test
© 2005 KenRockwell.com
about these reviews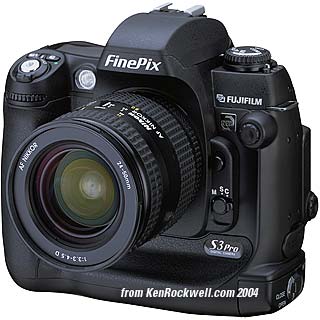 get it here
INTRODUCTION More Fuji Reviews More Reviews
This was introduced for real at PMA 2005 after it's first preview at PMA 2004. Its strength is its great dynamic range which promises to fix my chief complaint about digital capture, which is that even $8,000 DSLRs simply clip when any of the R, G or B channels overloads. This defect makes highlights look awful, shift color, and look completely unnatural, unlike film. Most digital cameras have this problem. The S3 has gone a long way to fix this problem by adding a shoulder to the highlight portion of the curve. There is a great technical page here showing this, especially if you click on the "detail" images.
The S3 retails for about $2,500, half the price of a D2X. The only bad news is the S3 is based on the obsolete Nikon D100, so it has poor flash sync of only 1/180 and the old d-TTL system which gave inconsistent results. Also the battery only lasts for a few hundred shots. If you plan to use a lot of fill flash or TTL flash skip this and get a D70s or D50 which have 1/500 sync and the far superior i-TTL flash control system. The S3's strength is for fixed applications like studios with manual strobes or landscapes on a tripod, not for journalism or where TTL flash is important.
I need to get one for a formal evaluation.
For now I'd suggest the S3 for diligent workers who want the best digital image out of this class of camera, and possibly even a better image due to the dynamic issues than the D2X. The S3 slower in almost every way than the D100 or D70s, so I suggest the D70s for most people, and the S3 for people shooting slowly in a studio or doing careful landscapes.
SPECIFICATIONS
CCD: Standard DX size: 23.0 x 15.5 mm (this is the standard CCD size for digital SLR cameras, it is smaller than the obsolete 35mm film format.)
Resolution: (well, actually image size) 4,256 x 2,848 pixels. Makes a 2.5 MB JPG at the normal setting. Also 2,304 x 1,536 and 1,440 x 960 settings.
Formats: JPG and RAW. JPGs come in NORMAL and FINE. RAW comes in two sizes depending on the dynamic range selected.
ISO 100 - 1,600
Lenses: Nikon mount.
Shutter: B, 30 sec. to 1/4,000.
Frame Rate: 2.5FPS; 1.4 FPS in wide dynamic range mode.
Buffer: 12/7 frames JPG/RAW; 6/3 frames in wide dynamic range mode.
Flash Sync: 1/180, pretty bad. Pro DSLRS and even the D70s and D50 are 1/500. This is the maximum speed you may use any time the flash is on. More here.
Flash Control: Nikon's crummy old d-TTL, not Nikon's latest and far superior i-TTL. Sure, it works with the newest SB-600 and SB-800 flashes, but only because those flashes are backwards compatible with older cameras using the inconsistent d-TTL system.
Flash Sync Connection: Has a PC terminal for studio flash, an improvement over D100 and D70 but no big deal. There are lots of hot shoe adapters to give you a terminal on the D100 and D70 and wireless hot shoe mounted triggers are much better than PC cords anyway.
LCD: A very sharp and nice 2." It's so nice that images on a CF card from my D70 look a lot better played back on the S3 than they do on my D70! It has 235,000 dots compared to the D70, D70s and D50 which only have 130,000 dots. In addition to the B/W camera data display on the top there is a third B/W LCD on the back used for the camera's digital settings.
Data Ports: Has a firewire (IEEE 1394) connection for storage and shooting and a USB 2 connection just for storage. Personally I never use these; I just use a card reader.
Memory: Takes standard CF and microdrives, also xD.
Grip: The S3 is a big, solid metal camera. The lower part with the batteries is permanently attached. There is a vertical release.
Power: 4 - AA cells. 4 - Ni-MH and charger included. Only rated for a few hundred shots per charge, compared to the modern Nikon D70/D70s/D50/D2H/D2x which give a thousand or more shots per charge.
Size: 5.8 x 5.3 x 3.1" ( 148 x 135 x 78 mm)
Weight: 29 oz. ( 815 g ) without battery or lens.
PERFORMANCE
Quite good. Even at the 12MP setting it looks great at 100%.
It's easy to use and feels far more solid than any of the D100/D70/D50 series Nikons. It has a nice thumbrest for one-handed shooting.
I like the F2 "Velvia" image setting.
I need to get an S3 for a real test; I have not yet spent much time with it.
SUMMARY & FINAL SUGGESTIONS
This camera is for careful, slow workers either on tripods or in a studio. It most likely gives spectacular results even compared to a D2X because of its ability to have a proper filmlike shoulder and not a nasty video look for highlights like most every other digital camera.
For fast use, journalism, TTL flash or light weight I'd suggest the much newer D70, D70s or D50 cameras. For careful use where TTL or daylight flash isn't important I'd definitely give the S3 a long hard look.