Home New Search Gallery How-To Books Links Workshops About Contact
Nikon 180mm History
© 2008 KenRockwell.com

Nikon has made many, many different versions of 180mm f/2.8 lenses since 1970.
All of them, even the earliest non-ED versions, have superb optical performance and work marvelously with today's D700 and D3 full-frame cameras.
I'm listing the ancient 18cm (180mm) f/2.5 lens for Nikon's rangefinder cameras and Nikon's 180mm f/5.6 lens for large format cameras in the table for the sake of completeness, but I'm not covering those here.
Overview
Lens

Dates

Optics
El/Grp

Close Focus

Filter

Hood

Weight

18cm f/2.5
(rangefinder cameras)

1953-1964

6/4

7' (2.1m)

82mm

AN-82
screw-in

heavy

1970s-2000s

6/4

n/a

67mm

none

380g

180mm f/2.8
(manual focus)

1970-1981

5/4

6' (1.8m)

72mm

built-in

880g

180mm ED AI-s
(manual focus)

1981-2006

5/5

6' (1.8m)

72mm

built-in

800g

1986-1987

8/6

5' (1.5m)

72mm

built-in

735g

1988-1993

8/6

5' (1.5m)

72mm

built-in

750g

1993-today

8/6

5' (1.5m)

72mm

built-in

765g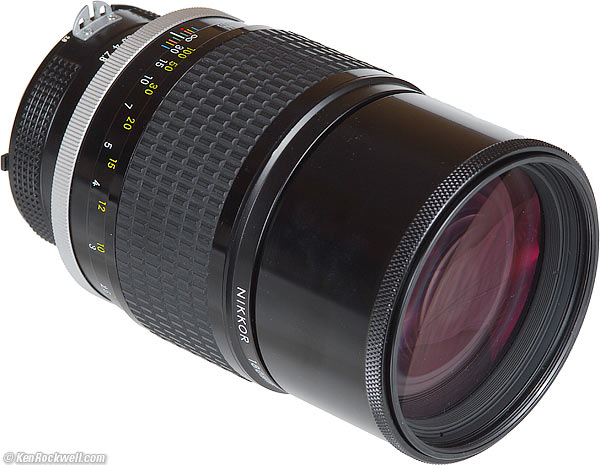 Nikon 180mm f/2.8 AI (1977-1981). enlarge.
This first modern 180mm lens was manual focus and came in several different cosmetic versions.
The earliest was non-AI (manual indexing). This photo is of a later AI version, made from 1977-1981.
There were further cosmetic variations in the period 1977-1981, and as always, Roland Vink's authoriatative info documents this the best.
As far as photography is concerened, all these variants use the same optics, and multicoating was added in 1975 with the Nikkor-P•C version. So long as your meter couples, they are all excellent.
1981-2006: 180mm f/2.8 ED AI-s. (full review).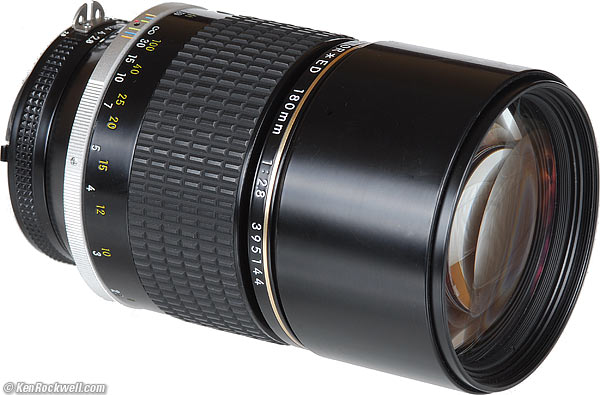 Nikon 180mm f/2.8 ED AI-s (1981-2006). enlarge.
One of Nikon's all-time great lenses is the manual focus 180mm f/2.8 ED AI-s.
It added ED glass to the previous version.
This manual focus ED version is so good that it was made for twenty years, alongside the AF versions.
1986-1987: 180mm f/2.8 AF. (full review).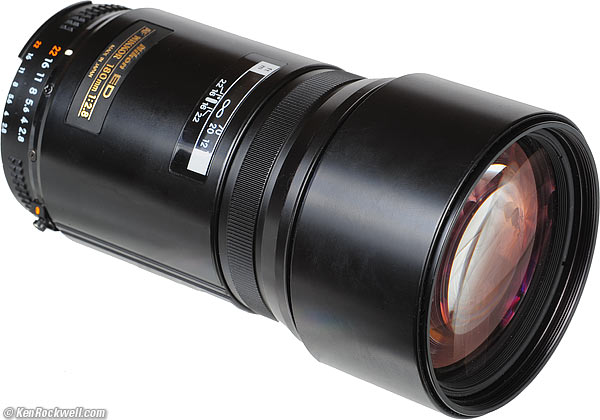 Nikon 180mm f/2.8 ED-IF AI-s AF (1986). enlarge.
Nikon's first autofocus 180mm f/2.8 was this plastic barreled version. This first 1986 version has a narrow plastic focus ring, which everyone hated. In 1987 Nikon quickly replaced it with a rubber ring (not shown), and otherwise it has the same plastic barrel.
The mount, built-in retractable hood and filter rings are all metal, only the outer sheathing is plastic to keep from freezing to your skin in cold weather.
This first AF version has long been forgotten, however it has exactly the same superb optics of today's AF-D version, and the same AF performance, too. Therefore this plastic-barreled version is the bargain of this lot. Its internals are all metal, and its optics use ED glass and use superlative internal focusing for exquisite sharpness at every distance.
This AF version is also perfectly compatible with manual focus cameras.
1988-1993: 180mm f/2.8 AF-n ("newer"). (full review).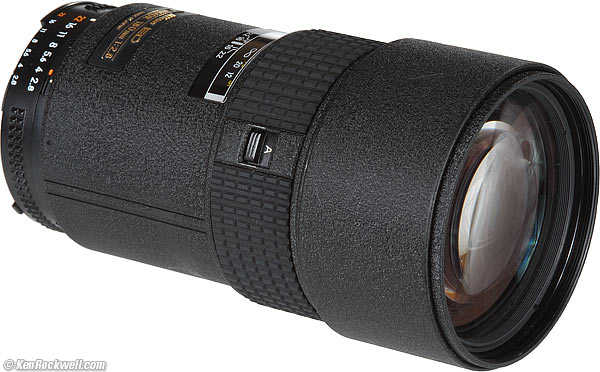 Nikon 180mm f/2.8 AF-n (1988-1993). enlarge.
Nikon shod the AF lens in metal sheathing, and created this much tougher looking version to impress the innocent.
There is also a much larger manual focus ring, and an A/M switch in the ring to select manual or auto focus. The catch is that you must move the switch on the lens, and you must also move the switch on the camera, every time you want to go between auto and manual focus. This baloney is why most pros switched to Canon around 1990.
1993-present: 180mm AF-D. (full review).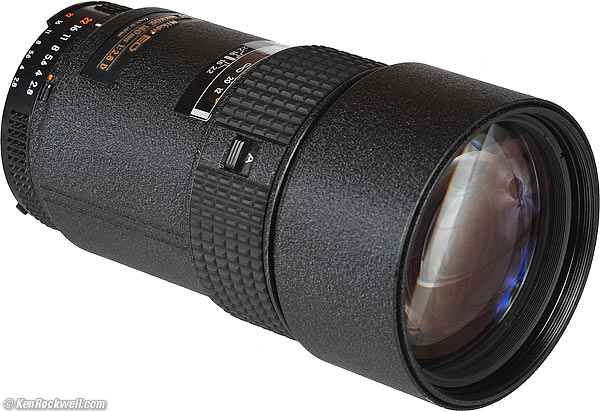 Nikon 180mm f/2.8 AF-D. enlarge.
The AF-n and AF-D versions look identical, with the exception of the "D" at the end of the model name in gold on the identity plate: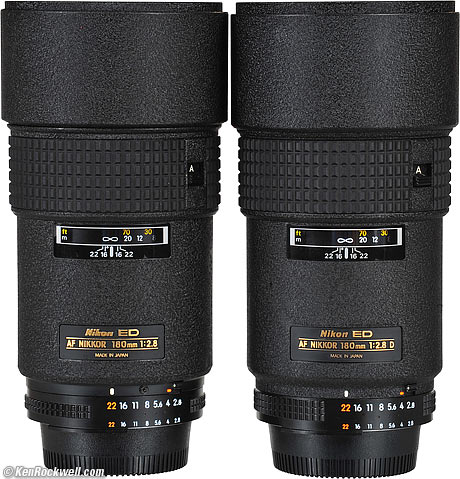 180mm AF-n and 180mm AF-D. enlarge.
The current AF-D version encodes and transmits distance information to the camera for added exposure accuracy, especially with flash.
Summary
They're all great.
For manual focus cameras, get the ED AI-s version, and for AF and digital cameras, get the first AF version if you're on a budget, otherwise, get the current AF-D version.
For a table of what features work and focus with what cameras, see Nikon Lens Compatibility.
PLUG
I support my growing family through this website.
If you find this as helpful as a book you might have had to buy or a workshop you may have had to take, feel free to help me continue helping everyone.
If you've gotten your gear through one of my links or helped otherwise, you're family. It's great people like you who allow me to keep adding to this site full-time. Thanks!
If you haven't helped yet, please do, and consider helping me with a gift of $5.00.
The biggest help is to use these links to Adorama, Amazon, B&H, Ritz, J&R and when you get your goodies. It costs you nothing and is a huge help to me. eBay is always a gamble, but all the other places have the best prices and service, which is why I've used them since before this website existed. I recommend them all personally.
Thanks for reading!
Ken
Home New Search Gallery How-To Books Links Workshops About Contact