Analysis top
Intro Images Analysis Technika Recommendations
Center
As expected, the exotic aspherical Nikon 58mm f/1.2 Noct-NIKKOR (1977-1997) is the best in the center wide-open, and the newest Nikon 50mm f/1.4 AF-S is almost as good.
Nikon's fastest current lens, the 50mm f/1.2 AI-s, isn't as good, and the 50mm f/1.4 AF is the worst.
As stopped down, the differences go away.
Corner
The newest 50mm f/1.4 AF-S is best.
The 50mm f/1.4 AF is next.
The 50mm f/1.2 AI-s is significantly worse, and the 58mm f/1.2 Noct-NIKKOR is dead last in a class by itself.
What? Isn't the whole point of the Noct-NIKKOR to give great corner sharpness wide-open?
Nope.
The whole point of the Noct is to keep brilliant point sources of light as point sources of light, which it does better than any of these lenses. In daylight with ordinary subjects, the Noct's design optimization makes it look much worse.
Why is this? The 58mm f/1.2 Noct-NIKKOR is designed to keep coma flare to a minimum, at the expense of lower corner resolution. If you look at the ray tracing diagrams, the Noct is designed to round up all the corner rays inside a small spot, so that when you get brilliant points of light in the corners, that none of the rays get outside a small area.
The small area into which the Noct herds all the rays is larger than the tiny areas into which the other lenses get 90% of their corner rays.
Here's the problem: even though ordinary lenses look better for ordinary subjects in the corners, the 10% of the rays that get out of that tiny spot are what lead to huge bat-wings or other blobs and flags of light that appear to grow out of brilliant points of light in the corners at large apertures.
The issue is that the brilliant points of light are bright enough to let us see the larger area over which the other 10% of the light from a normal lens wanders in the corners. That area where the errant 10% of the rays go is what raises havoc shooting brilliant points of light, and what the Noct addresses by ensuring that 100% of the rays make it to within a small, but not tiny, spot.
Therefore, if you're shooting brilliant points of light (or stars against a black sky), the Noct prevents them from becoming huge blobs against the dark, but when shooting normal subjects not against black backgrounds, conventional lenses seem crisper in the corners.
If you look closely at the conventional lens' corner images wide-open, you'll see a slight hint of diagonal blur caused by those 10% of the rays stepping out of their intended box, while there is no smearing with the Noct. The Noct may be softer, but it's not soft: contrast stays high, even with very contrasty subjects.
Here are the corners of the 50mm f/1.2 and the 58mm Noct at f/1.2, with bright light sources: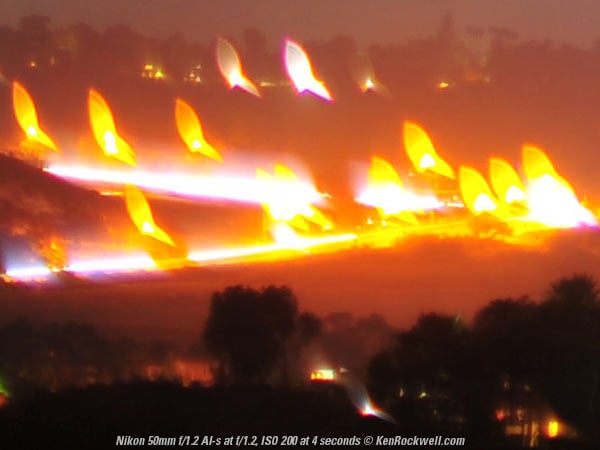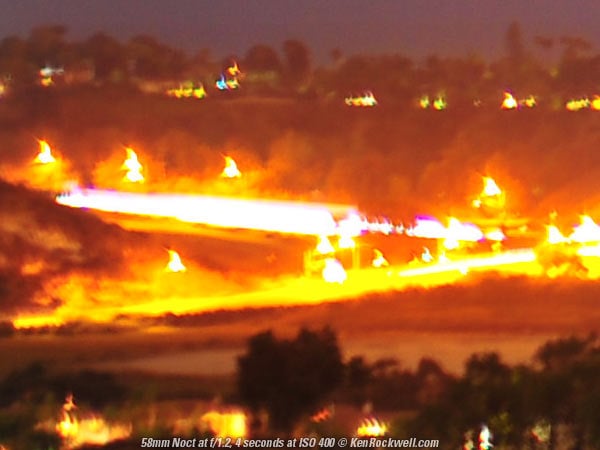 Now you see why the Noct is the Noct. In these examples, the Noct even had twice the exposure, and shows far less coma.
Technik top
Intro Images Analysis Technika Recommendations
Everything was shot on a 12MP full-frame Nikon D3.
I used a tripod not for sharpness, but to try to hold each camera in the same position from shot-to-shot to help these images stay in alignment to make nice, neat looking comparisons.
I equalized exposures so that all images look as bright as each other.
This is trivial in the center, but for the corners I sometimes had to use two stops more exposure at large apertures keep some lenses' corner images as bright as the rest.
Since the purpose here is to compare sharpness, I did this so we can compare sharpness equally. I address falloff at each lens' individual review.
At small apertures, there is little difference between these lenses in falloff.
Recommendations top
Intro Images Analysis Technika Recommendations
The newest Nikon 50mm f/1.4 AF-S is clearly the best overall for general photography.
Even though it has some coma wide-open, the newest 50/1.4 AF-S eclipses the Noct-NIKKOR for general photography.
If you're shooting at night where points of light need to remain as points and you need to shoot at large apertures, the 58mm f/1.2 Noct-NIKKOR remains undefeated. If you can stop down to f/2.8 or f/4, all the other lenses have no coma, either, and even the 50mm f/1.8 is sharper than the Noct in the corners.
Help me help you top
I support my growing family through this website, as crazy as it might seem.
The biggest help is when you use any of these links to Adorama, Amazon, B&H, eBay, Ritz, Calumet and J&R and when you get your goodies. It costs you nothing, and is this site's, and thus my family's, biggest source of support. eBay is always a gamble, but all the other places always have the best prices and service, which is why I've used them since before this website existed. I recommend them all personally.
If you find this page as helpful as a book you might have had to buy or a workshop you may have had to take, feel free to help me continue helping everyone.
If you've gotten your gear through one of my links or helped otherwise, you're family. It's great people like you who allow me to keep adding to this site full-time. Thanks!
If you haven't helped yet, please do, and consider helping me with a gift of $5.00.
As this page is copyrighted and formally registered, it is unlawful to make copies, especially in the form of printouts for personal use. If you wish to make a printout for personal use, you are granted one-time permission only if you PayPal me $5.00 per printout or part thereof. Thank you!
Thanks for reading!
Mr. & Mrs. Ken Rockwell, Ryan and Katie.
Home Donate New Search Gallery How-To Books Links Workshops About Contact