Nikon D200
Drop Test
© 2007 KenRockwell.com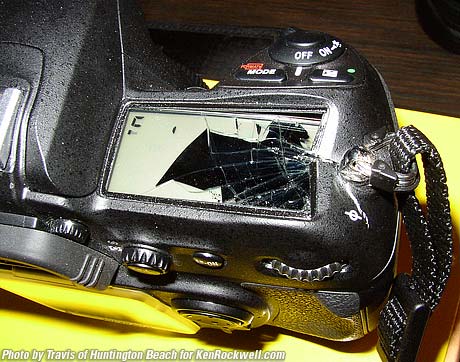 Drop-Tested Nikon D200. enlarge
I get my goodies at Ritz, Amazon and Adorama. It helps me keep adding to this site when you get yours from those links, too.
June 2007
So how tough is the Nikon D200? Inquiring minds want to know.
One valiant reader, Travis from Huntington Beach, California, decided to find out.
This what happens if a Nikon D200 fall 3-4 feet (1m) onto its strap lug on a city street.
Ouch!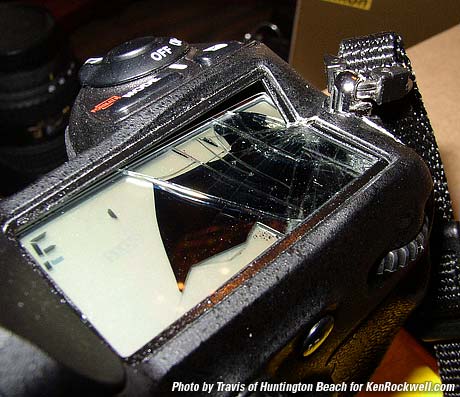 Drop-Tested Nikon D200. enlarge
The good news is his Tokina 12-24mm had just a few scratches on its hood, and otherwise everything is perfect.
More good news is that Nikon replaced the entire top cover and LCD, did basic maintenance (sensor cleaning and check etc.) and upgraded the firmware for only $285 in only two weeks.
I'd say this D200 passed with flying colors. Heck, I know a photographer who completely destroyed her brand new D2X by attempting to clean her sensor herself and left a tiny, and therefore fatal, scratch on her sensor.
If I saw this happen to my D200 I would have thought all was lost. It's encouraging to know that all this apparent damage can be fixed, and then some, for $285.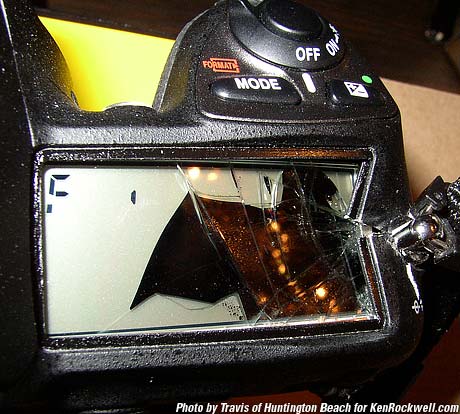 Drop-Tested Nikon D200. enlarge
Free Addition: D1X Drop Test
Another friend, humanitarian photojournalist Karl Grobl, dropped his D1X, SB-28DX flash and 17-35mm f/2.8 while covering the Danielle Van Dam murder case the day before leaving on a month-long photo assignment to Africa. It was so crocked that you could see daylight between the mount and lens! I tested it and it worked OK, so long as you stopped down to get the corners in focus, which he never does. My friend went off to earn a living for a month with this rig. He used the camera in Africa's dusty environment with a rubber band wrapped around the mount.
When he returned, I thought for sure he was dead and had bent the camera's frame, but even if he did, Nikon repaired his $5,000 D1X back to like new for $800, far less than a new D1X.
More Free Drop Tests: Humanitarian photojournalist Karl Grobl also dropped his Canon 1D and Canon 70-200mm f/2.8 IS off an elephant onto cobbelstones in India, and it still all worked perfectly as I reviewed for the lens! Karl's still off earning a living with that gear.
PLUG
If you find this as helpful as a book you might have had to buy or a workshop you may have had to take, feel free to help me continue helping everyone. Better, earmark it for Travis' repair fund and I'll forward it to him.
Thanks for reading!
Ken
Caveat: The all the ads below come from third parties. I don't see them before they appear on your screen. See more at my Buying Advice page. Personally I get my goodies at Ritz (the store, not the hotel gift shop), Amazon and Adorama.