TAMRON 11-18mm F/4.5-5.6 Test Review
© 2006 KenRockwell.com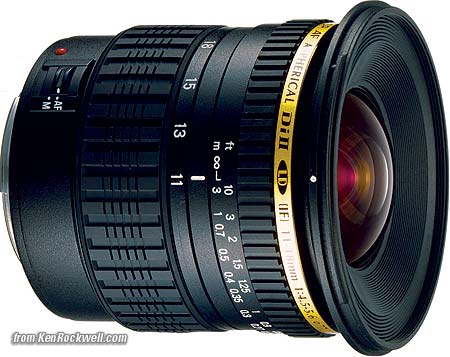 I'd get it here or here. It helps me publish this site when you get yours from those links, too.
INTRODUCTION
This lens calls itself the Tamron SP AF 11-18mm F/4.5-5.6 Di-II LD Aspherical (IF). It's one of three off-brand wide angle zooms available for digital SLRs. It sells for $550 here or here. The others are the Tokina 12 - 24 mm f/4, which is a stop faster, and the Sigma 10 - 20 mm. Both other off-brand lenses seem better built, have a broader zoom range and cost a little less, so obviously I'm looking forward to testing them since if their optics hold up they'd be better buys. I'd try the Tokina first.
As luck would have it, I got to use this Tamron before my other two picks. Sorry! No one sends me any of these lenses for free or anything. Unless I go buy something for myself I have to make do with whatever I can borrow. As luck has it I got to try this Tamron before the Tokina or Sigma. Personally I bought the Nikon 12 - 24 mm back in 2004 before any of these were available, so I won't be buying any of the off brands for myself. In this focal range the Canon 10 - 22 mm is my favorite.
These lenses only work on digital SLRs. Used on film cameras they will have black corners.
SPECIFICATIONS
Optics: 15 elements in 12 groups
Diaphragm: 7 blades, f/22 minimum
Angle of View (Diagonal): 103.5 – 75.5 degrees (Tamron's spec; I don't know for what camera)
Minimum Focus Distance: 9.8" (0.25m)
Maximum Reproduction Ratio: 1:8
Filter: 77mm
Size: 3.1 x 3.3 (78.6 x 83.2mm) length x diameter
Weight: 12.5 oz. (355g)
Mounts: Canon AF, Konica Minolta AF-D and Nikon AF-D
Hood: included.
Tamron's Part Number: A013
PERFORMANCE
Distortion is much better than expected, and focusing is unexpectedly slow.
Focusing
SLOW! One full turn of the AF screw only brings you in to 10 feet from infinity, meaning this is the slowest focusing wide lens I've ever used. The Nikon 18 - 35mm AF lens is five times as fast. Thank goodness wide lens focus speed isn't usually a problem, but if it was, it would be with this Tamron.
Distortion
The Tamron 11 - 18 has barrel distortion at the wide end. It lessens as you zoom in. It's easy to correct because it has a very simple first order shape. It's correctable in Photoshop CS2 with fewer artifacts than the Nikon 12 - 24 mm. The Canon 10 - 22 mm is still my favorite here.
Use the figures below and plug them into the right place explained on my page on fixing lens distortion. If you do that the distortion cancels completely.
11mm : Barrel, use +3.0 to correct.
14mm: Barrel, use +2.0 to correct.
18mm: Very little barrel, use +0.68 to correct.
I offer these figures as the results of lengthy research to help you get great results. Use them all you want for your photography, but because this research is copyrighted it is forbidden to make any other use without explicit permission.
Mechanics
It appears to be plastic, with metal mount and glass optics. Printed markings. Unknown internals.
RECOMMENDATIONS
I'm impressed by the easy to correct distortion, however with the highest price, slowest speed, dinkiest construction and smallest zoom range this Tamron would be my last choice among the three off-brands. I'd try the Tokina 12 - 24 mm f/4 first, which is a stop faster, and the Sigma 10 - 20 mm second. I think the Tokina and Sigma are also made with more metal than the Tamron.
To clarify, I have used this Tamron and it works very well save for the limited zoom range and slow focusing. I have not used the Tokina or Sigma yet, and I hope to as soon as I can get my hands on them. Note that with a maximum 18mm zoom range the longest this Tamron goes is only halfway up the range of a 12 - 24 mm lens.