Home Donate New Search Gallery Reviews How-To Books Links Workshops About Contact
Best Canon Lenses

This ad-free website's biggest source of support is when you use any of these links to my approved sources when you get anything, regardless of the country in which you live.
Canon does not seal its boxes, so never buy at retail or any other source not on my personally approved list since you'll have no way of knowing if you're missing accessories, getting a defective, dropped, damaged, returned, store demo or used lens. My approved sources ship from remote automated warehouses where no salespeople or lookie-loos can ever get their greasy fingers on your new lens or drop it before you do. Buy only from the approved sources I use myself for the best prices, service, return policies and selection. Thanks for helping me help you! Ken.
August 2015 Canon Reviews Canon Lenses Canon Flash All Reviews
Introduction
These are Canon's best lenses. Canon makes zillions of very good lenses. These are the best, they are what I own personally, and what I recommend to my friends who ask. These are honestly the only lenses you need.
These are full-frame lenses, which work on all Canon DSLRs, both full-frame and cropped-sensor, as well as all Canon autofocus 35mm cameras.
These are the best for Canon's full-frame cameras, and of course work on the cropped-sensor cameras.
I've also mentioned the best lenses for Canon's cropped-sensor cameras where you can save some money with the smaller EF-s lenses. EF-s lenses only work on the crop-sensor cameras, while full-frame lenses work on all Canon SLRs.
You never need or want to cover every millimeter when selecting zooms. Ideally you want to leave a gap of 50-100% from one to the next to avoid carrying too much. Never carry two lenses which duplicate anything or overlap. If I carry my 16-35, I'll bring a fixed 50mm and my telephoto. I won't carry my 16-35 and 24-70 at the same time because I'm duplicating the 24-35mm range. If I carry my 24-70, I'll bring my small 20mm USM instead of my 16-35mm, or I'll bring no wide angle at all; the 24mm end will be wide enough.
See also Assembling a System.
Ultrawide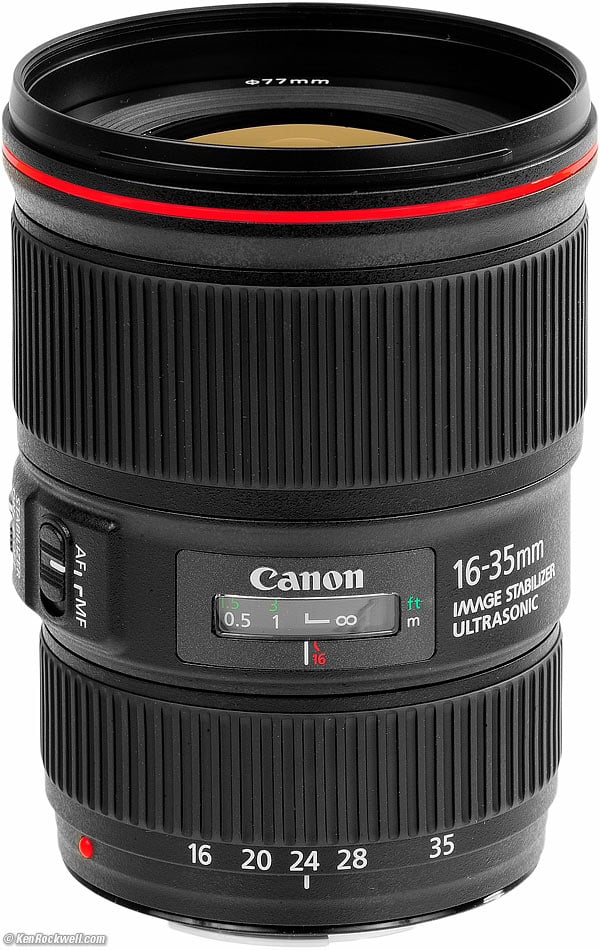 Most of Canon's ultrawide lenses aren't very sharp if you're counting pixels. That's why many landscape pros used to use adapters to use the fantastic Nikon 14-24mm on their Canon cameras.
Thankfully Canon now makes two really sharp ultrawides, and that's it. These are the 16-35mm L IS and the 11-24mm L.
I use and prefer the more practical 16-35mm L IS.
For Canon APS-C cameras, don't use these full-frame ultrawides. Instead, use the $249 Canon 10-18mm which is as sharp as these lenses, and very inexpensive.
Midrange Zoom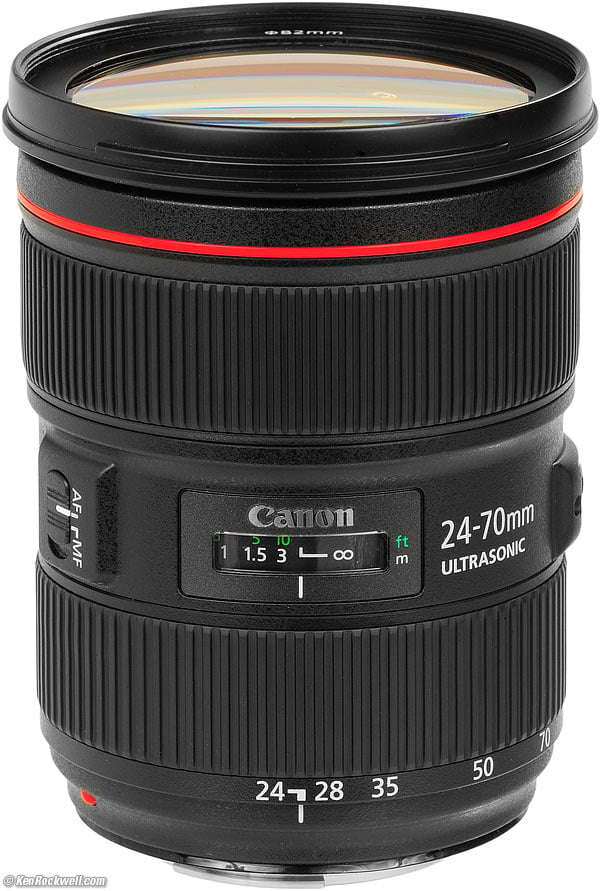 Again, the easy choice here is the extraordinary Canon 24-70mm f/2.8 L II, which is Canon's very best.
The 24-70/4 L IS is almost as good, adding IS instead of real speed, and it's smaller and lighter and less expensive.
The 24-105/4 L IS and the inexpensive new 24-105mm STM are also good, if you don't mind the added distortion.
I use the Canon 24-70/2.8 L II; it's the world's sharpest midrange zoom.
For Canon's APS-C cameras, there are additionally many EF-s lenses that only work on these cameras. My personal favorite as a go-anywhere, do everything lens for Canon's crop-sensor cameras is the Canon 18-135mm STM
50mm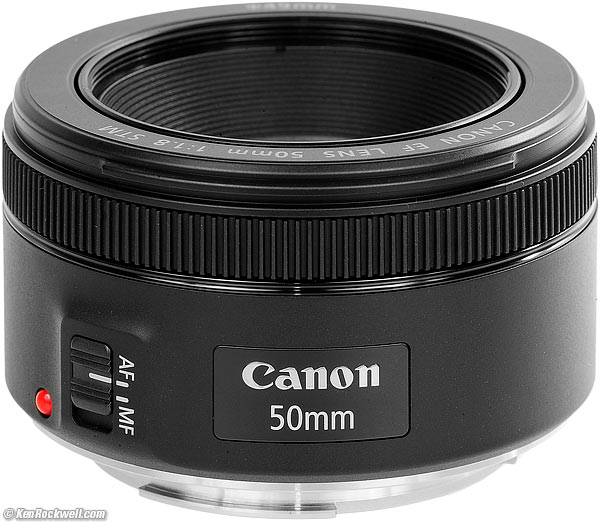 Canon 50mm f/1.8 STM: $125.
The original 50mm f/1.8, newer 50mm f/1.8 II and newest 50mm f/1.8 STM are all excellent, as well as inexpensive and lightweight. The 50mm f/2.5 Macro is just as sharp and focuses more closely, but it's bigger, slower and clumsier.
I love my 50mm f/1.2 L which is also as sharp, but big, heavy and expensive.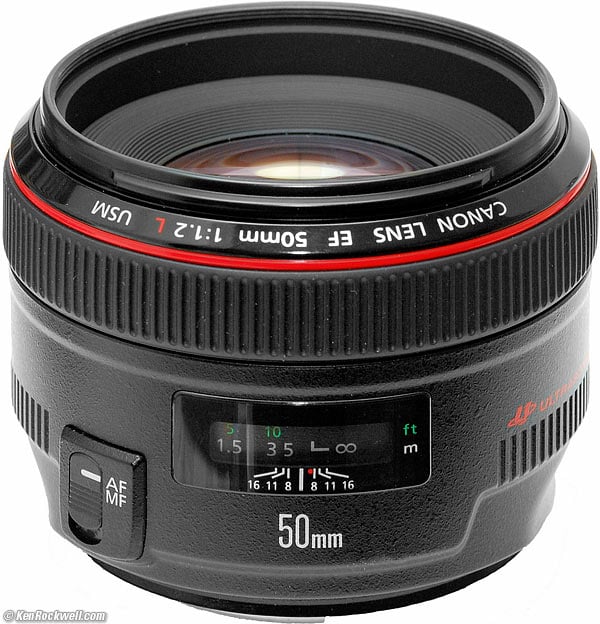 I usually use my 50mm f/1.8 STM because it's so good and so small, and only use my 50mm f/1.2 L when I know I'll be working indoors or in low light. Once I've stopped down to f/2.8, they're the same, so I don't want to carry my f/1.2 if I'm not going to use it at f/1.2.
The only Canon 50mm to avoid is the 50mm f/1.4 USM. It's Canon's softest 50mm lens. The rest are all about as super-sharp.
Hand-Held Low Light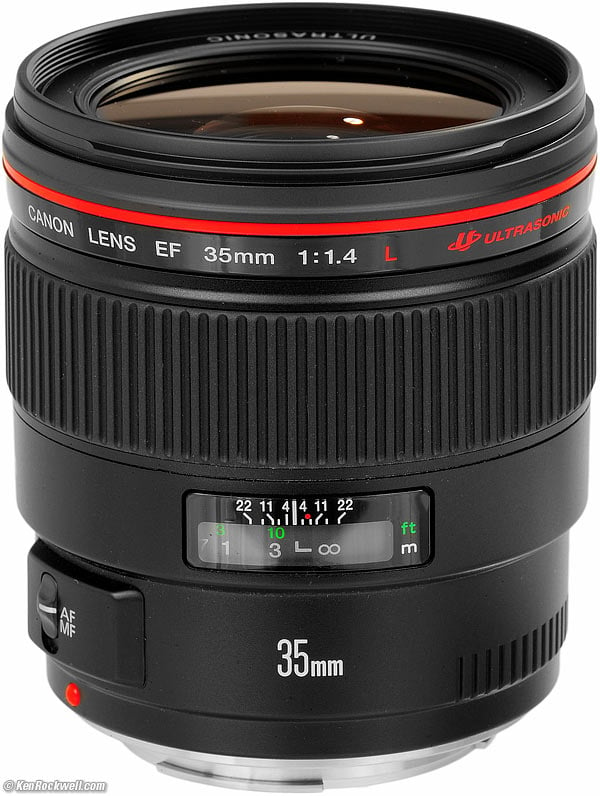 Again, the obvious choice for hand-held low-light shots is the superb Canon 35mm f/1.4 L, which is a bargain today because it's been in Canon's catalog for so long.
This classic is ultrasharp and ultratough. It's better made than many of Canon's other L lenses today, with a metal filter ring. Don't wait around for a Mark II version, because it will cost much more and be made with a lot more plastic — and there isn't any way anyone could make a 35/1.4 significantly better than this lens.
This 35/1.4 is much better than the 50/1.2 L or 85/1.2 L II for hand-held low-light shooting because its shorter focal length allows a deeper depth of field at f/1.4 for sharper photos overall, and its shorter focal length also means that you can shoot at slower shutter speeds handheld without blur. The 50/1.2 L and 85/1.2 L II will have nearly nothing in focus wide-open. When you're shooting hand held in the dark, you really need a deeper depth of field since simply breathing will move you or your subject out of focus.
The 24/1.4 II is also a good lens, but I find that it's too short for me for use as a general-purpose shooting-in-the-dark lens. If you prefer a wider lens as your regular lens, by all means get the 24/1.4, but when I go out for the night and don't know what to expect, it's always my 35/1.4 L I'm carrying.
Macro and Telephoto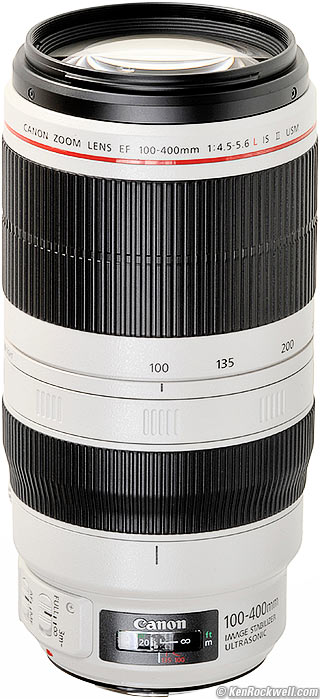 You're in luck: the new Canon 100-400mm L IS II replaces a macro lens and all previous 70-200mm and 70-300mm zooms, all in one lens.
This new 100-400 focuses much more closely than any pro 70-200mm or 70-300mm lens, and zooms all the way to 400mm.
With its super-close focus and 400mm focal length, this new 100-400 becomes a macro lens, giving a much better perspective for macro work than any other Canon macro lens since you can be farther away and cover the same subject.
The 100-400 II focuses ultra-fast, and focuses super-fast even with my 1.4x II teleconverter, bringing it to 560mm. It's an extraordinary lens.
The f/2.8 zooms were for 35mm film. This 100-400 is fast enough for digital, and if you want soft backgrounds, 400mm at f/5.6 gives softer backgrounds than a 200mm lens at f/2.8. A longer focal length is far more important to background blur than a fast f/stop.
If you need to shoot objects smaller than 3 x 5" (75 x 125mm), then get serious and get the Canon 180mm Macro. The shorter 100mm and 50mm macro lenses require you to get so close for really tight crops that you may block your own lighting.
Ultra Telephoto
When I expect to need anything longer than 400mm, I simply drop my 1.4x and 2x extenders in my bag and use them with my 100-400mm II. My 100-400 II works great with the 1.4x to go to 560mm with fast autofocus, but will not autofocus with the 2x extender at all.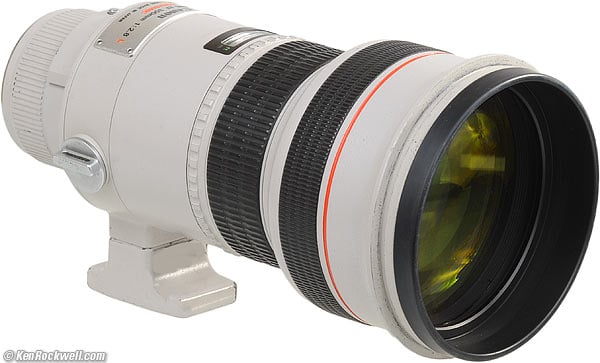 I own an original 300mm f/2.8 L, on which I can use my 1.4x and 2x extenders with excellent sharpness and autofocus speed, but my fast 300mm is so big and heavy I don't use it because I don't want to have to carry it.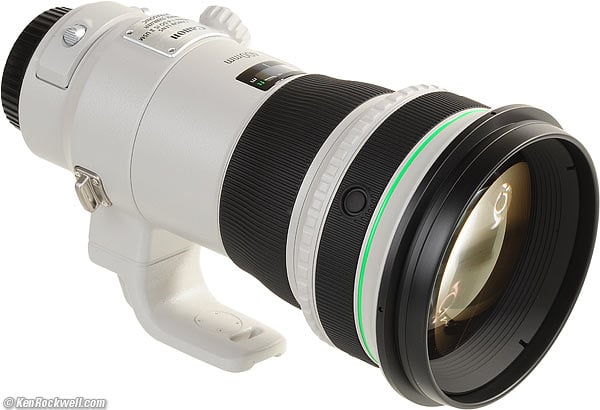 If you're a birder and need longer than 400mm, Canon's best ultratele for rational people is the new 400mm f/4 DO IS II because it's small enough and light enough for hand-holding and for carrying around all day. It works great with teleconverters; in fact I can use the 400/4 DO II with both converters at once to make it into a sharp 1,100mm lens that autofocuses somewhat!
Of course you're welcome to get serious and get the 400mm f/2.8, 500mm f/4, 600mm f/4 — or the 800mm f/5.6 which is the world's best birding lens. These huge ultrateles work great with converters, but these lenses are so big that it's not fun to carry them. Unless you have someone carrying them for you and then setting them up on a big tripod or monopod when you get there, you'll probably leave them at home. These big lenses are designed for the truly afflicted, or full time sports and nature pros earning a living with them.
This is why I love my 100-400mm II so much: because it's a joy to take it out and use it.
Thank you!
If you find my work here helpful, my biggest source of support for this ad-free website is when you use any of these links to approved sources when you get anything, regardless of the country in which you live.
It helps me keep adding to this free website — but I receive nothing for these efforts if you take the chance of buying elsewhere. Unlike a bottle of milk or a CD, DVD or Blu-Ray disc, Canon doesn't seal its boxes so you have no idea if you're actually getting a used product if you risk buying at retail. Never take the chance of buying at retail. I don't.
Help me help you top
I support my growing family through this website, as crazy as it might seem.
The biggest help is when you use any of these links to approved sources when you get anything, regardless of the country in which you live. It costs you nothing, and is this site's, and thus my family's, biggest source of support. These places have the best prices and service, which is why I've used them since before this website existed. I recommend them all personally.
If you find this page as helpful as a book you might have had to buy or a workshop you may have had to take, feel free to help me continue helping everyone.
If you've gotten your gear through one of my links or helped otherwise, you're family. It's great people like you who allow me to keep adding to this site full-time. Thanks!
If you haven't helped yet, please do, and consider helping me with a gift of $5.00.
As this page is copyrighted and formally registered, it is unlawful to make copies, especially in the form of printouts for personal use. If you wish to make a printout for personal use, you are granted one-time permission only if you PayPal me $5.00 per printout or part thereof. Thank you!
Thanks for reading!
Mr. & Mrs. Ken Rockwell, Ryan and Katie.
Home Donate New Search Gallery Reviews How-To Books Links Workshops About Contact