Home Donate New Search Gallery How-To Books Links Workshops About Contact
LEICA M9 Specifications
(same for LEICA M-E)
© 2009~2012 KenRockwell.com. All rights reserved.
Intro Specs Performance Usage Compared Recommendations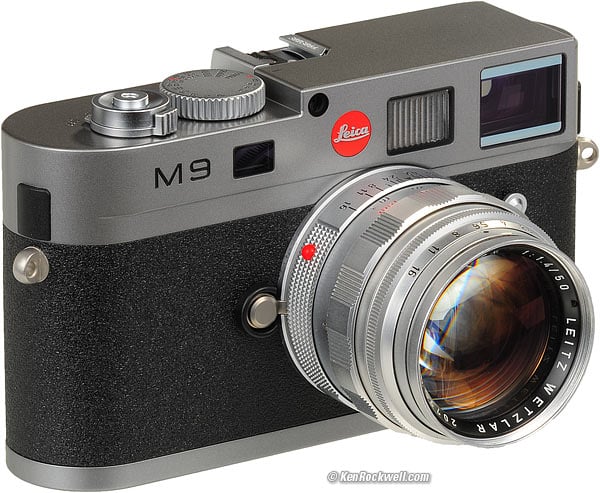 LEICA M9 (20.9oz/593g with battery and card, but no lens, cap or strap) with a LEICA SUMMILUX 50mm f/1.4 from 1964. enlarge.
October 2009
Overview LEICA M9 Review specs index top
The LEICA M9 is a full-frame, 18MP rangefinder (manual focus) camera.
Names Sensor and Image Finder Meter and Exposure
Shutter Flash Data LCD and Playback
Size, Weight and Materials Power and Batteries
Order Numbers Accessories Dates
Price LEICA M9 Review specs index top
February 2014: about $4,800 used.
2009-2013: $6,999 new.
Names LEICA M9 Review specs index top
Trade Name: LEICA M9.
Internal Project Name: P864. Derivation: 864 is the area, in square millimeters, of a standard frame of 35mm still film.
Sensor LEICA M9 Review specs index top
Kodak KAF-18500 CCD, made in Rochester, New York, USA.
24 x 36mm (23.9 x 35.8mm to be more precise).
18MP. When opened with Photoshop CS4, the ACR input allows a 25.1MP (6,144 x 4,088 pixel) selection which looks about as good as other traditional 25MP cameras.
0.8mm integral IR-cut filter.
No anti-alias (moiré) filter.
This sensor was specifically designed for the M9 and its rangefinder lenses, whose rear nodal point often approaches the image sensor more closely than in SLRs.
The micro lenses of the M9's sensor are designed to be tolerant of varying angles of incidence so that the sensor works great with all LEICA lenses, and more importantly, so that future LEICA lenses can be designed for optimum performance without regards to having to worry about interface to any particular sensor. This means that future lenses will continue to be the world's best for film, as well as for impatient people for whom digital capture is good enough.
Off-sensor A/D conversion: 14-bit linear.
DSP provider: Jenoptik, who's using much of the work from the S2 here.
Image Sizes
5,212 x 3,472 pixels (18MP) native, JPG and/or DNG.
145.6 pixels per millimeter.
3,699 pixels per inch.
Also:
3,840 x 2,592 (10MP) JPG
2,592 x 1,728 (4.5MP) JPG
1,728 x 1,152 (2MP) JPG and
1,280 x 846 (1MP) JPG.
File Formats
JPG, two levels of compression, called Fine and Basic.
DNG raw, both 16-bit linear or 8-bit gamma corrected (log).
Shoots either or both JPG and DNG at the same time. If you chose this, you can have the JPG at any desired resolution while the DNG is at full resolution.
ISO
ISO 160 - 2,500 in third-stops.
ISO 80 as a pull.
Auto ISO
Selectable slowest speed from 1/8 to 1/125 in full stops, also you can set it to change automatically with lens focal length!
Rotation Sensor
Yes!
Noise Reduction
The M9 automatically applies dark-frame subtraction with exposures longer than 2 seconds.
This means the M9 makes a second identical time exposure with the shutter closed after your shot, which means you'll be standing around a lot longer, but get better images, with long exposures.
White Balance
Auto, gray-card manual, 7 presets and Kelvin.
The 7 presets are Direct Sunlight, Flash, Cloudy, Shade, Tungsten and two Fluorescent settings.
Kelvin goes from 2,000 K to 12,800K (not 13,100K as specified), far superior to lesser brands. This is important, because often the 2,500K lower limit of Japan's cameras is not sufficient. The superior range of the M9's 2,000 K setting lets us shoot in dimmer interior and candle light.
Kelvin setting precision:
| | |
| --- | --- |
| Range | Increment |
| 2,000 - 5,000 K | 100 K |
| 5,000 - 8,000 K | 200 K |
| 8,000 - 12,800 K | 300 K |
Image Tweaks
To set the look you demand, you have these options:
Saturation
5 levels, also a B&W and a "vintage B&W" setting.
The Vintage setting comes out of the camera as JPGs looking like this: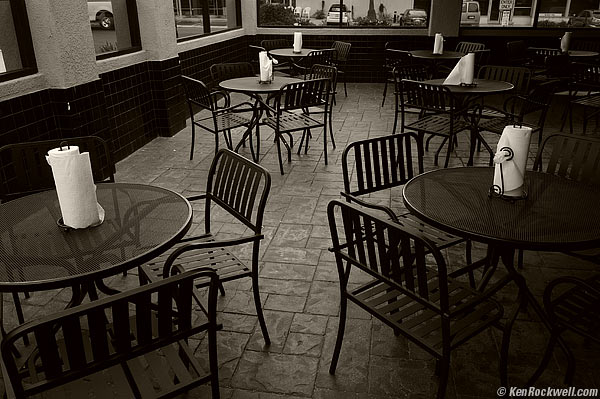 Brett's BBQ, Encinitas, California. camera-original Basic JPG (4MB). (28mm f/2.8 ELMARIT-M ASPH, ISO 160 at 1/40 second, hand-held.
Contrast
5 levels.
Sharpening
4 levels, or off.
Color Spaces
sRGB and Adobe RGB.
Leica follows my recommendation not to use Adobe RGB unless the entire image and printing process is carried out in a completely color-calibrated professional environment.
Finder LEICA M9 Review specs index top
0.68x.
Covers 28mm, 35mm, 50mm, 75mm, 90mm and 135mm lenses. Forget seeing 28mm and 35mm with glasses; use a diopter instead
The usual 28/90, 35/135 and 50/75 frame pairs, just like most other Leicas since the M4-P of 1980.
The magnification may be changed with screw-on viewfinder magnifiers 12 004 (1.25x), recommended for lenses 50mm and up, which changes the total finder magnification to 0.85x, and the 12 006 (1.4x), recommended for lenses 75mm and up, which results in 0.95x overall magnification. Each only shows the center of the finder.
93% coverage at infinity with 28mm lens reducing to 85% coverage at infinity with 135mm lens. 100% coverage at 1 meter (3 feet), just like the M7 and MP. If you get closer than 1 meter, you'll get less in your image than shown in your finder. There is no compensation for field-of-view variations with distance; only the Contax G system or an SLR does this.
There is the usual preview lever to select any pair of frame lines so that less experienced photographers can preview various lens effects without having to mount each lens first.
Automatic parallax compensation.
Rangefinder base length: 69.25mm actual x 0.68x magnification = 47.1mm effective base length.
1970s-style red LEDs for shutter-speed, metering and flash ready bolt on the bottom, just like the M7. Unlike the M7, it has some way to tell you your card is full, dummy.
Counts-down exposures longer than 2 seconds, and counts-up bulb exposures up to 4 minutes (240s), as does the M7. (The M7 goes to 16 minutes/999s.)
-0.5 diopters (apparent distance of 2m or 6 feet). Correction lenses let you set this from -3.0 to +3.0 diopters.
Metering and Exposure LEICA M9 Review specs index top
LEICA M9, showing cocked shutter. enlarge.
Meter
Center weighted through-the-lens (TTL), measuring off the front curtain, like the Zeiss Ikon and Contax G.
Exposure
Exposure is both aperture-preferred (you set aperture and the M9 picks the shutter speed) and manual, indicated with LED arrows.
In Auto mode, just like the M7, the meter reading locks when the shutter is pressed part way down.
Range is rated as from about LV 0 (2 seconds at ISO 100) with an f/1.4 lens. The M9 is much better than rated, giving accurate exposure from 32 seconds to 1/4,000 at ISO 160 with any lens or aperture.
Auto exposure bracketing with selectable number of shots (3, 5 or 7) and increments (1/2 to 2 stops).
Shutter LEICA M9 Review specs index top
Type
Vertical metal focal plane, similar design to the old M8.2.
Speeds
Flash, fastest speed (flash sync): 1/180.
Auto: Stepless from 1/4,000 ~ 32 seconds.
Manual: Half-stop clicks from 1/4,000 ~ 8 seconds, set with a real knob!
At 2 seconds and longer, the M9 uses a second equal-time blank exposure for dark-frame subtraction noise reduction. This means you'll have to wait around twice as long as the marked speed, but get cleaner images.
Bulb: Up to 240 seconds (4 minutes). The finder LEDs count up the exposure in seconds.
Time: Up to 240 seconds (4 minutes). The shutter stays open until you press it a second time. To set the Time mode, set the self-timer and Bulb at the same time.
Shutter Speed Knob
Sets in half stops. Unlike earlier cameras like the M3 and M4-P, you cannot get variable speeds between the clicks.
Rotates continuously with no stop; you can go from BULB straight to 1/4,000.
Rotates in same direction as the M7 and LEICA M6, which is backwards from earlier cameras lacking TTL meters.
Shutter Release Button
Three klunky steps, just like the M7: a light touch wakes it up, a slightly firmer touch locks exposure, and the final travel fires your M9.
This stepped travel feels inferior to earlier Leicas like the M3 and M4-P whose shutter release is one velvety slide, but tough, AE lock is important.
Cable Release
Standard thread.
Takes any standard threaded cable release as well as the 20 inch (0.5m) $54 LEICA 14 076.
Frame Rate
2 fps maximum at ISO 160 and compressed DNG.
Leica weasels out and cautions that it may be slower at other settings. Leica is to be lauded in respecting our intelligence more than lesser camera makers and doesn't have to tell us that this specification only applies at faster shutter speeds.
Buffer Depth
8 frames, if you're lucky.
Advance
Built-in motor drive (no thumb lever needed to charge the shutter, as on other Leica cameras).
Works normally, and can be set to a "discreet" mode where the shutter doesn't wind until after you've taken your finger off the button.
There is also a "soft release" mode where the shutter fires at the earlier detent for less potential for camera shake with longer hand-held exposures. Yay!
If you like, you can set the SOFT and DISCREET modes at the same time.
Self Timer
12 seconds.
Set with a dedicated position on the power switch.
Optional 2 second setting (MENU > Self Timer).
Flashing LED on front that shines through the lower silver bar of the finder window, therefore no visible LED unless it's turned on.
You also can deactivate the self timer in the same menu (MENU > SELF TIMER), in which case the self-timer switch position is no longer a self timer, so you don't miss shots.
Flash LEICA M9 Review specs index top
1/180 maximum sync speed.
First or second-curtain sync (MENU > Flash sync).
Your LEICA M9 also has a clever mode whereby it automatically can set a fixed slow sync speed to 1/the focal length of your lens. You may also fix the slowest sync speed at 32 seconds, 1/8 of a second, 1/30 or 1/180.
Of course all manual speeds up to 1/180 work with flash.
Dedicated hot shoe.
No PC sync terminal; use a hot shoe adapter.
No M sync for flashbulbs.
With the LEICA SF 24D (14 444) and LEICA SF 58 (14 488) flashes, or SCA 3502 version 4 and newer flash systems, the M9 will choose the correct flash white balance while set to Auto White Balance. With more primitive units, you'll have to set WB yourself.
Leica says old and non-Leica flashes will work just fine in the hot shoe. Leica suggests at least a thyristor model from about the late 1970s, but oddly I saw no warning about very old electronic flashes with high trigger voltages.
Leica claims balanced fill flash in AUTO mode with TTL flash.
Leica says flash exposure control is active in all exposure modes.
Leica says that the flash won't fire if the light gets so bright that you need a faster shutter speed than 1/180 in AUTO, or if you have a faster speed set manually. This is copied from the CLE.
The M9 sends its ISO setting to the flash so it can display ranges correctly.
Data LEICA M9 Review specs index top
Storage
SD and SDHC cards up to 32GB. Much slower downloads than the current hot CF cards.
Leica specifically recommends the SanDisk Ultra II 4GB, SanDisk Ultra II 16GB and SanDisk Ultra II 2GB cards, possibly in that order, as the fastest for use in the M9. Leica doesn't qualify what they mean by "fastest;" usually the only speed that matters is how fast you can suck all the data of the card into your computer.
Communication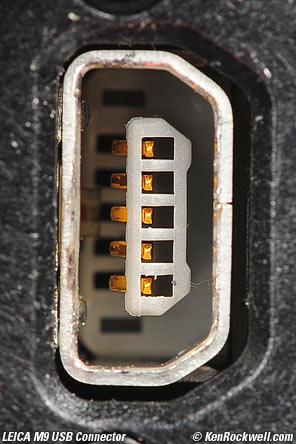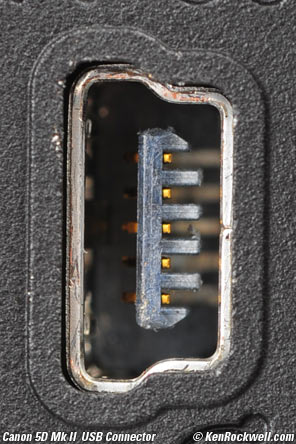 Mini USB, or so says Leica. it looks similar, but is not compatible with the standard mini-B connector on my GPS and in all my other Nikon and Canon SLRs and pocket cameras, as shown on the right at equal magnification.
So what? The Leica man doesn't even own a computer. He has others attend to this for him, or uses a card reader like everyone else.
Languages
The default language is English.
Deutsche, Français, Español, Italiano, Russian, Japanese and simplified and traditional Chinese are also in there.
LCD and Playback LEICA M9 Review specs index top
2.5."
230,000 pixels.
Cover: anti-reflection coated Acrylic.
There is an RGB histogram, and when you zoom, it recalculates to show just the area displayed.
Size, Weight, Materials and Environment specs index
Size
5.5 x 3.15 x 1.5 inches, WHD.
138 x 80 x 37 millimeters, WHD.
Weights, as measured by me (steel gray version)
20.902 oz. (592.55g), as measured by me with bottom cover, battery and card, but no lens, cap or strap.
20.835 oz (590.65g), if I remove the SD card.
19.195 oz. (544.2g) if I also remove the battery.
17.065 oz (483.7g) if I also remove the bottom cover, without which it will not work.
Battery only: 1.640 oz, (46.5g)
Bottom cover only, including plastic prophylactic sheet: 2.132 oz. (60.45g).
Leica specifies 19.8 oz. (585g), with battery.
Materials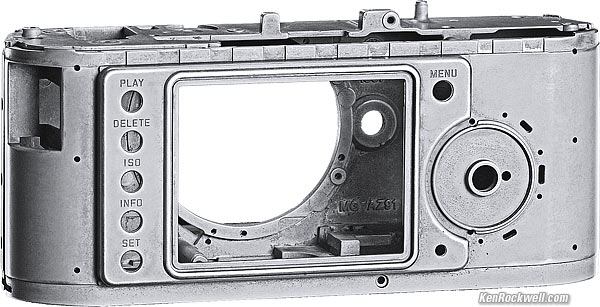 LEICA M9 body casting.
Top and bottom covers: Machined from solid brass, black or steel-gray lacquered.
Strap lugs: Stainless steel.
Interior and frame: Die-cast magnesium alloy, KTL dip painted, fake leather covering.
Tripod Socket: Stainless steel.
Environmental, Operating: 0-40ºC (32-104ºF).
Weather sealing: none. If the Leica man needs photos from unpleasant locations, he has someone go there for him.
Quality
MADE IN GERMANY.
The battery charger is an ANSMANN, made in China.
Power and Batteries LEICA M9 Review specs index top
Battery
Click either view to enlarge.
3.7V 1,900 mAh Li-ion rechargeable.
It's the same battery as the old M8.2.
Charger top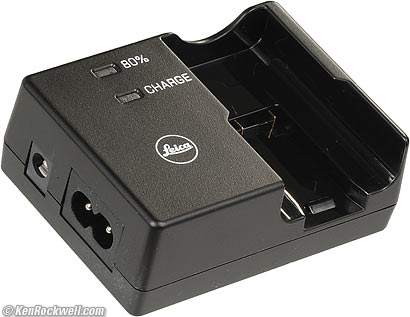 LEICA M9 Charger, about actual size. enlarge.
Order number: 14 470
Model 9994025, Ansmann, made in China.
Size: 3.15 x 2.36 x 1.21" (80.1 x 59.8 x 30.6mm) WHD.
Weight: 3.330 oz. (94.4g), without cord.
Inputs: 100 ~ 240V, 50 and 60 cps, with automatic switching, and 12-24VDC at 500 mA.
Cords: It includes two AC power cords, one for the USA, and the other for Europe.
There is a third DC cigar lighter yacht/aircraft/limo power cor
The AC power cable is reasonably standard as you can see, with the DC connection to its left above.
Charging output: 4.2V DC, 800 mA.
Battery Life
Leica suggests 400 shots.
I get better, about 600 shots.
Power Management
The LEICA M9 stays on for your choice of 1, 2, 5 or 10 minutes, then shuts off. (DSLRs only run about 16 seconds.)
It wakes on the tap of the shutter.
The M9 also can be set to stay on indefinitely.
Date Backup
A backup battery retains the clock for about three months if you remove the main battery.
Order Numbers LEICA M9 Review specs index top
LEICA M9: 10 704 (painted black), 10 705 (painted steel gray).
Order numbers for accessories continues below.
Accessories LEICA M9 Review specs index top
Included with the LEICA M9 10 704 and 10 705
LEICA M9 body.
Body cap 14 195.
Battery 14 464.
Compact charger 14 470 with three power cables for USA, Europe and 12-24V DC.
Standard plastic strap 14 312.
USB cable 420-200.023-000.
Adobe Lightroom 2 as a download license.
Optional Accessories LEICA M9 Review specs index top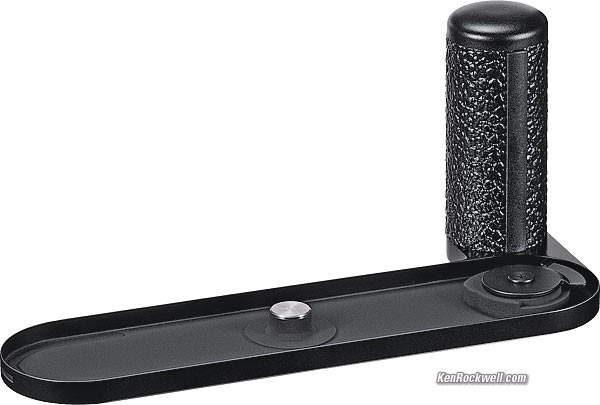 LEICA Hand Grip M9 14 486.
Hand Grip M9 14 486 (black paint), 14 490 (steel gray paint)
Charger mains cable for the UK 14 421.
Charger power cable for Australia 14 422.
Flash LEICA SF 24D 14 444.
Flash LEICA SF 58 14 488.
1.25x viewfinder magnifier 12 004. Recommended for lenses 50mm and up; only shows center of finder.
1.4x viewfinder magnifier 12 006. Recommended for lenses 75mm and up; only shows center of finder. Since the resulting magnification with an 0.68x or 0.72x finder is life size, you can shoot and compose with both eyes open as you can with the M3 or Nikon SP.
Angle Finder M 12 531: shows center only of finder.
Diotpometric Correction Lenses:
| | |
| --- | --- |
| Diopters | Part Number |
| -0.5 | 14 335 |
| -1.0 | 14 356 |
| -1.5 | 14 357 |
| -2.0 | 14 358 |
| -3.0 | 14 359 |
| | |
| +0.5 | 14 350 |
| +1.0 | 14 351 |
| +1.5 | 14 352 |
| +2.0 | 14 353 |
| +3.0 | 14 354 |
18mm/24mm finder 12 022 (black paint), 12 023 (silver chrome anodized).
21mm/28mm finder 12 024 (black paint), 12 025 (silver chrome anodized).
24mm/32mm finder 12 026 (black paint), 12 027 (silver chrome anodized).
Universal Wide-Angle Finder 12 011.
21-24-28mm Zoom Finder 12013 (black anodize), 12 014 (black and chrome anodize). Correction lenses fit this finder.
Strap, black saddle leather with micro-velour inside 14 455.
Slim leather straps: 14 453 (black saddle leather), 14 456 (racing green napa leather), 14 458 (mocha calf leather), 14 466 (black ostrich leather), 14 468 (Bordeaux red napa leather), 14 454 (cognac vegetable-tanned leather), 14 457 (smooth red calf leather), 14 465 (black lizard), 14 467 (chestnut ostrich texture), 14 469 (blue calf leather).
Never-ready case, black napa leather 14 872. Holds the LEICA M9 and a lens up to 60mm diameter and 70mm extension from lens mount. It has a farm-worker's coverall style flip-down bottom to allow fiddling with batteries or memory cards.
Neoprene Case 14 867 (short front), 14 868 (large front). Fastens with Velcro and has slots for memory cards. Short front holds M9 with lens up to 65mm diameter and 60mm extension from flange. Large front holds M9 with lens up to 65mm diameter and 80mm extension from flange (aka 90mm f/2 APO ASPH).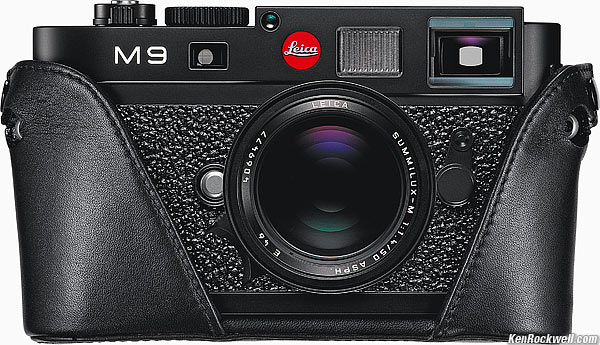 LEICA M9, 50mm f/1.4 ASPH and Butt-Cover 14 869.
Black napa calf leather butt-cover 14 869. This is a bottom half-case, with a cut-out for the rear LCD. Popular in San Francisco and Amsterdam.
Tabletop tripod 14 10.
Ball head 14 110.
Billingham case 14 854 (black), 14 855 (khaki).
Announced LEICA M9 Review specs index top
09 September 2009 (9/9/09)
Shipping since
15 September 2009
Replaced by
The LEICA M typ 240 replaced the M9 when announced in the fall of 2012. The M type 240 didn't really start shipping until a year later.
The LEICA M-E is the same thing as the M9, without the USB port and the preview lever.
Back to top of LEICA M9 Review
Back to top of specs page
Help me help you top
I support my growing family through this website, as crazy as it might seem.
If you find this as helpful as a book you might have had to buy or a workshop you may have had to take, feel free to help me continue helping everyone.
If you've gotten your gear through one of my links or helped otherwise, you're family. It's great people like you who allow me to keep adding to this site full-time. Thanks!
If you haven't helped yet, please do, and consider helping me with a gift of $5.00.
The biggest help is to use these links to Adorama, Amazon, Calumet, Ritz and J&R when you get your goodies. It costs you nothing and is a huge help. These places have the best prices and service, which is why I've used them since before this website existed. I recommend them all personally.
Thanks for reading!
Ken
Home Donate New Search Gallery How-To Books Links Workshops About Contact