Mercedes Starfest 2006
© 2006 KenRockwell.com
Return to Starfest 2006 index.
02 October 2006, Monday: Concours d'Élégance, Spanish Trails Country Club, Las Vegas, Nevada.
Forgive me, but I didn't take note of the exact model years. Please let me know if you know what they are.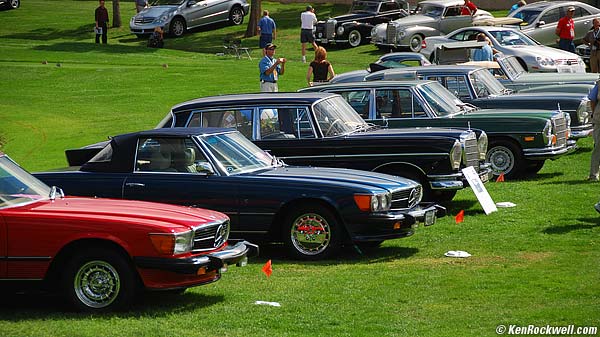 Concours d'Élégance.
A Concours d'Élégance (elegance contest) is where people get together to see who has the cleanest and most original car in the best condition.
There were three classes. 1.) Street, for cars that people drive, 2.) Trailered, for cars that are trucked there and not driven, and 3.) Display, for people who wanted to get a better parking place on the grass instead of having to walk a block from the parking lot.
If I was smarter I would have put my car in this, not just for the better parking spot and great photo opportunity, but because I'm so particular about treating my cars well and keeping them original that they would have done well on the green instead of over in the parking lot.
The trailered Mercedes of course were crazy, but the street class were normal happy cars. Better still, most of the cars you see here were taken to the track the next couple of days to let the Mercedes do what they love best: go fast!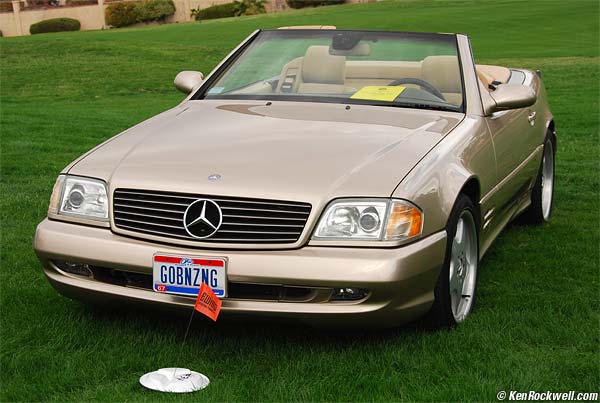 An SL500 in Desert Silver.
We had a lot of SL500s, which is to be expected since they are such magnificent vehicles to drive and the crowning achievement of the automotive stylists' art. Even 17 years after its introduction the R129 SL looks better and purer than anything else on the road.
I left my own SL500 locked up at home, since I took my E430 instead.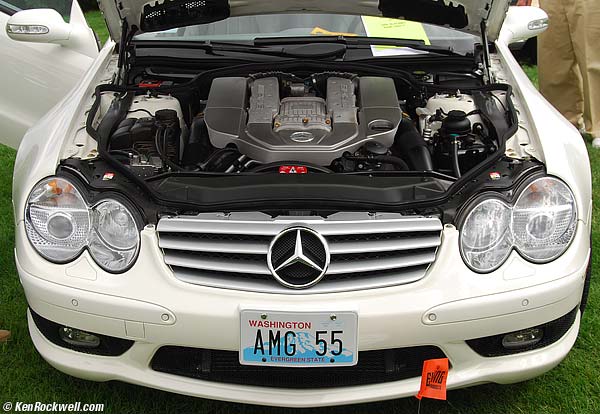 2003 SL55.
I didn't think Mercedes made any white SL55s. They didn't in 2005 - 2006. Apparently they sold so few of them they dropped the color. For some reason people order SL55s in boring colors like silver and black instead. Luckily for 2007 I believe the SL55 comes in white again, and maybe one of these years I'll be able to get one with a tan interior.
A BMW dealer in Encinitas (San Diego), California once tried to sell me a counterfeit white SL55. Someone had paid the $35 for the SL55 trunk badge and replaced the wheels with the SL55 versions. It looked the same, but the ruse was obvious when driven: the real SL55 has a blower ("kompressor" in German) which is the aluminum thing on top of the engine. It's the difference between 300 HP of an SL500 and 500 HP of an SL55. You're seeing a real blower, not a plastic vanity cover.
This SL55's owner had to travel across the country and pay full new price for this used one with 2,000 miles on it. She was looking specifically for white. She wanted the SL55 not for its mammoth engine, but for its spectacular brakes.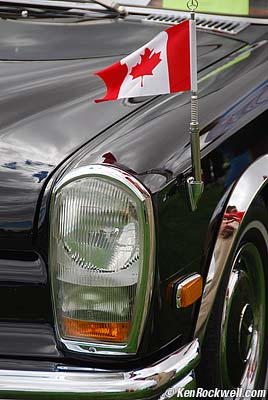 Der Grosser 600 von Mercedes Benz
An ambassador from The Great White North also attended. He had just run the Route 66 tour, 3,000 miles from Chicago to LA, before this event. The SL55 above also ran the event.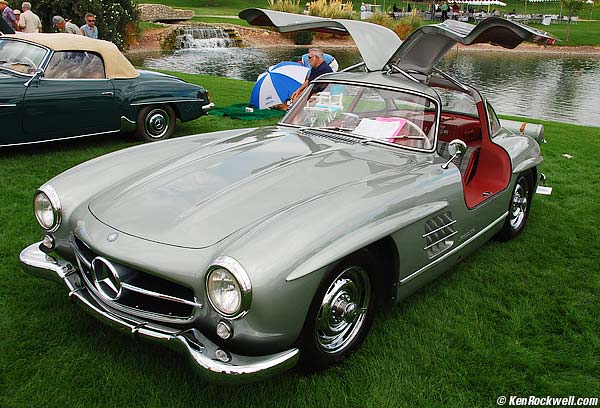 Gullwings? Of course we have Gullwings!
Every Mercedes gathering has Gullwings, even if they are worth $500,000 today and have no air conditioning and windows which can't roll down. This one was very special among Gullwings: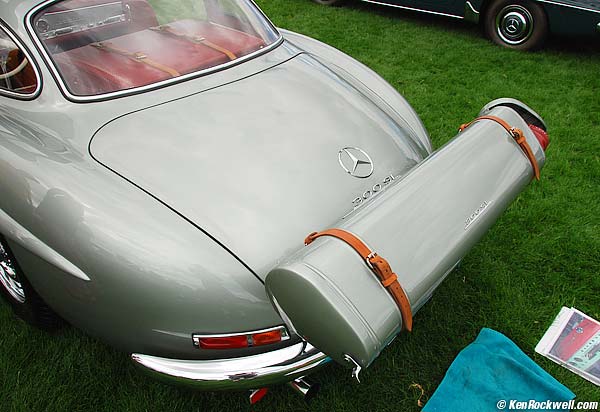 Gullwing with golf bag holder.
Most concours Gullwings have matching custom luggage (just like our SLK did), but none of them have factory golf bag holders on the rear as this one does! The golf bag holder makes this a very special Gullwing.
Gullwing interior.
Note the matching luggage on the back deck. It also had another custom suitcase that took up the entire trunk.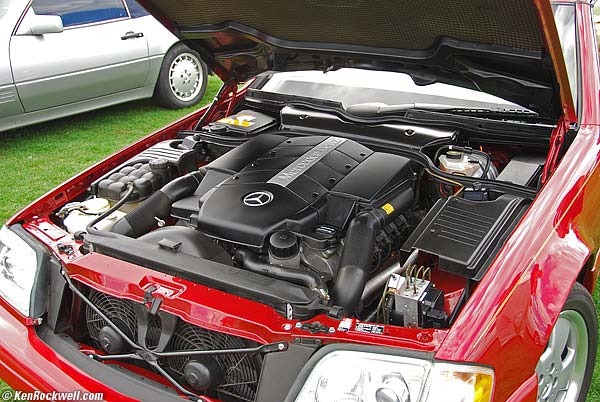 1999 SL500 Engine.
Not as exciting to collectors, but I'd much rather drive an SL500 like this great firemist red (metallic) one with the shell (tan) interior.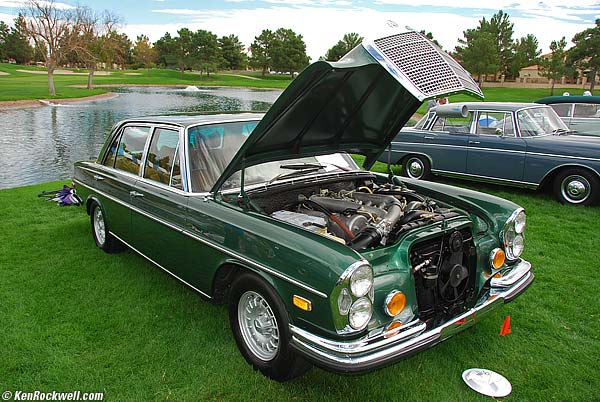 300SEL 6.3, circa 1972.
This is a 300SEL. It's no big deal by itself, until you get to the 6.3 part.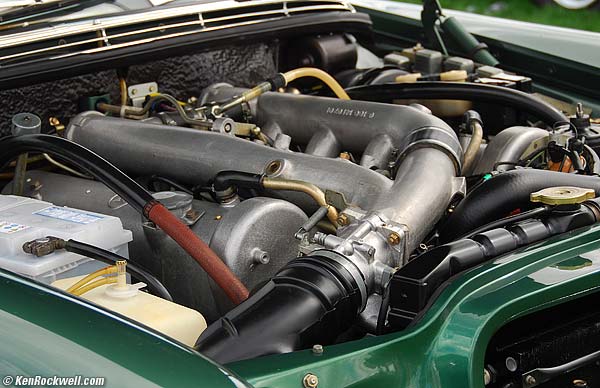 This is the hulking 6.3 litre (about 390 CID) overhead cam, port fuel-injected plant which powers this beast. Note the cold air intake starting from the lower left which feeds the two plenae, one for each bank, which feed the tuned intake runners.
High-performance American V8s didn't get this induction technology until the Mustang GT of 1986, and even today most American V8s haven't gotten to overhead cams.
This engine is bigger than today's 6.3 AMG plants. We'll be seeing and hearing more of this beastly engine at the race track in a different Mercedes tomorrow.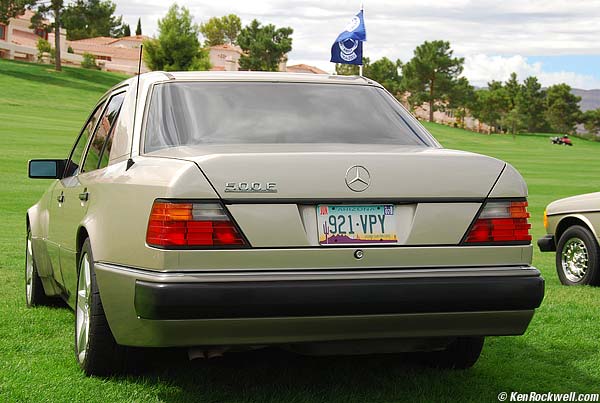 500E, circa 1993.
Here's a more recent and more beastly beast. This is an E-Klasse with the SL500 plant and transmission dropped in over at Porsche. Mercedes carted half-completed cars back and forth between the two factories to build this. It was only available for a year or two.
I'd love to have one of these, although the 2007 E550 finally outperforms this and the 6.3 above. This E500 engine outperforms all of the 1999 - 2006 SL500, S500, CL500, ML500, E500, CLK500 etc. V8s, as well as having twice as many cams and variable valve timing lacking in the more recent 500 series engines. This is the same engine as the 1990 - 1998 SL500, S500 etc.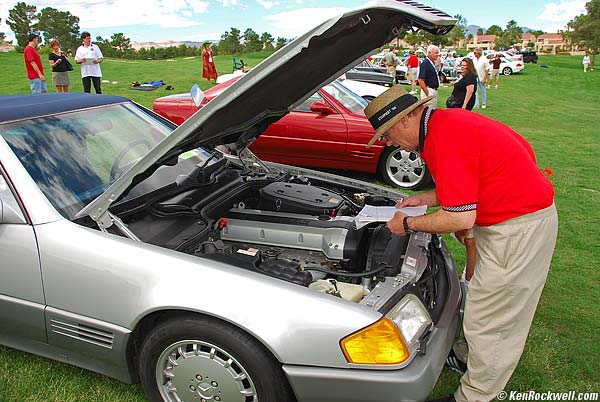 300SL, circa 1992.
This is the same as a 500SL, except with a straight six. Unlike more recent V6 320 engines, the straight six is smooth, powerful and magnificent. This six is a pure engine, not a truncation from a V8 as the V6s sadly are.
The 300SL eventually got dual overhead cams and four valves per cylinder, although I'm unsure if this year had that level of technology (as I said at the beginning, please correct me if I'm mistaken.)
This 300SL got points off for a very clever adaptation by its owner for long trips: there was a plastic quart of oil zip-tied next to the radiator reservoir under the hood!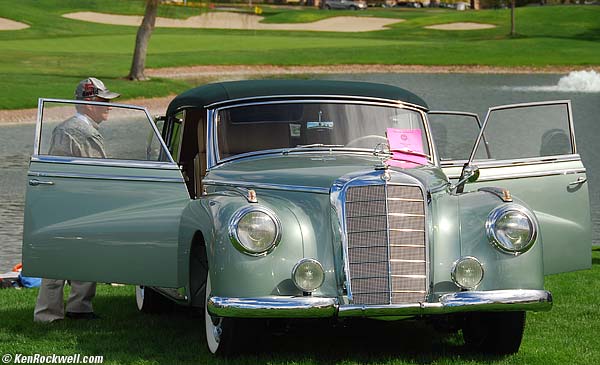 300 Cabriolet.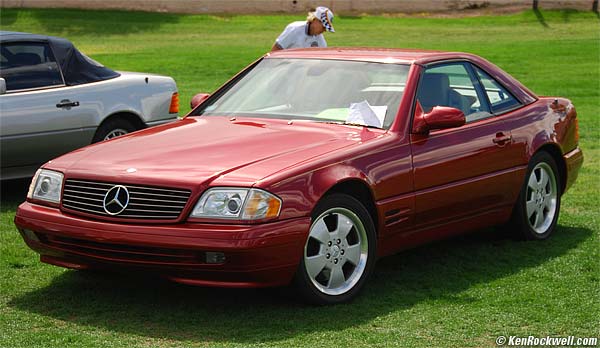 Firemist Red SL500, 1999.
We saw this above. I'm a sucker for red R129s, especially Firemist (metallic) red.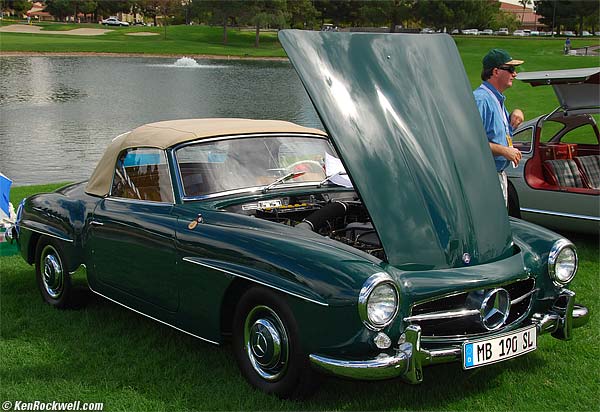 190SL, circa 1960.
This is the SL people actually bought back in the good old days, not the 300 SL. You'll see a lot of these, but not like this: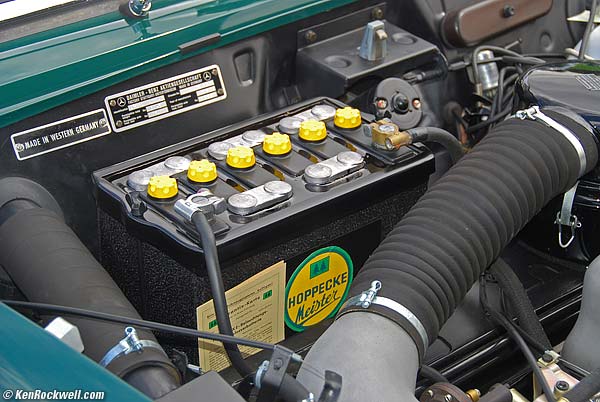 Original 190SL battery with original tags.
This is what I expected to see at a concours: not only is this 190SL seemingly unused, it even has hang tags under the hood on the brake system, battery and I forget what else. Outside the 190SL the Hirshmann hang tag was still attached to the power antenna, visible on the first 190SL shot.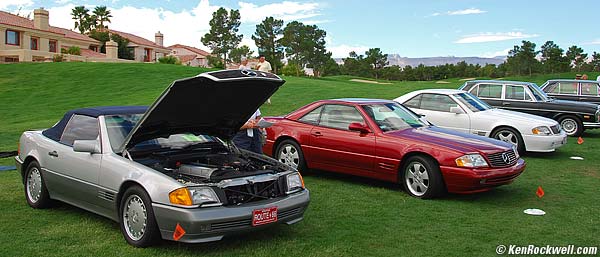 The R129 SL row.
Here's the pack of 1990s SLs: 300SL in silver, SL500 in Firemist Red, and SL600 in Glacier White.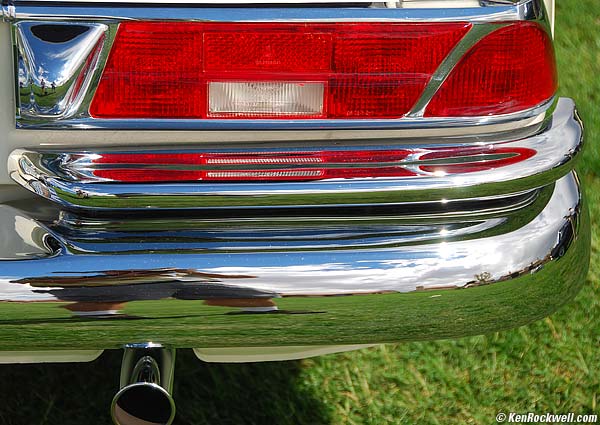 Tail light.
You can see me reflected on the top left.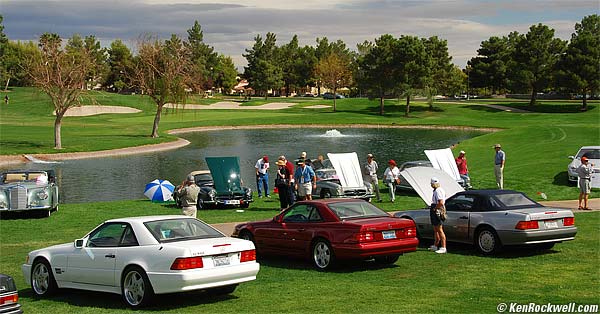 R129 SL row, again.
Sorry for the repetition, but I'm a sucker for the world's most beautiful automobile: the 1990s SL.
Classics and a new Maybach.
A new Maybach (individually commissioned for about $350,000 each at your friendly local Mercedes dealer) sat next to some more classical classics. Oddly, during lunch I looked over at the same spot and the Maybach had turned into a yellow 1997 SLK.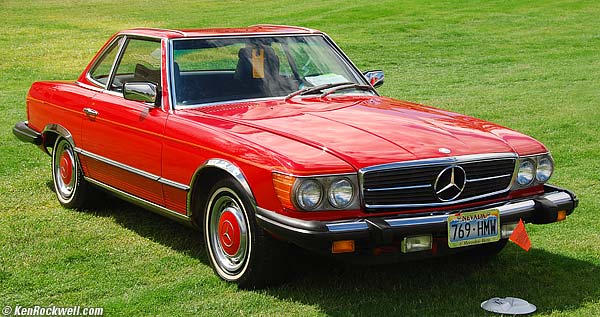 SL450.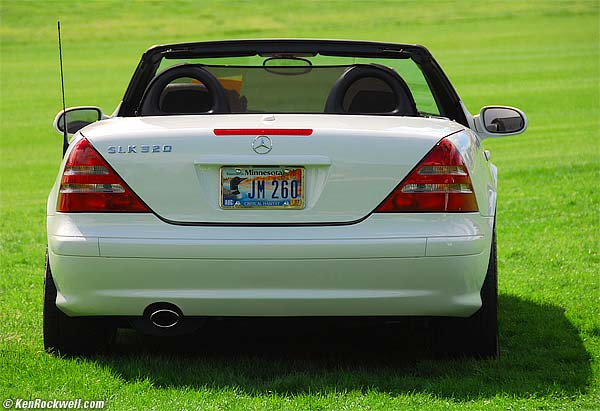 SLK320.
This is Mercedes' cutest modern automobile. It's also the world's first modern convertible with a retracting hard top (OK, actually that was the similar SLK230). Most new convertibles, including the SLK's big brother the SL, copy this design instead of using a lighter canvas roof. Of course the metal roof can't be removed like the 1980s - 1990s SLs, so when the top is down, as it always should be, the top takes up most of the trunk and adds weight.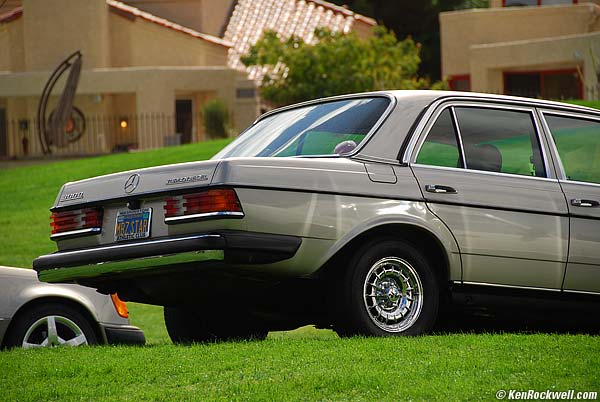 300D, circa 1980.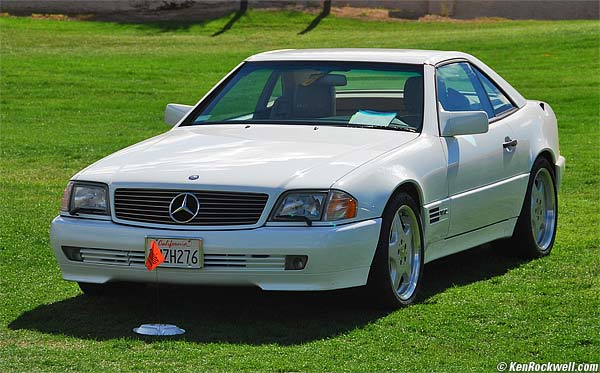 SL600, circa 1994.
This is Lewis' V12 SL. He beats the daylights out of it running around LA, and it keeps asking for more. He won a plaque for it (for the SL600, not for the beatings).
I'll admit that I missed the awards dinner so I could get to sleep early enough to get up at 5AM the next day to get out to the track, so I don't yet know who won what.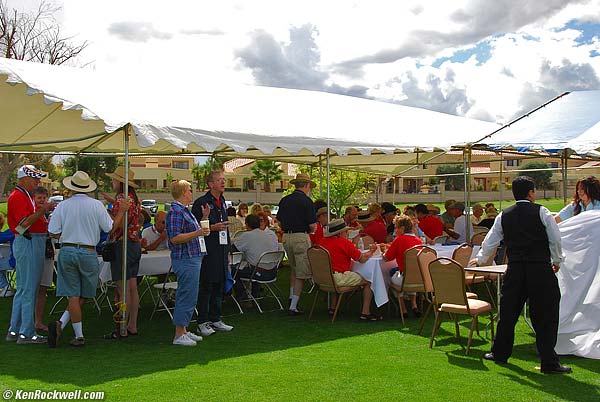 Lunch!
The Mercedes Club knows how to do lunch. They had a spectacularly great barbeque with some of the best, juiciest, fattest and most flavorful burgers I've ever had.
Next: First day at the track.