Mercedes Starfest 2006
© 2006 KenRockwell.com
Return to Starfest 2006 index.
03 October 2006, Tuesday: Defensive Driver Training and Autocross at Spring Mountain Motorsports Ranch.
This first day we arrived and had our cars pass a basic safety inspection. We had all attended to detailed inspections on own own before attending.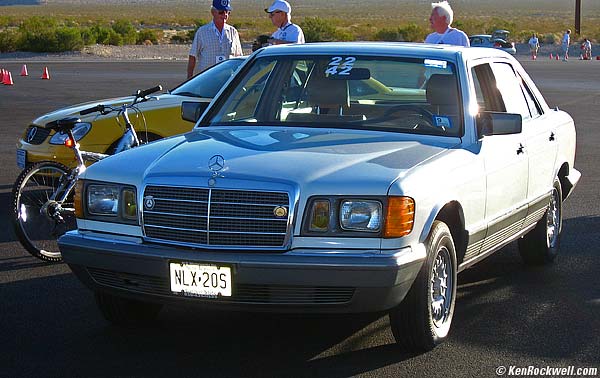 1983 300SD Diesel, ready for action!
Yes, we had everything from V12s to Diesels out here.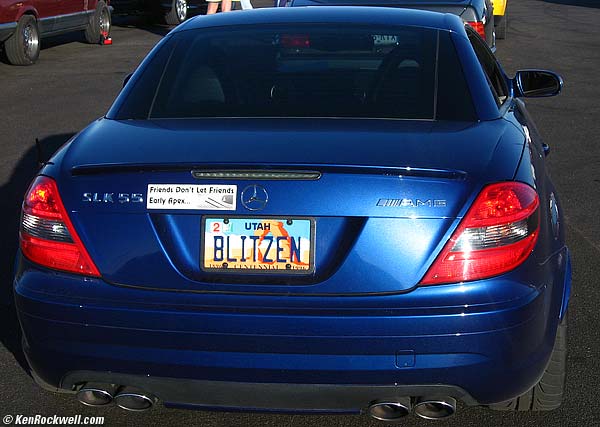 SLK55.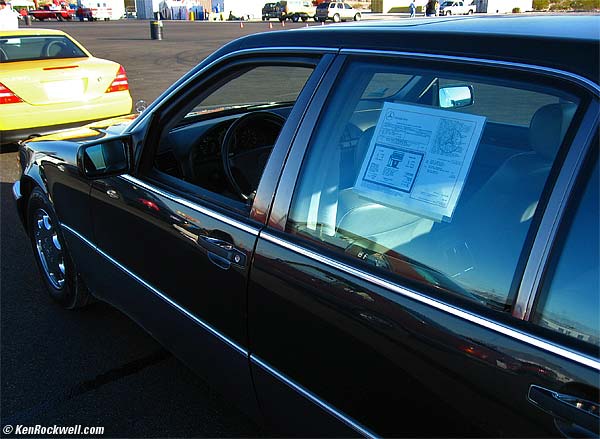 An S500 with original window sticker.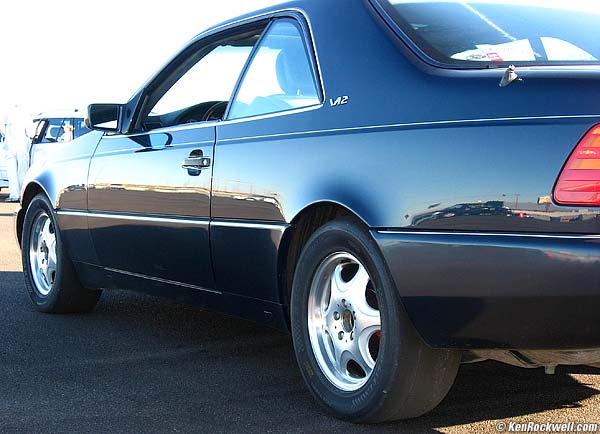 An S600 with Hoosier racing slicks. I'd watch out for this guy.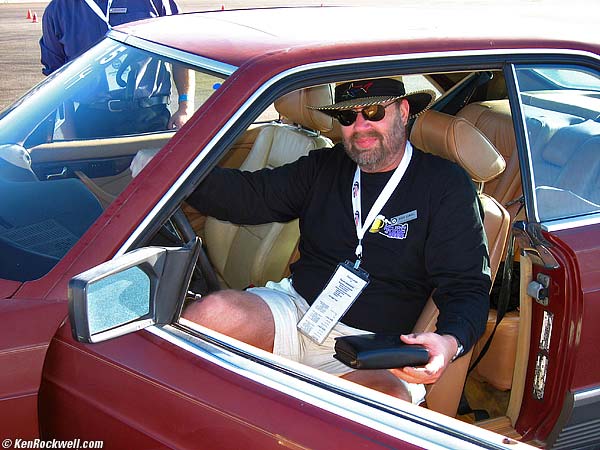 Doug Lengel, Newsletter Editor of the San Diego Section, in a 560 SEC - SP.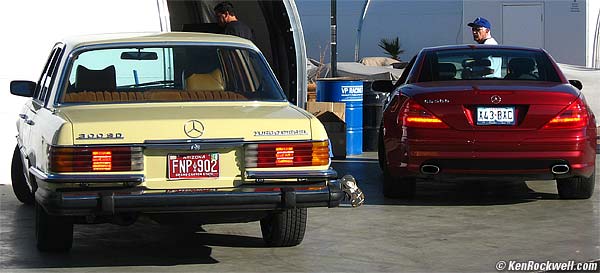 A 300SD puts air in its tires next to an SL500.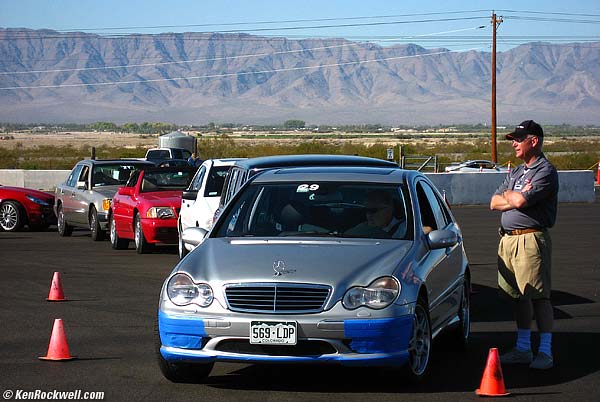 3M High-Speed Cone-Protective Tape on the bumper of a C32 AMG.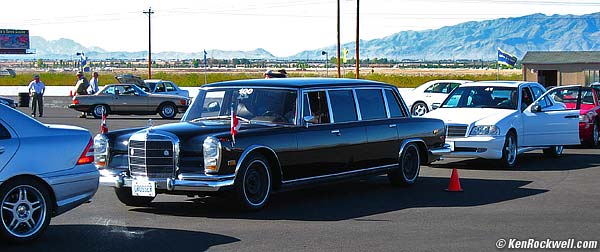 An ambassador from Canada waits his turn at the defensive driving course.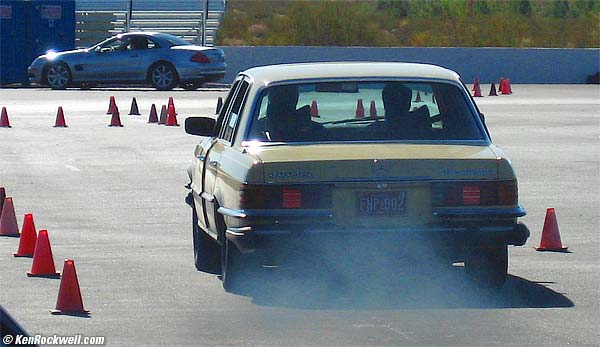 The 300SD blasts after an SL500 in a cloud of smoke and torque reaction.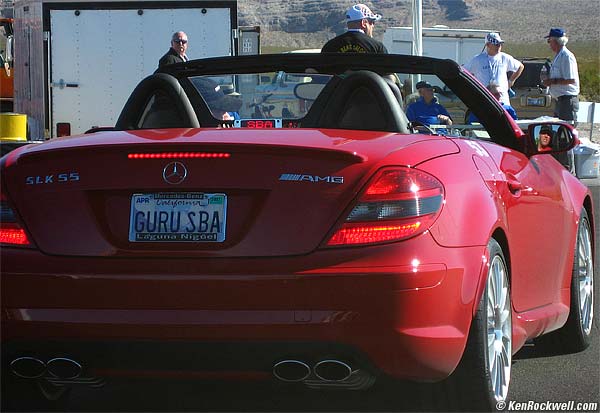 Andy advertises his SBA loan business to others behind him.
Andy's number, (714) 271-1929, races along the red LED display behind his seats as he drives for those seeking Small-Business Administration loans.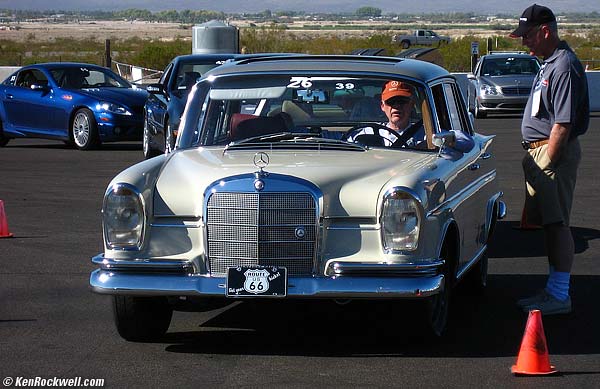 Waiting one's turn at the defensive driving course.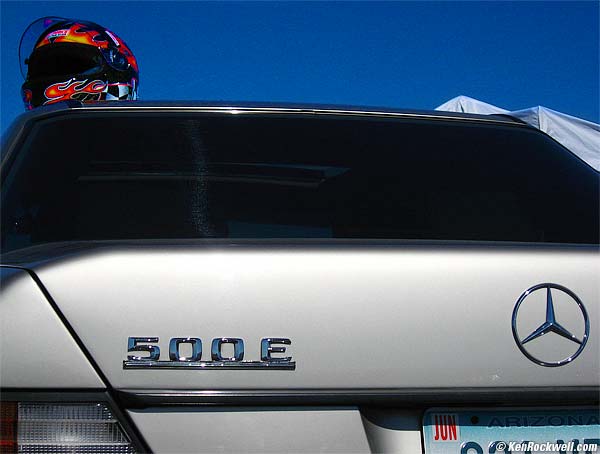 500E and the Flaming Helmet of Speed.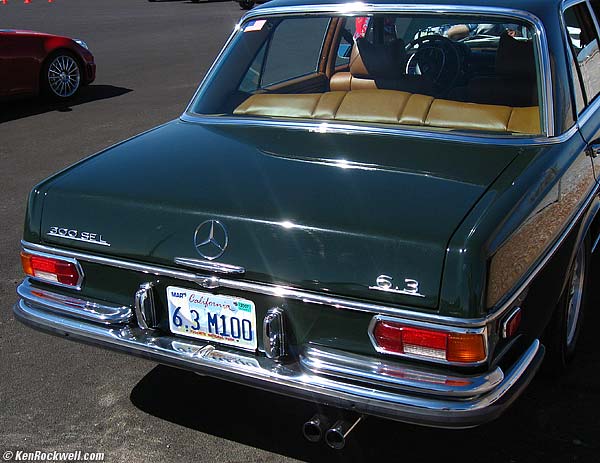 1971 300SEL 6.3.
This is your grandmother's Mercedes, with one very big difference: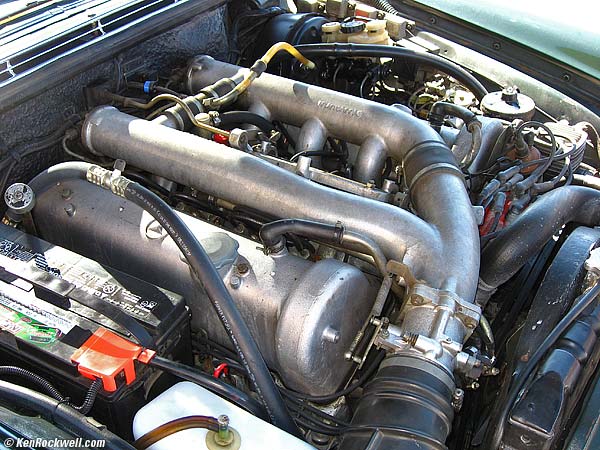 6.3 Litre Overhead Cam, Port-Injected Engine.
This is the beastly 6.3 litre engine of the special version of the 300SEL above. As explained back on the Concours page, this mighty plant from over 30 years ago has technology still not found on most American V8s.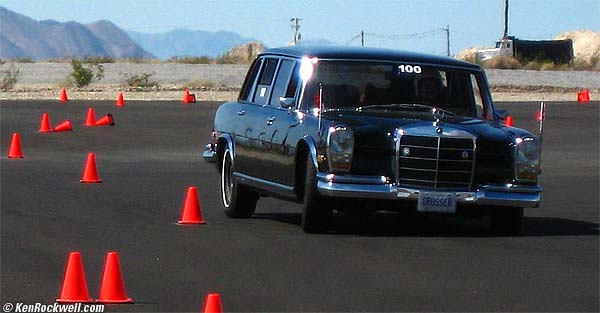 An ambassador from Canada negotiates the autocross in the Mercedes 600 limousine.
He had to stop and back up to make it around one of the tighter turns, instead of taking less time to run it over. We later removed the cone out of courtesy.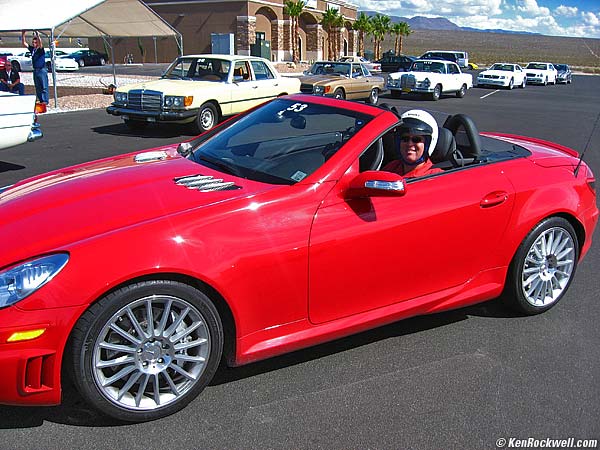 Andy waiting his autocross turn in his SLK55.
He smoked - I saw him run one of the best times of the stock class.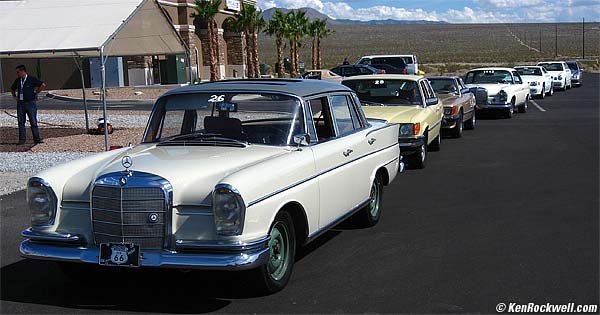 A 1963 300SE pintail leads the line waiting our turns at the autocross course.
This pintail 1963 300SE has engine technology, like port fuel injection, not widely used in American cars until 30 years later. It has an overhead cam engine, still not widely used today on ordinary cars. Its suspension rides on air: it has no metal springs. Almost no cars do this today, and those that do are extremely expensive.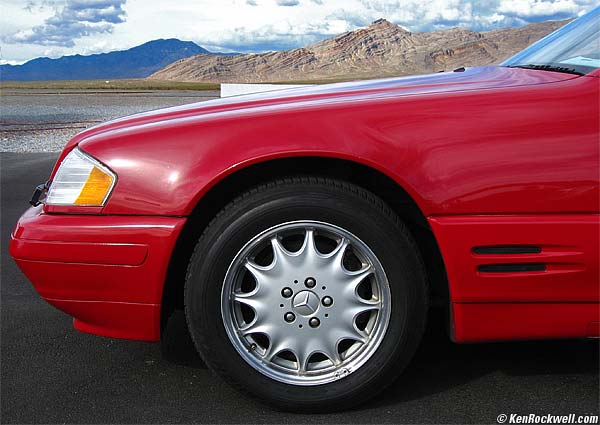 1996 SL320.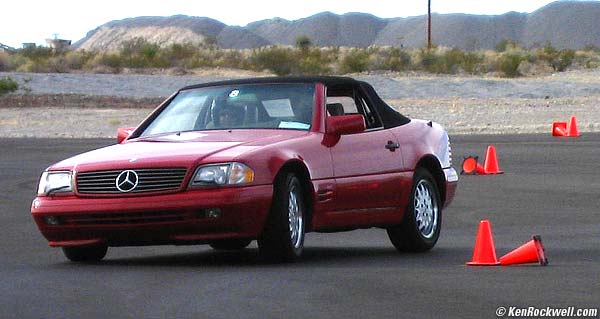 1996 SL320 working the autocross track.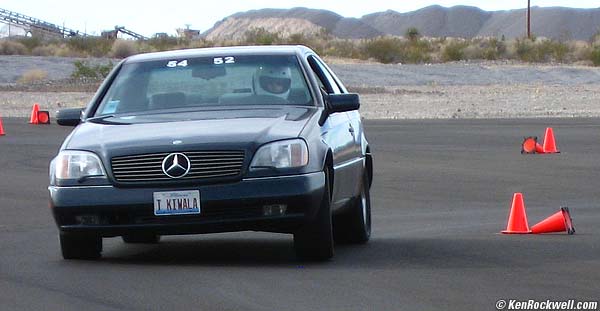 The S600 with racing slicks.
This beast of a car (it has twelve cylinders and weighs about 5,000 pounds, or weight of two Miatas and three times as many cylinders) was driven so well it appeared to love running around the little track. It's amazing what the S600 can do when driven well.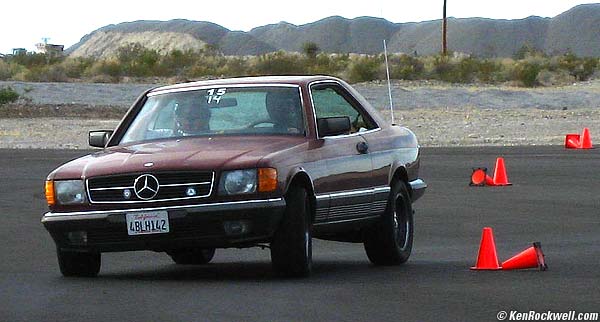 560SEC-SP driven by Doug Lengel of the San Diego Section.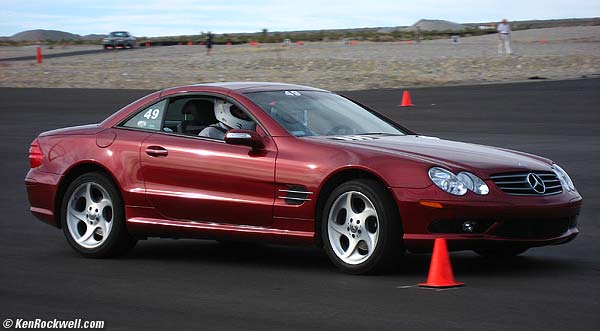 Firemist Red SL500.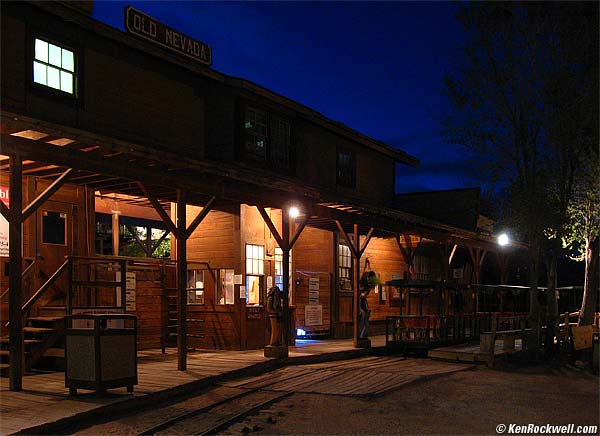 Bonnie Springs, Old Nevada.
I stopped by here on my way back from the track for dinner.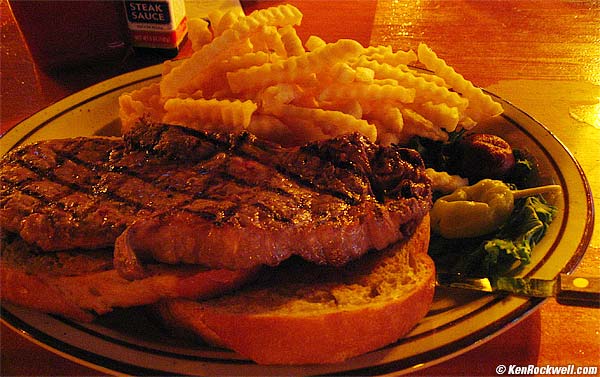 World's Best Steak Sandwich.
I ordered the steak sandwich and got a surprise. Instead of a sandwich with some steak slices, I got a steak on a sandwich!
Next: High-Speed Training on the Road Course.