Nikon 75-150mm f/3.5 Series E AI-s Test Review
© 2004 KenRockwell.com
Lens Test Glossary About these reviews

get it used here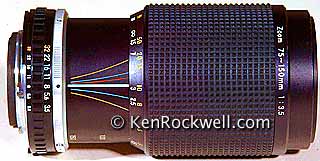 get it used here
INTRODUCTION
This gem is from about 1980. It is a small, compact, simple, fast mid telephoto zoom. It is from Nikon's short lived collection of Series E lenses about which you can read more here.
SPECIFICATIONS
Push-pull zoom. To get 75mm push the ring away from the camera, to get 150mm pull it towards the camera. Markings at 75, 100 and 150mm.
Anodized aluminum barrels, engraved markings.
Twelve elements in nine groups.
Seven-bladed diaphragm stopping down to f/32.
It weighs 18.3 oz. (520g). It measures 65 mm (2.6") around by 125mm (4.9") long. The length changes only slightly with focus and does not change with zooming.
It takes standard 52mm filters. The filter ring rotates with focus, not with zooming.
Takes HN-21 screw-in metal lens hood.
Focus marked as close as 3.5 feet / 1 m. You can get a little closer.
Constant f/3.5 aperture. You have to spend about $1,000 to get anything faster at the long end of a zoom today.
Unlike slower f/5.6 zooms, you can use this just fine with the TC-14a or TC-200 or TC-201 teleconvertors if you want.
Color coded depth-of-field markings for f/16 and f/32. Infrared focus index. Again, all good and almost unheard of in new zooms today.
PERFORMANCE
It's compact, fast, light, sharp and easy to use. This is an easy lens to love.
Ever seen Galen Rowell's most famous image of the rainbow over the Dali Lama's pad in Tibet? He used this lens. Why? It's small, light and good. If you read the story, a bunch of folks were sitting down to dinner and no one else was interested in the great light that was coming up. Galen ran 2 miles and got his shot.
If you need to hear more, performance is great at 75mm and a little less at 150mm. The specifics are:
Distortion:
75mm: ordinary barrel
100mm: neutral
150mm: ordinary pincushion

Falloff of Illumination:
f/3.5: ordinary falloff.
f/5.6: very little to none
f/8: none.
This is typical for almost all manual focus Nikon lenses.
Sharpness:

75mm:
f/3.5: Very sharp in center, a little softer in corners
f/5.6: Very sharp in center, a little softer in far corners
f/8: Very, very sharp all over, just a little softer in the farthest corners
100mm:
f/3.5: Pretty sharp in the center, a little bit softer in the corners
f/5.6: Pretty sharp in the center, not much softer in the corners
f/8: Pretty sharp in the center, not much softer in the corners
150mm:
f/3.5: Reasonably sharp in the center, somewhat soft in the corners (which means somewhat soft by pro standards compared to the $1,500 80-200 AF-S but still far better than what one gets from discount lenses)
f/5.6: Pretty sharp in the center, softer in the corners
f/8: Pretty sharp in the center, still a little bit softer in the corners
Flare and Ghosting:
Very little. The lens is multicoated. With the sun shining into the lens you can get some ghosts otherwise, it's pretty typical of a 1980 lens.
RECOMMENDATIONS
By all means if you want a small, fast short manual-focus telephoto zoom this is the one to get. It's sharp all the time in the center and gets a little softer at 150mm or in the far corners, nothing noticeable unless you are shooting special targets on slide film and then looking at them at 22x magnification. For normal portraiture and anything else for which you should be using this lens it's just wonderful: sharp, fast, easy to use and carry, inexpensive and durable.
The ideal focal range and narrow (2X) zoom range imply it is an easy lens to design for high performance.
It is a constant aperture, a rarity these days outside of the $1,500 professional zooms.