Nikon D300 Compatibility
© 2008 KenRockwell.com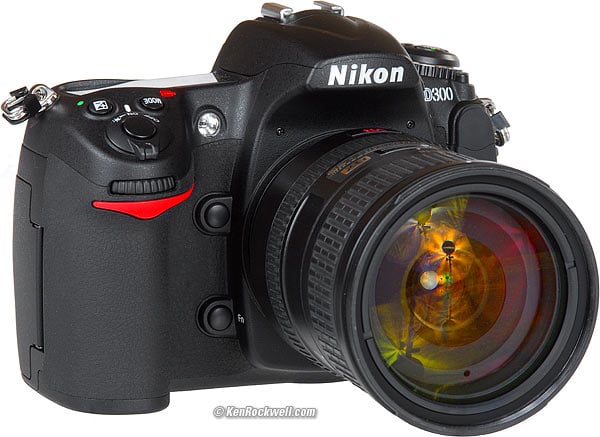 Nikon D300. enlarge. I got mine from Ritz; Adorama, Amazon and B&H Photo Video are also great places. It helps me keep adding to this site when you use these links to get yours, thanks! Ken.
January 2008
Top Intro Specifications Recommendations
Everything you're using today with the current D200, D80, D40x, D40 and D2Xs is 100% compatible. The SB-400, SB-600 and SB-800 flashes are 100% compatible and optimized for the D300. Every AF lens made since 1985 works perfectly, including of course the latest DX lenses like my favorite Nikon 18-200mm VR and 12-24mm.
The D300 is 110% compatible with the Nikon system and it also works great with old manual-focus AI film lenses. The D300 works with everything you already own; nothing is made obsolete by the D300 that hasn't already been obsolesced by the D70 back in 2003.
The D300 has just about the same firmware and features as the Nikon D3. Their User's Manuals are almost identical.
Lens Compatibility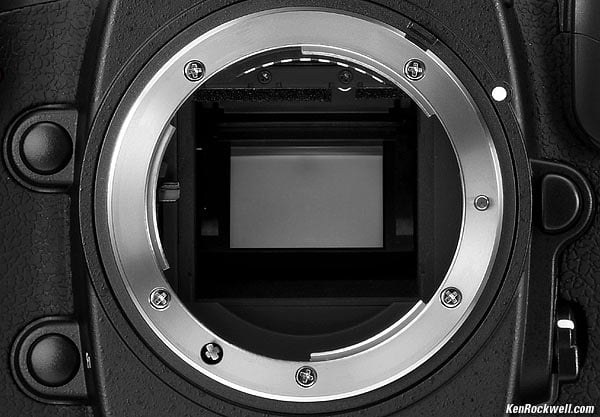 Nikon D300 Lens Mount.
The Nikon D300 works great with every lens made since 1977, especially every autofocus lens made in the past 20 years.
For manual lenses, enter the lens' focal length and aperture as you do with the D200, and you'll get matrix metering and A and P exposure modes. Yay!
No ability for pre-AI lenses; you'll have to have these 1959-1977 lenses converted at a machine shop.
No full-time mirror lockup, so forget the ancient fisheyes and 21mm that poked into the body.
That said, every manual and autofocus Nikon lens made in the past 30 years is compatible. The D300's ability to correct lateral color fringing automatically means your old lenses will work better on the D300 than they have ever worked on any other camera.
See Nikon Lens Compatibility for more.
Back to Page Index of Nikon D300 Review
PLUG
If you find this as helpful as a book you might have had to buy or a workshop you may have had to take, feel free to help me continue helping everyone.
Thanks for reading!
Ken