Home Donate New Search Gallery Reviews How-To Books Links Workshops About Contact
Canon 10-18mm IS STM
versus 16-35mm f/2.8 L II
© 2014 KenRockwell.com. All rights reserved.

This free website's biggest source of support is when you use those or any of these links to approved sources when you get anything, regardless of the country in which you live — but I receive nothing for my efforts if you take the chance of buying elsewhere. I get no government hand-outs and run no pledge drives to support my research, so please always use any of these links to approved sources for the best prices, service and selection whenever you get anything. Thanks for helping me help you! Ken.
June 2014 Fuji Canon Nikon LEICA Better Pictures All Reviews
Canon EF 16-35mm f/2.8 L II Review
Just for fun, let's compare the $300 APS-C Canon 10-18mm to Canon's flagship $1,700 full-frame EF 16-35mm f/2.8 L II.
To make it even more interesting, let's shoot the 16-35mm f/2.8 L II on Canon's state-of-the-art 5D Mark III (the world's best DSLR), and shoot the 10-18mm on a seven-year-old Rebel XTi.
Since the Rebel is only 10 Megapixels, I set my 5D Mk III to MEDIUM resolution, which is also 10 MP. This puts the Rebel at an even greater disadvantage, because its anti-alias filter blurs its image, while when shooting the 5D MK III at lower resolution the effects of Bayer interpolation go away and thus the 5D Mk III's 10MP images are far sharper than a native APS-C 10 MP image. (For the same-sized image, it's always better to shoot a higher resolution camera at a lower resolution than to shoot a camera at that lower native resolution.)
Here we go. Click either image for the camera-original file: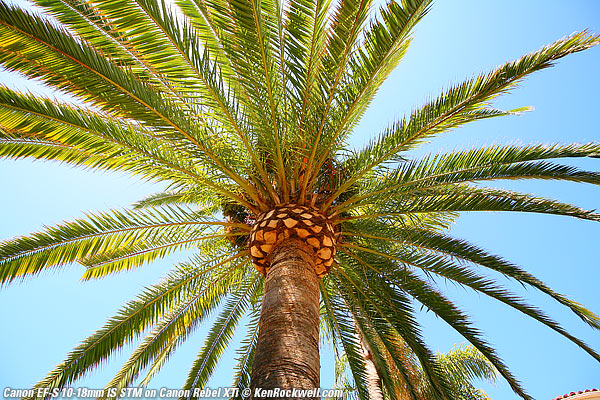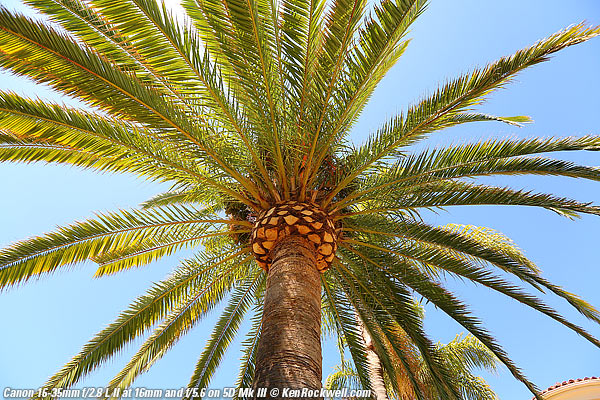 As the EXIF will tell you, both were shot at f/5.6 at their widest zoom settings, which give the same angle of view, an equivalent of 16mm on full-frame.
The center of the 5D Mk III image is sharper; that's because both lenses are very sharp in the center and the 5D Mk III has a huge advantage of starting with much higher resolution in the first place.
If I had shot the 10-18mm on a modern camera like the Canon SL1, this difference would have gone away since the 10-18mm shot would have been much sharper. In this case, the 10-18mm lens is much sharper than the 10 MP camera can show.
The interesting part is the sides and corners. Look carefully at the original files (you can't see anything directly with the small images on this page) and you'll see that the 10-18mm is sharper on the sides and corners. The 16-35mm II has never been that sharp when you split pixels, which is why people adapt the Nikon 14-24mm and Nikon 16-35mm VR to their Canons for serious landscape work.
Most people don't realize that ultrawide lenses are the toughest lenses to design, and that zooms are also nearly impossible to design well. Combine the two into an ultrawide zoom, and they are so nearly impossible to design well that the world's first ultrawide zoom wasn't invented until 1993, and the world's first really pixel-to-pixel sharp ultrawide zoom wasn't invented until 2007.
Canon's first pixel-to-pixel sharp ultrawide zoom is the 10-18mm, so their older full-frame ultrawides haven't caught up — yet.
Not shown here, but the 10-18mm has the same or even less distortion as does the 16-35mm. Ha!
I expect that the Canon 16-35mm f/4 L IS should be the first really sharp Canon full-frame ultrawide, but today, a $100 used Rebel with the new $300 10-18mm turns out images about as sharp as the $1,700 16-35mm f/2.8 L II and $3,200 5D Mark III. I just saved you $4,500!
Help me help you top
I support my growing family through this website, as crazy as it might seem.
The biggest help is when you use any of these links when you get anything, regardless of the country in which you live. It costs you nothing, and is this site's, and thus my family's, biggest source of support. These places have the best prices and service, which is why I've used them since before this website existed. I recommend them all personally.
If you find this page as helpful as a book you might have had to buy or a workshop you may have had to take, feel free to help me continue helping everyone.
If you've gotten your gear through one of my links or helped otherwise, you're family. It's great people like you who allow me to keep adding to this site full-time. Thanks!
If you haven't helped yet, please do, and consider helping me with a gift of $5.00.
As this page is copyrighted and formally registered, it is unlawful to make copies, especially in the form of printouts for personal use. If you wish to make a printout for personal use, you are granted one-time permission only if you PayPal me $5.00 per printout or part thereof. Thank you!
Thanks for reading!
Mr. & Mrs. Ken Rockwell, Ryan and Katie.
Home Donate New Search Gallery Reviews How-To Books Links Workshops About Contact