Home Donate New Search Gallery How-To Books Links Workshops About Contact
2010 Reader Survey
© 2010 KenRockwell.com. All rights reserved.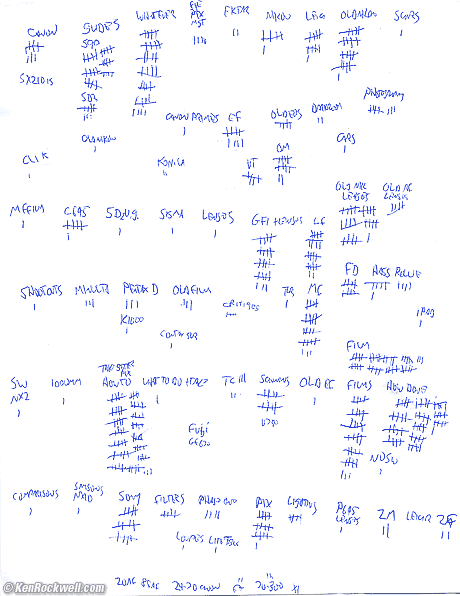 Scientifically Tabulated Results. legible. It helps me keep adding to this site when you use these links to Adorama, Amazon, B&H, Calumet, Ritz, J&R and eBay to get your goodies. Thanks! Ken.
April 2010 More Nikon Reviews Canon Leica Pentax
Introduction top
Intro Specs Performance Compared Usage Recommendations
In late March 2010, I asked you all what you wanted to read.
Of course every new camera or lens that comes out of Nikon or Canon will get its review; what I wanted to know is what to do when it's a slow week and nothing new comes out. I want to be sure I don't drift into too weird a corner; what makes this site so popular is that for over 10 years I guide myself on your inputs, and not just what I want to blab about.
I usually post a request like that and take it down after 20 minutes, since I get more than enough replies to tabulate.
In this case, I took off for a day of shooting instead, and came back a day later to 854 replies.
It took a week to read and tally them. Thank you for your replies!
I'll admit that since I usually just borrow gear from readers to review, it's a lot of fun to have been borrowing more expensive stuff than I'd ever actually buy for myself. With this survey, I want to be sure I stay on-track.
I'm amused: with 854 replies, only 16 people wanted to see pictures, and only 8 people wanted to read about photography itself. Gear and technique have nothing to do with photography; by "photography" I mean the final tangible works themselves, as created by myself or real masters like Adams or Weston.
In terms of useful technical topics, amusing is that only 5 people specifically asked me to talk about lighting, which is the most important technical issue.
More people said NO SOFTWARE! than asked for any software reviews. Thank goodness; software reviews are boring to write!
As you can see, the greatest interest is in learning to take better pictures. I'll be honest: those are also the most difficult pieces to write. It's trivial for me to knock out another lens review, but takes a lot of thought to write a how-to article with real meat in it.
Tabulated Categories top
How to Take Better Pictures: 79
Examples of how and why I took certain pictures: 61
Film gear and technique: 46
Film Reviews: 36
Canon S90 guide: 30
Medium Format Cameras: 23
Old Nikon cameras (F4, etc.): 23
Micro four-thirds: 23
Large Format: 22
Show more pictures: 16
Sony: 15
Olympus OM: 12
Leica: 11
Canon EF lenses: 11
Scanners and Scanning: 11
Canon FD: 10
Canon 5D Mk II Guide: 9
Canon, general: 8
Hasselblad: 6
Nikon, General: 6
Contax 645: 6
Old Nikon AF lenses: 6
Old EOS cameras: 5
Voigtländer: 5
Critiques of images from readers: 5
Filters: 5
Lighting: 5
Picture, file and asset management: 4
Phase One: 4
Rollei: 3
Pentax Digital: 3
Minolta: 3
Darkroom: 2
Konica: 2
Shootouts: 2
Zeiss ZM lenses: 2
Zeiss ZF lenses: 2
Clik bags: 1
Canon primes: 1
iPad: 1
Sigma: 1
TLRs: 1
LEICA R: 1
Loupes: 1
Light Tables: 1
Fuji GF670: 1
NX2 Software: 1
1,000mm mirror lenses: 1
Pentax K1000: 1
Epson V750: 1
Samsung NX10
Cars: 1
Analysis top
The most fun observation is how many of you love when I show an image, and explain exactly how and why I made it. You want to know what I was thinking when I made a picture. You want to know how a picture was made almost as much as how to make pictures!
This is great: it means more excuses for me to go take more pictures so I can write about them, hee hee!
When I looked at the third category, I could only say "whoa!"
I thought I was crazy loving film so much, and I'm astounded that the two most popular specific things about which people want to read is film equipment and technique (46) and reviews of various kinds of film (36).
I was amazed at how many people wanted to know what film does what, how to shoot and process film, and how to select what film to use for what. Likewise, loads of people, more than any specific requests for digital gear reviews, wanted me to review everything I could about film equipment.
It's obvious now: I keep talking about it, but I forget that the great majority of people either have no idea what is film or how to use it, and that there also are many people shooting film gear as well. As when I started this site in 1999, today there are still too few good reviews of film gear on the Internet. Remember who creates websites: computer programmers. Except for me or large businesses, websites come from computer programmers, not photographers. The techies with websites only know digital, since to them, digital cameras are just another computer accessory. Thus real photography, and film, is under-reported online.
Then again, maybe I somehow weighted the question, since I'm not a professional survey maker, but I do know the interest in film I saw is extraordinarily large.
Also astounding was the strong interest in medium and large-format photography. In all honesty, large-format photography is growing; those manufacturers are selling more new large-format cameras than ever, and growing.
Also intriguing is how much you want me to talk about older Nikon cameras and lenses. When the D3 came out, I started to try to review every old manual-focus lens ever made, but when I didn't see anyone other than me interested, I got on to other things. I see you want to read about them, so I'll get back to filling-out my older Nikon lens reviews.
Tomorrow top
As always, I'll keep cranking away. Also one of the biggest categories about which for me to write is whatever catches my interest each day. This is great, because if it wasn't fun, I wouldn't do it.
Back to work!
Thank you!
Help me help you top
I support my growing family through this website, as crazy as it might seem.
If you find this as helpful as a book you might have had to buy or a workshop you may have had to take, feel free to help me continue helping everyone.
If you've gotten your gear through one of my links or helped otherwise, you're family. It's great people like you who allow me to keep adding to this site full-time. Thanks!
If you haven't helped yet, please do, and consider helping me with a gift of $5.00.
The biggest help is to use these links to Adorama, Amazon, B&H, Calumet, Ritz, J&R and when you get your goodies. It costs you nothing and is a huge help to me. eBay is always a gamble, but all the other places have the best prices and service, which is why I've used them since before this website existed. I recommend them all personally.
Thanks for reading!
Ken
Home Donate New Search Gallery How-To Books Links Workshops About Contact