Home Donate New Search Gallery How-To Books Links Workshops About Contact
California's Gold Country
16-21 April 2010
16 17 18 19 20 21 April 2010 Tech Story
Welcome.
This is a log of my travels with Dave Wyman's April, 2010 tour of California's Gold Country.
Since my fair readers asked for it, I've added many notes of how and why I made each photo. Feel free to ignore them and just look at the pictures if you prefer.
If you'd like more details as to why I packed the camera I did, see the Tech Story.
16 April 2010, Friday
We met in Sacramento the evening of Friday, 16 April 2010.
We saw this pull up to our Holiday Inn Convention Center, which was entirely appropriate.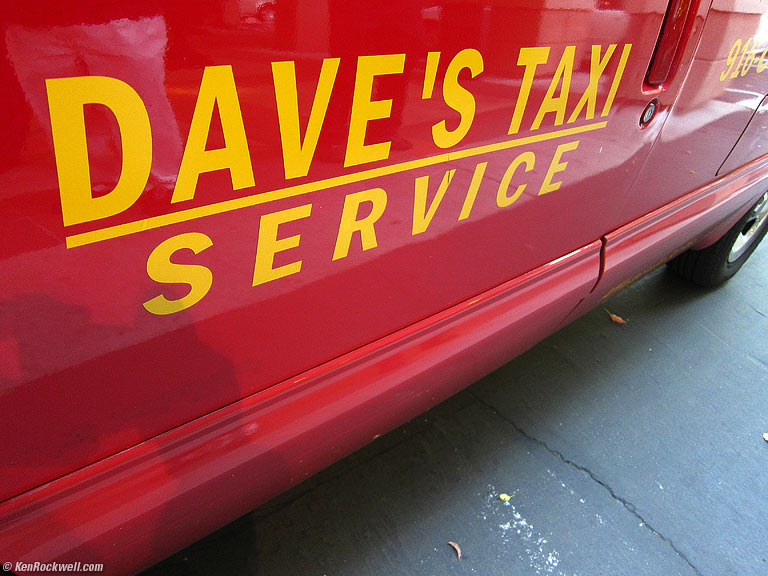 Dave's Taxi Service, Sacramento.
This was a straight shot with a Canon S90. I used a curves layer in Photoshop CS4 to darken it a little bit, which also slightly boosts saturation.
My S90 was it its usual default settings, which for me is -2/3 exposure compensation, and VIVID (press FUNC, click down to the OFF icon, then click one to the right.)
We then walked to dinner with the group.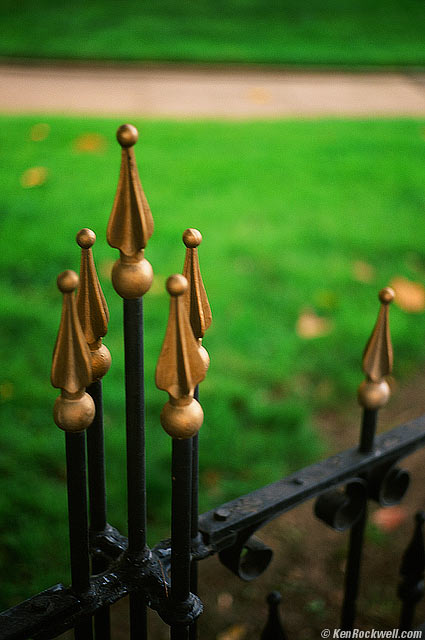 Spires, former Governor's mansion, Sacramento.
I shot this on Fuji Velvia 50 with a LEICA SUMMICRON-M 50mm f/2 and a Hoya 39mm 85C filter on a LEICA M6 TTL, f/2 at 1/8, hand-held, NCPS process and scan.
This shot has a few elements. The main point of interest is the group of five spires, which balance with the little spire all by itself on the right. There is a line across the top, while the image fades to black at the bottom.
I knew that setting the lens wide-open at f/2 would add vignetting, drawing your eyes to the brighter spires in the center, and keeping them from wandering off the image at the darker edges.
Since I was using a camera with a separate viewfinder window, I wasn't smart enough to realize that there was a yellow leaf behind the smaller spire, which interferes with it. I was smart enough to use f/2 to throw it all out of focus. If I was shooting a digital camera, I would have noticed that back when I could do something about it.
If I had shot this on any SLR, like a $20 Nikon EM with a Nikon Series E 50mm f/1.8, I would have gotten better results because I would have been able to see what I was doing. This is why LEICAs went obsolete in the 1960s.
I used an orange 85C filter to make the image warmer, or in this case, more golden. The 85C (a.k.a. A8) filter on daylight film is the same as setting a digital camera to about 10,000K (roughly "shade") white balance.
After dinner, we walked to the California State Capitol Building.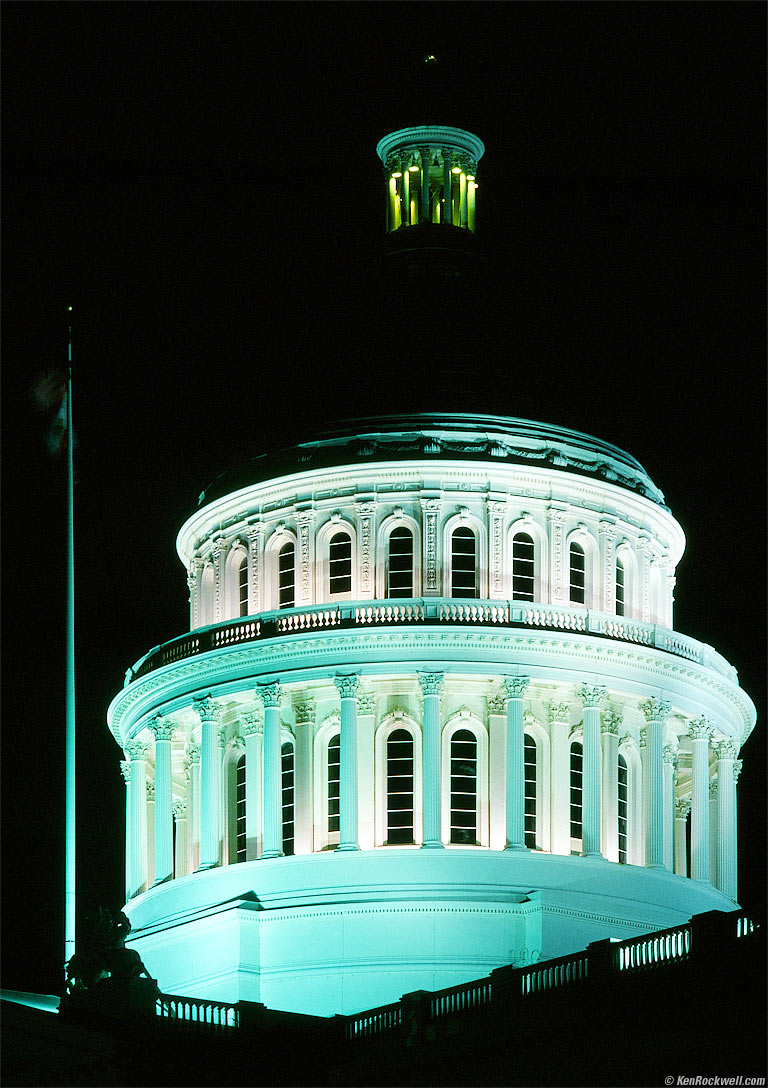 California State Capitol Building.
I shot this on Fuji Velvia 50 with a LEICA MACRO-ELMAR-M 90mm f/4 with no filter on a LEICA M6 TTL, f/5.6 at 1 second on a small steel Gitzo tripod with a Novoflex Mini MagicBall head, from 1997. NCPS process and scan.
I bracketed by adding a few stops from the meter reading. Oddly the meter was right, which read f/4.7 to f/5.6 at 1 second.
I cropped this a bit in in Photoshop CS4, but more importantly, I played with a curves adjustment layer to get it to look right, and I also used the Lens Distortion Correction Tool to straighten out the flagpole, which tilted-in a bit because I had my camera tilted up. With Photoshop's distortion tools, I don't need to futz with a view camera's movements, at least for web use.
16 17 18 19 20 21 April 2010 Tech Story
Home Donate New Search Gallery How-To Books Links Workshops About Contact