Home Donate New Search Gallery Reviews How-To Books Links Workshops About Contact
LEICA 90mm f/2
SUMMICRON-M (1980-1998)
Intro Specs Performance Compared Recommendations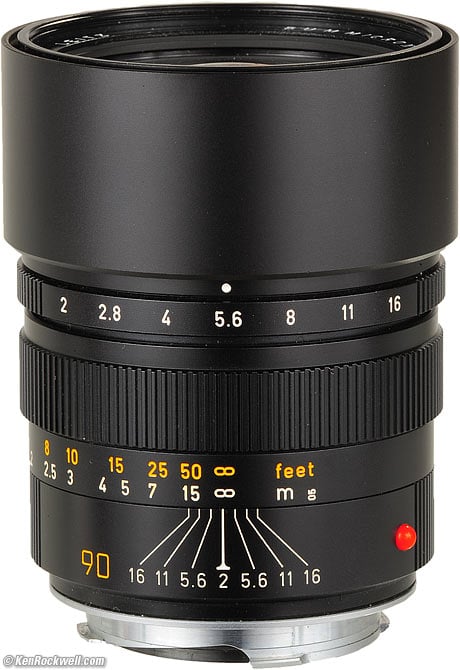 LEICA SUMMICRON-M 90mm f/2, black anodized aluminum (55mm filters, 17.1 oz./484g, about $1,000). Vergrößern.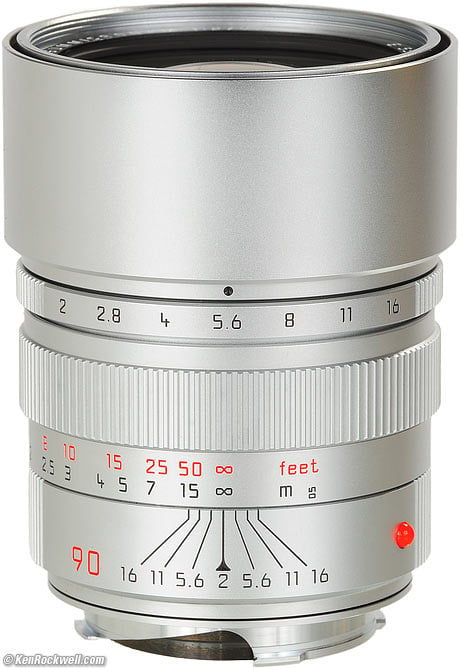 LEICA SUMMICRON-M 90mm f/2, silver-chromed brass (55mm filters, 24.1 oz./684g, about $1,300). Vergrößern.
This this free website's biggest source of support is when you use these links, especially this direct link to this lens at eBay (see How to Win at eBay), or at Adorama, when you get anything, regardless of the country in which you live. You also can get them locally in Southern California at OC Camera. Thanks! Ken.
Christmas Day, 2010 more LEICA Reviews LEICA Lenses
Leica 90mm f/2 Lenses Compared
Introduction top
Intro Specs Performance Compared Recommendations
This LEICA SUMMICRON-M 90mm f/2 was Leica's most expensive 90mm lens for 18 years from 1980 until the even more spectacular LEICA APO-SUMMICRON-M 90mm f/2 ASPH replaced it in 1998.
Performance-wise, this lens is better than its predecessor, the LEICA LEITZ SUMMICRON 90mm f/2 (1958-1980), and not as good as the LEICA APO-SUMMICRON-M 90mm f/2 ASPH which replaces it. All three are excellent lenses for anything; the only way to see any optical difference is to shoot explicit tests. For actual photography, one's preference will be based on filter size, exterior style, size and weight more than any optical differences. Unlike lesser makers, Leica has never made any junk.
This SUMMICRON-M looks and feels almost exactly like the newest LEICA APO-SUMMICRON-M 90mm f/2 ASPH. The cosmetic differences are that the built-in hood doesn't rotate on the newer APO ASPH, and that the APO-ASPH has its identity engraved onto its non-rotating hood, instead of on an identity ring inside the filter thread as on this SUMMICRON-M.
Compatibility top
This LEICA SUMMICRON-M 90mm f/2 works perfectly on every LEICA M camera, from the LEICA M3 of 1954, Minolta's CLE, and of course today's LEICA M7, LEICA MP and LEICA M9.
Versions top
This same optical design came in at least three cosmetic variations.
From 1980-1981, there was a version that took only a 49mm filter and was rated at only 410 grams. It was made only in black.
From 1982, the design looks remarkably similar to today's APO-ASPH, and likewise takes 55mm filters.
This LEICA SUMMICRON-M is most often seen in anodized black aluminum. It also came in heavy chromed brass, silber-chrom. The silver version's much heavier brass makes it the heaviest 90mm ever made by Leica, even heavier than the outwardly larger original 90mm SUMMICRON.
Older samples, like the black 1983 SUMMICRON-M shown here, use the old rounded font (except for the "90" on the barrel), while the newer lenses, like the silber-chrom version seen here from 1994, use the current squared LG1050 font for everything.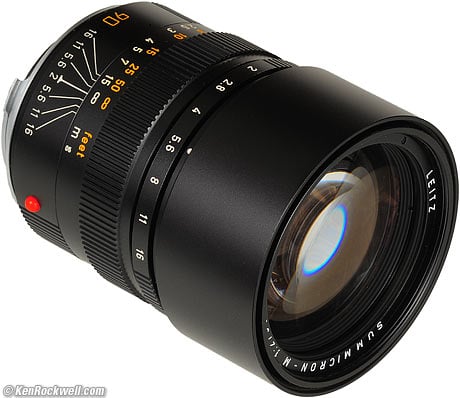 LEICA SUMMICRON-M 90mm f/2, black. Vergrößern.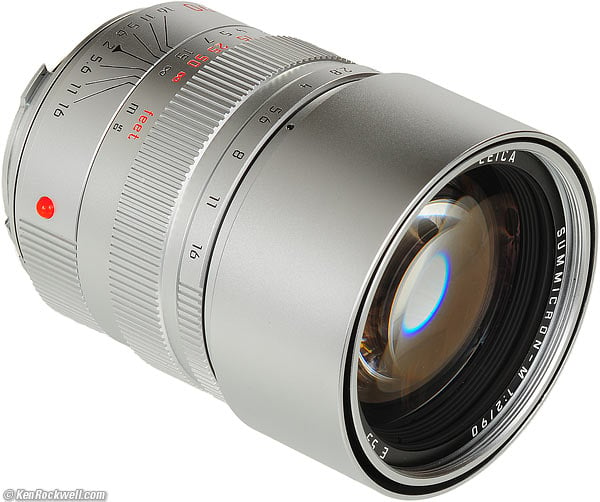 LEICA SUMMICRON-M 90mm f/2, black. Vergrößern.
Specifications top
Intro Specs Performance Compared Recommendations
Name
Leica calls this the LEICA SUMMICRON-M 90mm f/2.
Optics top
5 elements in 4 groups.
Slightly telephoto design; the exit pupil is a little smaller than the entrance pupil and there is some pincushion distortion.
Single-coated, mostly in blue and amber.
The actual focal length for each sample is coded with two digits rotated 90º between the FEET and M markings on the focus ring. The digits are the millimeters and tenths, thus each of these samples, marked "05," have actual focal lengths of 90.5mm.
Diaphragm top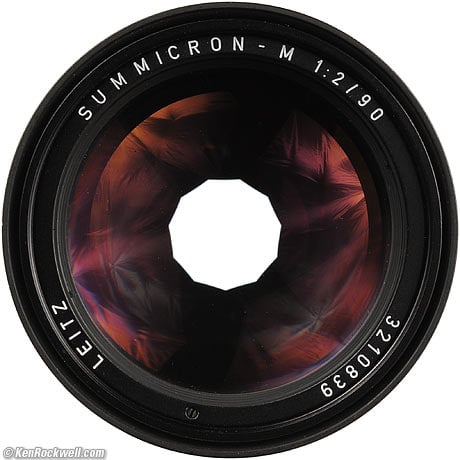 LEICA SUMMICRON-M 90mm f/2, black, at f/5.6. Vergrößern.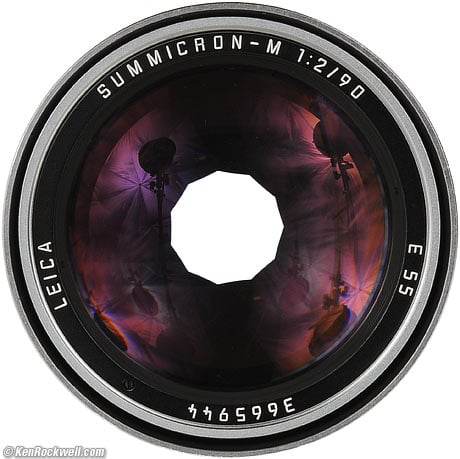 LEICA SUMMICRON-M 90mm f/2, silber-chrom, at f/5.6. Vergrößern.
The diaphragm uses a spectacular 11 blades.
It stops down to f/16 in half-stop clicks.
It has inwardly-curved edges at the larger apertures, straight edges at the smaller apertures, and becomes perfectly round only at f/16.
Close Focus
1 meter (3.3 feet).
Maximum Reproduction Ratio
1:9.
Filters
1980-1981
49 x 0.75mm screw-in filters (E49).
1982-1998
55 x 0.75mm screw-in filters (E55).
Size top
1980-1981
79mm extension from flange, 67mm diameter.
Slip-over front cap: A63.7, 63.7mm diameter.
1982-1998
77mm extension from flange, 62.5mm diameter.
Weight top
Black anodized aluminum
17.080 oz. (484.25g), measured.
This is 0.405 oz. (11.4g) more than the APO-ASPH measures.
Leica specifies 475g.
Silver chromed brass
24.132 oz. (684.15g), measured.
Leica specifies 690g.
Caps top
55mm Front Cap: 14 289 ($27 if bought separately).
Rear Cap: 14 269 ($30 if bought separately).
(1980-1981 version used a 63.7mm slip-over front cap.)
Part Numbers top
Lens
Black anodized aluminum
11 136, both the earliest 49mm filter and all later versions.
Chromed-brass
11 137.
Cap for front of lens (no hood)
55mm snap-in: 14 289 ($27 if bought separately).
(1980-1981 lens used a 63.7mm slip-over front cap.)
Rear Cap
Standard 14 269 ($30 if bought separately).
Included top
The standard lens comes with a soft and solid zippered leather case, paperwork and caps.
Quality top
Made in Canada, eh, the home of Santa Claus, elves, Arctic penguins, igloos, reindeer, candy-canes, and a lot of snowmen.
Performance top
Intro Specs Performance Compared Recommendations
Overall Coma Diaphragm Calibration Distortion Ergonomics
Finder Blockage Focus Falloff Lateral Color Mechanics
Sharpness Spherochromatism Sunstars
Overall performance top
Overall, this LEICA SUMICRON-M 90 2 is a great lens, optically and mechanically.
Any bones I find to pick are irrelevant; the only thing between you and great pictures with this lens is your own ability as a photographer.
Coma performance top
There is no coma. Coma is when points of light become blobs in the corners.
This LEICA SUMMICRON-M 90/2 has superior coma performance compared to the newer LEICA APO-SUMMICRON-M 90mm f/2 ASPH!
Here are crops from the lower left of LEICA M9 images shot at infinity at night, shown at 100%. If I showed the complete image at this same magnification, the final prints would be about 130 x 90 cm ( 50 x 35").
These star-target images show not only the lack of coma, they also show sunstars and lateral color performance which I will reference below.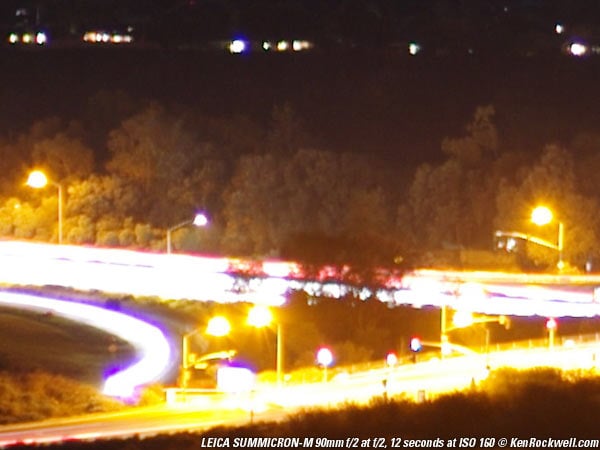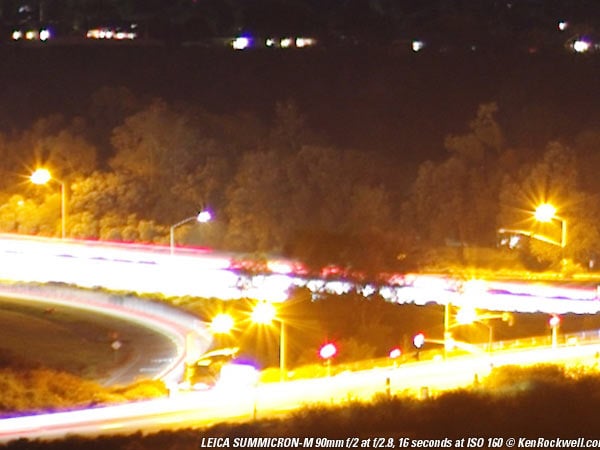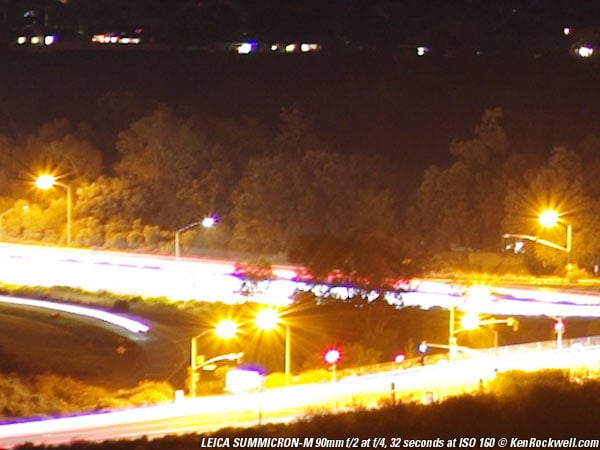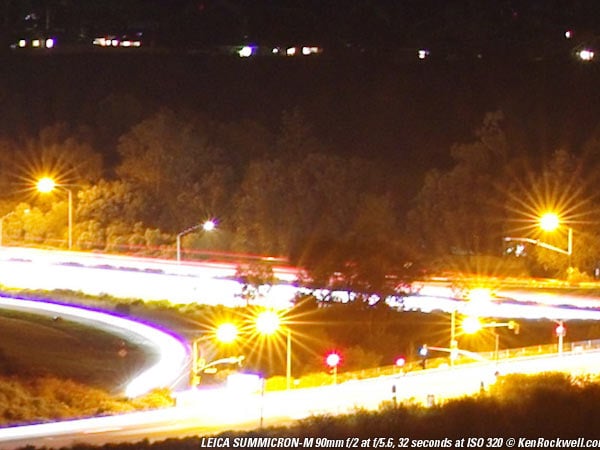 Diaphragm Calibration performance top
The calibration is perfect.
The meter in my M9 tracks each half-stop click perfectly, except of course at full aperture.
Distortion performance top
The LEICA SUMMICRON-M 90mm f/2 has minor pincushion distortion.
For critical photogrammetric use, use a value of -1.50 in Photoshop's lens distortion filter at infinity and 6 meters (20 feet). I haven't tested for closer distances.
Ergonomics performance top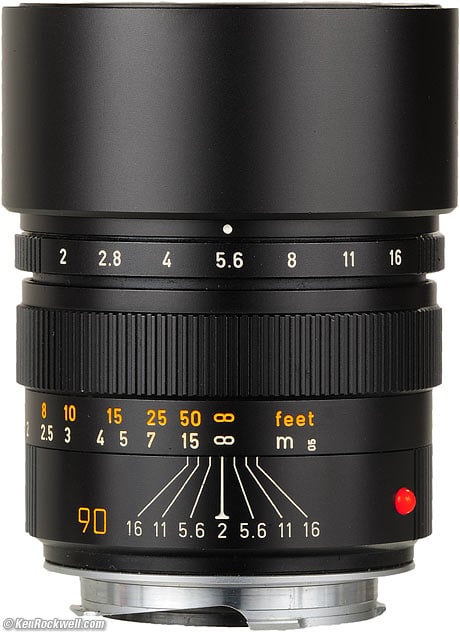 1983 LEICA SUMMICRON-M 90mm f/2. Vergrößern.
Ergonomics are classic LEICA: aperture ring up front, and focus in the middle.
The black version has a rougher, less glossy and tougher-feeling finish than the finer finish of the APO ASPH.
The chromed brass version is exquisite. It feels as heavy as a lead weight, but more precise and smooth than I can describe. There is no play, while the focus ring turns smoothly. The aperture ring turns effortlessly, also without any play. Oddly, the aperture ring's detents are rather subtle, so you need to feel for them carefully.
Finder Blockage performance top
There is only the slightest blockage at infinity with the hood retracted.
At infinity with the hood extended, there is minor blockage.
At 1 meter, the lower right third of the finder is blocked. There is a little more blockage with the hood extended than not.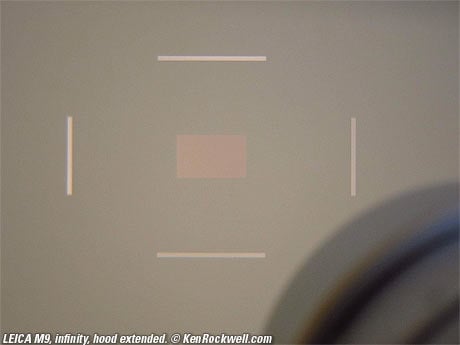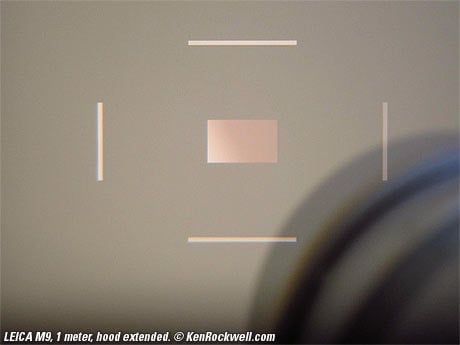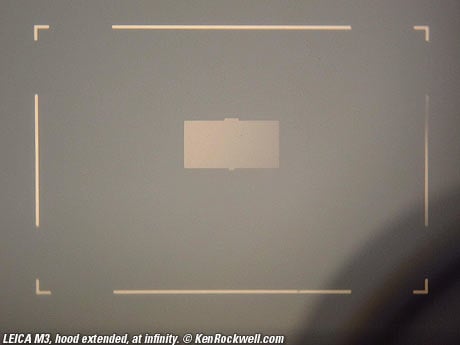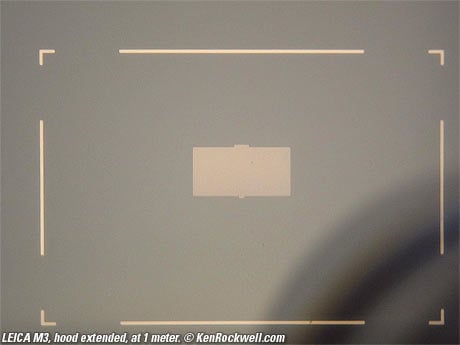 These samples, cropped only to show the relevant center of the finder, also ought to show how superior is the superb 0.91x finder and complete framelines of the masterly LEICA M3, compared to the pathetic little excuse for a finder and incomplete framelines of the LEICA M9. Each of these samples is shot at the same magnification, only the finders have changed. (see also LEICA M3 compared to the LEICA M9.)

Focus performance top

Focus accuracy is a personal issue between your sample of body and your sample of lens.

This said, this particular sample was perfect on my 2009 LEICA M9 and 1955 LEICA M3. Everything was in perfect focus, which is much better than my sample of LEICA APO-SUMMICRON-M 90mm f/2 ASPH.

Your samples will vary, but for actual shooting, this SUMMICRON-M gives much sharper results than my sample of APO ASPH on my particular M9 because it's in better focus! This is a dirty little secret of rangefinder cameras: everything drifts differently, and telephoto focus is rarely perfect.

Falloff (darker corners) performance top

The LEICA 90mm f/2 SUMMICRON-M has minor falloff at f/2, and none by f/4.

I've greatly emphasized it below by shooting a gray field and presenting it against another gray field.

LEICA SUMMICRON-M 90mm f/2 falloff on M9 at infinity,
no lens profile:

© 2010 KenRockwell.com. All rights reserved.

Lateral Color Fringes performance top

Surprisingly, there is a little violet/yellow lateral color on a LEICA M9.

It's invisible on film, it's lost in the grain.

I wouldn't worry about it; it's only visible at 100% or greater looking specifically for it on M9 images, presuming you've shot something so boring that the sides are still in focus.

If it bothers you, which I doubt (it doesn't bother me), use any of the LEICA ELMARIT-M 90mm f/2.8, LEICA APO-SUMMICRON-M 90mm f/2 ASPH, or the low-priced LEICA SUMMARIT-M 90mm f/2.5 instead.

Materials and Construction performance top

This SUMMICRON-M is made the same as LEICA's other current lenses. It's all aluminum and brass. The only plastic is the red mounting index ball.

If you opt for the chrome version, it's all brass instead of aluminum, and weighs much more.

All the markings are engraved and filled with paint.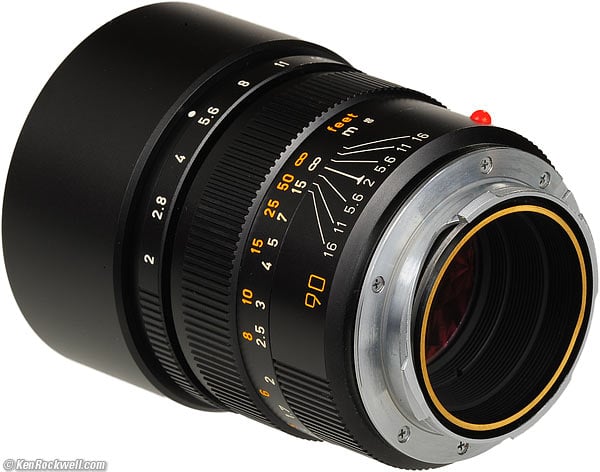 Rear, 1983 LEICA SUMMICRON-M 90mm f/2. Vergrößern.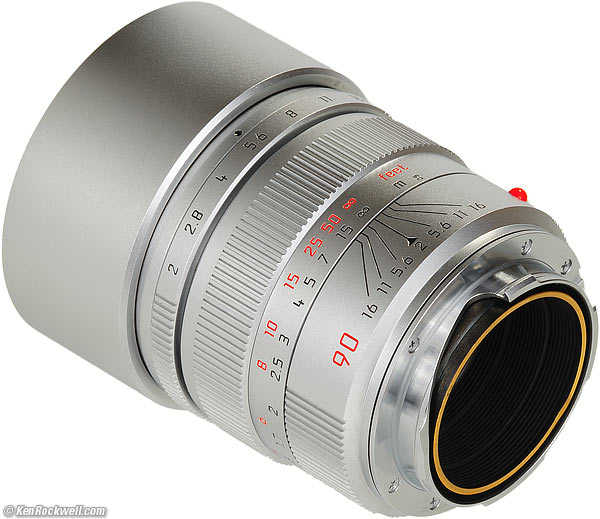 Rear, 1994 LEICA SUMMICRON-M 90mm f/2. Vergrößern.
Sharpness performance top
The more you know about photography, the more you know that lens sharpness doesn't matter.
In the case of rangefinder cameras with telephoto lenses, focus accuracy is far more important to image sharpness than lens sharpness. Most samples of camera and most samples of lenses won't be in perfect calibration with each other, and therefore you'll never get optimum sharpness until you hand-select a sample which works well with your particular sample of camera. When selecting, a sample of a less-sharp lens that focuses well with your camera will render significantly sharper images than a sharper lens, like the APO ASPH, that isn't as well matched to your particular sample of camera.
This said, this LEICA SUMMICRON-M 90mm f/2 is very sharp. It is a LEICA; what else would you expect?
At the largest apertures in the corners under test-range conditions, this SUMMICRON-M isn't quite as sharp as the newer LEICA ELMARIT-M 90mm f/2.8, LEICA APO-SUMMICRON-M 90mm f/2 ASPH or LEICA 90mm f/2.5 SUMMARIT-M as seen at 100% on an M9, but so what? Camera-lens sample focus compatibility is far more important than telephoto lens sharpness, and unless you're shooting flat subjects, the sides and corners aren't in focus anyway to notice.
If you are shooting flat subjects under test conditions, as seen in 100% LEICA M9 images, this SUMMICRON-M is sharp all over, even at f/2, while the corners get even sharper at smaller apertures, and become optimum (as sharp as the center) by f/5.6.
On film, the results are absolutely brilliant at every aperture.
Spherochromatism performance top
Much to my surprise, spherochromatism is all but invisible in the LEICA SUMMICRON-M 90mm f/2.
Spherochromatism, mistakenly called "color bokeh" by laymen, is when out-of-focus highlights take on colored fringes, usually green and magenta. This lens doesn't do this, unlike most fast tele lenses.
Sunstars performance top
As shown under Coma, the 11-bladed diaphragm can create extraordinary 22-pointed sunstars on brilliant points of light.
Compared top
Intro Specs Performance Compared Recommendations
See Leica 90mm f/2.8 Lenses Compared and Leica 90mm f/2 Lenses Compared.
Recommendations top
Intro Specs Performance Compared Recommendations
The LEICAMAN knows only the best. This LEICA SUMMICRON-M was the best until it was surpassed by today's LEICA APO-SUMMICRON-M 90mm f/2 ASPH in 1998. Thus the APO ASPH receives the distinction of the company of the LEICAMAN today, not this Canadian classic.
For everyone else, this SUMMICRON-M offers performance at f/2, second only slightly to the LEICA APO-SUMMICRON-M 90mm f/2 ASPH.
At f/2.8 and smaller, the recently discontinued LEICA ELMARIT-M 90mm f/2.8 is optically superior, and significantly smaller and lighter, and sells used for about the same price.
Thus, get the LEICA APO-SUMMICRON-M 90mm f/2 ASPH if you must own the very best.
Get the LEICA ELMARIT-M 90mm f/2.8 if you want optical supremacy in a smaller and lighter package than any 90mm SUMMICRON.
If you want a big, solid chrome 90mm, the silber-chrom version is a masterpiece worthwhile to own, even if all you do with it is take it out and hold it now and then.
Every LEICA 90mm lens, even an uncoated LEITZ ELMAR 90mm f/4 from 1933, can make extraordinarily sharp and brilliant images in the hands of a competent photographer. Even the 1933 models are sharper than many of the plastic poo-poo zooms preferred today by digital hobbyists. Optical differences among LEICA 90mm lenses are minor for actual photography; our choice among them lies more in the practical issues of size, weight and filter size.
Deployment top
For use with color transparency film outdoors, I prefer a 55mm B+W 81A filter.
For B&W outdoors, you want a yellow filter standard, like the B+W 55mm #022, or a B+W 55mm orange filter for more contrast, especially in the skies.
For color print film or digital, you want a LEICA 55mm UV filter for protection, or go commando. Specifically, the LEICA 13 374 UV filter in silver, the LEICA 18 670 UV filter in black, or the LEICA 13 373 UVa filter in black.
Due to a defective sensor system design, the old LEICA M8 needed a LEICA 55mm UV-IR blocking filter, specifically the LEICA 13 419 in silver, or the LEICA 13 413 in black.
More Information top
LEICA's technical data (see the 90mm section, starting at page 64.)
© Ken Rockwell. All rights reserved. Alle Rechte vorbehalten.
Help me help you top
I support my growing family through this website, as crazy as it might seem.
If you find this as helpful as a book you might have had to buy or a workshop you may have had to take, feel free to help me continue helping everyone.
If you've gotten your gear through one of my links or helped otherwise, you're family. It's great people like you who allow me to keep adding to this site full-time. Thanks!
If you haven't helped yet, please do, and consider helping me with a gift of $5.00.
The biggest help is to use these links to Adorama, Amazon, B&H, Calumet, Ritz, J&R and when you get your goodies. It costs you nothing and is a huge help to me. eBay is always a gamble, but all the other places have the best prices and service, which is why I've used them since before this website existed. I recommend them all personally.
Thanks for reading!
Ken
Home Donate New Search Gallery Reviews How-To Books Links Workshops About Contact