Home Donate New Search Gallery Reviews How-To Books Links Workshops About Contact
Recommended Lenses
for the LEICA.
© 2012 KenRockwell.com. This page best with Corporate S regular and bold activated.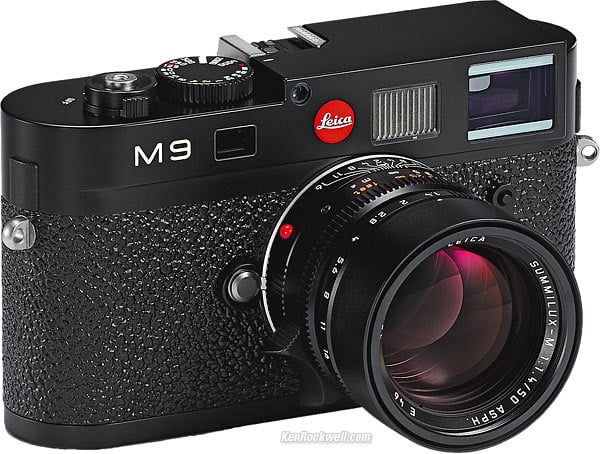 LEICA M9 (19.9 oz/587g wet) with LEICA 50mm f/1.4 ASPH.
January 2012 LEICA Reviews LEICA Lenses All Reviews
Rangefinder vs. SLR cameras How to Afford Anything
Skip ahead to:
Introduction
Now that everyone is getting the LEICA M9, what lenses should one get to use with it?
Even better, the LEICA is a system. These lens recommendations apply just as well to every other LEICA camera.
I'll start off with the lenses you ought to get to do your M9 justice, and work down to lenses for people who try to cheap out on the most important part of their gear, which are their lenses. Never deny yourself the lenses you deserve; unlike your cameras, lenses last for decades and decades, regardless of whatever new camera you use behind it in the future.
Recommending lenses for the LEICA is very different from recommending lenses for lesser brands like Nikon, Canon and Pentax. From lesser brands, some lenses are optically superb, while many others are merely so-so. With lesser brands, I have to pick out the lenses that are best optically, as well as practically.
With the LEICA, every lens LEICA has made over at least the past fifty years is superb, as well as perfectly compatible with every feature of the M9. This isn't the planned obsolescence of Nikon or Canon.
I've shot with dozens of LEICA lenses, and every single one is extremely sharp, and has little to no distortion. Unlike lesser brands, we pick lenses for the LEICA based on what we want to shoot and how, not on optical performance.
While with lesser brands there is also often variation from lens sample to lens sample, prompting photographers even today to have to buy a few samples and pick the best. I often see sample variation with lenses from Nikon and Canon, while I've never seen it with LEICA, even when the different samples were made on different continents!
Not only is LEICA crazy about ensuring that every lens is made properly, it also individually tests every individual lens before it leaves the factory. While Nikon shooters are off snapping photos of brick walls to pick the sharpest sample, the LEICA shooter is already off making real photographs because LEICA, who is much better suited to testing lenses, has already tested his lens, and provided the hand-signed certificate in his box to certify it.
Of course LEICA lenses cost ten times as much as other still-camera lenses, but they cost a lot less than lenses for 35mm motion-picture cameras or professional television cameras, which can cost a lot more than a house.
A LEICA lens is an instrument for demanding professionals, not a consumer product churned out for weekend hobbyists more concerned about price than performance. With LEICA, the quality is enjoyed long after the price has been forgotten. With LEICA, you don't need to buy another similar lens ten or twenty years from now because the one you bought decades ago is still superb.
Because every LEICA lens has pretty much perfect optical performance, we base our preferences on what's the most practical. All we need to do is pick a focal length or two, and select based on our preferences for filter sizes, viewfinder blockage or weight.
Just One Lens. top
Just getting one lens, and one lens only? Good! You are becoming a LEICA photographer. You'll never again miss a shot changing lenses.
For Intimate Travel
The 50mm lens is ideal for photographing one subject at a time. One subject at a time results in the best photos.
For instance, when the LEICAMAN enjoys a ski holiday in Chamonix with his wife and children, it is the 50mm lens which receives the distinction his accompaniment.
The 50mm lens is ideal for recording everything from the radiant beauty of his lovely wife, his children's glee enjoying the slopes, the alpenglow on L'aiguille Verte, as well documenting his acquisitions of sculpture and painting from the local galleries. For all this, a single 50mm lens is more than sufficient.
My first choice as an only lens is the LEICA SUMMICRON-M 50mm f/2. It offers high speed for use in any light, crazy sharpness, no distortion, a built-in hood and the perfect focal length. Any previous 50mm SUMMICRON is also a superb lens, even today.
The LEICA 50mm f/1.4 SUMMILUX-M ASPH is preferred by the LEICAMAN, however is it less sharp than the SUMMICRON, weighs much more, isn't as easy to focus, and blocks the viewfinder. The SUMMILUX-M ASPH has superior bokeh to any other LEICA lens.
| | |
| --- | --- |
| | 1979-today, 39mm filters, 240g (335g in chromed brass). |
LEICA SUMMILUX-M 50mm f/1.4 ASPH

2004-today, 46mm filters, built-in locking hood. 335g in black aluminum 11 891; 460g in chromed brass, 11 892.

In 2003, a special LHSA version was struck: 11 628 in chrome, styled as the 1960s 50mm SUMMILUX (E43 0.5mm filter), but mit 0.7m close-focus and much faster focus pitch. It also came in black paint. 375 of each color were sold with the MP3 LHSA, and 125 of each color sold alone, 1000 total.

This is the only 50mm f/1.4 on the planet that uses aspherical optics and floating elements. Every other 50mm f/1.4 lens, even Nikon's newest 50mm f/1.4 AF-S of 2008, makes due with conventional spherical optics and fixed elements.
For the Enjoyment of the Group top
If your photos tend to involve more than one subject at a time, which tends to result in weaker images, a 35mm lens is the best choice.
If the LEICAMAN's plans involve group activities, it is the 35mm lens which receives his distinction.
For instance, if he will be hosting his close friends for a few weeks at his villa on Lake Como, the 35mm lens allows the optimum representation of several people at once, documenting their pleasure in the villa's stately rooms, their enjoyment of the entertainment at his parties, as well as representing the landscape around the villa and presenting his villa in the landscape.
For all these things, a 35mm lens alone is ideal.
I prefer the newest LEICA SUMMILUX-M 35mm f/1.4 ASPH mit Floating Element for everything, and especially for shooting hand-held at night.
If money matters, the smaller, lighter and more convenient LEICA SUMMICRON-M 35mm f/2 ASPH is just as good:
LEICA SUMMICRON-M 35mm f/2 ASPH

1996-today, 39mm filters, 254g.

LEICA's most practical wide-angle today. It comes in black aluminum (11 879) and chromed brass (11 882).
Every 35mm lens, even at f/1.4, has a deep depth-of-field. If you wish to isolate your subject with selective focus, use 50mm or longer lenses.
Summary top
The LEICA man is who he is because he makes solid decisions quickly. He never dithers; he instinctively grabs just one lens and makes it work.
The 50mm is ideal for most use, and optimum for images with one subject. These are the best images.
For less focused work, for instance with several objects in the image, the 35mm is usually the best one lens to bring. The 35mm is best for use in low light, since it has deeper depth of field and is more resistant to camera shake than a 50mm lens.
Bring only one lens. Regardless of which lens you bring, you can shoot anything with it — simply move a step or two in or out, and you've got the perfect photo, faster than you could change lenses.
Bringing more than one lens clouds the creative process with unnecessary distractions.
With one lens, all your creative energy is focused on the subject and image, and never on gear. You instinctively will see more and better pictures more frequently because your vision is honed on seeing, and not distracted trying to imagine "what if" one changed lenses.
Adding a Second or Third Lens? top
If you must carry more than one lens, either or both of these two are perfect:
For Tele
1998-today, 55mm filters, 473g, built-in hood.

This is the world's highest-performance tele lens There is no substitute (OK, I'll mention some later for cheapskates), and it's the perfect tele focal length, too.
For Wide
2008-today, 39mm filters 173g.

LEICA's tiniest current lens, and a stellar performer as well. If you can get only one wide lens, this is a great choice. Especially with digital, there is no need for the f/2 ASPH unless you just have to have it.
If you must have a bigger, fatter, faster 28mm lens, the f/2 ASPH is your lens instead:
2000-today, 46mm filters, 256g. 11 604.

The world's sharpest wide-angle lens. It is the only 28mm f/2 lens ever made by LEICA.
If you take a 28mm, don't bother with the 35mm; take the 50mm or none at all.
If you use a 35mm, bring a 21mm (next) instead of the 28mm.
Alternatives
Wider top
Of course you should choose whatever works for you.
Personally, I prefer a 21mm instead of the 28mm, but it requires a separate finder slid into your hot shoe.
If you get a 21mm, don't bother carrying the 28mm.
1997-2011, 55mm filters, 317g. 11 135.

LEICA's standard ultra-wide lens. Sadly, I think they discontinued it as of 2011. Dumb move on the part of LEICA, unless they have an improved replacement forthcoming.
LEICA also makes a super-speed 21mm. I haven't tried it, and I wouldn't buy it because it's too big and heavy, and its 24mm brother I tested was only mediocre.
2008-today, 82mm filters, 580g.

A beast of a $6,500 lens, this is an ultrawide for very low light. It needs a special adapter to use 82mm filters, otherwise it takes series VIII. It is the world's fastest ultrawide lens, but for digital with its higher ISO's I'd not bother carrying this lens that weighs twice as much as the f/2.8, and probably blocks your viewfinder like crazy. I have not reviewed it yet, but its 24mm brother that I have tested wasn't that good.

enlarge image or more information (no review yet)
If you opt for the 21mm, you might prefer a 35mm lens instead of the 50mm lens.
Smaller top
For the smallest possible set-up, just take the 35mm f/2 and leave town with just that one lens. It's what I do.
If you want to take two lenses, instead take the 28mm f/2.8 above and this tiny 90mm lens as a pair:
LEICA 90mm f/2.8 TELE-ELMARIT-M

1974-1990, 39mm filters, 226g.

LEICA's lightest 90mm ever and a swell performer; my favorite tele travel lens. Its small size and great performance allowed it to replace both the earlier TELE-ELMARIT and ELMARIT below at the same time. It's only limitation is that it's softer in the corners at f/2.8 than newer lenses, but so what: at f/2.8 in the corners with a tele, nothing usually is in focus anyway.
If you want to take three lenses and cover everything from ultra-wide, I'd take the 35mm f/2, the 90mm f/2.8 TELE-ELMARIT-M and this Voigtländer 21mm f/4:
2007-today, 39mm filters, 132g.

The tiniest 21mm available, and a great performer, too. Fully rangefinder coupled and takes LEICA's standard 39mm filters.

WARNING: Although wonderful on film, this lens sucks on the M9 because its rear nodal point is too close for the sensor. The left and right sides take on weird color shifts. For the M9, get the LEICA 28mm f/2.8 ASPH instead as a tiny wide lens.
That's it for travel: take the tiny Voigtländer 21mm for sweeping wide shots, the miniscule LEICA 35mm f/2 for low-light and normal shots, and the small 90mm TELE-ELMARIT-M for tele, all three of which only weigh 612g (22oz.), combined. You'll be prepared for everything.
Alternately, take just the LEICA 28mm f/2.8 ASPH and 90mm TELE-ELMARIT-M , and you're set for anything at under 400g (14 oz.) combined for all your lenses!
If you insist on only LEICA for your LEICA, skip the Voigtländer 21mm and replace it with the LEICA 21mm f/4:
LEICA 21mm f/4 SUPER ANGULON

1958-1963, 39mm filters, 251g.

This is LEICA's smallest 21mm ever, taking the standard 39mm filters. It couple perfectly to the rangefinder system, yet its long rear projection precludes using any TTL meter with it, so you'll have to meter externally, say with a Digisix.

It's not as quite as sharp as the newest 21mm lenses in the corners at f/4, but it has less distortion than any of them.

WARNING: Although wonderful on film, the M9 performs poorly with this lens because the SUPER-ANGULON's rear nodal point is too close to the sensor. The left and right sides take on weird color shifts. For the M9, get the LEICA 28mm f/2.8 ASPH instead as a tiny wide lens.

enlarge image (review coming).
Only if only LEICA will do, ditch the three-lens setup and just bring the 28mm f/2.8 and 90mm f/2.8 TELE-ELMARIT-M. You'll never miss the middle 50mm lens, and if you do, we're back to square one: bring only the 50mm and nothing else as I suggested in the first place!
Cheaper top
It makes no sense to cheap out on lenses. It's much better to skimp on cameras than on lenses.
If you're buying an M9, its value will be dropping by thousands of dollars a year, just like any digital camera due to digital rot, while lenses bought today will outlast any of us, and usually go up in value.
If budget is a concern, get a used film or M8 body instead of the M9 so you can go whole-hog on lenses. Three years from now, you'll still have state-of-the art lenses, and enough cash saved to buy the next gotta-have-it LEICA. If you buy an M9 today and only cheap lenses, in three years you'll have cheap lenses you'll want to replace, and a rotted-out digital relic. You'd be back at square one.
Here's a secret: If you want a bargain, I usually pick up my LEICA gear used through eBay, where it usually goes for only half of its new price! Even better, lots of rich guys buy LEICA and then sell it without ever having used it, so I've paid 50 cents on the dollar and gotten the same exact thing, unused in its box, still wrapped in plastic, with all the paperwork. This happens a lot; you don't need to buy new equipment or from a boutique dealer unless you want him to buy you free lattes while he complains about why he doesn't have what you want in stock.
Current-model gear bought used has always been a bargain. If you're buying something thirty years old or older, half the time it shows up needing service or repair, in which case it's better to buy older used gear directly from a good LEICA dealer like OC Camera who will ensure that everything is perfect, even if it's a 60-year-old screw-mount lens. (Those still work on the M9 with a simple adapter!)
You can get great used LEICA lenses of any vintage, and they'll still outlast us. I'd get used LEICA lenses any day compared to discount (Voigtländer) lenses brand new, unless they do something unique that LEICA doesn't, like Voigtländer's 21mm, 15mm and 12mm lenses.
Zeiss lenses are excellent.
50mm
Any 50mm f/2 SUMMICRON of any age is wonderful. An old one will set you back as little as $400.
1969-1979, 39mm filters, 200g.

You could not go wrong with this lens as your only LEICA lens, for only about $600 used.

This current version (1979-today) will cost you more, and the older version (1954-1968) has soft glass which often has been damaged.

enlarge image. Example photos from Death Valley and Route 66. (review coming).
Traditional (non-ASPH) SUMMILUX f/1.4 lenses still sell used for about $1,200 - $2,000. They have had exactly the same optics and coatings since 1961, and were still LEICA's finest through 2004. There are no really inexpensive SUMMILUX because they are all good and all in demand.
Find an older version like this one and it will cost only one-third of a new ASPH.
1961-2004: Identical optics and coatings.

1961-1991: 43mm filters, 300g. 11 114.

1992-2004: 46mm filters, 360g, and adds built-in hood. 11 868.
35mm
If you prefer a 35mm lens, the 35mm f/2.8 can be had for well under $400, and works very well. Any used LEICA lens wider than 35mm is going to cost you at least a grand, even used. Sorry, look at Voigtländer or Zeiss.
1958-1974, 39mm filters, 239g.

A bargain today, and a great performer.
LEICA 35mm SUMMICRON f/2 lenses are all superb, and therefore all expensive. My personal favorite is the original 8-element 35mm f/2 LEICA SUMMICRON with the additional finder optics, which sells used for about $1,200 used, and is superb and works great with all LEICA M cameras, especially the LEICA M9.
| | |
| --- | --- |
| | 1958-1974, 39mm filters, 238g, 8-elements, 10 blades. 11 108 as shown (11 104 in black). 11 308 without M3 auxiliary finder optics (11 307 Z in black). 11 008 in screw mount. |
90mm
The 90mm TELE-ELMARIT-M, mentioned under Smaller, usually goes for about $600.
A larger 90mm f/2.8 lens with superior performance is the recently discontinued 90mm f/2.8 ELMARIT-M, which usually sells for about $1,100, and has state-of-the-art performance:
1990-2008, 46mm filters, 395g, built-in hood. 11 807.

LEICA's best 90mm f/2.8 lens ever; as good as the 90mm f/2 ASPH, and therefore a screaming bargain used for less than an f/2.5 Summarit-M new.

It also came in silver, titanium, and maybe even more colors.
Not Recommended top
You asked for my recommendations, which means to pick a few winners from the many, many other superb lenses made by LEICA.
Here's why some kinds of lenses didn't make it above:
SUMMARIT-M
The cheap new SUMMARIT-M lenses are optically superb, but mechanically second-rate.
If money matters, it is far smarter to get used older lenses for the same money.
For instance, the spectacular 90mm f/2.8 ELMARIT-M sells used for about $1,100 (private party), while the inferior 90mm f/2.5 Summarit-M sells new for $1,600.
The f/2.8 ELMARIT-M, which sells for about $1,100, sold for $2,000 in 2009 when it was still in the catalog.
24mm Lenses
24mm lenses are a queer focal length for LEICA, who never made a 24mm lens until 1998.
24mm lenses require the trouble of an external viewfinder, yet aren't much different than 28mm lenses. (Most cameras made since 1980 provide a finder in the camera.)
Why bother with a 24mm lens when, for the same amount of trouble, you can shoot a 21mm instead?
Also, the recommended 28mm f/2.8 ASPH is much smaller than any 24mm.
This is why LEICA didn't make a 24mm lens until 1998! Who cares? The key to LEICA photography is its simplicity; a new focal length when you already have enough isn't a blessing, it's an obstacle. Adding a dorky external finder you don't need is for turkeys. (Hey, you asked my opinion.)
LEICA's 24mm lenses are superb lenses, but they don't make much sense for practical use as part of a system. Unlike SLRs, you need special finders when you add an oddball focal length; LEICAs do not view through-the-lens as do SLRs.
75mm Lenses
75mm lenses are another weird one for LEICA. LEICA didn't make any 75mm lenses until 1980 because they aren't needed. LEICA has been making 90mm lenses since 1931.
75mm lenses came from the marketing department, not from photographic need.
Things were looking pretty dark for LEICA in 1980, since the market for rangefinder cameras had dried up back in the 1960s. LEICA's coasting on its laurels was coming to an end, so LEICA had to do something to try to perk up sales.
LEICA decided to play up their recent 1976 introduction of the 50mm f/1 NOCTILUX by also inventing a new, fast 75mm f/1.4 and then heralding the new M4-P as a "Classical Rangefinder LEICA for Ultra High-Speed Lenses."
A 90mm f/1.4 would have been too fat for the camera's rangefinder and viewfinder to see through, so the focal length had to be shrunk to 75mm so that LEICA could offer an f/1.4 tele like everyone else.
Therefore, only cameras made since 1980 have frame lines for 75mm lenses.
Cameras that do have finder indications for 75mm lenses don't really have 75mm frame lines anyway: all they have is four little corner tits shown inside the 50mm frame!
Today's LEICA M7, LEICA MP and M9 still have the same poor excuse for a 75mm frame: it's not even a frame, it's just tits inside a 50mm frame.
Rangefinder cameras use separate viewfinders; they don't look through the lens as do SLRs. You can't throw any random lens on a rangefinder camera like the LEICA and expect their separate viewfinders magically to support them.
Not that there's anything wrong with 75mm lenses (the 75mm f/2 APO is optically extraordinary), it's just that they don't make any sense for practical photography.
Voigtländer Lenses on the M9
I can't repeat it enough: if you can afford to throw $7,000 at a digital camera body which will be worth little to nothing in five years due to Digital Rot, you certainly can afford to buy real LEICA lenses for it, which only go up in value.
If you buy second-rate lenses which were good enough for casual film use, you'll be missing half the performance of which your M9 is capable.
Don't deny yourself the lenses that you and your M9 deserve.
If you can afford the M9, don't throw money away on SUMMARIT or other discount lenses. In five years, you'll be thanking me.
Older Ultrawide Lenses on the M9
Don't use the 12mm, 15mm or 21mm Voigtländers on the M9. Their rear nodal points are so close to the sensor that they give weird color shifts on opposite sides of the image. There is no manual lens selection in the M9 to compensate for this.
Avoid the LEITZ 21mm f/4 (1958-1963) and 21mm f/3.4 (1963-1980) on the M9 for the same reason. Not only do the sides turn out in funny colors, but they won't meter, either.
Summary top
That's it!
Have fun, and never carry more than two or three lenses.
See also LEICA Lens Names and Klasses for an overview of the LEICA lens line.
Help me help you top
I support my growing family through this website, as crazy as it might seem.
The biggest help is when you use any of these links to Adorama, Amazon, eBay, B&H, Ritz, Calumet and J&R and when you get your goodies. It costs you nothing, and is this site's, and thus my family's, biggest source of support. eBay is always a gamble, but all the other places always have the best prices and service, which is why I've used them since before this website existed. I recommend them all personally.
If you find this page as helpful as a book you might have had to buy or a workshop you may have had to take, feel free to help me continue helping everyone.
If you've gotten your gear through one of my links or helped otherwise, you're family. It's great people like you who allow me to keep adding to this site full-time. Thanks!
If you haven't helped yet, please do, and consider helping me with a gift of $5.00.
As this page is copyrighted and formally registered, it is unlawful to make copies, especially in the form of printouts for personal use. If you wish to make a printout for personal use, you are granted one-time permission only if you PayPal me $5.00 per printout or part thereof. Thank you!
Thanks for reading!
Mr. & Mrs. Ken Rockwell, Ryan and Katie.
Home Donate New Search Gallery Reviews How-To Books Links Workshops About Contact